Optimize Your Website For Search Engines
A website is useless without visitors. And the most important source of traffic for any website are the search engines. Now the challenge is to get on the first page of the search results. Yes, you need to aim high. When it comes to sales, Page 2 is almost as good as page 100.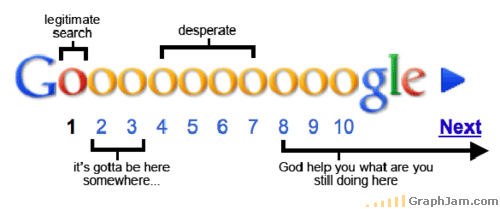 The good news is that Google wants to help you and your little business. Do a good job with SEO (search engine optimization) and you will score higher in organic searches than the big-portals. The bad news is that "a good job" might not be enough if you also have to deal with stiff competition.
It's all about the keywords
When searching for a place to eat, people google for things like: "pizza delivery downtown" or "chinese food takeout nyc" or "indian restaurants near me" and so on. These are called keywords, and are usually variations of cuisine/ type of food, service and location. You need to find those keywords that your potential clients would use to find your service and then cleverly use them throughout the website.
There are some key-elements where Google looks to understand what your website is about. No matter what, make sure these are done right.
Domain name: When buying the domain, don't be upset if your restaurant name is taken. It's actually your first opportunity to add location related keywords right on the url name. Some examples: pronto-nyc.com or joespizzany.com
Page title: You have around 55 characters that google will display. Perfect for combinations like Restaurant name - Cuisine - Location
Meta description: 160 characters for describing your business. Again, use your keywords, but make sure the result sounds nice and inviting.

Headlines: On the main page, you can use the Restaurant name in City combination for the H1. For H2 describe your restaurant in terms like: "Authentic Thai Cuisine" or "Pizza Delivery".
Image alt-tags: Your website contains images and those images have an alt-tag that Google reads to understand their content. Make sure you write something in there using your keywords.
Local SEO
Local SEO is about results related to a specific location. When someone searches for - let's say - "indian restaurant near me", Google will return places known as restaurants with Indian cuisine located around the user's detected location. Local SEO is tightly connected to your social profiles and restaurant listings. Here's what you need to do:
Create a Google My Business account.
Create a Facebook page for your restaurant.
Claim your TripAdvisor listing and install the TripAdvisor Facebook widget on your restaurant's Facebook page. TripAdvisor is one of the best and largest business review websites in the world. We've covered ranking high on TripAdvisor and establishing a TripAdvisor marketing strategy on our blog. Read our full TripAdvisor guide to learn how to stand out on the platform.
Claim your Yelp business listing and engage in Yelp restaurant marketing. Similarly to TripAdvisor, Yelp can help more people find you online. It can boost both SEO and sales, and bring in traffic.
Spot which are the top 3 most popular restaurant directories in your city and claim your restaurant profile there as well.
Add all these social links to your website and also have your social profiles/listings point back to your website.
Important: Make sure your contact information (name, address, phone) are absolutely identical on every website.
Make sure you do not have duplicate listings.
Read more about restaurant SEO:
Other ranking factors
Once you've covered the keywords part and the local SEO, Google will trust that you are a legitimate business, relevant for the customer's search. But there are also factors related to your website performance that will influence its ranking in search results.
Mobile friendliness score: You're in the industry most searched on mobile, so don't think you can get away with a website that is not mobile friendly (test your website here).
Page speed: 40% of people abandon a page that takes more than 3 seconds to load, so speed is taken seriously by Google (get your website scored here).
Security certificate: Spend few dollars on an SSL certificate. Ask your webmaster to help with this and your website will bear that "green locker" icon in the browser address bar.