More and more people are relying on online reviews and restaurant listing sites when deciding where to eat. Since every part of the dining experience has become social, people long to share their thoughts online. As a restaurant manager, that should thrill you. After all, it's free marketing. Our guide to TripAdvisor for restaurants will teach you everything you need to know about making your business stand out on one of the largest business review websites around.
In this first installment, we will get into the benefits and advantages TripAdvisor has for restaurants, as well as some restaurant statistics that show why you should have a presence on this platform. We'll also walk you through the step-by-step process of claiming your restaurant to get started with TripAdvisor.
Get Started with TripAdvisor for Restaurants
How Do Customers Choose a Restaurant?
When customers are trying to decide where to eat, they consult review sites like TripAdvisor, their friends, and social media. What you need to know is: people trust TripAdvisor.
According to a TripAdvisor survey, in the U.S., 90% of respondents said that TripAdvisor has a direct influence on their decision. 78% of respondents use TripAdvisor to search for restaurants to eat at while at home, and a surprising 93% use the platform to look for restaurants while they're traveling.
Usually, customers search for restaurants based on location (TripAdvisor best restaurants near me, in New York, in downtown LA), cuisine type (Mexican, Chinese, Thai), and amenities (outdoor seating, Wi-Fi, parking). That's why it's vital for a restaurant to use keywords on their TripAdvisor company profile that tell people exactly what to expect.
Of course, context is also really important when it comes to the decision-making process. Location and company are two relevant factors influencing restaurant selection. It matters whether the customer is dining alone, with family, with a group of friends, with colleagues, or if they are on a date. When it comes to location, it's relevant if they're dining locally, if they're on a leisure trip, or on a quick getaway.
Read more: How Diners Choose Restaurants: The Importance of Customer Reviews for Restaurants
Why is this important to you as a restaurant?
Because you can market your business accordingly. Find out what kind of people visit your restaurant most frequently, take some time to observe the customers who dine at your establishment, and you will know what kind of audience to target.
Then, update your restaurant description and amenities to attract that group of people. For instance, if you notice a lot of families dining in your restaurant, make sure your TripAdvisor business listing says you're a family-friendly restaurant.
If your restaurant attracts a lot of travelers, keep in mind that they are more likely to experiment with their choice of food, as opposed to families dining locally. How do travelers make dining decisions? They want to feel surprised and try things they wouldn't at home. Capitalize on new experiences and cuisines to keep tourists coming back.
Also read: Growing Restaurant Trends in 2019, According to Industry Experts
Why Should You Be on TripAdvisor?
The simple answer to the question "why should you be on TripAdvisor?" is that you should be wherever hungry customers are researching restaurants. With 490 million unique visitors who search TripAdvisor reviews, your restaurant will get exposed to a huge audience, which means more potential earnings for you.
Is TripAdvisor Good for Business?
TripAdvisor is undoubtedly good for business. It's the easiest way to gather reviews quickly, due to the large number of users that visit the platform every day. What's more, you can use TripAdvisor to engage with your customers online when you respond to reviews.
The reviews also push you to be better and to improve your services. Every negative review is a learning lesson that you should take advantage of instead of getting angry over.
Benefits and Positives of TripAdvisor for Restaurants
1. It opens the door to millions of potential clients
The number of users who can view your TripAdvisor business page is impossible to get access to on another platform.
2. You get valuable feedback
Both positive and negative reviews can help you discover what's working in your restaurant and what you could improve.
3. You become more trustworthy
Restaurants that are on TripAdvisor and collect many reviews are more likely to be chosen by potential clients than restaurants that do not have a TripAdvisor presence.
4. It's free marketing
Is TripAdvisor free? Yes, it really is. You don't have to pay for any service if you don't want to, and your restaurant is open to the whole world.
5. You get more visibility in search engines
Try searching for "Chinese food in Nashville." Go on, I'll wait. You'll see that the very first hit after the ads and Google's own suggestions is a TripAdvisor article featuring 57 matches for the best Chinese restaurants in Nashville. If you're on TripAdvisor, users are just one click away from your restaurant listing.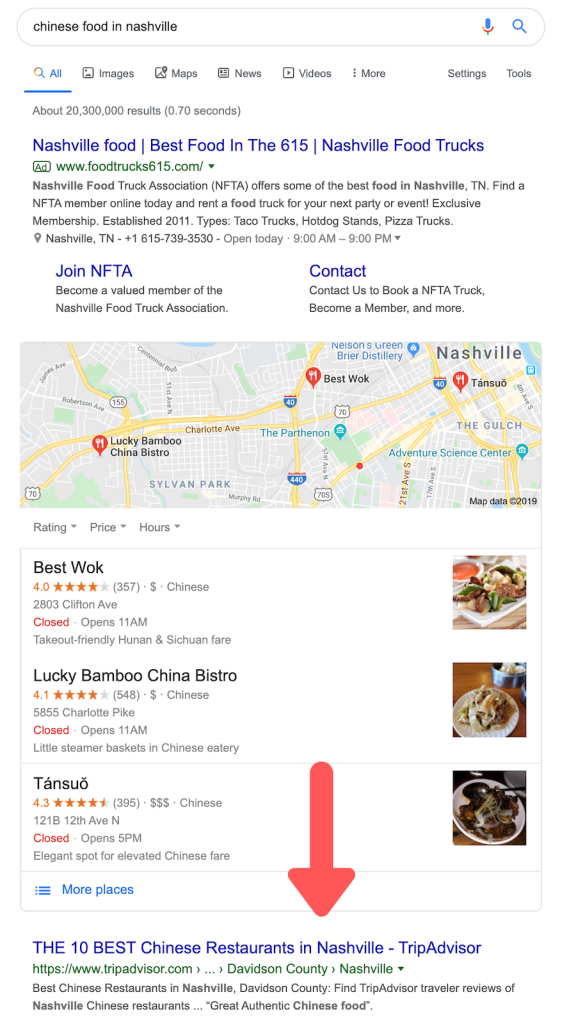 6. You can boost your sales and make more money
Ultimately, even though you don't earn money with TripAdvisor directly, your presence on this platform means you'll boost your sales in the long run.
Why? Because visibility equals visitors and reviews equal trustworthiness, which leads to even more visitors. Finally, more visitors means more money. Voila, it's that simple!
Potential TripAdvisor Downsides
That said, there are a few potential drawbacks to TripAdvisor as well. First, you have no control when it comes to moderating the reviews. If you get a fake or defamatory review, you might have to wait a long time for TripAdvisor to look into it and solve the problem (taking down the review), time in which all other users will see it too. This may or may not deter them from visiting your restaurant.
As opposed to websites like eBay, where in order to leave a review, you need to have purchased the product beforehand, TripAdvisor doesn't ask for any proof that the reviewer actually visited the restaurant they're reviewing. This can lead to fake reviews from competitors who want to bring other TripAdvisor restaurants down or people who are just being malicious.
An interesting example of the unreliability of some TripAdvisor reviews is the story of Oobah Butler. He created a fake restaurant in his backyard shed and turned it into the number one rated restaurant in London using a combination of friends' reviews, photos of fake food, and the exclusivity that the "appointment-only" restaurant was boasting.
However, this is an isolated example and not the convention. Is TripAdvisor reliable? Are TripAdvisor reviews genuine? Yes, most of the time.
Another potential downside is that while you have many great free services you can benefit from, some TripAdvisor exclusive content and tools will cost you money. If you're not willing to invest in TripAdvisor paid services, you might feel like you're missing out on things.
Finally, something that, interestingly enough, is both a pro and a con is that on TripAdvisor, everyone gets equal say. This opens up a world of possibilities for you, but it also means you'll eventually get reviews from people who give you one bubble just because the fruits weren't ripe enough. No restaurant is safe when it comes to negative reviews, no matter how great it is.
How Do TripAdvisor Rankings Work?
In order to understand why your TripAdvisor rank is important, you need to find out how the ranking is calculated. TripAdvisor calls it a Popularity Ranking and bases it on three factors: quality, quantity, and recency of the reviews you get. How consistent these reviews are over time is also important. Let's take them one step at a time.
Quality
This is calculated according to the number of bubbles customers select when they leave a review. Naturally, if your business has more 5-bubble reviews, it will rank higher than one with 4-bubble reviews.
Quantity
While quantity is also important, it's nothing without quality. The number of reviews only matters to make your restaurant relevant compared to others. However, if you have 2,000 reviews, it doesn't mean you'll have a higher TripAdvisor rating than a restaurant that has 1,000.
Recency
Recent reviews are better for your business than older reviews because they are up-to-date and more accurate. Regardless of whether older reviews are good or bad, they won't count as much as newer reviews, but they'll still be visible to all potential customers.
While the exact TripAdvisor ranking formula is not available to the public, it's a mixture of these three factors, together with their consistency over time.
Why Are TripAdvisor Reviews Important?
It all boils down to the statistics we have based on TripAdvisor data. Restaurants with more than 20 reviews get twice as much engagement as those with no reviews. Moreover, having more than 40 recent reviews gets you three times the engagement on TripAdvisor.
However, getting reviews is not all that. Responding to them is equally as important because reviews with responses are even more effective.
Your TripAdvisor rating, which is directly influenced by the number of reviews you get, can bring even more customers in. Customers are 71% more likely to visit a restaurant that has an average TripAdvisor rating of four or more bubbles.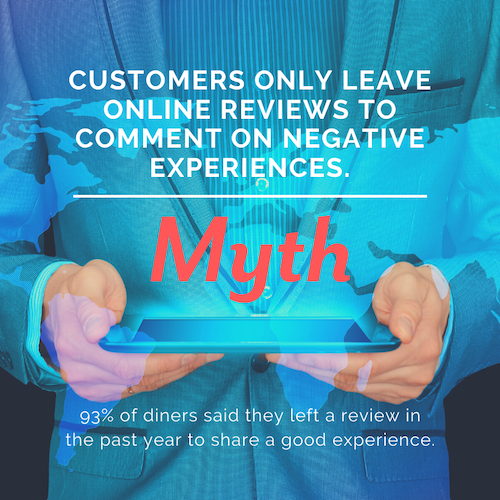 TripAdvisor Restaurant Statistics to Use to Your Advantage (Infographic)
Here are some data-backed tips on how to grow your restaurant on TripAdvisor.

How to Add Restaurant to TripAdvisor
The first step to getting started with TripAdvisor for restaurants is to get your restaurant listed on the website. However, you might be surprised to find out your restaurant is already on there.
Check that by going to their Owners page and typing the name of your restaurant in the search box. If you're having a hard time finding your restaurant, type in the location as well.

Then, choose your restaurant from the drop-down and click the Search button. On the next page, click the "Claim your free listing" button if you've identified your restaurant. If it's not the one you're looking for, click on "Not your business? Search again."

Restaurant not on TripAdvisor: What Do I Do?
If you can't find your restaurant on TripAdvisor, go to the Get Listed page. "But how do I list my business on TripAdvisor?", you may ask. Just input the requested information. This is a crucial step because it's your first chance to tell customers something about your business.
General Information
First, you have to enter your personal information like name, email, business name, country, address, and so on. Make sure you also pin the exact address of the restaurant using the interactive map.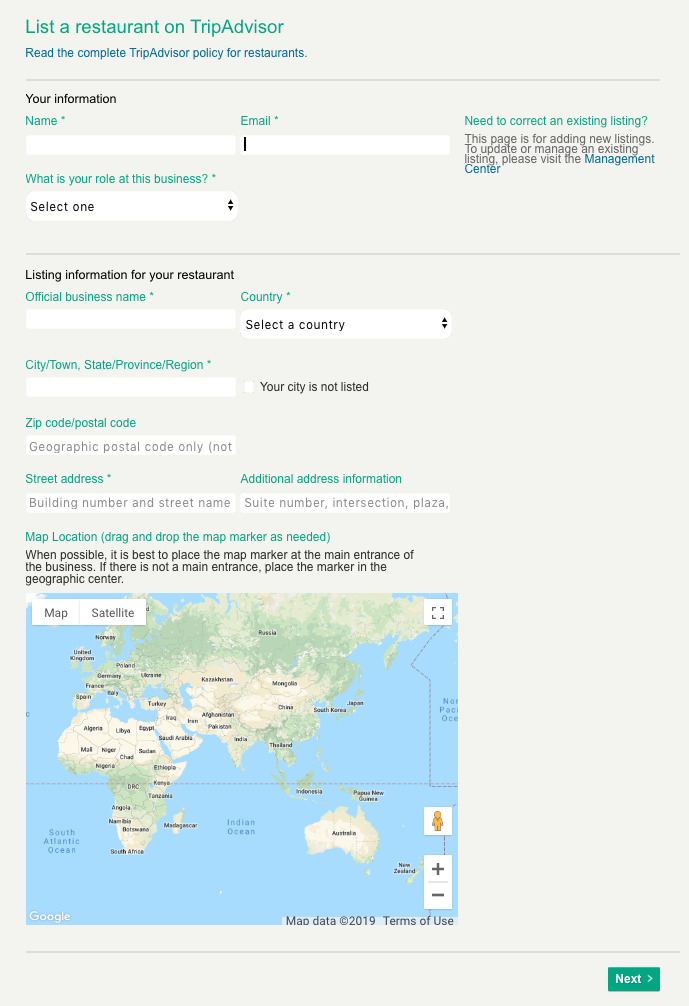 Restaurant Information
Then, you can choose to enter your phone number, fax number, email for customer inquiries, website address, and Facebook page. Note that this is not mandatory information. However, we recommend adding at least your website address because it will provide you with a powerful backlink, as well as your Facebook page to let customers know where they can find you on social media.

Choose a restaurant category (sit down, cafe, or fast food), add the type of cuisine your restaurant specializes in, and enter a general price range of your meals.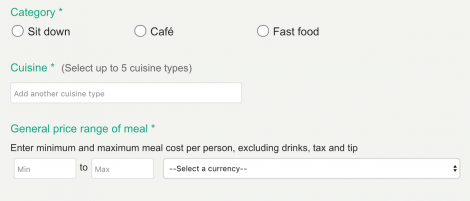 Restaurant Description
Next, it's all about your restaurant description. This is what draws customers to you and helps you rank higher on search engines. Since you only have 400 characters available, you have to make the most of them and strike a balance between SEO-optimized and user-optimized content.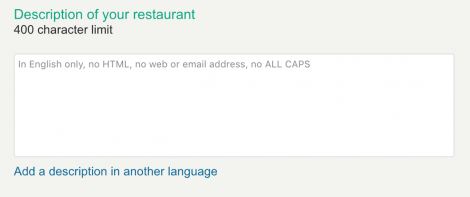 Include your mission statement, tell customers what to expect when they dine with you, talk about your values, the experience of eating at your restaurant, your signature dishes, cuisine influences, and so on.
Include keywords that are relevant to your restaurant to help with search engine optimization. This will prompt more people to find you when they search for restaurants with your specific cuisine.
Related: SEO for Restaurants Or How to Sell More Food Online (Best-selling Expert Tips for Newbies)
For instance, if you serve Mexican food, make sure the keyword "Mexican cuisine" is present in your description. If you serve locally sourced ingredients, include that keyword to let people know. If your restaurant is family-friendly, let the description highlight that.
Here is an example of a restaurant description that tells people exactly what to expect when dining there, while also including a lot of relevant keywords. The restaurant is called Fenicci's of Hershey and it focuses on Italian cuisine.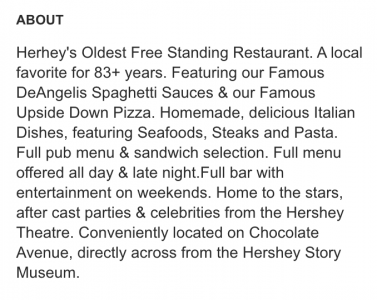 The description highlights their menu and amenities, to show people exactly what they bring to the table (pun intended). The mention that they're Hershey's oldest free-standing restaurant and home to the stars of Hershey Theatre only adds to the appeal of the establishment.
Restaurant Photo
Finally, choose a photo that represents your restaurant. The photo is also a major part of the process because it's one of the first things customers who visit your TripAdvisor listing will focus on. Choose an image that defines your restaurant and speaks volumes about the kind of establishment you are.
Also read: 6 Restaurant Photography Tips & Tricks

After you submit the required information to add your restaurant to TripAdvisor, their team will review it. Expect your restaurant to be available on the website in about 3-5 business days.
How to Verify Your Identity on TripAdvisor
After you claim your restaurant listing, you'll have to verify your identity to prevent fraud. You can do that:
By phone, where you'll receive a call on the number you provided as your business number with a verification code.
By credit card, where you have to enter your credit card information. You won't be charged for that, so don't worry.

There's also another option, in case your restaurant is part of a chain, and that's email verification. However, for small businesses, you can only verify your identity by phone or credit card.
That's It for Now
TripAdvisor restaurant marketing is a great opportunity to grow your business and increase your sales. Now that you've learned how to create a restaurant page on TripAdvisor, you can start looking around the platform and seeing what you can do to create a strong TripAdvisor presence for your restaurant.
We'll guide you through the process of increasing your ranking, boosting sales, and growing your brand with TripAdvisor in the next two parts of this guide, so stay tuned to learn how to succeed on TripAdvisor. Here's what we'll be covering in part 2:
How to get started with TripAdvisor for business
How to improve your ranking on TripAdvisor
How to get more reviews on TripAdvisor
How to respond to TripAdvisor reviews
and more
In the meantime, let us know if you've ever used TripAdvisor for restaurants. How was your experience? Do you have any TripAdvisor tips to share with other small businesses?
Related: TripAdvisor for Restaurants Part 3: TripAdvisor Marketing Strategy to Boost Sales (15+ Ideas)