Restaurant Management Guide: 16 Useful Tips
If you're a first-time restaurant manager, you might be overwhelmed by the responsibilities and tasks that the job entails. And even if you have some experience, you can always learn something new when leading a restaurant to success. I've gathered some restaurant management tips that will make your staff happy and your restaurant prosperous.
16 Highly-Effective Restaurant Management Tips & Ideas
1. Stay ahead of the curve
The first thing you need to know about working as a manager in the restaurant industry is that it's unpredictable and dynamic. Things can change from one day to the next, and you may have to put out fires when you least expect it. For one, that means you have to be extremely organized.
It also means you have to think ahead and try to anticipate things you may need, such as additional staff, ingredients for new menu items, budget for marketing, new technology, and so on. While it's essential to be present, you have to always keep an eye on what will come next.
Problem-solving skills are a must as well. You can be the most organized person; this won't exempt you from restaurant management problems. Knowing how to solve them will set the entire business' tone, as your staff will follow your lead.
2. Have hands-on experience as much as possible
The best managers are those who have walked a mile in their employees' shoes. That doesn't mean you need work experience in every position, from cooking to serving. You don't have to have worked in a restaurant kitchen to know how to manage a restaurant kitchen. It does, however, help if you have.
If you haven't, you need to step up and learn about every aspect of managing a restaurant and the challenges that each employee faces. Don't just observe at a distance; get in there and get your hands dirty.
3. Invest resources in customer satisfaction
Customer satisfaction is your bread and butter as a restaurant manager. Every decision you make has to have that as an ultimate goal. You need to understand human psychology and have a lot of soft skills to succeed.
Having a positive experience at a restaurant is not just about the food. Here are some boxes you need to tick for customer satisfaction:
Friendly, helpful, and knowledgeable staff
High-quality and interesting food
Good prices
Clean restaurant
Pleasant ambiance
Fast service
However, even though we're all familiar with the saying "The customer is always right," there will be cases when you have to side with the staff and protect them from verbal abuse. Never sacrifice the physical or emotional well-being of your employees to get a positive review.
Speaking of reviews, you should always keep an eye on online reviews left of Google My Business, TripAdvisor, Yelp, and other websites where people can review your restaurant. Reply to all of them, be they positive or negative. When it comes to negative reviews, do your best to solve the issue and regain the customer's trust.
You might also like: How to provide excellent customer service in a restaurant [List of Tips👌]
4. Focus on marketing and advertising your restaurant
For any restaurant to become successful, you need to invest time and resources into online and offline marketing. This is a competitive market, so you need to stand out to attract customers and secure their loyalty.
The good news is that you can use plenty of free marketing tactics to grow your restaurant, from social media to email marketing. It's vital to have an account on every major social media platform: Facebook, Twitter, and Instagram. For more experienced restaurateurs, I also recommend Pinterest, Snapchat, and TikTok.
However, you will also have to invest money in advertising such as flyers, signs, newspaper ads, online ads, etc.
Read more:
5. Make employee retention a priority
It's no secret that it's more expensive for any business to hire someone new than to train and retain staff. Unfortunately, the restaurant industry is very prone to turnover, with a rate of over 46%. That means it will be extra challenging for you as a restaurant owner to keep employees and not lose a fortune training new ones.
The secret to employee retention is simple to understand, yet often difficult to practice: keep them happy. Here are some restaurant management tips on how to manage your restaurant's staff, so they love their job:
Have an "Employee of the Month" program to reward them with a bonus or gift card.
Offer gifts on major holidays.
Use monetary incentives based on longevity with the restaurant.
Do small gestures like a free dessert every week.
Organize teambuilding activities, nights out, and regular events.
6. Communicate with an open mind and consistency
Open communication is a must in any business environment, particularly in the restaurant industry, where you often need to make decisions on the fly. Make sure you actually listen to your staff and take into account their feedback. Make them feel valued, appreciated, and respected for a harmonious work environment. These are some good restaurant manager skills to have.
It's essential to also have a positive attitude. Otherwise, negativity will drag everyone down, and your business will suffer the consequences. That said, forced positivity is something you should stay clear of, as it will put too much pressure on both yourself and your employees. Be transparent and open with them even if the situation is not ideal, and encourage them to do the same.
As a restaurant manager, you have to set a good example, so be stable and consistent even in unplanned situations. Have regular meetings to inform your staff of what's going on. This will foster a sense of community and make them feel closer to you and the business itself.
7. Optimize the workflow and innovate constantly
One of the most successful restaurant management tips I can offer is to make your employees' life easier by bringing in new technology and tools, like order forms or ordering apps. For example, taking online orders can quickly become a hassle with the wrong tool. It can take too much time, be too difficult to understand for employees that are not tech-savvy, and ultimately bring restaurant operations to a grinding halt.
The right tool, such as GloriaFood's online ordering system, should streamline operations in the kitchen and help you boost profits through food delivery.
Your Employees Will Love You For This!
Install our online ordering system in a few minutes.
Get Now
Taking online orders with an online ordering system can help increase your sales, without being a hassle for you and the other employees. All you need to do to receive orders is download the free order taking app that anyone can learn how to use in minutes.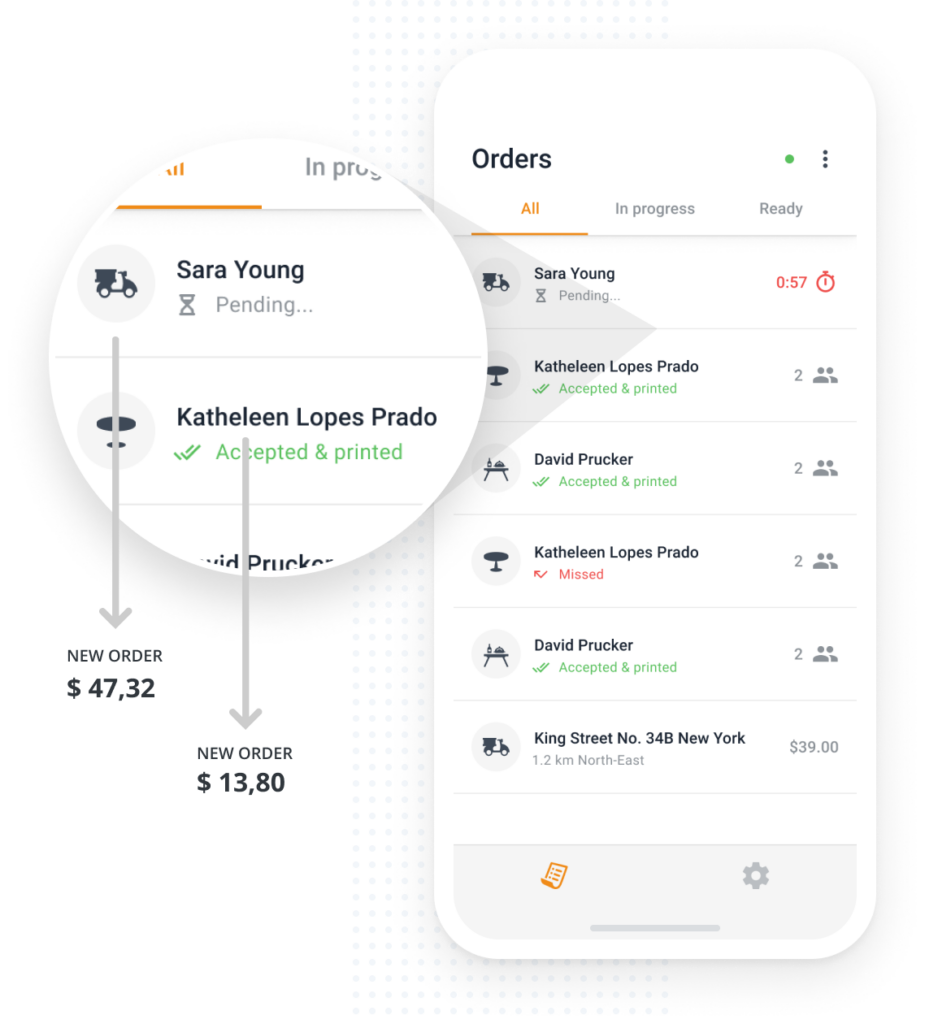 It can be installed on any mobile device, be it smartphone or tablet and is compatible with both Android and iOS. Every time a client places an order, you will get an alert on the order taking app and you will have three minutes to confirm it.
Clients are kept in the loop the whole time, and you can focus your attention on making sure the process of putting together the order and delivering it runs without problem every single time.
Enable your employees to accept online orders in seconds
Get the free order taking app for your restaurant
Start Now
Moreover, show off your restaurant management skills by making the table reservation process easier for you, your staff, and your clients.
With a table ordering system, you won't have to find out who made the reservation error, as there will be none!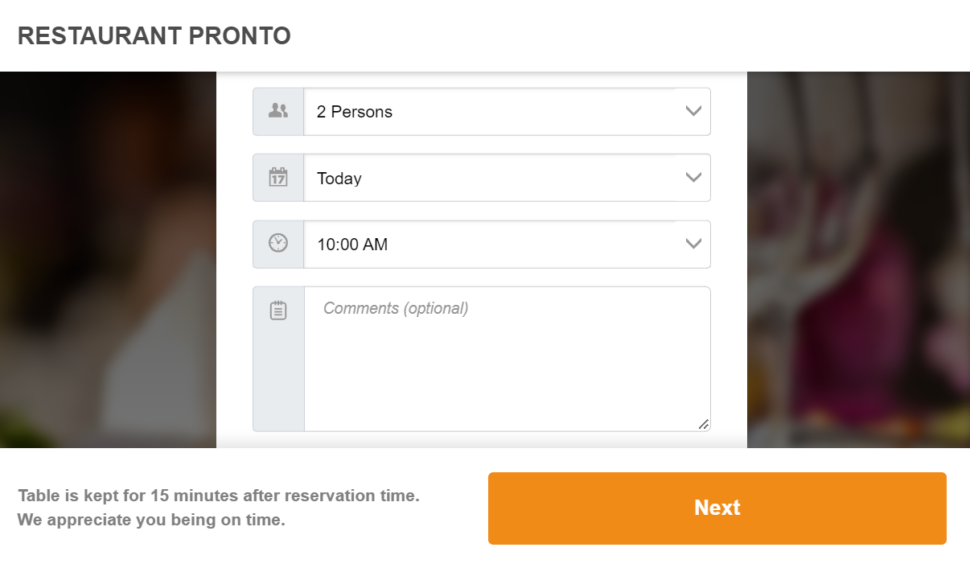 No more unnecessary multi-tasking by answering the phone while serving clients. Table reservations can easily be accepted through the same simple and efficient order taking app.
What's more, you can give clients the opportunity to order food ahead when booking a table, so your employees can focus on delivering the best experience possible instead of taking orders.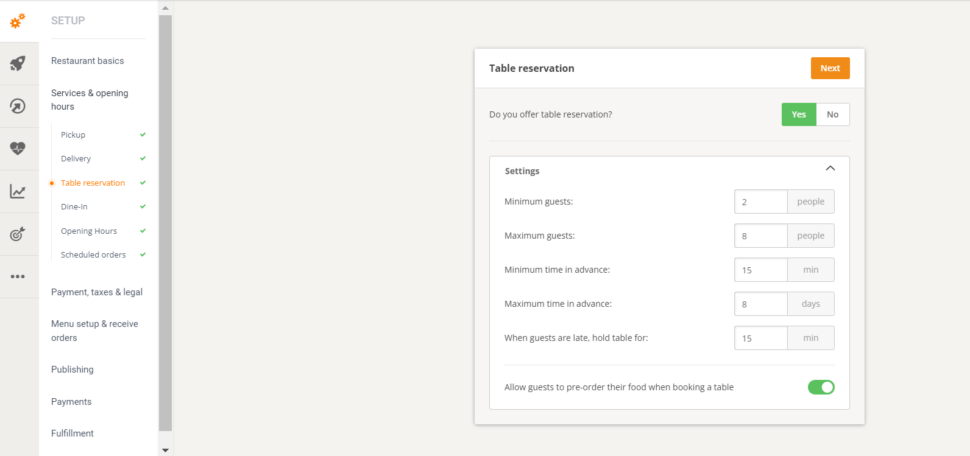 Another type of restaurant technology you can bring to the table is restaurant management software, which will ease your workload and make you a better manager overall.
Innovation doesn't necessarily have to involve technology. Think about unique promotions that will draw customers in, fun events you can organize, and menu items you can add to revamp your menu periodically.
8. Take care of yourself and learn to delegate
The life of a restaurant manager is pretty chaotic, and it can be easy to overwork yourself and reach burnout. Unless you want to wake up one day thinking, "I hate being a restaurant manager," you have to learn how to avoid that. You should first and foremost take care of yourself and your health – both physical and mental. Exercise often, eat well, sleep enough, and keep yourself grounded.
Then, learn to trust your employees and delegate some of your responsibilities. Not only will you get the help you so desperately need, but they'll also become more knowledgeable and feel more valued.
9. Own your mistakes and learn from them
Everyone makes mistakes, especially when working in a challenging environment, so don't expect or strive for perfection because you'll put unnecessary pressure on yourself. When you do make a mistake, don't try to hide it from your employees or dwell too much on the error itself, but on how to fix it.
Depending on the severity of the mistake, you can organize a meeting in which you talk about it. Apologize for having made it, especially if it affects your staff directly, and talk it over with them to come up with solutions together. That way, you'll be more prepared next time, and your employees can learn from your mistakes as well.
10. Use positive reinforcement
Positive reinforcement works like a charm for making employees feel valued and giving their performance a boost. Even if they may not feel significant, celebrate their successes. This will add value to their job and motivate them to do their best, knowing their efforts are appreciated.
Positive reinforcement doesn't have to come in the form of a material reward, although those definitely help. It can be as simple as shaking someone's hand and telling them what a good job they did.
Taking time for meaningful one-on-one moments with your staff is important, but so are public commendations in front of the entire team. Not only will they make the employee in question feel good, but the rest will be motivated to work harder to get their own moment in the spotlight.
11. Learn to multitask
Learning how to multitask should be on any list of restaurant management tips as a required skill. Imagine a regular day in which you will have to deal with calls from suppliers, questions from employees, complaints from customers, learning how to best manage your restaurant's finances, marketing tasks, schedules to organize, and so on.
In an ideal world, you would have plenty of time to do these tasks one at a time. The reality is that you'll have to juggle them and expect interruptions. If being pulled away from a task for a few minutes will completely break your concentration, it will be tough to get everything done.
12. Celebrate accomplishments
Apart from celebrating individual accomplishments, it's important to also celebrate your achievements as a group and as a business. Have you increased your online sales by 20%? Did you get 15 positive reviews in a week? Did you hit your monthly target earlier? These are all causes for celebration.
Organize little gatherings or full-blown parties in which you treat your employees for doing a fantastic job. Mingle with them and don't act as if you're superior. Whether you are a fine dining restaurant manager or a fast-food manager, you are still someone your employees should look up to.
13. Get to know your restaurant's staff
It is the responsibility of a restaurant manager to make sure every employee is productive and puts in the necessary effort any day of the week.
To do so, you need to get to know all your restaurant's staff and learn what motivates them and what negatively affects their performance.
It is an important restaurant management skill to be able to make employees open up to you. In the onboarding process, make sure they are properly trained and know what is expected of them in terms of duties and behavior.
Also encourage them to come to you with any problem so you can solve it before it becomes too late, and they decide to leave.
Learn more: How to Develop a Highly Effective Restaurant Training Manual
14. Build a community
Attracting new customers and retaining existing ones shows clear know-how in managing the restaurant.
You can do so by ensuring you offer a great experience for every client and by organizing themed events. Here are some ideas you can try:
Reach out to active communities and offer your space for their meetings. For example, art lovers could have a photo exhibition at your restaurant or expats can have a friendly space to socialize. Ideally, set the dates on your slow days to get more sales;
Network with complementary businesses, such as local breweries or vineyard owners. Organize tastings or product launches at your restaurant so you can get access to new clientele.
15. Schedule everyone fairly
One of the essential restaurant management responsibilities is scheduling employees. It is also one of the reasons most employees quit if they feel they have been treated unfairly.
The role of a restaurant manager is to make sure each one of their employees can get time-off when needed, be it for vacation or sick days. Use a scheduling tool so you don't end up calling staff to come in on their days off.
16. Keep educating yourself
If you want to know how to be a good restaurant manager, the key is to never stop learning. You can better yourself by being open to feedback from your employees, customers and colleagues.
You can also participate in trainings and read books and articles on restaurant management, dealing with employees or any other issues where you feel you may need some help.
Conclusion
Being a restaurant manager is as challenging as it is rewarding. To be a successful and well-loved one, you need to access more than the leader within. You have to be creative, organized, empathetic, honest, hard-working, and strong-willed, among others. Good management sets the tone for a successful restaurant, so strive to be the best version of yourself if you want your business to thrive.
Tip: Consider taking a restaurant management course if you feel overwhelmed by the variety and complexity of the tasks you have to do.