The road to becoming a successful restauranteur has its ups and downs. While you will celebrate a lot of milestones and successes, you'll also have to overcome various problems. Here are the most common restaurant problems and solutions that will help you nip them in the bud. From kitchen problems to budget issues, what do restaurant owners struggle with, and what can they do about it?
Restaurant problems and creative solutions to solve them
13 Restaurant Problems and Solutions to Solve Them ASAP
1. Unique Selling Proposition
The problem:
One of the main factors affecting the restaurant business is the difficulty of coming up with a unique selling point in an oversaturated industry. What will you be bringing new that your competitors don't already have? How will you stand out?
The solution:
Regardless of whether you want to open a casual dining or a fine dining restaurant, having good food and excellent customer service is not enough. Many restaurants can pride themselves on that.
Your restaurant's goal shouldn't be to meet expectations but to exceed them.
Think of some original ideas that you could be known for as a restaurant. A unique selling point will help customers remember you and want to return. Here are seven unique restaurant concepts to jumpstart your creative process:
Dog cafe/cat cafe
Pop culture theme (from classics like Star Wars and Harry Potter to more recent pop culture phenomenons like Game of Thrones or Black Mirror)
Build your own meal
Dinner and a show in bed (instead of a chair)
Swings as chairs
No phones allowed
Menu descriptions that read like a poem
Your something unique can also be an attention grabber on social media. An unusual dish, crazy decor, or experiential dinner idea might prompt people to take photos and mention you on social media.
Read more: Restaurant Opening Checklist: How to Start a Profitable Restaurant
2. Food Security Issues and Challenges
The problem:
Food security is one of the main ethical issues in food service. Since food is at the center of every restaurant, you should treat it with the utmost care. As a restauranteur, you can encounter many food transportation issues such as the items not arriving on time, needing temperature-controlled transportation, or being contaminated. These can lead to other poor food safety problems in restaurant like customers or staff getting sick.
The solution:
Restaurant problems that have to do with food have to be tackled one step at a time. First, find a trustworthy food transportation company in your area. Take your time researching a few to find one that won't break the bank but also won't compromise on quality.
Next, train your staff on proper health and hygiene practices and make sure they abide by them. Everyone who comes into contact with the food must wash their hands, wear gloves, hairnets, clean clothing, and use the proper tools. The equipment and tools must be cleaned and sterilized, and the surfaces sanitized.
You should also consider implementing a cloud-based access control system in your restaurant so that only specific employees have access to specific food storage areas.
When in doubt, always do the right thing by your customers – there's no in-between. For instance, if your fridge breaks down and you don't know precisely when, you have to throw away perishables even if it means it will cost you more. You don't want to risk getting anyone sick.
Another solution in ensuring the safety of your food products is to seek help from food safety auditors so they can get you the certification needed to keep your customers at ease.
3. Restaurant Management Team Structure
The problem:
Most problems in restaurant management stem from the owner wanting to do everything.
The truth is even if you know how to manage restaurant staff, you won't have the time to do that and also keep a close eye on day-to-day operations.
The solution:
You can't do it all as a restaurant owner. You need a manager or a management team that you can trust. They will keep things running smoothly and come up with much-needed restaurant staff rules, while also helping the restaurant be profitable.
That is not to say you shouldn't be involved. On the contrary, you should try to be there every day, especially in the first year. To avoid chaos and money waste, schedule the workforce carefully. You don't need five servers when the restaurant is empty, nor can you manage with two when the restaurant is bustling. Both instances will lose you money and potentially prompt negative reviews.
When you've found the perfect balance, train your staff on how to handle different situations. Offer them materials and incentives if they do a good job and reach individually established goals. You also need to inspire them, keep them motivated, and align them with your restaurant's philosophy and concept. Everyone should have a clear view of their responsibilities, hierarchy, and team structure.
Problem solving for restaurant managers shouldn't be the owner's concern, but that depends heavily on finding someone you feel comfortable letting take the reins. Any HR issues in restaurants should be their responsibility, and they should have a strong work ethic. Remember that even assigning shifts can be an ethical problem. They should be allocated on skills, performance, and seniority, not based on whom the manager likes more.
Read more: 12 Restaurant Management Tips for Happy Employees & a Successful Business
4. Customer Service
The problem:
Plenty of restaurant problems and their solutions have to do with customer service. To turn customers into return customers, you need to keep them happy and offer them a flawless dining experience. This can be particularly challenging when they're disrespectful or disruptive, such as when they're clearly inebriated and are asking for more alcohol.
The solution:
Customer problems in a restaurant can escalate quickly. Train your staff to be accommodating but firm. If the customer is perfectly pleasant, treat every step of the dining experience with the same care. It's not just the food that matters.
Keep in mind that customers might leave you online reviews. If you get a lot of negative ones, it can impact your popularity and trustworthiness online. That said, no number of good reviews is worth anything if the customer is rude or even aggressive toward the wait staff.
Over serving alcohol is another ethical issue restauranteurs encounter. What do you do when a customer has had enough? Do you cut them off? When? How? As a restaurant owner, you should empower your staff to make their own decisions when it comes to stop serving alcohol. After doing so, they should inform the customer of their decision and offer to call them a cab. You don't want to sacrifice your guests' and staff's well-being over getting more money.
You might also like: Why Do Restaurants Fail and How to Save a Failing Restaurant
5. Restaurant Marketing Challenges
The problem:
When you think of restaurant problems and solutions, marketing is probably not in the top three. Still, marketing is something you cannot go without as a restaurant owner. If you don't have a dedicated marketing budget, you don't necessarily have to get one. You can promote your restaurant for free and still get great results.
The solution:
For restaurants, the saying "any publicity is good publicity" is far from being true.
Bad reviews on websites like Yelp and TripAdvisor can damage your online reputation. The trick is to learn from these reviews and use them to improve your business. Always reply to them and do your best to solve the problem.
To market your restaurant online, you first need a restaurant website. The website should be optimized and responsive to give the customers exactly what they're looking for.
Get a Sales-Optimized, SEO-Ready Restaurant Website.
Get on the first page of Google and take more orders.
Start Now
Next, get on social media ASAP and interact with your customers. Organize contests and giveaways to draw people in with discounts or freebies. Use email marketing to gather customer data and send them personalized offers. Consider creating a customer loyalty program to reward return customers.
Pay attention to smaller details as well, like having your brand graphics or logo printed on materials like the menu, business cards, and even the servers' uniforms.
You should work at marketing your restaurant every day. However, you don't have to pay for it. There are many things you can do for free, as we've shown you above. If you have a marketing budget, you can pay for leads to get more people in your restaurant. However, we wouldn't recommend paying for something that won't get you any new customers, such as Facebook likes.
6. Costs and Budget Management
The problem:
Out of all the things that can go wrong in a restaurant, running out of money is the worst possible scenario. Not approximating costs adequately and not calculating your budget to include unforeseen emergencies are problems that might bring your restaurant on the brink of bankruptcy.
The solution:
The thing that will cost you most as a restaurant owner is the food. There are many factors affecting food cost control, including the cost of raw materials, your menu, the transport cost, seasonality, pricing, labor costs, storage, and more. But food is not the only thing you'll pay for. You have salaries to pay, equipment to buy and maintain, ads to run (if you wish), rent and/or taxes to pay, and more.
So, how do you avoid running out of money? First, by creating a restaurant budget that takes all these factors into account. Second, by hiring or at least consulting with an accountant who knows what expenses to anticipate and how to divide the money equally to avoid running out of it when you least expect it.
7. Employee Turnover
The problem:
Among the challenges involved in managing a restaurant operation, losing key employees is a big one. Restaurants are great places for teenagers to get hired, which also means they probably won't stay long. Turnover can lose you a lot of money because it costs more to hire someone new than to keep an existing employee that you've already trained.
The solution:
You need to put a lot of thought into whom you hire – not just competence-wise. They need to fit in with the team and have excellent soft skills. Your customer service will improve tremendously with the right wait staff.
To avoid turnover as much as possible, make sure you hire people who are willing to build a career at your establishment and not quit after the first three months. Make them feel part of the team and tell them everything they need to know about their job, opportunities for development, rewards, training, and more. Even so, you can never avoid turnover altogether. Just be aware that it is a reality and do your best to keep it in check.
Another way to deal with turnover is to create a list of potential employees willing to work with you. Contact them as soon as you need to hire someone new. That means always being on the lookout for new talent. Recruit passively and have training materials ready for new employees to learn how things are done quickly.
8. Lack of Automation
The problem:
Operational challenges in restaurants have a lot to do with automation in this day and age. This makes restaurant problems and their solutions more complicated for small businesses. Most restaurants are taking online orders. You should, too, if you want to keep up with the times. Otherwise, your competitors will reach customers you never could. Don't just expect customers to magically find you and walk in, go to where they are: online.
The solution:
Implement an online ordering system on your restaurant's website. Make the ordering button easy to spot and mobile-optimized. If you can't afford to invest money in one, try the free online ordering system for restaurants from GloriaFood.
Streamline Order-Taking with a Free Online Ordering System
Phone orders are a thing of the past. Join the future.
Get Started
Check out video instructions on adding online ordering to your restaurant in 10 minutes.
Online payments and modern POS should also be a priority. Customers find it much easier to pay online than cash at delivery. You can automate the whole process with the right tool. For example, GloriaFood offers online payments that support all major credit cards.
You might also like: How to Improve Restaurant Customer Engagement Using Contactless Solutions
9. Online Reach
The problem:
One of the main issues facing the restaurant industry is reaching more people online without giving their money away to food delivery portals. These portals may pose as the restaurants' friends, but they take a lot of commissions and control every aspect of the transaction. The question is: how can you get more visibility online without spending a fortune?
The solution:
The solution is found on your restaurant website. Optimization is critical – your website should be both sales-optimized and SEO-optimized. Search engine optimization can help you get on the first page of Google, where many potential customers might click on your website. Sales optimization puts as few steps as possible between the user and them becoming a customer.
A presence on online directories like Yelp and TripAdvisor can also increase your online reach, and so can optimizing your Google My Business page. Taking control of your online orders means you can get more online visibility without paying an unfair and unreasonable price.
Moreover, when browsing online, do not forget about the security of your data and choose the best VPN for the job. Take your time and study online reviews for each of the possible options. You can get started with these SurfShark reviews.
Read more:
10. Crafting the Perfect Menu
The problem:
Among the many issues and challenges in the food service industry, menu design is one of the greatest. How many items should your menu have? Too many might lead to choice paralysis, while too few won't be enough variety. How are you going to price them? The questions are endless.
The solution:
Ideally, you should focus on one type of cuisine (Italian, Chinese, Vietnamese, and the like). Restaurants that seem like they can do it all are not very trustworthy. Then, align your menu to your unique selling point. If you have a high-end, classy Italian restaurant, use good quality paper, spaced out fonts, and few pictures. If you own a fast food restaurant, focus on bold colors, mouth-watering images, and glossy paper.
The menu layout is also essential. The menu has to be easy to read and comprehend. Don't use currency signs – this tactic will take the focus off the price point of your dishes. Place your most popular items first and hire a copywriter to come up with unique menu descriptions. You can give the whole menu a unique spin using text.
For example, check out the Game of Thrones-themed menu below.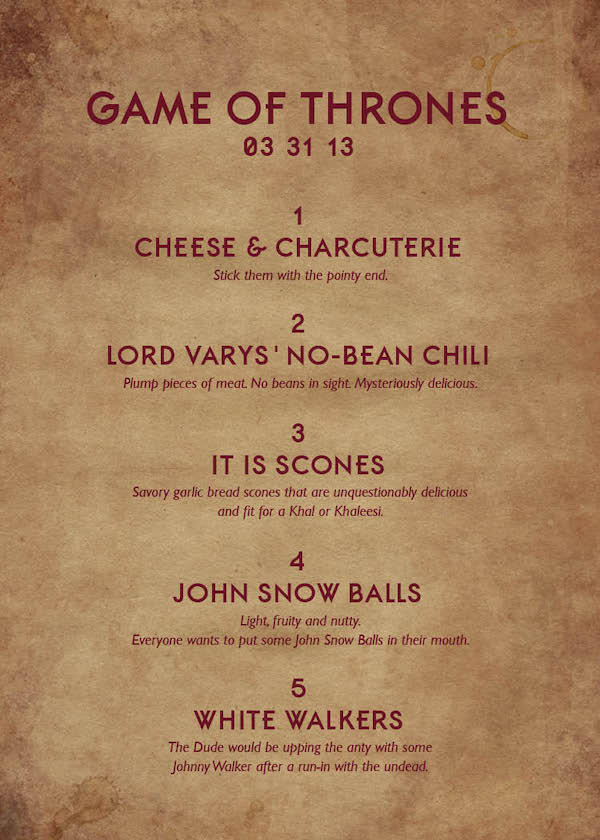 Source: Bacon & Legs
Small, one-page menus can do wonders for your restaurant's profitability. We've created a one-page menu template that you can customize to your liking. Download it for free here.
Menu Compatibility
Always keep the menu updated when something changes, from an entire dish to a price point. Customers will be very disappointed if they end up paying more than they expected on a meal or if they want to order something that is not on the menu anymore. Don't be afraid to update your menu and add new dishes up to 4 times a year to keep it fresh.
Your menu should be up to date on your website as well. Make it responsive so customers can browse it from their mobile phones, and add mouth-watering images. Place it in a visible spot on the website, so users don't have to navigate a lot to find it.
Read more:
11. Administrative Work Overload
The problem:
Some food industry problems have to do more with what's behind the scenes than with what customers see. Managing day-to-day restaurant administrative operations is a great deal of work. Here are some examples of what you'll need to be on top of:
How many customers to expect a day;
How many people order delivery;
What items sell more;
What items are not profitable;
Your losses;
Your sales goals;
What your profit margin is.
The solution:
As we've already mentioned, the mark of an excellent restauranteur is knowing when to admit they need help. If you don't take some of the pressure off yourself, the sheer amount of workload will overwhelm you. Here is the primary staff you should hire to divide responsibilities and keep operations working smoothly:
A manager to serve as your right hand. Look for experience in the industry, leadership skills, and organizational skills.
A chef is the main attraction. Bonus points if you can find one who has experience in the cuisine you're targeting.
An accountant to keep track of your spendings and advise how best to spend your budget to get a high ROI.
A cashier to take care of online orders and maintain the cash registers.
Tip: A restaurant management software like Waiterio and Clockify can ease your day-to-day restaurant operations.
12. Health and Hygiene
The problem:
Problems in restaurant kitchens start to get serious when you don't meet health and hygiene standards. Health and hygiene are challenging to maintain but extremely important. You're working with food, so messiness is inevitable. Additionally, pests are a real threat that can affect your business.
The solution:
To avoid contaminating the food, train the personnel to wash their hands as medical professionals do. They should use utensils instead of their hands or wear gloves. Their clothes must be clean and their fingernails short. They should avoid wearing jewelry, perfume, lotions, aftershave, or nail paint. Aprons, hairnets, and kitchen shoes are mandatory, as is time off work in case of illness.
Make sure your kitchen, refrigerators, and food preparation areas are spotlessly clean and safe to handle food. Sanitize all equipment and usable surfaces and store them properly. Keep on top of pest control as well because they will send customers running. Keep all dumpsters clean, and doors and windows closed as much as possible. Clean the storage area, the food prep and dining area, floor drains, and trash cans.
13. Serving More Customers Daily
The problem:
What keeps restaurant owners up at night more than dreaming of an empty restaurant? Not much. While other restaurant problems and their solutions may be less threatening, this is a big one. Even if you have a decent number of customers every day, you can always do better and serve more people a day. Out of the many challenges involved in managing a restaurant operation, this has an easy solution.
The solution:
One of the fastest and easiest solutions to preventing downtime is to provide the possibility of booking a table on your website. You can even allow customers to order the food in advance. That way, when customers arrive at the restaurant, their meal will already be waiting for them. This means they'll leave the premises faster, which in turn will help you serve more people.
Read more: How to Increase Table Turnover & Serve More People Faster
Take Unlimited Table Bookings for Free.
Fill empty seats and serve more customers daily.
Start Now
Do you want to streamline the process even more? Install tablets at each table to allow people to order without a server bringing them the menu, coming back to take their order, and then placing it in the kitchen.
Extra tips to prevent restaurant problems
Prevention is the best solution for a lot of restaurant issues. Here are a couple of measures you must implement to set you up for success:
Use a top-of-the-line surveillance system: common problems in the food service industry can be avoided when it is no longer a she said he said situation, but there is rock-solid evidence. Install the cameras in strategic positions, for example, at the entrance, back exits, and above the bar, to increase restaurant security.
Celebrate success: employee dissatisfaction is a restaurant problem that can lead to a high turnover. Take time out of your day to show appreciation to a server doing a good job or a line cook doing his best. You can also organize a small party at the end of a very profitable month.
Constantly update your online information: avoid regular problems faced by restaurants such as wrong working hours on social media or old menus still up on TripAdvisor with regular maintenance.
Facilitate communication: a lot of the problems restaurants face could be solved with communication and procedures. Create a defined set of guidelines for the way employees should act from the moment they greet the customers until they leave. Leave no room for interpretation.
Manage inventory: consider investing in an inventory management POS system to get rid of the food spoilage problem in your restaurant. You will be able to automatically reorder low stock items and discover the best selling items.
Final Words
The issues facing the restaurant industry and restaurant owners can put a strain on day-to-day operations and jeopardize the future of the establishment. These restaurant problems and solutions can serve as a blueprint for anticipating potential issues and solving them before they escalate.
What other food industry problems and subsequent solutions did you have to face? Do you have any restaurant problem-solving examples you'd like to share with us? Get in touch!
Part 2: 13 Common Restaurant Complaints and Solutions on How to Save the Day