How to Ace Restaurant Inventory Management
Restaurant inventory management is an essential aspect of running a restaurant. In the face of increasing competition, restaurant operators must gain new consumers, cultivate repeat business, and expand their client base.
The process of managing products and raw materials flowing into your restaurant, as well as the resources required to provide them to your guests, is known as restaurant inventory management. You must also factor in overages, waste, and the human factor in the inventory process.
By maximizing your inventory management as a restaurant owner, you will save both time and money. It will guarantee that your consumers receive the freshest products possible. It will also keep your employees pleased by equipping them with the resources they require to keep your clients coming back.
The benefits of intelligent restaurant inventory management
Restaurants are increasingly turning to technology to help them keep track of their costs. You can save money by using a cloud-based inventory management system.
Just as you need to consider many factors when choosing a platform to build a website, you must select your inventory management system carefully.
Inventory management is critical in boosting your restaurant's sales because paying customers expect to get the most satisfaction for their buck. So, while choosing the best inventory management platform for your restaurant, take your time, think about what you want to get out of it, and weigh the benefits and drawbacks.
What kind of advantages are you expecting from it? Is your primary objective to grow your audience spontaneously?
The following are some of the benefits of good inventory management:
Tracking of resources.
Controlling and organizing the stock.
Supply analysis.
Better forecasting.
Increase in sales and profits.
Reporting on waste and losses.
Costs of labor.
Quick-service restaurants, catering businesses, and other food and beverage businesses can benefit from using a stock control system. An inventory tracking system assists restaurants in successfully managing waste, increasing production, and controlling cash flow.
Of course, all this has to be done with the business's branding in mind. Branding is a vital ingredient of your customer retention strategy.
Picking the right restaurant inventory management system
Restaurant inventory management software is a comprehensive tracking solution that keeps track of every ingredient, supply order, and meal entering and exiting the kitchen.
Inventory management improves kitchen productivity, lowers inventory losses such as food spoilage and waste, and boosts profitability by reducing food costs.
Keep in mind what your brand represents while choosing the right restaurant inventory management system. From employee retention to customer conversation, a lack of brand strategy causes problems at every level of an organization.
Monitoring all stock, standardizing recipes, and designing the menu based on current inventory are all part of restaurant inventory management.
In addition, it calculates both utilization (the number of days the inventory will last) and depletion (the stock used in a day or a week).
Discuss with your team and gather knowledge on the best restaurant inventory management system around. You can hold meetings with the entire team or various departments, take meeting notes on the ideas, reflect on them, and then make your final decision.
Managing restaurant inventory finances
Inventory is one of the most significant business expenses for restaurants. Because most businesses have more inventory than they can sell, inventory management is a considerable investment. This prevents restaurants from running out of stock and seeing a drop in sales.
Inventory budgets assist restaurants in avoiding inventory obsolescence and capital waste due to ineffective items. Purchasing too much inventory that must be sold within a specific time frame may compel the restaurant to sell the goods at a discount.
Not only does this reduce the restaurant's profitability, but it also costs the owner money to acquire and maintain inventory.
To avoid overspending on inventory, retailers frequently set budgets during the Christmas seasons and other special holidays or times of the year. Budgets and smart invoicing can assist novice restaurant managers in making better selections about which things to buy.
Best practices in restaurant inventory management
1. Organize and plan
Organization is one of the most important aspects of being able to handle inventories rapidly. Every object should have a designated location.
Knowing where products are and being able to get to them quickly boosts sales and keeps employees focused. Consider putting labels on your shelves or making a spreadsheet to keep track of what's on them.
To make it easier to find what you need fast, divide your inventory into divisions (dry goods, freezer, refrigerator, paper supplies, office supplies, uniforms, etc.).
It would be best if you worked on a regular schedule to take consistent and accurate inventory measurements. You'll wind up with data that's all over the place if you're inconsistent with time. It won't tell you how much COGS, inventory turnover, par level, utilization, or volatility cost you.
However, simply setting goals will not make them a reality. You and your management team must keep a close eye on performance and devise solutions to any potential stumbling blocks.
Work with your culinary crew to see how you can improve your food. Ask the social media management team to work simultaneously on brand reach. This works for all types of businesses: whether you're selling electric skateboards or providing restaurant services.
2. Monitor your stock
The most common mistake made by restaurant operators is failing to keep a close eye on the restaurant inventory. If you don't keep track of your list, you could unintentionally raise your food costs.
You might also like: 25 Safe & Smart Cost Reduction Strategies in Restaurants
Keep track of your daily consumption
You must keep track of the ingredients you use every day. As a result, you'll be more aware of the goods accessible at all of your locations. Additionally, you can generate a monthly inventory report. You can do it by hand or utilize an inventory function of restaurant management software.
Make purchases only when required
When you keep a close eye on your restaurant's inventory, you'll be able to tell when it's time to reorder the items. Imagine preparing an order and discovering that one of the significant ingredients has expired or is out of stock.
Furthermore, what if you place an order and the item you want is still in stock? Isn't this going to result in unnecessary food waste and raise your input costs?
Keep an eye on the sell-through rate
Like keeping a smaller inventory supply, monitoring sell-through takes practice but may be tremendously advantageous during busy times/seasons. You can foresee when items will run out with proper planning and management, and you can always have a backup on hand. Don't let a lack of planning cost you sales.
Examine each stock item's yield
Unnecessary food waste frequently occurs in the kitchen and storage because restaurateurs often order more than required. The item's exact yield tells you how much of each ingredient is needed to make the dish and allows you to place stock orders based on it.
You won't have to worry about over-ordering or running out of stock when preparing things this way. An intelligent restaurant inventory management software can automatically compute the yield of each item and offer wise reports for better cost analysis.
3. Consider a POS system
We've all come across different POS machines at some point, and we all have a distinct idea of what a POS machine is. However, not all restaurants use one.
Restaurant POS systems can help you manage your restaurant's inventory easily. Many retailers prefer cloud-based POS because it is less expensive and offers a variety of additional features, alternatives, and integrations with other applications.
4. Use forecasting tools
Forecasting will not always produce accurate results, but it is critical for restaurants to recognize trends and respond quickly.
In addition, forecasting based on past data can give you insight into your two most significant expenses, food, and labor. It can also help you make important decisions about where and when to deploy your resources.
What can restaurant forecasting help you with?
Restaurant forecasting anticipates vital indicators such as sales expected, customer traffic, and menu item purchases based on historical sales data, trends, and market study.
Sales projections based on integrated POS data taken from your restaurant operations software are powerful tools in the restaurant business.
For example, they can help you target your email campaigns to reach a larger, more relevant audience. You'll need precise data analytics, as well as an understanding of what to send, when, and to whom.
You can use email marketing tools to make this job easier and email design builders to craft newsletters that draw people's attention.
Forecasting tools can also help you save money on your second most significant expense: food.
You might also like: Forecasting Restaurant Sales: Why It's Important & How to Do It
Examining historical data and seasonal trends
You should factor past years' business growth trends and seasonal business growth trends into these estimates.
If many of your food orders came from Facebook, for instance, maybe it's worth investing more into this platform. Find Facebook influencers to collaborate with and positively impact your restaurant.
Start taking food orders on Facebook
Add our ordering link to Facebook's 'Start Order' CTA
Get Started
Consider the overall trend, as well as weekly swings and annual historical sales seasonality. Consider weather, events, and traffic, as well as other unique real-time elements.
Remember that offering free delivery and other restaurant perks might be a great way to entice buyers. You can also do occasional giveaways featuring tech products or other food-related prizes.
Free resource: Food Holiday Calendar & Promotions Ideas for 2023
Using past sales data to inform your decisions
Forecasting operations support inventory control in three ways by using past data to guide your decisions:
First, because you can't waste anything on your shelf, sales forecasting can reduce food waste.
Second, you can streamline your prep process and accurately forecast your stocking needs to achieve a low percentage of error by adjusting your supplies.
Third, it reflects how busy you will be and what menu items guests will order by adjusting your inventory.
5. Follow the FIFO method
FIFO is the shorthand for First-In, First-Out. It is a food storage system that uses a stock rotation technique. Items with the earliest best before or use-by dates go in front, while those with the earliest dates go at the back.
Using a FIFO food storage system is easy and effective. It ensures that employees are always aware of what is moving in and out. In addition, it guarantees that older products are used or purchased before newer ones, reducing waste.
The FIFO technique comprises of five simple steps:
Find items that have the earliest best before or use-by dates.
Dispose of items that have passed their expiration dates or are damaged.
Place the items with the earliest due dates first.
New products should be in place behind the front stock, and those with the most recent dates should be in place at the back.
The stock should be in use/sold first in the front.
If you decant food from its original packing into another container, remember to label food that doesn't have expiration dates. Chefs will be able to identify at a glance which ingredients should be utilized first.
As a result, FIFO creates a framework that allows all employees to collaborate on a common-sense approach to food cleanliness, storage, and waste, like so many other workplace practices.
You might also like: The Ultimate Restaurant Maintenance Checklist Template
6. Separate food waste
Fast-food restaurants waste roughly 9.55 percent of the whole quantity of purchased food. In contrast, full-service restaurants squander 3.11 percent of the total amount of purchased food.
This is not only bad for the world's food supply, but it's also bad for the restaurant in terms of higher food expenses. When your employees produce too much food waste, raw materials that you could have put to better use elsewhere are thrown away.
There are a few things to keep in mind when it comes to food waste management in restaurants.
You might also like: How to Make a Restaurant Environmentally Friendly: 10 Tips & Secrets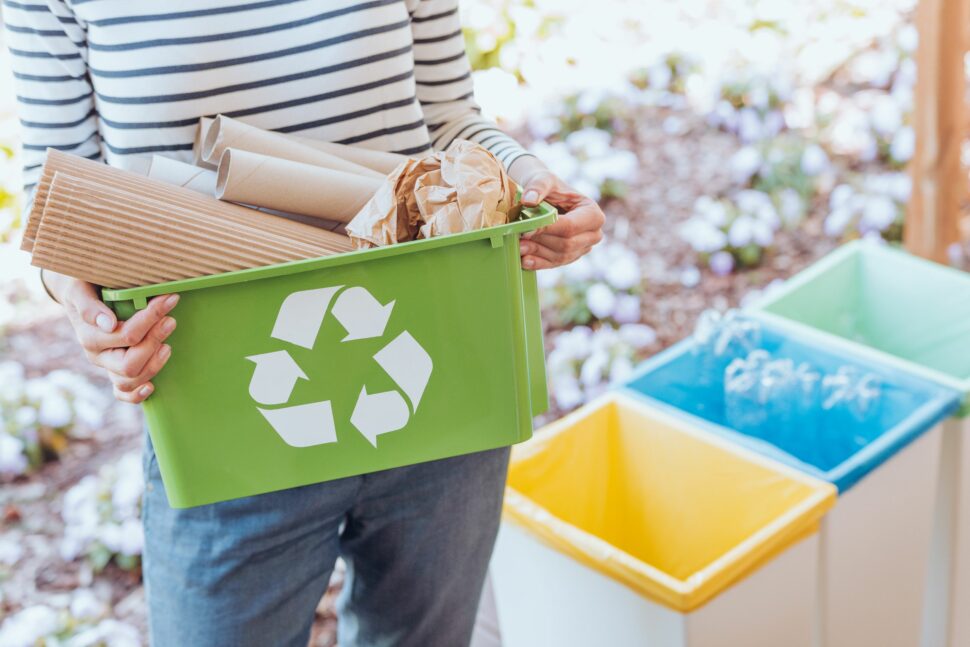 Perform a waste audit
First and foremost, you must determine the amount and type of trash generated by the restaurant. Therefore, the first purpose of an audit should be to discover and identify the sources of waste. Only then will you be able to devise strategies to eliminate it.
It's critical to explain why you're performing the audit and the benefits of this program to your employees.
After you've identified your waste, break it up
It is preferable to divide restaurant garbage into groups after identifying it:
Pre-Consumer Waste: Food waste that does not leave the kitchen, such as spoiled perishables. You could solve the waste problem by improving the storage system so that raw resources are not squandered.
Post-Consumer Waste: Post-consumer trash is the second type of waste in a restaurant. Over-proportioning is one of the leading causes of post-consumer waste. Serving considerable amounts of food that guests do not consume results in destruction and increased food costs. As a result, portion control is necessary.
Recycle and donate
Instead of wasting away over-prepared food, you can donate it to the less fortunate. Make contact with local NGOs in your region to see if they can assist you in donating any leftover food rather than letting it go to waste.
It's challenging to recycle and reuse food while keeping its quality and hygiene. However, in some cases, such as bakeries and sweet shops, you can sell yesterday's item for half the price rather than wasting it. However, don't forget to tell your customers that you're selling items that are a day old!
7. Analyze reports and data
A complete review of a restaurant's overall operations is required to monitor growth and discover development opportunities.
Operators are now collecting and evaluating performance-related data from different sources to understand their business better, thanks to the variety of restaurant data monitoring systems.
Some essential areas where recording data from your restaurant management software becomes incredibly important are listed below.
Inventory data
One of the essential aspects of restaurant management is inventory. You can use inventory data to determine which menu items contribute the most to your bottom line and, as a result, help you engineer your menu accordingly.
Many restaurant operators prefer to keep track of their inventory manually. However, the manual procedure of keeping track of inventory data takes time and is prone to human mistakes.
Instead, operators can use their point-of-sale systems to obtain data and track inventory, saving time and effort.
Financial data
Financial data determines if your restaurant is prospering and impacts all other aspects of your business. The main goal of keeping track of financial records is to evaluate the success of your decisions and initiatives.
In addition, the ability to maintain profitability is critical to a restaurant's long-term success. Therefore, financial data gathering includes keeping track of profit and loss, cash flow and cost, and so forth.
Your restaurant management system can track this information and generate a complete report based on the order form, item, time, and other factors. Analyze sales patterns and trends by monitoring your online ordering system and third-party integrations.
A report creator is an important component of any restaurant management system because it allows you to customize the reports that are generated as needed.
Free Online Ordering System for Your Restaurant
Install it on your website in minutes
Get Started
Customer data
Customer data analysis is critical for your restaurant's success. Data such as birthdays, order preferences, favorite foods, and dietary allergies is relatively simple to get.
The use of third-party apps to track client data is relatively simple. Loyalty programs, for example, can be seamlessly integrated with your POS system to deliver a complete set of data. Investing in a solid CRM software module is highly encouraged because it automatically handles all of your marketing needs.
Hosting events is another way of obtaining customer information. In addition, you may help spread the news by creating an event on Facebook and sharing it in relevant Facebook groups.
Conclusion
You can choose to keep your restaurant inventory manually. In this case, you will have to keep track of inventory levels regularly and manually place orders when stock runs out.
On the other hand, many modern restaurant businesses have automated this stage with inventory ordering software that includes buying order systems.
Your goal should be to construct a restaurant inventory management system to optimize your resources and minimize expenses while dominating the competition.
Depending on the size and expectations of your business, this can become a challenging undertaking.
Data analysis is critical to managing a successful restaurant. It gives you valuable insight into how your business is doing and shows you where you can make improvements. Remember to invest in a solid POS system that will increase your restaurant's efficiency and growth.
This article is a guest post.