Maintenance isn't the most exciting part of running a restaurant, so it might be tempting to just skip it. However, you'll want to have a well-defined restaurant maintenance checklist in place —studies show that restaurant chains with a formalized maintenance process have expenditures 50% lower than average. So what types of maintenance should you be performing? You'll want to keep up on several different items, but it all comes down to preventive maintenance.
What you need to remember is that preventive maintenance also helps you keep your costs down – as long as you do it, you won't have to spend too much money on repairs or buying new equipment.
Related: How to increase restaurant delivery sales fast
Preventive restaurant maintenance
For restaurants, preventive maintenance (PM) is key. Rather than waiting for your commercial oven or soft serve machine to break down, you can use preventive maintenance tasks to keep equipment in top running condition.
PM tasks include the following:
Equipment checks
Routine checks on the condition of your equipment are the core of PM. These should be conducted on a regular basis, such as every week or at the end of each day, depending on the asset.
Minor upkeep
Sometimes items need minor upkeep along with a visual inspection. Cleaning, lubrication, and other small tasks can typically be performed by your regular staff on a routine basis.
Building maintenance
Outside of the regular upkeep, your restaurant will likely need regular building maintenance. Those tasks would consist of checks on the building's heating, cooling, lighting, plumbing, and so forth. Typically, these tasks would be conducted by a professional, not your in-house staff, and would be handled on an annual or semi-annual basis.
You might also like: Restaurant Opening Checklist: How to Start a Profitable Restaurant
Implementing preventive maintenance
Now that we've looked at staying ahead of the curve with preventive maintenance in your restaurant, let's discuss how you'd implement it. These methods may help:
Implement the 5S method
Minor in-house checkups can be handled through the 5S method. This methodology is part of total productive maintenance (TPM), which is a maintenance philosophy that gets everyone in your restaurant involved with maintenance and reliability.
The five S's stand for the following:
Sort – Sorting involves determining which tools you need to keep and which ones to discard.
Straighten – Straightening your restaurant would entail putting tools in the right place to maximize efficiency.
Shine – "Shining" in your restaurant would mean keeping kitchen work areas clean and orderly, cleaning up washrooms and eating areas, and so forth.
Standardize – This refers to standardizing the way you handle the previous three S's.
Sustain – Sustaining the above processes means training your employees to perform routine tasks without being told.
The whole idea behind the 5S strategy is to keep maintenance costs down by having your staff members handle the bulk of routine PM tasks. And for you to focus on increasing your sales.
Get a network of contractors
Some preventive maintenance tasks are a bit beyond the skills of your restaurant staff. For those, you'll need to either hire your own maintenance team—expensive, and likely to be underutilized by a single restaurant—or put together a list of qualified contractors.
It's worth doing some homework in this area since you want contractors you can rely on. Getting referrals from other establishments, looking at reviews, and so forth should help you put together a list of reliable maintenance contractors.
You'll want to use these contractors for routine checkups, such as semiannual HVAC checks or yearly plumbing inspections. They'll also be helpful if you need repairs in a pinch.
Note: If you operate a large chain of restaurants, you might benefit from having your own maintenance team to handle more complex inspections and repair tasks. Even then, some more specialized tasks might warrant hiring a third party.
Use a CMMS
Anything that's handled on a routine basis, whether 5S tasks or yearly inspections, can be handled through a mobile CMMS.
A CMMS, or computerized maintenance management system, is a software system that allows you to schedule PM tasks, create work orders, and track work histories. Some systems also include restaurant inventory management modules and the ability to create purchase.
By scheduling your routine maintenance through a CMMS, you'll get automatic alerts orders, maintenance checklists, and comprehensive reports, whenever maintenance tasks are due. Tasks can be marked complete and updated through connected mobile devices, making restaurant maintenance easy to manage at minimal cost.
Related: Free online restaurant booking system that will enable you to boost your sales without paying a single dime of commission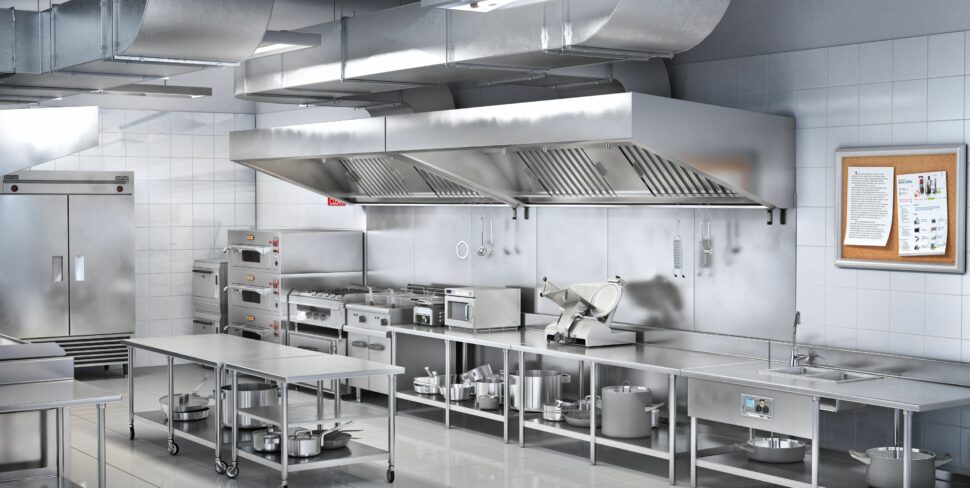 Restaurant Maintenance Checklist Template
As far as the actual details of the maintenance tasks you'll perform, you'll want to create a template. The good news is you don't have to do so from scratch. This sample restaurant maintenance checklist template can help you get started with your kitchen maintenance:
Daily checks
Ovens:
Make sure ovens are turned off
Check door seals
Clean oven interior, including walls and racks
Clean steamers on combination ovens
Check fans and fan hinges
Refrigerators and freezers:
Thermostat is set to the right temperature
Airflow vents are clear of ice and debris
Interior of unit is clear of spillage, dirt, and mold
Deep fryers:
Scrub and clean deep fryers with a deep fryer brush
Stoves, ranges, and griddles:
Wipe up spills and messes
Clean and dry removable parts
Clean the interior and surface areas
Check valve handles
Stand mixers:
Unplug the power cord
Wipe down all parts that might see buildup
Wash and dry mixer parts
Clean the protective grid around the motor
Clean the planetary assembly
Dishwashers:
Wipe down interior and exterior
Remove all food particles and debris
Check and clean the filter
Leave door open to air dry overnight
Sinks
Clean and sanitize interior of sinks
Clean faucets and knobs
Remove any food buildup from drains
Waste
Change out all waste bin bags
Clean waste bins
These checks are to be performed each day. You'll want to create a similar checklist for monthly, semi-annual, and annual checks as well, including those that might call for professional inspections.
The Takeaway
By using this restaurant maintenance checklist, you'll be able to easily organize routine tasks, be able to keep on top of your restaurant's maintenance, reduce the frequency of breakdowns, and keep your kitchen running at top efficiency.
Written by Warren Wu, Growth Manager at UpKeep
Related: Use These Restaurant Promotion Ideas That Work to Get Customers Through Your Doors
Related: Forecasting Restaurant Sales
Related: How to Provide Excellent Customer Service in a Restaurant