Try These 7 Restaurant Security Measures ASAP
Restaurant security is often overlooked in all the restaurant problems you may face. For many restaurants, what's provided is inefficient. Unlike other businesses, there are very few precious items that can be stolen. Consequently, this can create a false sense of security.
The safety and security of your restaurant's employees and customers are your responsibility and should be a high priority. This guide will offer unique restaurant security measures and strategies that you can start implementing immediately.
Why is Restaurant Security Important?
Restaurant security is essential first and foremost to protect the health of both your employees and your customers.
It's also important to protect the profitability of your business. Most robberies are quiet. Without proper restaurant security measures, you could be having money, alcohol, and goods from the kitchen stolen without even knowing.
Lastly, strong restaurant security is beneficial for your insurance claims should any incidents occur. Recouping the costs of crimes is vital for your restaurant to stay financially sound.
7 Vital Restaurant Security Measures
1. Responsible alcohol service
40% of violent crimes involve alcohol. So, there's a high chance this could be a significant security concern at your restaurant.
As a result, your bar staff and waiters need to be well-versed in responsible alcohol service. Serving alcohol to visibly drunk customers is illegal in many states. Also, it can lead to customers acting unruly towards staff and fellow diners.
TIPS alcohol training is a government-sponsored training program that many states require restaurant employees to take. Anyone who may be serving and handling alcoholic beverages must take this course.
The course covers best practices for cutting off drunk customers, measuring alcohol in mixed drinks, and reviewing customers' IDs.
2. Access control system
An access control system is vital for certain parts of your restaurant to ensure that only authorized people can gain access.
Consider controlling access to:
Staff-only areas such as storage rooms
Offices or rooms where you keep a safe
Back doors and side entrances
There are many kinds of access control systems out there, so you'll have to consider your access needs, points of entry, and budget when choosing one.
That said, one of the best access control solutions for restaurants is a keypad entry system. Keypad devices are great for auxiliary entrances and interior doorways to protected or staff-only rooms. As the restaurant owner or primary admin, you can determine which employees have access to certain rooms.
When choosing a keypad access control system for your restaurant, look for one that pairs with a mobile app. That way, employees can navigate the restaurant and gain access using either a PIN code or their smartphones.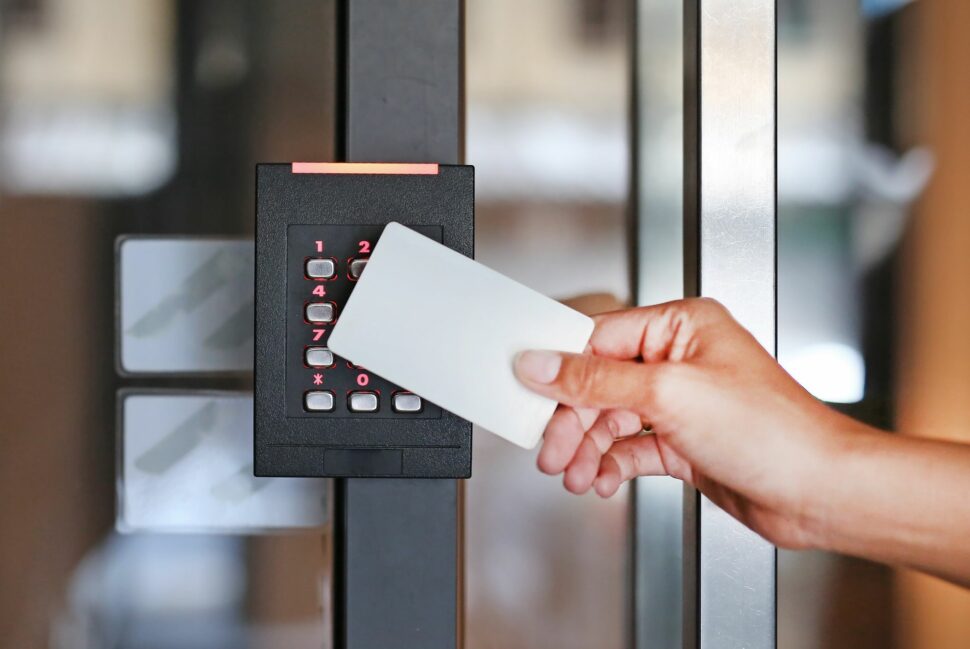 Related: 10 Tips to Improve Restaurant Cybersecurity
3. Safe cash handling strategies
Most of your restaurant's cash and payments will go through your POS system terminals. However, risks can occur when cash is transferred from these terminals to your safe.
Serious thieves do their homework before committing a crime; they will likely notice if you stick to a pattern. So, make sure to transfer cash from POS terminals at random times of the day.
Also, be sure to transfer cash frequently so that each POS terminal never accrues a large amount of cash.
As a rule of thumb, employees should never count cash in front of guests. In addition to possibly coming off as rude, this can lead to someone calculating your restaurant's average earnings. Impulsive crimes are just as harmful as those from more tactical criminals.
Additionally, allow your guests to order and pay online by implementing a QR code menu to avoid exchanging bills.
Free QR Code Restaurant Menu for Dine-in Ordering
Contactless ordering & payments for a safer restaurant
Get Started
If you'd like to learn more about setting up a QR code menu for free, check out the video below.
4. Security cameras
How do you secure a restaurant most effectively? With surveillance cameras.
These handy devices are your bread and butter for vital restaurant security measures. Surveillance cameras can deter violent and property crimes, as well as thieves.
Your restaurant's security cameras will be most useful when positioned over points of value, such as near POS systems, the bar, and any onsite safes.
It's also a good idea to install surveillance cameras all over the property, including the dining hall. Surveillance cameras outside your building can also deter or record after-hours intruders.
Your restaurant security system will likely cost between $1,000 and $10,000, with an average hovering right in the middle. This doesn't include installation fees.
5. Employee screening
Your restaurant staff hiring process should include a thorough background check before any employees start working with you.
If they have previous industry experience, a call to their prior manager is a must. If an employee has stolen or been dishonest in the past, they were likely fired without being criminally charged.
You should have specific guidelines in your code of conduct for what employees are allowed access to, such as house drinks and meals. You should outline all aspects of cash management and tip pooling policies for employees in writing in your restaurant training manual.
If you're storing your training materials and other types of sensitive employee information in the cloud, consider cloud security tools to protect your staff and minimize risks.
6. Employee closing shift training
When training your closing shift employees, they must know the risks of closing the restaurant. A buddy system should always be utilized when the lights go out, and the cash has been withdrawn from all POS systems. Nobody should ever be alone on closing shift (yourself included).
Provide your employees with a restaurant security checklist to follow that includes locking all doors to restricted areas such as offices and storage rooms. You should also train employees on securing all hazards such as gas stoves in the kitchen.
7. Secure parking lot
Your restaurant security responsibilities extend beyond the building's front doors. Restaurant employees such as servers and bartenders are likely walking to their cars with a pocket full of cash.
No matter the neighborhood, this puts them at a higher likelihood of violent crime because of that incentive alone.
So, make sure your parking lot is well lit. If employees are working late, consider designating parking spaces for them close to the building, or at least near one another.
If you've followed our suggestions for security cameras, then it's essential that you use some to monitor your parking lot.
Summary
Maintaining restaurant security is paramount to your business. After all, it's your duty to protect your property, employees, and guests.
You can improve security at your establishment by implementing key restaurant security measures, like screening employees, ensuring responsible alcohol service, and implementing safe cash handling procedures.
Investing in the proper hardware — like surveillance cameras and an access control system — will significantly improve your restaurant's security.