SEO for Restaurants: The Complete Checklist
What is SEO & why do you need to use SEO for restaurants?
SEO for restaurants is something that every restaurant owner should tackle. That is, if he wants to sell more of his food online.
SEO stands for Search Engine Optimization and it's important because it makes your restaurant website highly appealing to search engines. And it helps your clients to spot it a lot easier. It's like bringing your delicious food in front of them. And since it's so yummy, they won't resist buying it.
Doing SEO for restaurants helps owners bring their business in the virtual / online environment, where most of their clients are. Always remember this: SEO is for your website what spinach is for Popeye.
It's the one thing that can propel your restaurant within the very first results of search engines ( Google, Yahoo, Bing) and so, boost your online presence. And do you know what this means? It means that you're also gaining new customers, since they can easily "spot" you online. It's like taking them by the hand and "leading" or "walking" them to your restaurant yourself. By using a few spot-on tips specifically targeting SEO for restaurants, you're giving Google all the info it needs to know about you. And you're earning a whole lot of free publicity.
Because you see, by using a few SEO techniques – that I'm about to reveal in a few seconds– you're basically giving Google free hand in boosting your online profile and displaying your restaurant website at the very top of the search results page. And that will happen each and every time a customer is looking for restaurants with your cuisine and menu options near him. Google aims to match its users' queries with only the best, most relevant content there is. Let's see how all this plays out.
Related: Get the Most From Local SEO for Multi Location Restaurants
The customer types in something along the lines of "Indian restaurant in Brooklyn" or "Indian restaurants near me". And then Google displays the relevant restaurant websites in that area for that customer, like in the image below.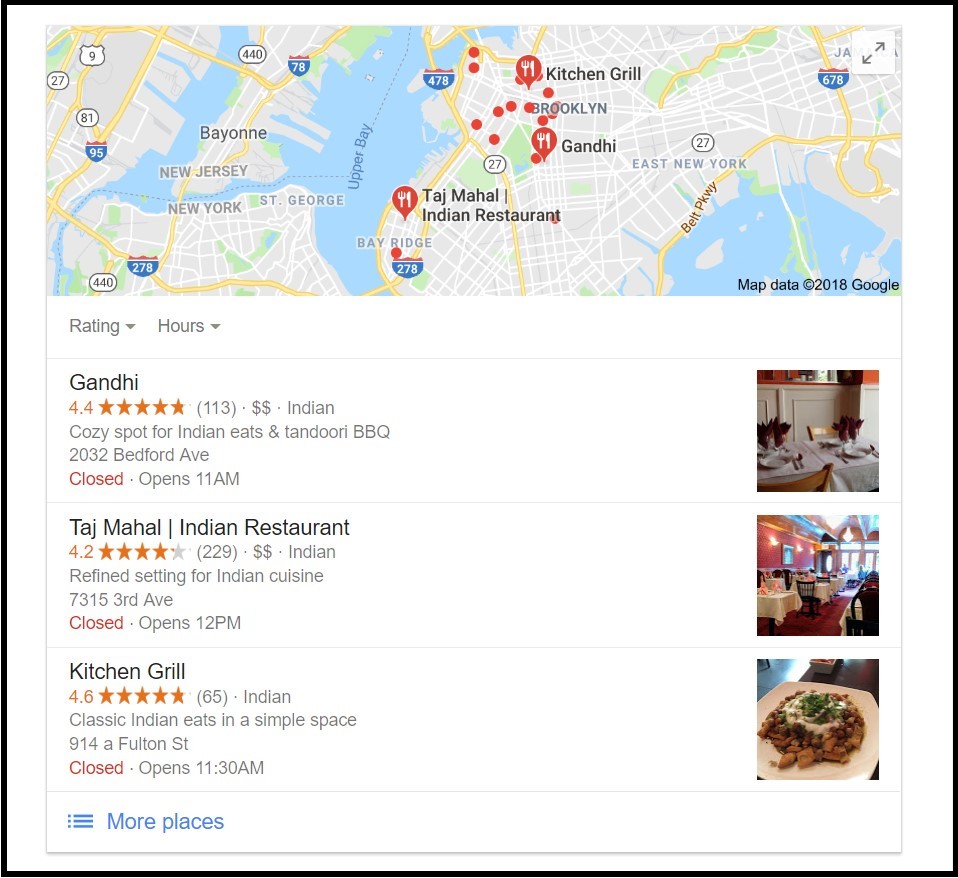 Key benefits of using SEO for restaurant websites
Doing SEO for restaurants (or optimizing your restaurant website) holds THREE major benefits:
It helps the giant search engine know what your restaurant is all about so it can then display your website over the rest of the restaurants. That is when your keywords indicate it that the content on your website is more relevant to the user than the other websites.
Your keywords are like a beacon in a vast ocean of searches. And Google uses them to guide itself and help users in need find their way to your website. In a highly competitive restaurant industry, that's a hell of a publicity if you ask me. That Google is doing for you. Completely for free.
It helps them easily "see" you online, since Google will use the terms of their search to give them what they want and display the most relevant results on their screens. And since everyone trusts Google… well, you know what this means. They'll also trust you.
Last but not least… and this may quite possibly be the most important thing for you and your business -> it will send new clients to your doorstep. Because SEO means:
Online exposure for your restaurant
More clients to step foot into your restaurant
More sales
& ultimately a higher revenue and a bigger profit margin
By using SEO for restaurant, you'll enjoy all of these benefits. As you can see, SEO is quite possibly the easiest & cheapest way to increase your online sales by ensuring that your customers can easily find your restaurant website. It's all about creating convenience for the customer – and creating an excellent user experience overall.
The easier it is for them to find you, the better. Or should I say that the easier it is for them to find you online, the better ? Because that's also true.
Here's a transcript of the eServices Report 2018 – Online Food Delivery, conducted by Statista, which states the following:
"Convenience is one of the main reasons to order food online. Its saves time, customers can choose from a variety of restaurants and their payment details are stored within the app.
The worldwide revenue of US$81.7 billion in 2017 is expected to increase to US$146.7 billion by 2022. "
In open translation? It takes them sheer moments to search for food online, browse through the menu and pre-pay. So considering that it's inevitable for people not to give in to the pleasure of online ordering (and look up for info online such as a restaurant's address, its menu, its cuisine, etc.), this trend will continue raising. So will its net worth.
And it will be worth a boatload of money. So this is a growing trend that you shouldn't actually miss out on if you want to own a successful business.
Read more: Benefits of SEO for Restaurant Websites

So what do I need to do? Well, just make sure you implement our recommendations below.
SEO for Restaurants
Did you know that there are two types of SEO? Both of them are equally important to highlighting your business in the online environment. And they're called on-site (or on-page) and off-site (or off-page) SEO. But no-matter their name, their role is the same: to help create a smooth user experience & help search engines index your website. So, it can then show it to your prospects.
To actually help the user see everything at a glance. So let's see how you can create a great user experience for your customers.
SEO Best Practices: On-Page SEO Checklist
1. Main keywords in title tags
These are the titles of every page on your website, which you should see displayed in your Google results.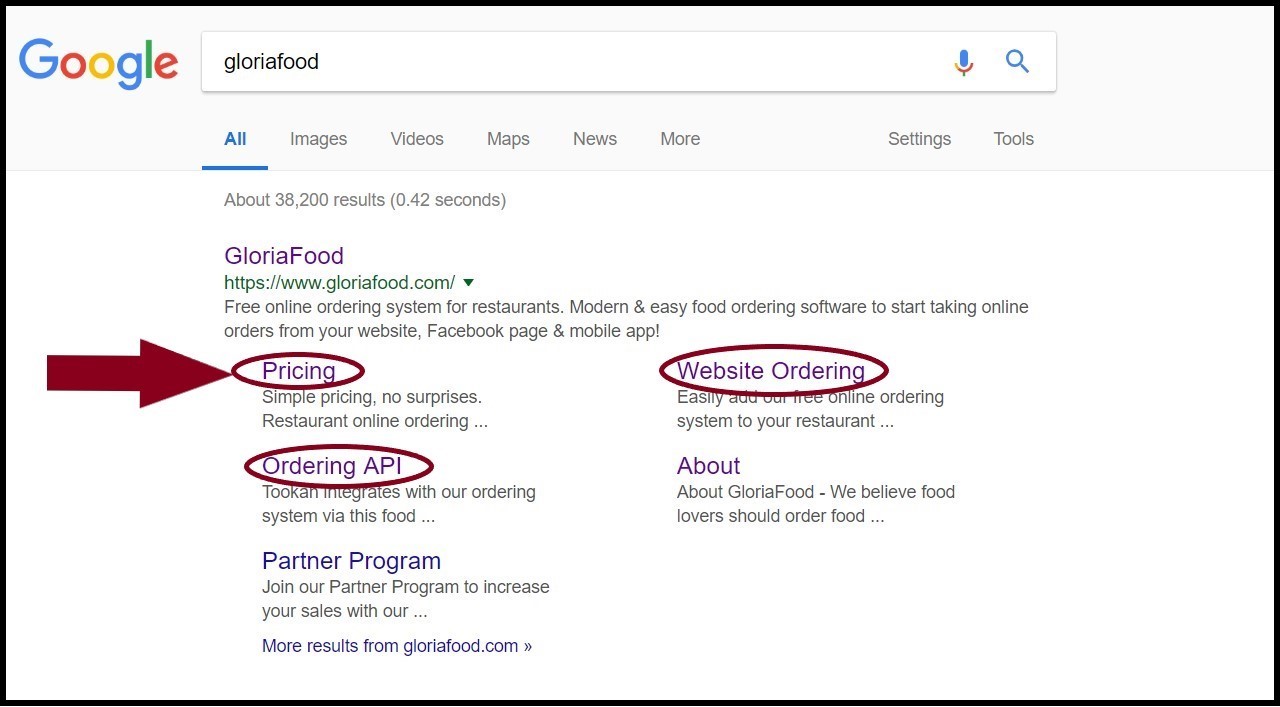 2. Have a good H1 headline & good positioning
It's recommended to include the main keyword (the one that you want people to find you by) on the main headline of the page. Ideally, you'd want your customers to easily spot it, and not spend more than a second searching for it.
Take a look at the GloriaFood main page: the headline is big enough for everyone to see and it is centered. All in all, it's visible, and that's how you want it to be.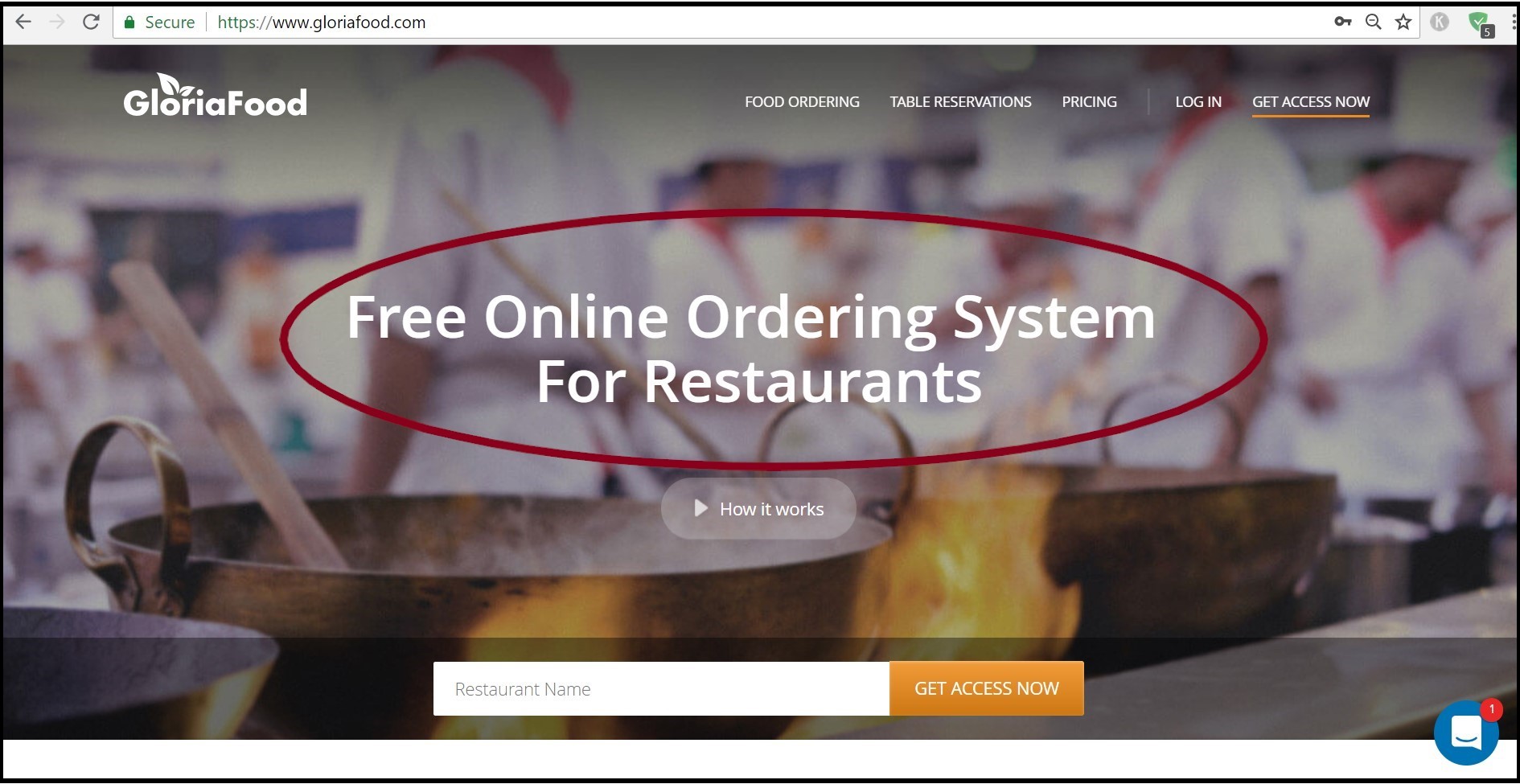 Here's another example of one of our search engine optimized websites: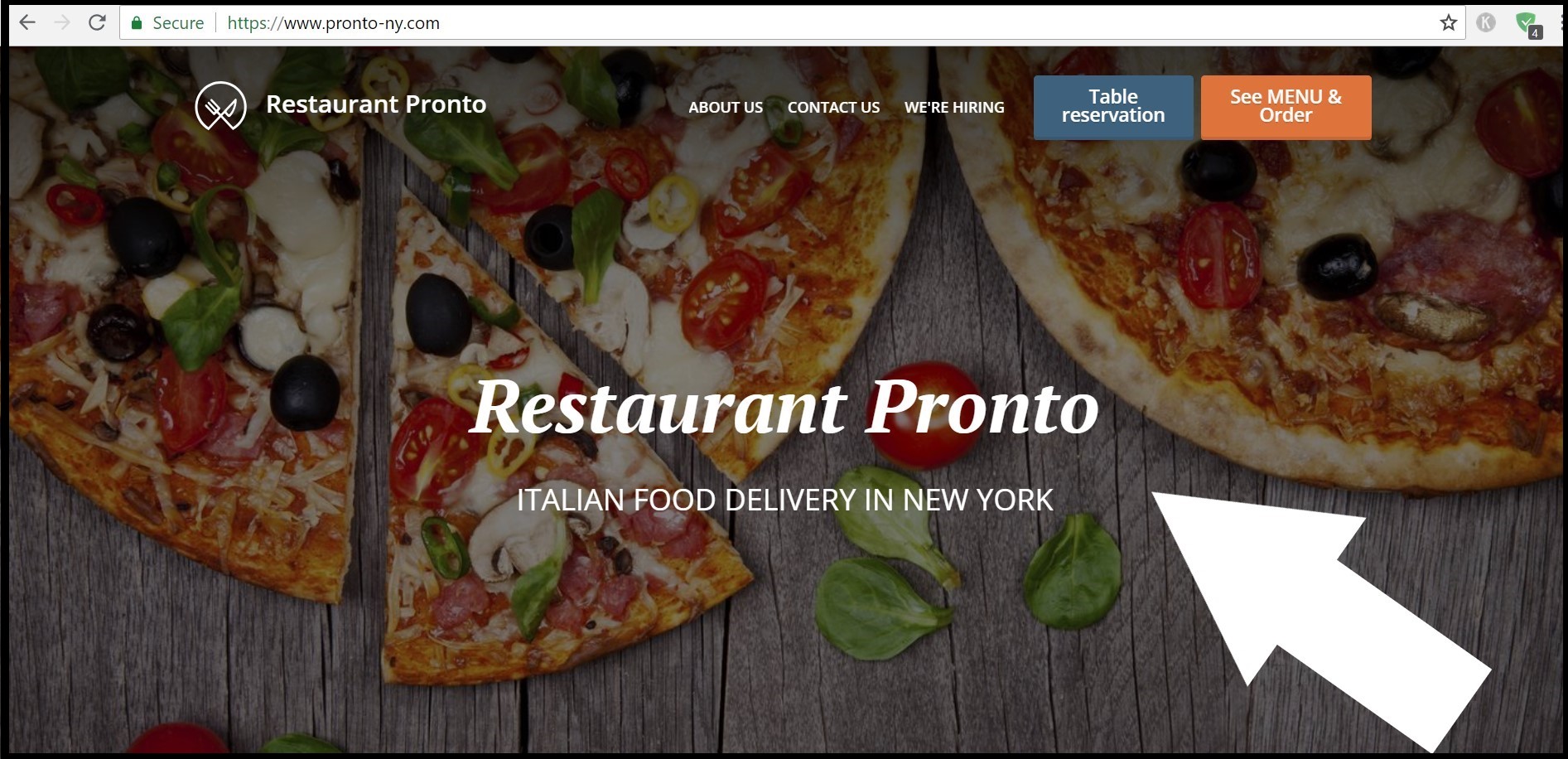 3. Restaurant keywords SEO
Insert a few main keywords on the page (whatever you do, make sure you avoid keyword stuffing – also known as web spam). Include long-tail keywords or associated words that people would use more often. Also make sure you add synonyms of your main keyword on the page, since this helps search engines understand much better what your website content is all about
This will stop you from achieving your goal and having your page rank up among the top search results.
So in order to have Google index your website, you'd want to have your main keyword appearing in your H1 headline, once in your H2 headline and a couple of times anywhere in your text paragraphs.
4. Super-fast page load speed
Nowadays, people like fast websites. So Google implicitly likes fast websites. Here's a transcript from Maile Ohye, Senior Principal Product Manager at Google:
"2 seconds is the threshold for ecommerce website acceptability.
At Google, we aim for under a half second."
So use the following link that Google created to see how fast your page loads:
https://developers.google.com/speed/pagespeed/insights/
According to the UK WEb Hosting Review experts, people hate websites that take longer than 3 seconds to load. So if you also encounter this problem, then it might be because your web host does not provide you with a high level of performance, so you should most likely review some other hosting options.
5. Mobile optimized view
Did you know that nowadays, more than 43% of all online orders are done from a mobile phone? Does your website look as good on any smartphone as it does on your computer? Here's a trick to find that out yourself. Click right anywhere on your page and then hit "Inspect".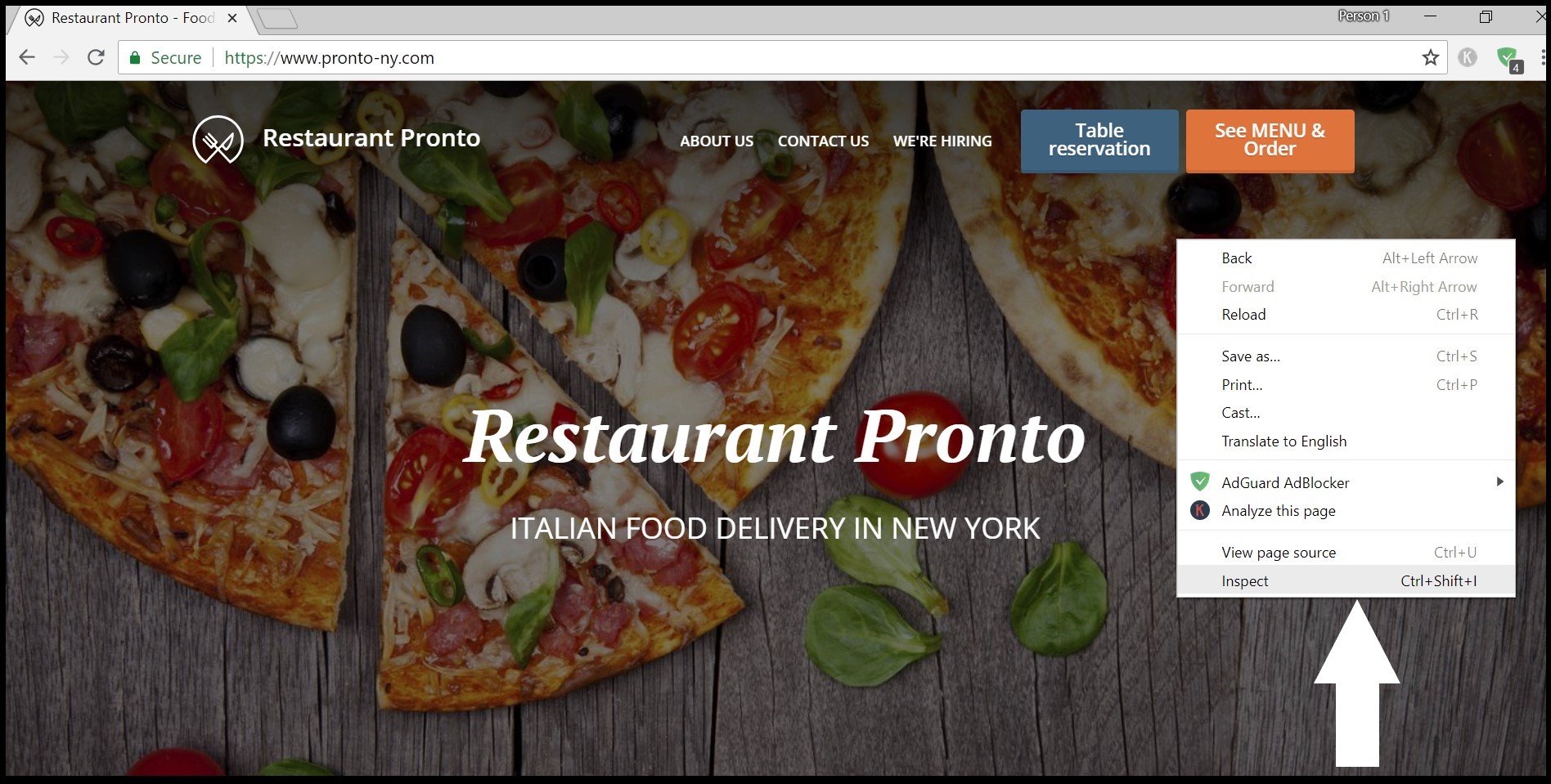 Click on the "Toggle Bar Device".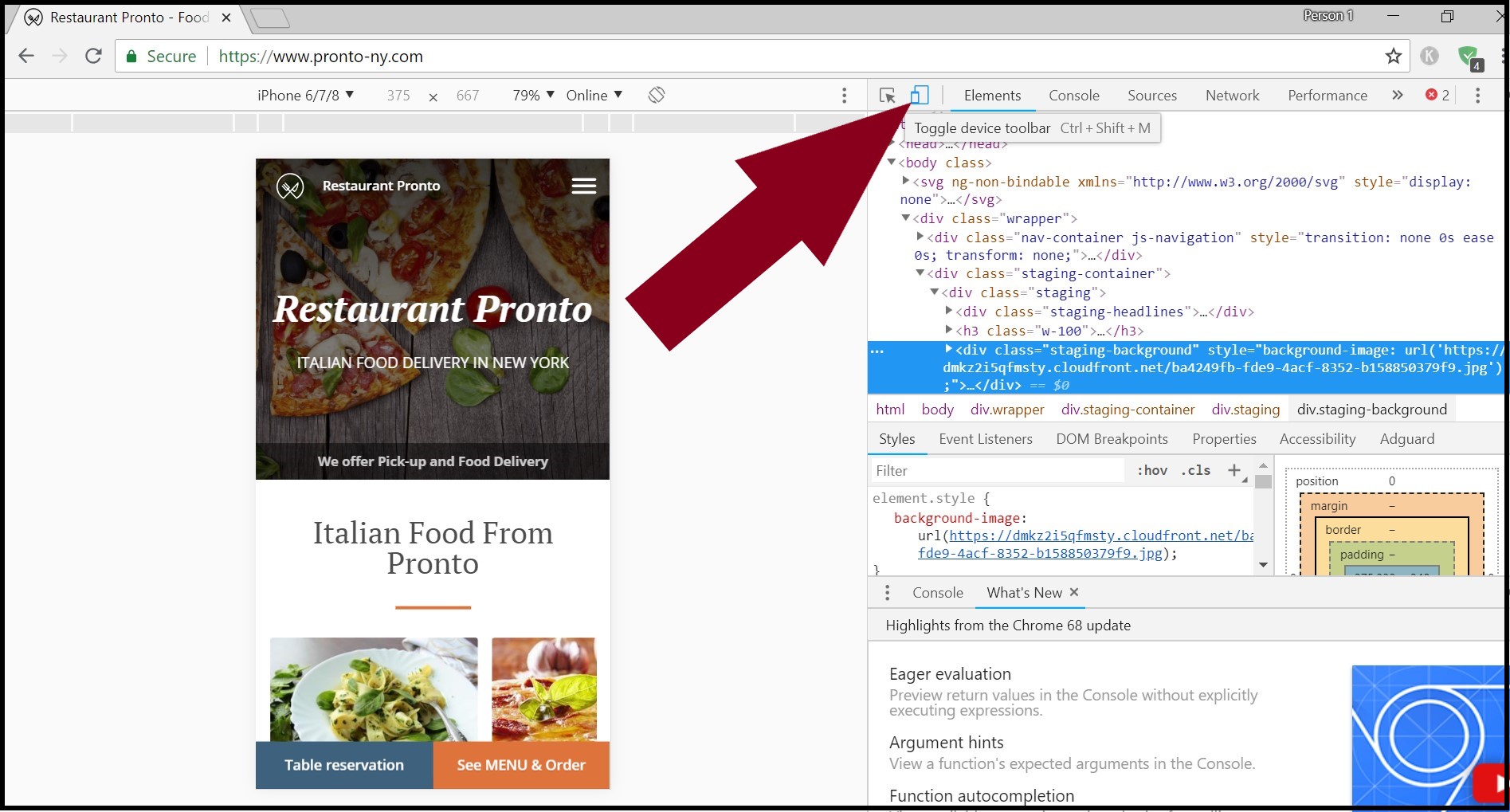 And then go to the left side of the page and try out different mobile views just to get an idea of how your website looks on the screen of some of the most popular smartphones and laptops out there.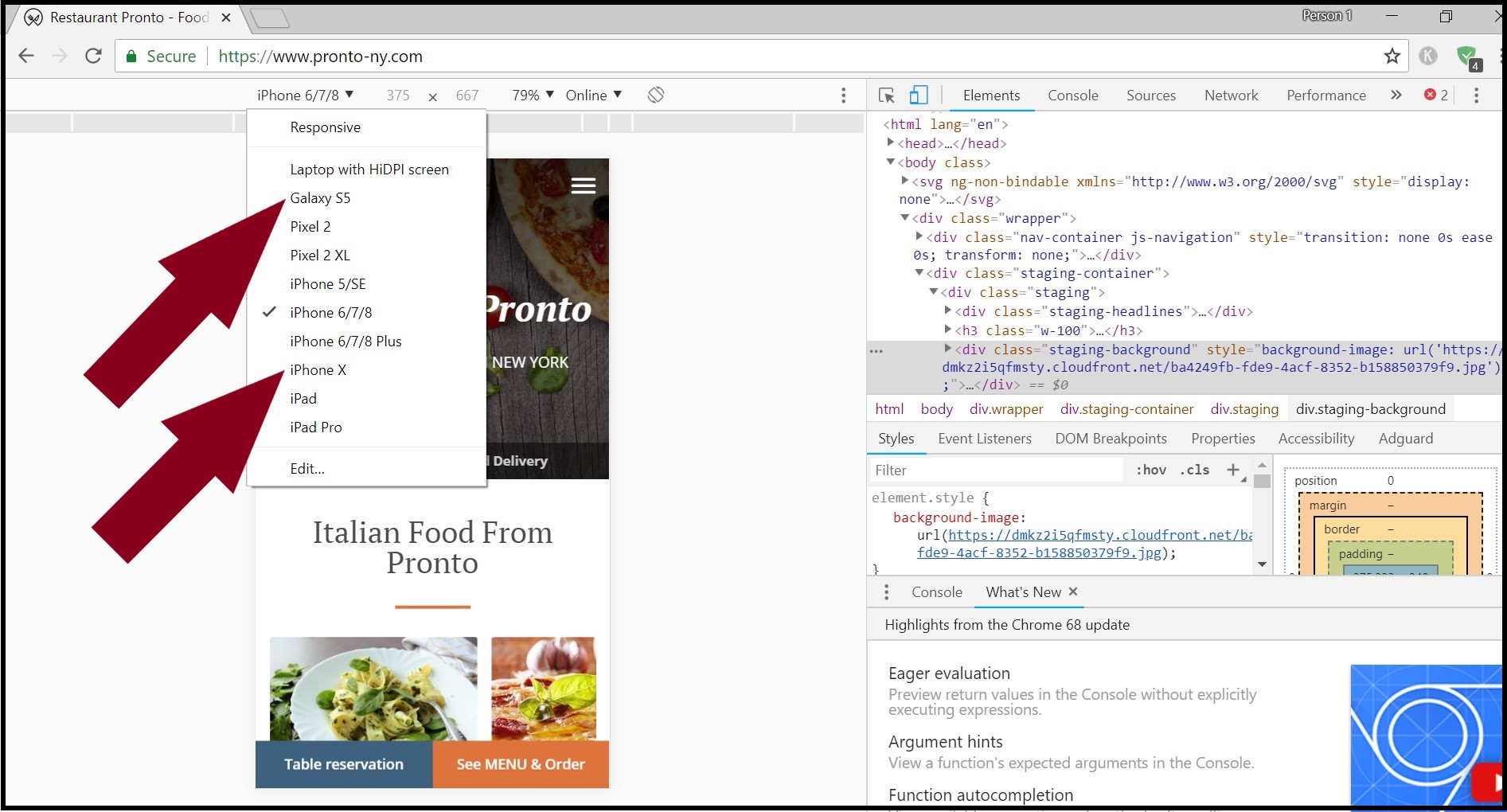 6. Optimizing images for search engines
"A picture is worth a thousand words". And this is completely true. It's always great to insert a few images on your website because this helps create a great UX (online user experience). And Google is a big fan of that (plus, it'll stimulate your customers' appetite, and they'll order more food. Remember: we first eat with our eyes, then with our mouths).
Images add a nice touch overall: they're visually appealing and they make it easier for your customers to scan and go through the entire web page. In other words, images can truly bring a text to life. But apart from that, using them is one of the greatest restaurant SEO tips.
Choosing the right file name:So ideally the file name of your picture should include your main keyword .
So for example, the file name should be something along the lines of "indian-food-delivery new-york" instead of DSC4657.jpg. And here's another example: use the text "pizza margherita" for a picture of a pizza margherita
Alternative text (or alt tag): you see, each image has a name that Google reads, and that name is known as alternative text. That text appears on the screen when the image cannot actually be displayed, for one reason or another.
So the alt text is a short description that is shown in the place of the image, and this ensures that no information or functionality is lost. Make sure that the text also contains the SEO keyword (that it, if it correctly describes the image).
Use responsive images: remember how page loading times are extremely important in creating a top-of-the-line UX? Well, it's damaging to your SEO strategy when big images – which are displayed as small – take a really long time to load.
So make sure that you are resizing the images to how you want them to appear on the page.
7. Have an HTTPS certificate
I'll show you two images and I'll let you be the judge of why you need an HTTPS certificate: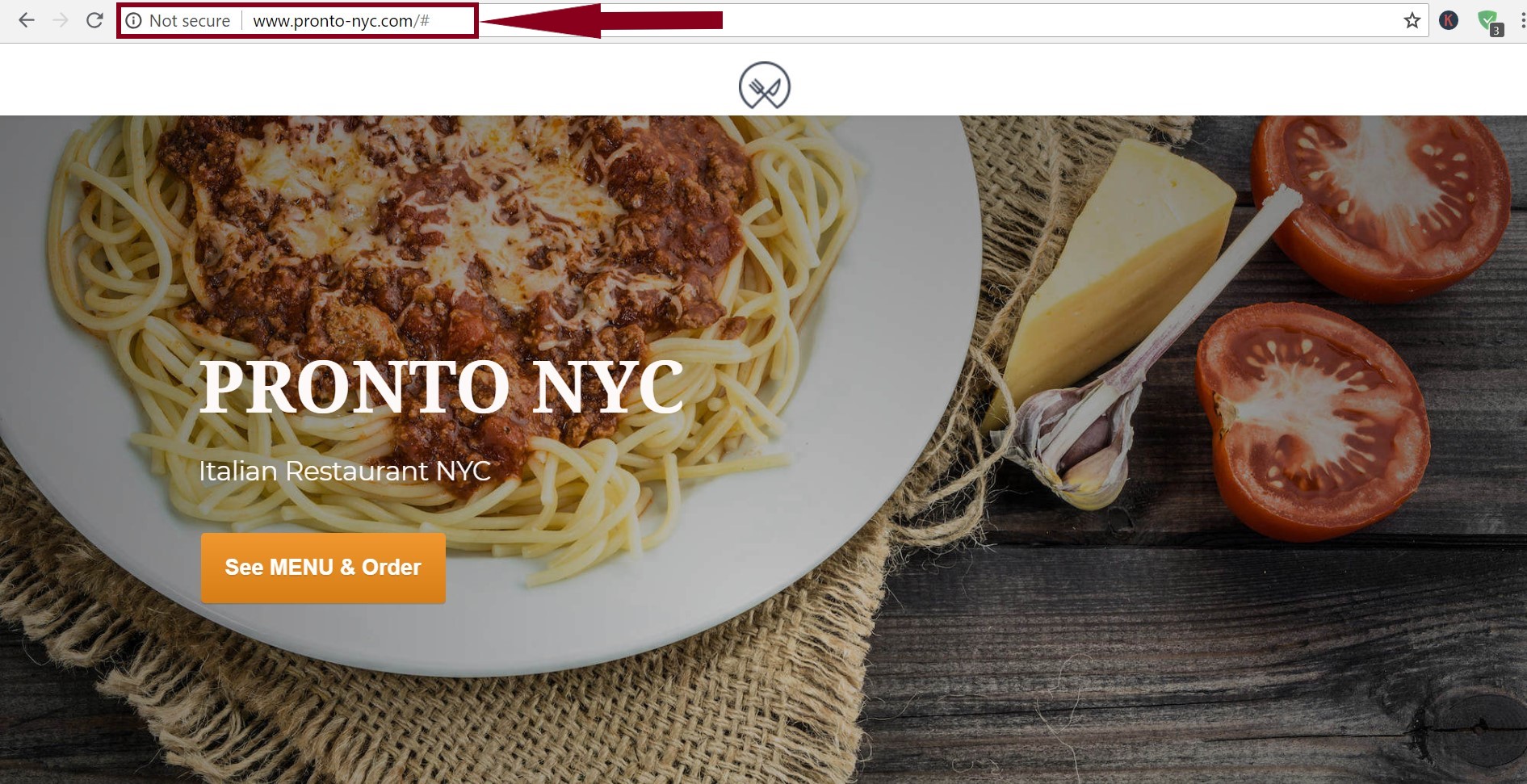 And here's what your customers will see if they click anywhere on the "Not Secure" bit near the URL: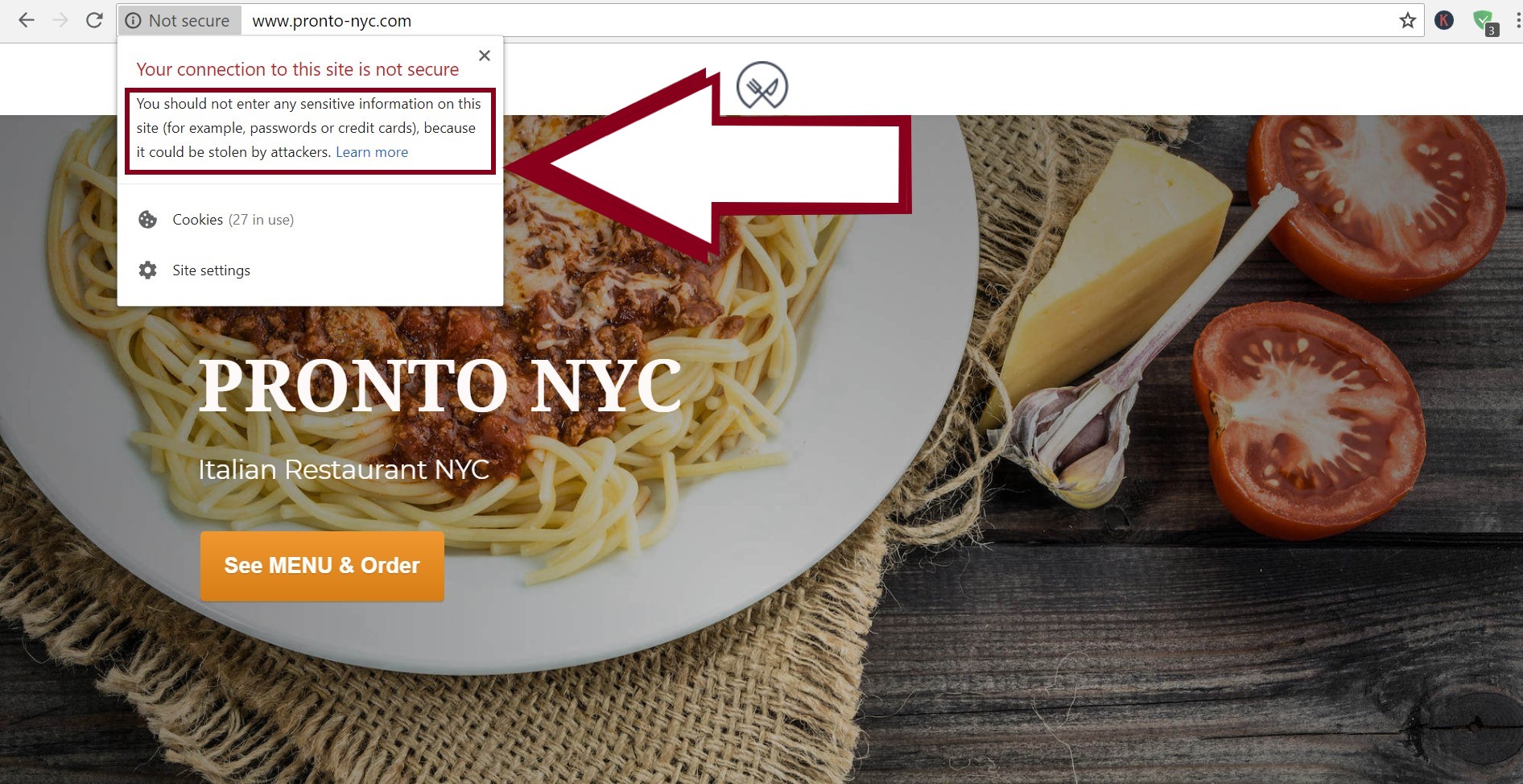 And now take a look at our optimized website: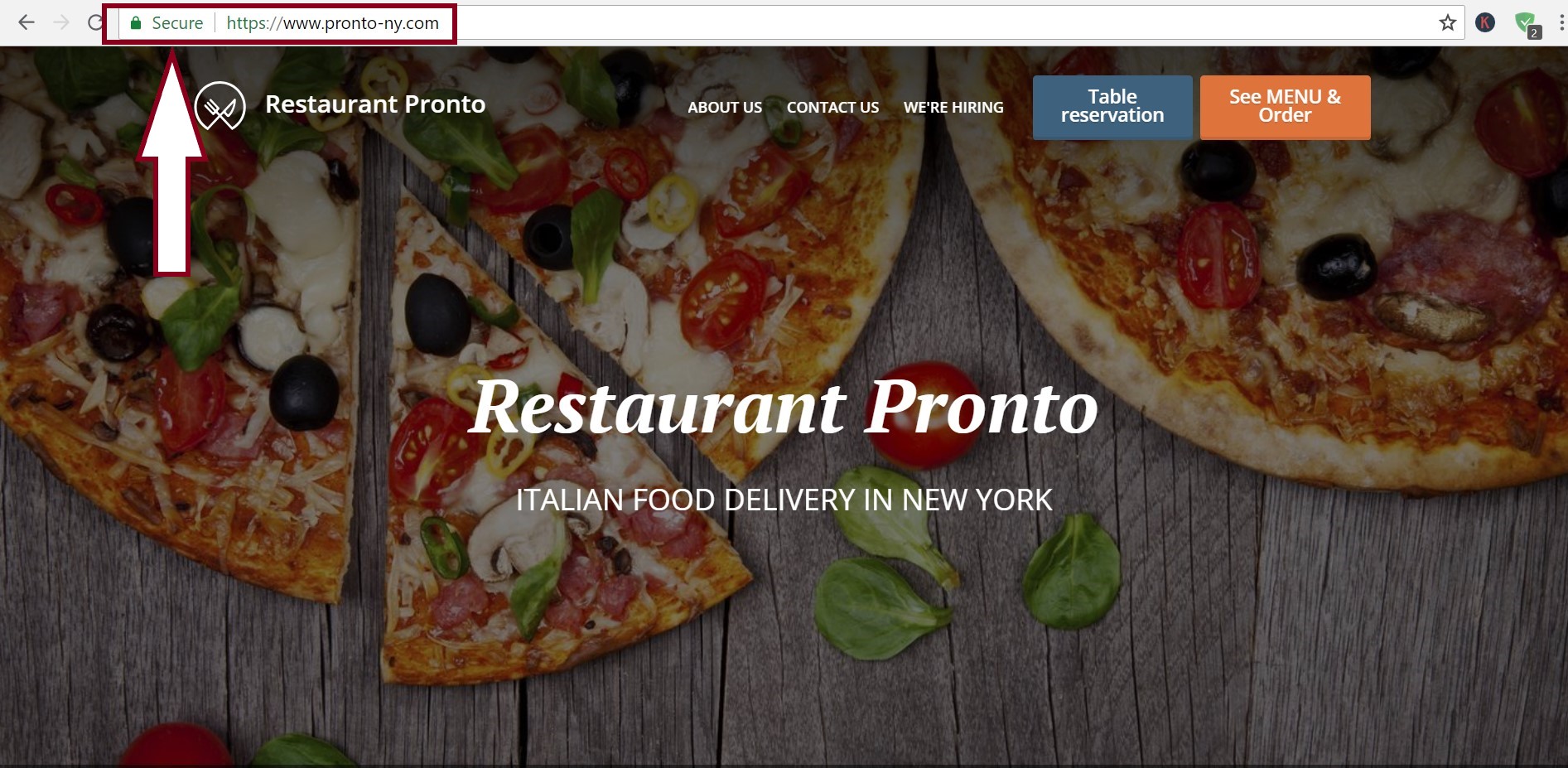 By buying an SSL certificate and installing it on your website, you provide your users with peace of mind, knowing that their data is safe with you. See that little green padlock, located next to your website's URL? That's what trust is all about.
8. Use schema.org
Have you ever heard of schema.org? If not, then you should know that it's a highly important SEO ranking factor. Why is that, you ask? Well, because Schema is a mark-up that actually feeds search engines like Google with structured microdata and that helps Google better understand your website.
Read more: How to Correctly Implement the Restaurant Schema Markup
Think about how your restaurant has different opening hours on multiple days or provides your customers with multiple services. That's information that Google can actually read, provided you use that structured micro-data.
These are just a few of the SEO tips for restaurantsthat will push your website towards appearing at the very top of the search results page. However, you should be good, if you implement all of these SEO tips.
But the good thing is that once you've used SEO for restaurants, the search engines will continue promoting your business website even as you sleep. And at this point, all you have to do is speak with your webmaster and show him this post, so that he can do the necessary changes required to propel your website at the very top of the search results page.
But if that seems like too much of a hassle for you, you can always try out our Search Optimized Website (SOW) in which we have put a huge amount of effort to make it heavily search engine optimized. We help you generate more online sales by taking care of the SEO for restaurants part for you.
The SOW was designed with these three goals in mind:
To make it super search engine optimized & help your customers easily come across your website
To create a great user experiencethat drives…
… online sales
To get started and ace SEO for restaurants, click here: Restaurant Website Generator.