How to create the perfect SEO strategy for restaurants:
85% percent of consumers say that their choice of restaurant is influenced by how easy they can find reviews and information about the restaurant online. Therefore, if you want to attract more customers, you need an established digital footprint, full of relevant content.
And this is where search engine optimization (SEO) comes in. Using a variety of techniques, you can increase your restaurant's website visibility and convince potential clients to order your food online.
We'll show you how. Let's dive into SEO for restaurants principles:
What is SEO for a restaurant and why do you need it?
SEO for restaurants is something that every restaurant owner should tackle. That is, if they want to sell more of their food online.
SEO stands for Search Engine Optimization and it's important because it makes your restaurant website highly appealing to search engines. And it helps your clients spot it a lot easier. It's like bringing your delicious food in front of them. And since it's so yummy, they won't resist buying it.
Doing SEO for restaurants helps owners bring their business in the virtual/online environment, where most of their clients are. Always remember this: SEO is for your website what spinach is for Popeye.
It's the one thing that can propel your restaurant within the very first results of search engines (Google, Yahoo, Bing) and so, boost your online presence.
The customer types in something along the lines of "pizza restaurant upper west ny" or "pizza restaurants near me". And then Google displays the relevant restaurant websites in that area for that customer. With the right SEO for restaurants, you could be the first result.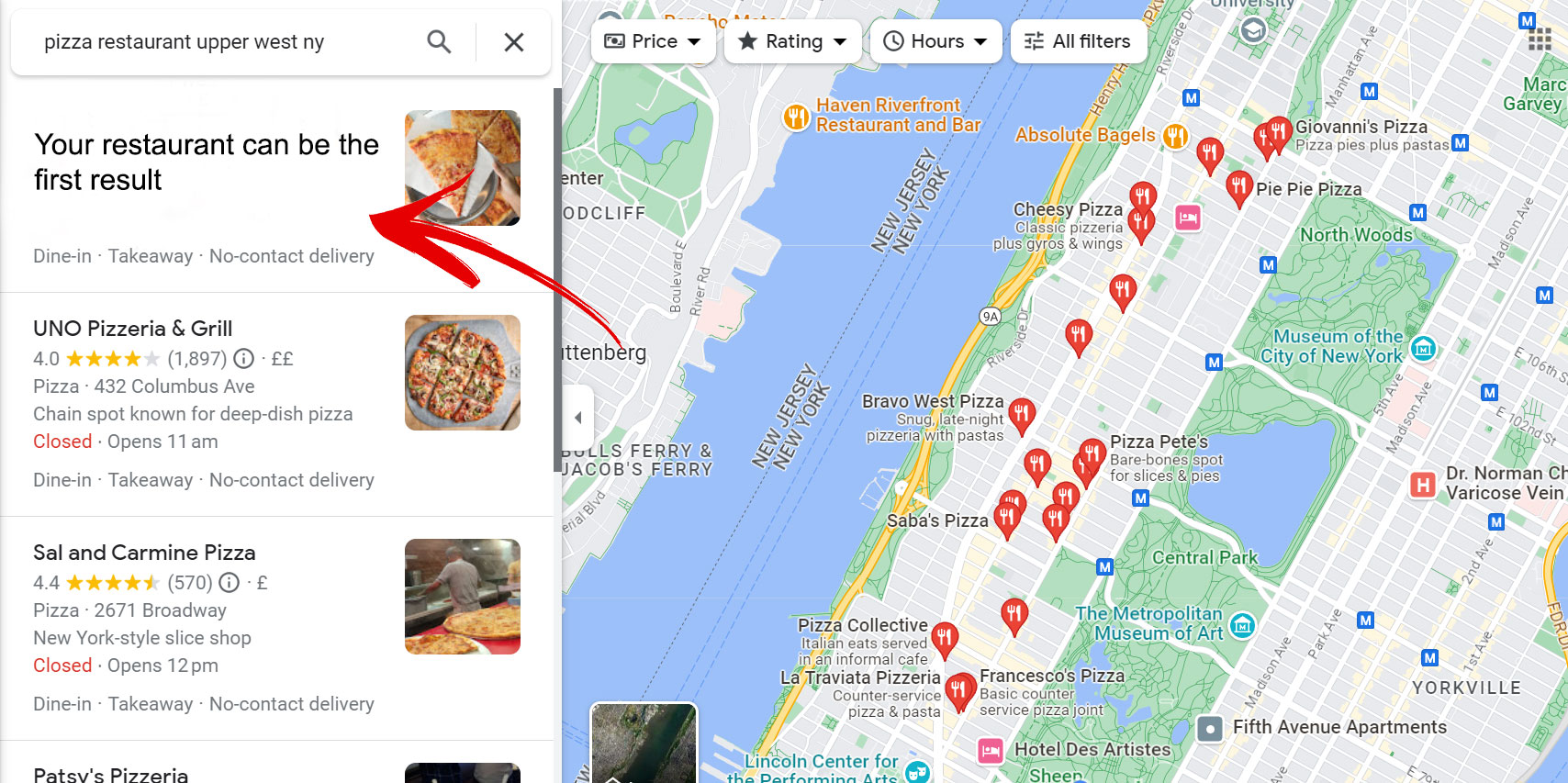 Do restaurants need SEO? The benefits?
If you optimize your restaurant's website for search engines, you will enjoy the following benefits:
You earn a whole lot of free publicity by giving Google all the info it needs about your restaurants so it can rank you in the first results;
You're gaining new customers, since they can easily "spot" you online. It's like taking them by the hand and "leading" or "walking" them to your restaurant yourself;
You will boost your online profile and display your restaurant website at the very top of the search results page.
10 Restaurant SEO tips you need right now
SEO is quite possibly the easiest & cheapest way to increase your online sales by ensuring that your customers can easily find your restaurant website. It's all about creating convenience for the customer – and creating an excellent user experience overall.
Check out how to do SEO for restaurants to make your business easy to find online:
1.Use SEO keywords for restaurants
One of the best tips regarding SEO for restaurants is to insert a few main keywords on the page (whatever you do, make sure you avoid keyword stuffing – also known as web spam).
Include long-tail keywords or associated words that people would use more often. Also make sure you add synonyms of your main keyword on the page, since this helps search engines understand much better what your website content is all about.
You can use a software like Google Keyword Planner to find keywords that are relevant for your location, restaurant and type of cuisine.
So, in order to have Google index your website, you'd want to have your main keyword appearing in your H1 headline, once in your H2 headline and a couple of times anywhere in your text paragraphs.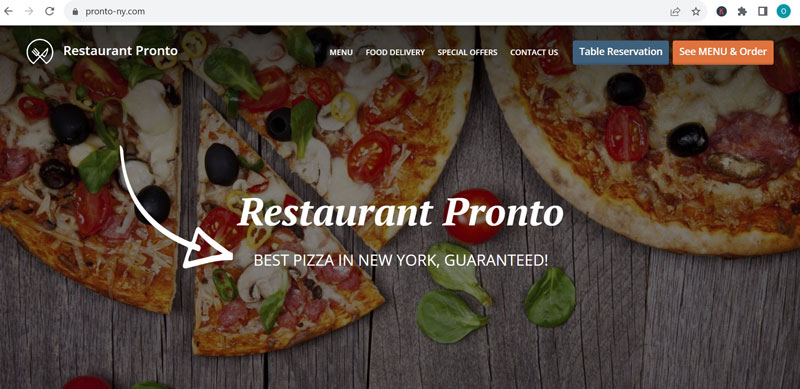 Moreover, you should add the selected keywords in the title tags, such as meta title and meta description. This is the text that will appear in Google searches.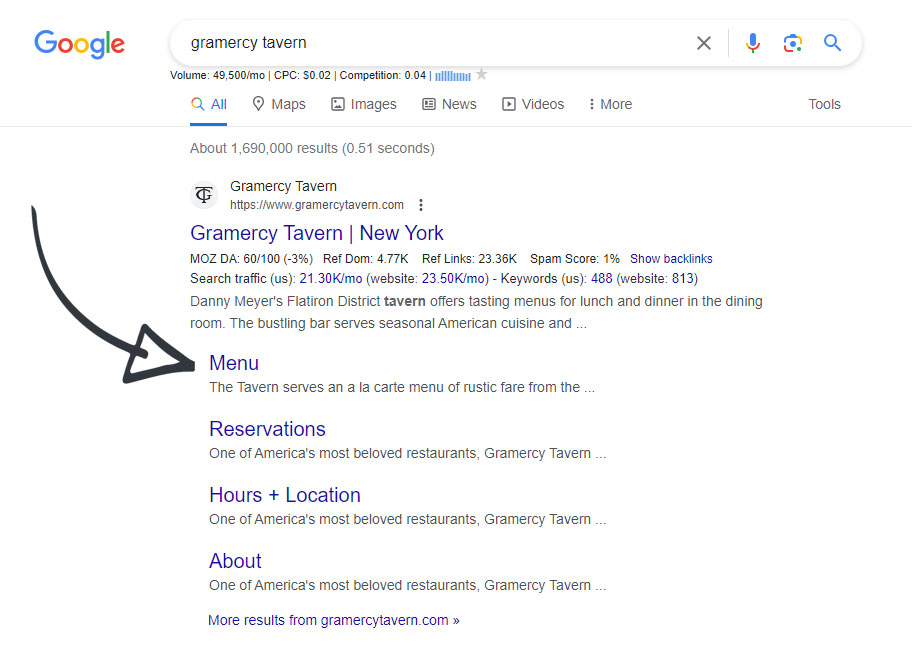 2.Ensure every part of your website loads super fast
When deciding where to rank your restaurant website in searches, Google uses a couple of factors, including page speed. The search engine will analyze things like:
How long it takes for 100% of resources on a page to load
How long it takes for a page to start loading
How long it takes for a page to load enough of its resources for a user to be able to read the content on a page
Therefore, if you want to increase your chances of ranking high in Google searches, you need a website that loads very fast, so clients don't waste their time waiting for it to load and become frustrated.
Looking for tips regarding SEO for restaurants? You can use Google's PageSpeed Insights tool to check your website's current state.
3. Optimize your restaurant's website for mobile users
89% of dining research is done by mobile before visiting a restaurant. This is one of the most important SEO for restaurants principle: if you want to offer potential clients a great browsing and ordering experience, you need to ensure your restaurant's website works just as well on mobile, as it does on desktops.
Does your website look as good on any smartphone as it does on your computer? Here's a trick to find that out yourself. Click right anywhere on your page and then hit "Inspect".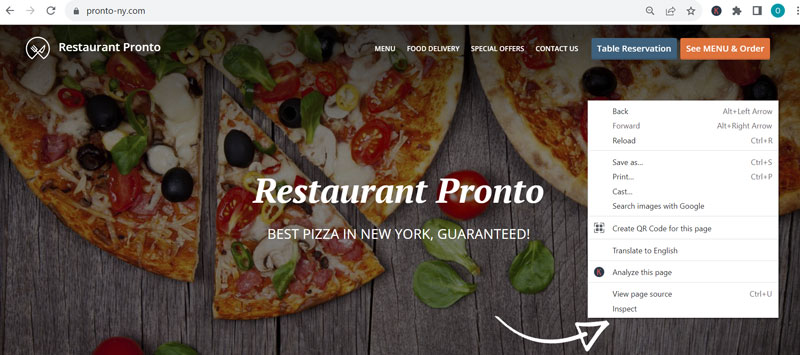 Click on the "Toggle Bar Device".

And then go to the left side of the page and try out different mobile views just to get an idea of how your website looks on the screen of some of the most popular smartphones and laptops out there.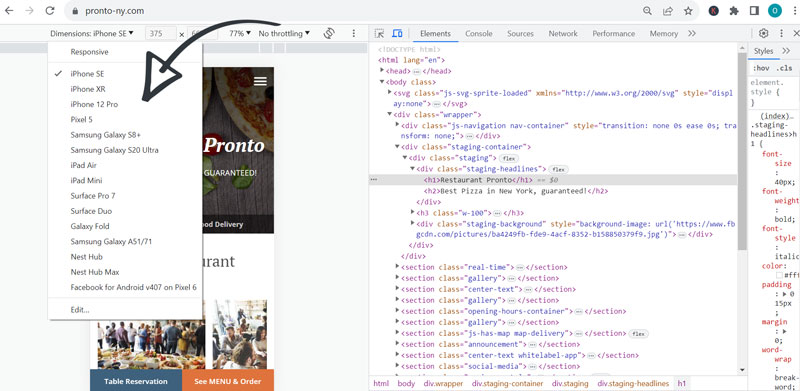 4. Optimize the images on your restaurant website for search engines
"A picture is worth a thousand words". And this is completely true. It's always great to insert a few images on your website because this helps create a great UX (online user experience).
And Google is a big fan of that (plus, it'll stimulate your customers' appetite, and they'll order more food. Remember: we first eat with our eyes, then with our mouths).
Images add a nice touch overall: they're visually appealing and they make it easier for your customers to scan and go through the entire web page. In other words, images can truly bring a text to life. Learn how to manage the image part of SEO for restaurants:
Choosing the right file name: Ideally the file name of your picture should include your main keyword. So, for example, the file name should be something along the lines of "indian-food-delivery new-york" instead of DSC4657.jpg. And here's another example: use the text "pizza margherita" for a picture of a pizza margherita
Alternative text (oralt tag): you see, each image has a name that Google reads, and that name is known as alternative text. That text appears on the screen when the image cannot actually be displayed, for one reason or another. The alt text is a short description that is shown in the place of the image, and this ensures that no information or functionality is lost. Make sure that the text also contains the SEO keyword (that is, if it correctly describes the image).
Use responsive images: remember how page loading times are extremely important in creating a top-of-the-line UX? Well, it's damaging to your SEO strategy when big images – which are displayed as small – take a really long time to load. Make sure you resize the images to how you want them to appear on the page.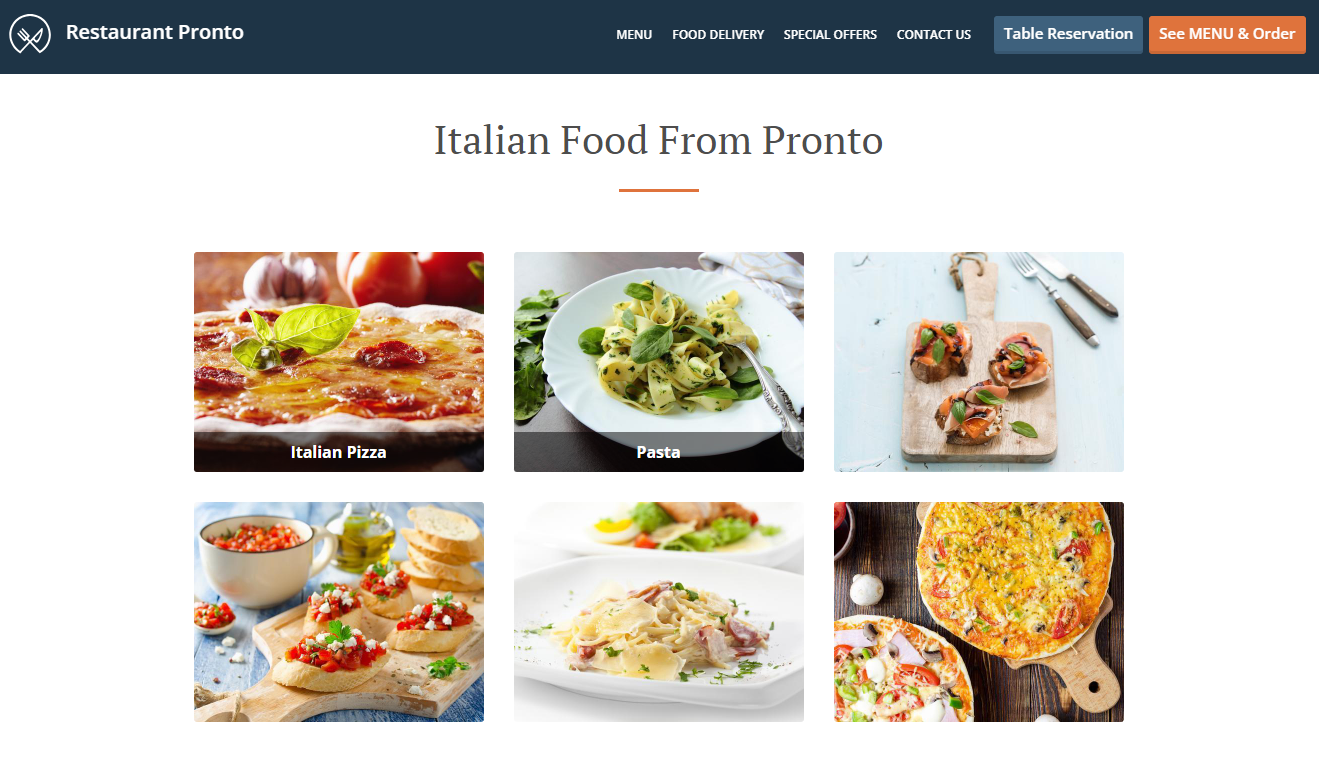 5. Offer clients a smooth online ordering experience
When ranking your website, Google takes into account each visitor's experience on your restaurant's website. Did they check more than one page? How much did they spend on each page? Did they complete the online ordering process?
If you want to make both Google and your clients happy, you need an online ordering system that creates an amazing customer experience that persuades people to order and come back again and again.
Impress Google and your customers with a fast loading and intuitive ordering experience
Install an online ordering system to your website for free
Start Now
The online ordering system from GloriaFood is not only very easy to install, in just 10 minutes, but it also provides intuitive use for your clients. They can instantly browse the attractive menu and complete the order in just a few clicks.
If you want to excel at SEO for restaurants, start by installing this efficient ordering system:
6. Prioritize local SEO for restaurants
Your restaurant's audience is mainly composed of the people near your restaurant's location. Sure, there may be the occasional tourists, but you make your money by selling the food to clients that live in your area.
Therefore, you should concentrate your SEO efforts on local optimization, so anyone living near you can find your place when they are hungry. Here are a few tips regarding local SEO for restaurants:
Complete your Google Business Profile: fill in all the relevant information in your profile such as working hours, address, link to website and a variety of photos;
Get relevant pages to link to your website: partner up with other local businesses, get local newspapers to write about you, sign up in local directories;
Use location specific keywords: let people know where you are located by including your location in your restaurant website's content, such as "upper west side new York",
7. Have an HTTPS Certificate
The HTTPS Certificate is what signals to a client that a site is safe to use and that it will not store data without permission. It will show as a small icon in the search bar. Let's have a look at this optimized website and see where the secure connection is exhibited: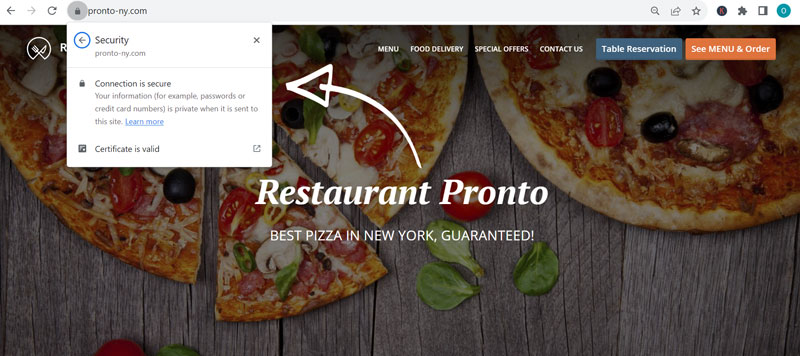 By buying an SSL certificate and installing it on your website, you provide your users with peace of mind, knowing that their data is safe with you. See that little green padlock, located next to your website's URL? That's what trust is all about.
8. Implement Schema.org on your website
Have you ever heard of schema.org? If not, then you should know that it's a highly important SEO ranking factor. Why is that, you ask? Well, because Schema is a mark-up that actually feeds search engines like Google with structured microdata and that helps Google better understand your website.
Think about how your restaurant has different opening hours on multiple days or provides your customers with multiple services. That's information that Google can actually read, provided you use that structured micro-data.
Learn more: How to Correctly Implement the Restaurant Schema Markup
9. Encourage online reviews for your business
Another factor for Google's ranking is how many online reviews you have and how you reply to them. Claim your profile on every platform in your area such as TripAdvisor and Yelp and encourage customers to positively review your restaurant.
Afterward, check your reviews at least twice a week and reply to each of them, even if they are negative. This shows Google you care about your customer's experience.
10. Interact with your community on social media
While social media is not directly considered a ranking factor by Google, the traffic your fans bring to your restaurant's website is.
Therefore, make it a goal for your business growth to have complete social media profiles, to post constantly, interact with your followers, and encourage them to visit your website and order.
Enjoy the benefits of SEO for restaurants without the effort
These useful tips regarding SEO for restaurants will help you rank as high as possible in searches related to your type of cuisine, but implementing them does take a bit of time and effort.
If you want to just enjoy the benefits, without the work, you can use a restaurant website builder to generate a website that will be delivered to you already SEO-optimized, from the text, to the images, tags, and much more.
Want more customers to find you online?
Generate your own SEO website within seconds
Start Now