Here we are at the end of our TripAdvisor guide for restaurants with a couple of ideas for restaurant owners who want to put together a bulletproof TripAdvisor marketing strategy.
From the best services TripAdvisor offers for restaurants & how to take advantage of them, to what to do and what not to do on the platform, we're here to help you increase your profits with TripAdvisor.
Catch up:
TripAdvisor Do's
These are the most important things to keep in mind when developing your TripAdvisor marketing strategy.
1. Focus on your restaurant description
An optimized restaurant description can attract more customers and rank your restaurant higher on search engines. Using the 400 characters you have at your disposal, include both relevant keywords to optimize your text for SEO, and representative words for your restaurant that will catch your customers' attention.
Use your TripAdvisor restaurant description to talk about your dishes, cuisine, the experience customers can look forward to when visiting your restaurant, as well as any information that makes your establishment stand out. Maybe you're the first Mexican fusion restaurant in your hometown. Advertise that!
Search engine optimization will help more customers find your restaurant on TripAdvisor. If you have a Mexican fusion restaurant, make sure those exact words appear in your description. If you organize weekly karaoke nights, include that keyword so that people who search for it can find you.
2. Take advantage of TripAdvisor phone calls
TripAdvisor for business offers a free feature that can help improve your relationship with your customers. If someone calls your number from your TripAdvisor business listing, before you get connected to that person, you will hear the message "Hello, a TripAdvisor user is calling you."
Phone calls allow you to connect with your customers on a more personal level and solve their issues faster than you would via email or contact form, which could lead to more positive reviews.
Note: the service is currently only available in the US, but TripAdvisor is working on expanding it to other countries soon, so keep an eye on their press releases to find out more.
3. Set up and receive direct messages from diners
Another excellent free service from TripAdvisor is direct messages. Once set up, diners who leave a public review also have the option of sending you a private message (which other users won't see) if they want to give you more information or provide context.
This is a great way to keep in touch with your customers and solve their problems in a way that doesn't affect your public image. The reviewer will feel listened to and cared about, their experience will be more satisfactory, and they will be more likely to become return customers or recommend your restaurant to other people.
If you're the first person to claim your TripAdvisor restaurant listing, you'll be automatically assigned the direct messages. If you're not, make sure you know exactly who is receiving them so you can reply in a timely fashion.
You can find this option in your TripAdvisor Management Center, under Business Details, as Messaging Settings. Click on the "Turn on direct messaging" link to activate the free service.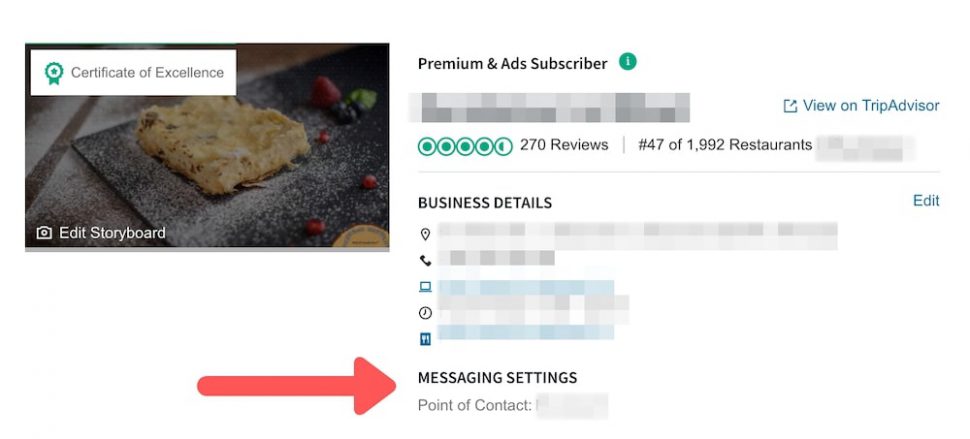 4. Post your menu on TripAdvisor
We can't stress enough how important it is to have your menu displayed on your TripAdvisor business page. This is free to do and will make it much easier for potential customers to decide if your restaurant is what they're looking for. If they crave pizza and see a great selection on your menu, they're more likely to choose you over your competitors.
Adding your menu on TripAdvisor is very easy if you have a menu already displayed on your website. All you have to do is go under the Manage Listing tab and choose Menu. In the designated box, insert the menu URL from your website and click the "Submit" button.

Don't have a website menu?
Install our free online ordering system with MENU included.
Get Started
TripAdvisor Don'ts
For the success of your TripAdvisor marketing strategy, avoid doing any of these four things at all costs.
1. Generate fake reviews
Whether you're thinking of writing your own reviews or paying someone to do it: DON'T. TripAdvisor has a zero-tolerance policy on fake reviews.
Review Boosting is what they call a restaurant owner, employee, family member, or friend leaving a positive review just to increase the business' TripAdvisor rank. Review Optimization is what they call businesses employing someone to post positive reviews in exchange for money.
TripAdvisor uses a tracking system and a team of investigators to make sure no businesses try to one-up the competition by generating fake reviews. While their efforts are not always successful, it's counterproductive to try to generate or buy TripAdvisor reviews. Instead, focus your efforts on making your service worthy of 5-bubble reviews and asking satisfied customers to leave you a TripAdvisor review.
2. Try to bribe customers to get good reviews
While not as serious as paying for good reviews, offering customers all sorts of freebies or discounts specifically in exchange for a positive review is also frowned upon.
The reason we've underlined "specifically" here is that you can always incentivize people to become return customers by offering discounts or promotions, and that might, if you're lucky, also lead to a positive review on TripAdvisor if you make it clear to them that they can find you on the platform.
3. Abandon your TripAdvisor company profile after you've created it
In order to boost your restaurant sales with TripAdvisor, you need to have a constant presence on the platform. If you just claim the business page and then forget about it, you're missing out on a lot of business opportunities.
Make sure you check your account constantly to respond to new reviews, update your information (if necessary), and test new features.
4. Sweat the negative reviews
Getting good reviews feels amazing, but bad reviews can really put a damper on your day. Learn not to sweat negative reviews. Every restaurant gets them because you can't possibly please everyone. It's important to respond to them though because keeping silent shows visitors you don't care about the customer and improving their experience.
Are TripAdvisor Ads for Restaurants Worth the Money?
If you're willing to pay for a holistic TripAdvisor digital marketing strategy, you can create ads to direct customers to your restaurant when they search for a specific type of cuisine in your area, meal price, type of meal, etc. TripAdvisor advertising unlocks exclusive placements that will boost your listing in the search results.
However, if your restaurant has a rating of under three bubbles, you won't have access to TripAdvisor ads. So if you want to make the most of your profile, ensure customers have no reason to give you a low rating.
TripAdvisor ads appear on desktop, mobile, and the TripAdvisor app, so you'll get visibility everywhere. Moreover, due to the way the audience is targeted, you only pay for clicks from customers who are really interested in your restaurant and are on the verge of making a decision.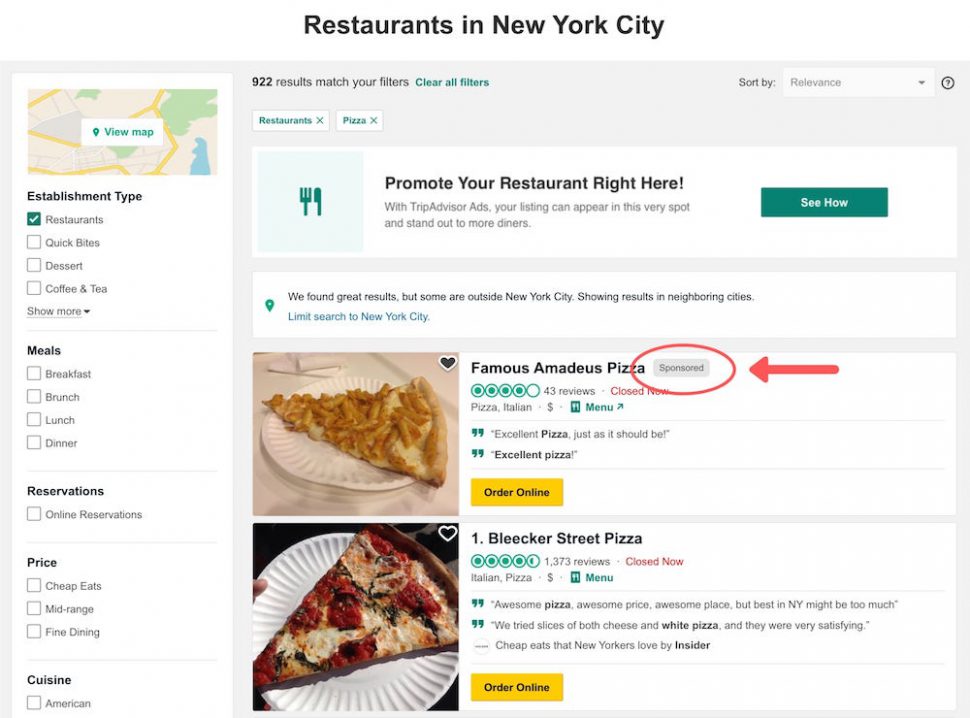 And speaking of paying for clicks, you only pay for those that go to your page, so you won't be wasting any money. We recommend setting a monthly spending limit to ensure you don't go over budget.
To answer the question "Are TripAdvisor ads for restaurants worth the money?", we think they are. First, you decide how much you want to invest in them. Second, they give you much more visibility in TripAdvisor search results, and third, they bring customers who are ready to make a decision to your page, which means profit for you.
Get started with TripAdvisor ads by going to the TripAdvisor Management Center, under the Advertising tab, where you'll find the "Create Ad Campaign" button. You will be asked to input your goal (choose default if you're not sure), then taken to a page where you can customize your campaign.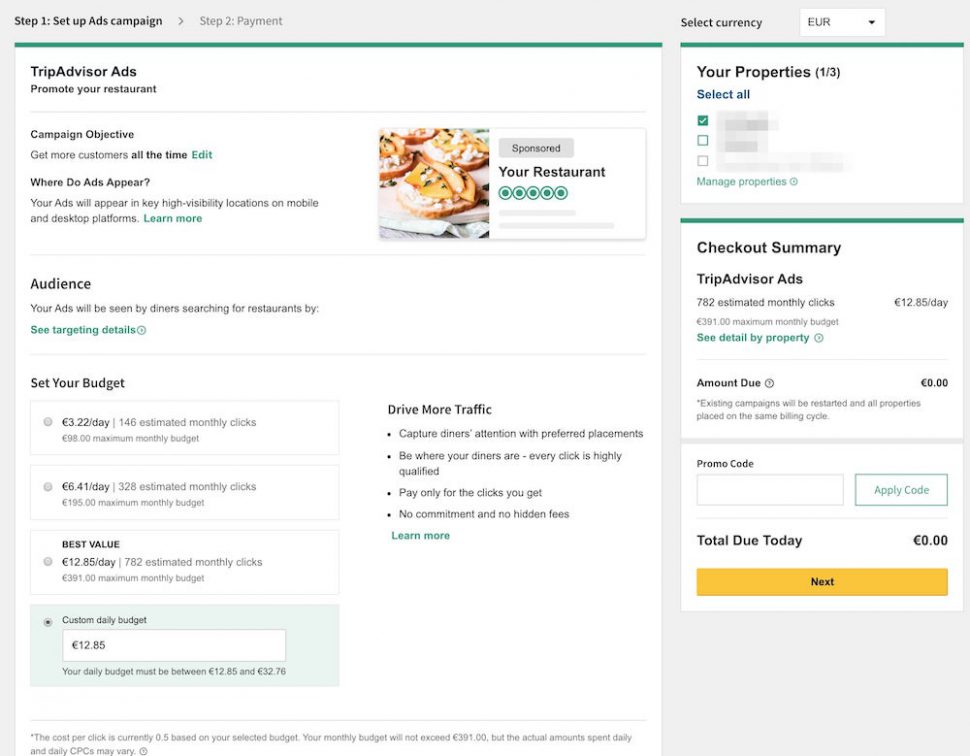 You can create your audience based on location, price, cuisine type, dishes, meal type, dietary restrictions, restaurants featured, and what your restaurant is good for. Then, set your budget, paying attention to the number of estimated clicks you'll get. Once you're done with that, you can see a summary of the campaign to the right of the page, and proceed to the payment step.
How to Maximize Profits with TripAdvisor Premium
TripAdvisor paid services like their Premium package may not directly bring in more money to your restaurant, but will definitely lead to a more appealing profile that draws customers in, which will eventually land you a boost in profits. TripAdvisor Premium gives you an advantage over the competition and access to exclusive insights and data to help you finetune your TripAdvisor business strategy.
1. Choose your favorite review
To get the most of TripAdvisor Premium for restaurants, choose a favorite review to represent your restaurant. The review should be positive, enthusiastic, and show what it's like to dine at your restaurant. Choose a recent one since TripAdvisor focuses on recency. If you get a lot of tourists in your restaurant, choose a favorite review in multiple languages.
To choose one, go under the Reviews tab in the Management Center and choose "Select Favorite Review."
2. Create a storyboard
Did someone say restaurant slideshow? Go to Manage Listing and select "Edit Storyboard" to see some magic come to life. TripAdvisor automatically creates a storyboard featuring photos, tags, and reviews of your restaurant, and all you have to do is publish it.
You can also tweak it if there's something you want to change. Regardless, once published, this is the first thing customers will see when visiting your TripAdvisor profile, which makes a great first impression.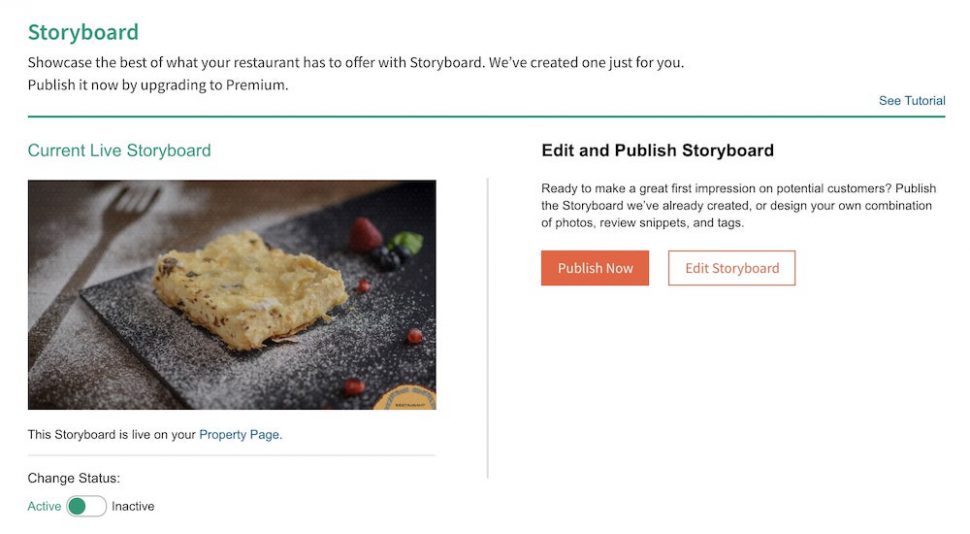 3. Choose your top 3 reasons
Top 3 Reasons allows you to tell customers what sets you apart. Why should they choose you over another restaurant? If you're proud of your extensive selection of craft beers, your fast service, or your incredible ambiance, make these your top 3 reasons.
You can choose to feature snippets from reviews customers left you or write your own, but the former is better because it's more authentic. You also have to choose a photo for each reason (again, one of your own or one from a customer).
To make sure you cover everything that makes your restaurant special, choose very different reasons. One should be related to the food, like a signature dish that you're really proud of, one should include the overall experience, such as the restaurant atmosphere, and one should be something unique that you offer, like karaoke nights.
Your top 3 reasons will be displayed on your restaurant listing, right underneath the Overview section. That way, it will be one of the first things customers see when they visit your page.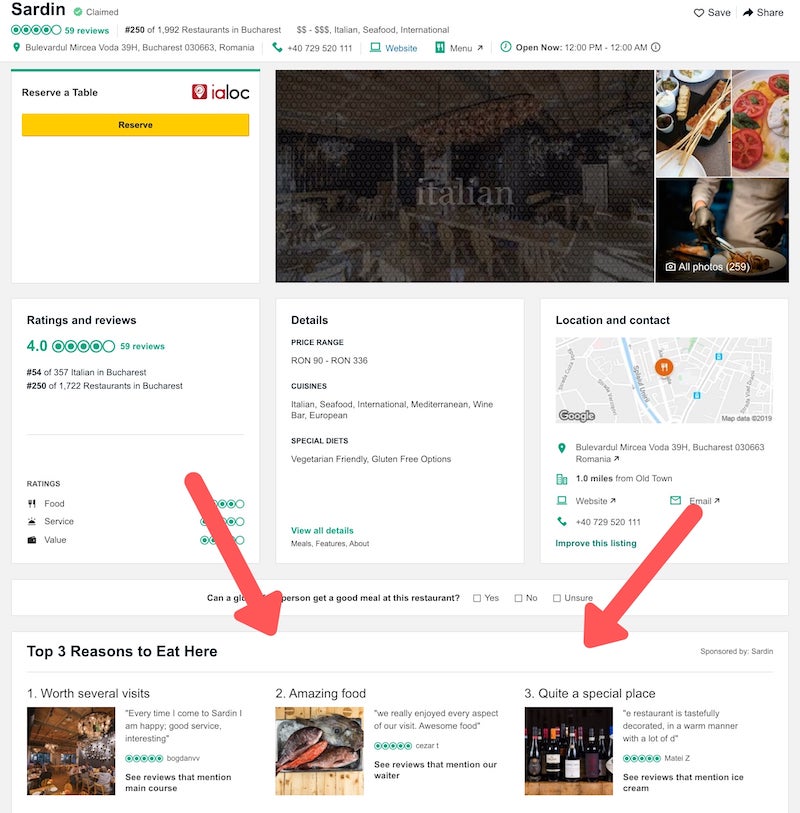 To edit your top 3 reasons, go to Manage Listing and choose "Select Top 3 Reasons."
How to Boost Restaurant Sales with These Cool TripAdvisor Services
We've searched high and low for TripAdvisor features that might help restaurant owners increase profits. Give these a try to develop your TripAdvisor marketing strategy.
1. Check Your Performance on TripAdvisor
Your TripAdvisor Management Center is where you can keep track of how your restaurant is performing on the TripAdvisor platform. We're here to tell you what you need to look at in TripAdvisor analytics to get a great insight into what works and what you can improve:
Performance Dashboard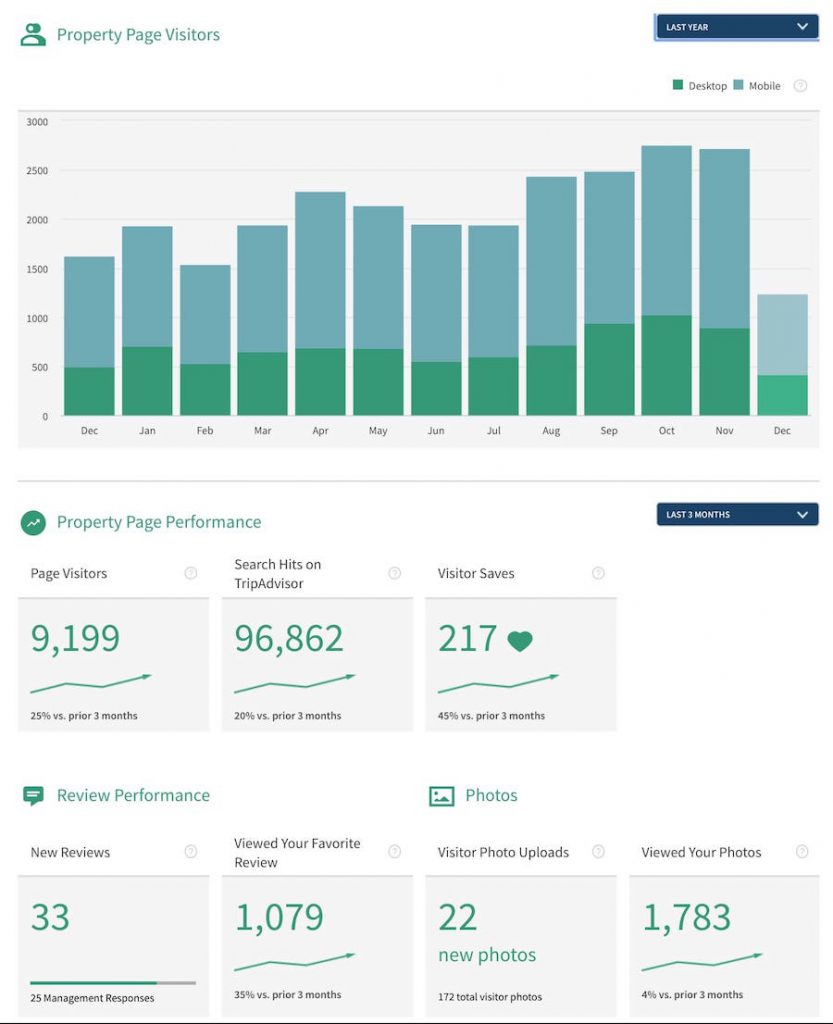 This section gives you an insight into your ranking, traffic, photos, and review performance, as well as what else your visitors viewed to show you who your competitors are.
This can help you adjust your strategy if, for instance, you see more people are viewing your listing from their mobile phone. That means you need to make sure your website is also optimized for mobile because the numbers most likely match.
Get Your Own Mobile Optimized Website
Just $9/month
Start Now
Management Center Homepage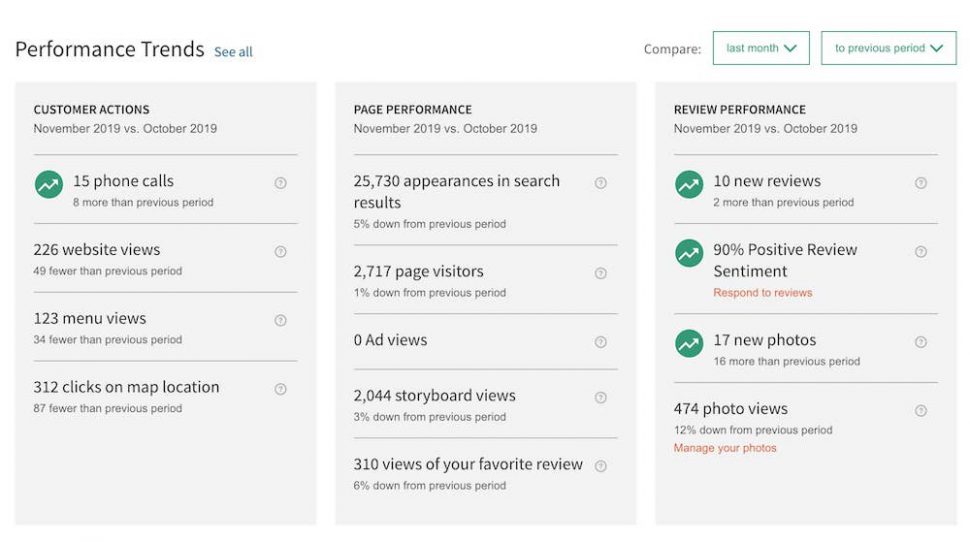 This is where you can take a look at your page performance (number of visitors, appearance in search results, etc.), review performance (number of reviews, photo views, etc.), and customer actions (website views, calls, menu views, and clicks on map location). This information can help you see how many of your visitors are converted into customers.
You can compare results from different time periods to keep track of any changes that might have taken place due to something new you did. For example, if you implemented an ad campaign in November, you can compare the numbers with those from December to track the ad's performance.
Ads Performance Dashboard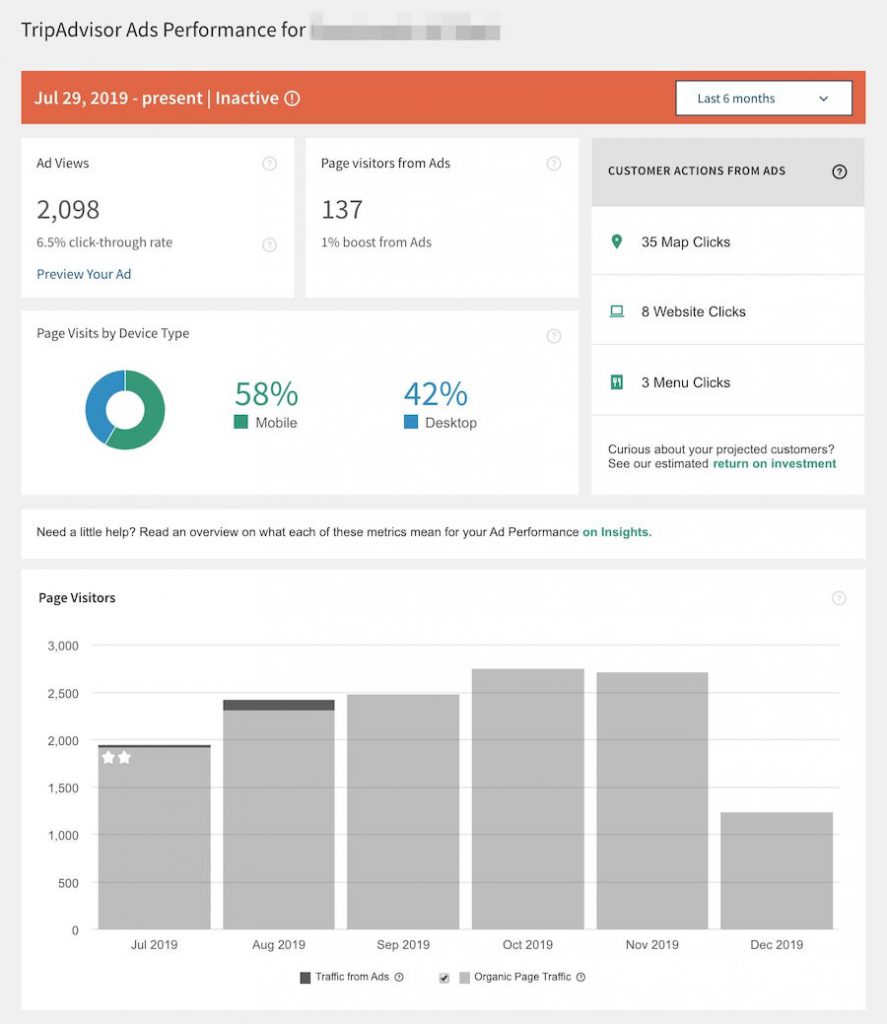 If you chose to invest in ads, this is where you can see how they're performing to decide whether the investment is worth it or not. TripAdvisor shows you an overall return on investment so that you can understand where your money is going.
2. Check What Your Competitors Are Doing
Keeping an eye on the competition is something every restaurant owner should do. If you have TripAdvisor Premium, you can do that in the Competitor Dashboard. If you already know who your competitors are, add 2 to 5 of them to create a Competitor Set. If you don't, TripAdvisor will suggest some based on user searches.
After you've saved your set, the platform will compare you to them based on your bubble rating, ranking, and reviews. You can choose the time period for which you want the data to show in order to track your performance over time.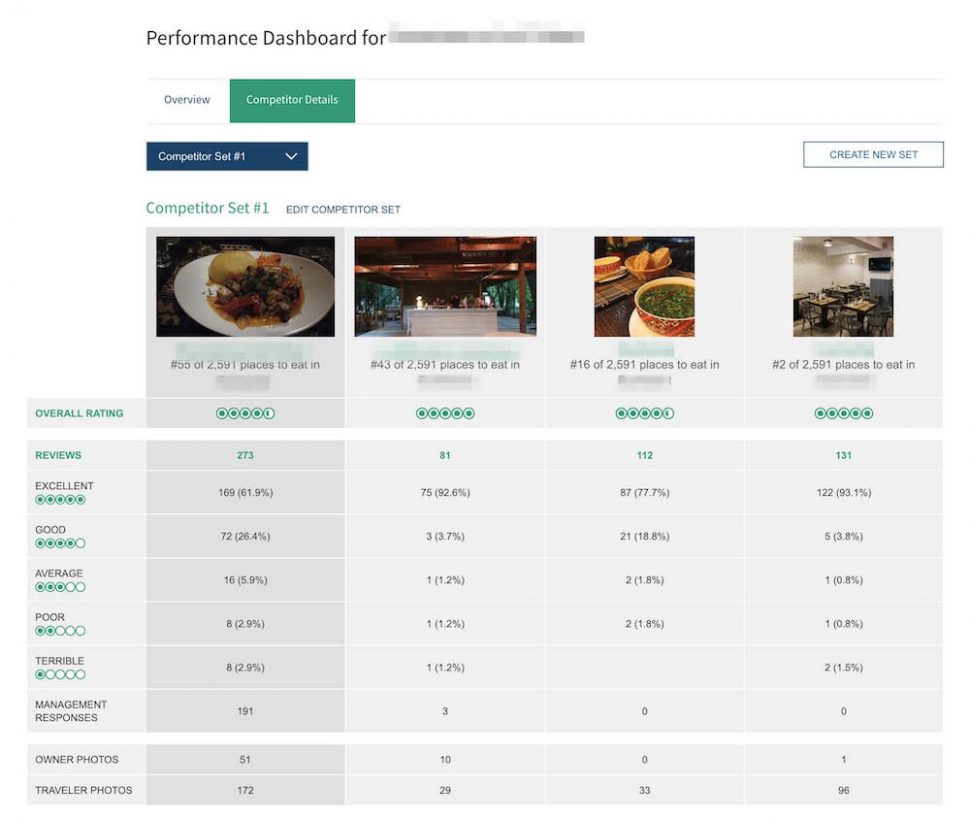 Is a restaurant getting more 5-bubble reviews than you? What are they doing right? Take a look at their listing and see if there's something they have that you're missing. Also, read the 5-bubble reviews to see what customers liked most about it to try to emulate it in your own restaurant.
3. Get a Certificate of Excellence
A Certificate of Excellence is awarded to about 10% of the top-performing restaurants on TripAdvisor that have great reviews and service constantly. If you have qualified for a TripAdvisor Certificate of Excellence (learn how to qualify here), you'll get a badge on your listing automatically.
However, we recommend ordering a printed copy as well to display in your establishment. This will show diners that they can expect a quality experience and that they can also review you on TripAdvisor. Follow these steps to get your printed Certificate of Excellence.
TripAdvisor Restaurant Success Stories to Get Inspired by
Finally, before we go, we wanted to give you a little push to start developing a TripAdvisor marketing strategy by mentioning 4 restaurant success stories that are a real inspiration.
30% More Revenue with TripAdvisor
This is the case of NUE, a restaurant in Seattle, whose owner says the establishment saw an increase in traffic and revenue of 30% from TripAdvisor only. Read more about their story here.
150+ Diners Per Night with TripAdvisor
Restaurant Miramar, located in Mallorca, Spain, managed to bring more than 150 customers through its doors every summer evening using TripAdvisor Premium and TripAdvisor Ads. Learn how to emulate their success.
80% of New Customers from TripAdvisor
Is this real? Yes, and it's the case of restaurant Almar Tenerife. Using a combination of ads and TripAdvisor Premium services, they managed to create such a presence on the platform that 80% of their new customers come exclusively from TripAdvisor.
Double the Turnover with TripAdvisor
Makars Gourmet Mash Bar won the Travellers' Choice Awards in 2018, becoming the number one everyday dining restaurant in the UK. As a result, their sales increased by 20% and, according to the owner, their turnover doubled in 3 years.
Bottom Line
Developing a successful TripAdvisor marketing strategy starts by you making the most of your restaurant description and keeping your profile up-to-date, but also taking advantage of all the cool features TripAdvisor has to offer, even if you just test them out at first.
The key is to provide customers with relevant results to their queries. After all, why do people use TripAdvisor and other restaurant listing sites? Because they want to make informed decisions. If you know how to market your restaurant for what it is, people looking for this type of restaurant will undoubtedly find you on TripAdvisor.
Do you have a TripAdvisor marketing strategy that has worked for you? Get in touch and tell us all about it.
TripAdvisor for Restaurants Part 1
TripAdvisor for Restaurants Part 2