If in the first installment of our guide to TripAdvisor for restaurants, we told you WHY you need to have a TripAdvisor presence and how to list your restaurant on TripAdvisor, in this second part, we'll be teaching you HOW to rank higher on TripAdvisor to get more visibility and restaurant visits.
If you've been wondering "how does TripAdvisor work for owners of restaurants who want to get ahead online?" here are 30+ tips you can start implementing right now.
How to Get Started with TripAdvisor: 5-Step Checklist
If you've already claimed or added your restaurant, you're one step closer to learning how to rank higher on TripAdvisor. If you haven't, read our step-by-step guide on how to do it. Then, follow these next steps:
Step 1: Add the TripAdvisor widget to your website
Let your customers know you're on TripAdvisor by adding their free widget to your website. Go under Marketing Tools on your TripAdvisor restaurant profile, and click on Website Widgets. On the next page, choose Restaurant Widget.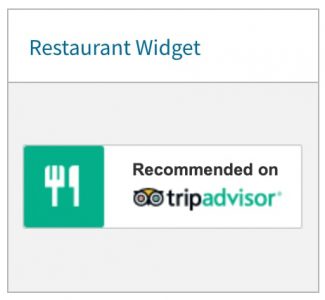 You will be taken to a page where you can customize your widget, preview it, and email yourself the HTML code you'll have to add on your website. Ask your developer to do it if you don't know how.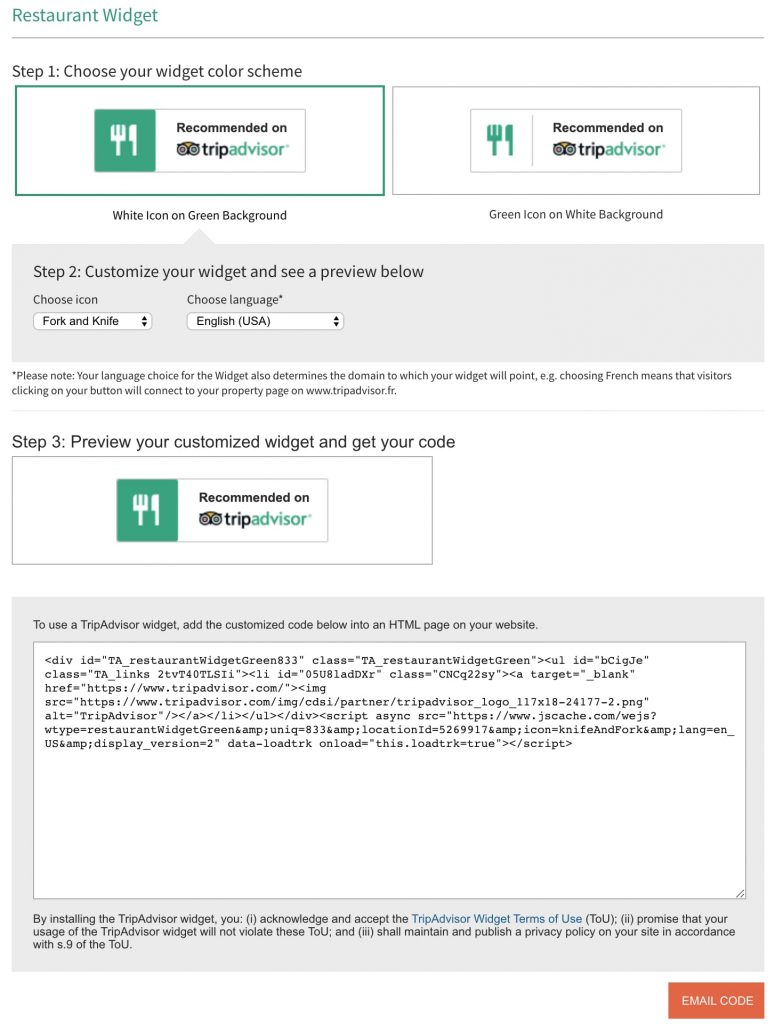 Step 2: Add your restaurant website URL to your TripAdvisor profile
You can do that when you claim your restaurant listing or add your restaurant to TripAdvisor, but if you haven't done it already, there's still time. Just go to Manage Listing on your TripAdvisor company profile, and choose Name & Description.
On the next page, add your website URL in the designated box. This will provide you with a powerful backlink for your restaurant website, as well as make it easy for people who view your TripAdvisor profile to find your website.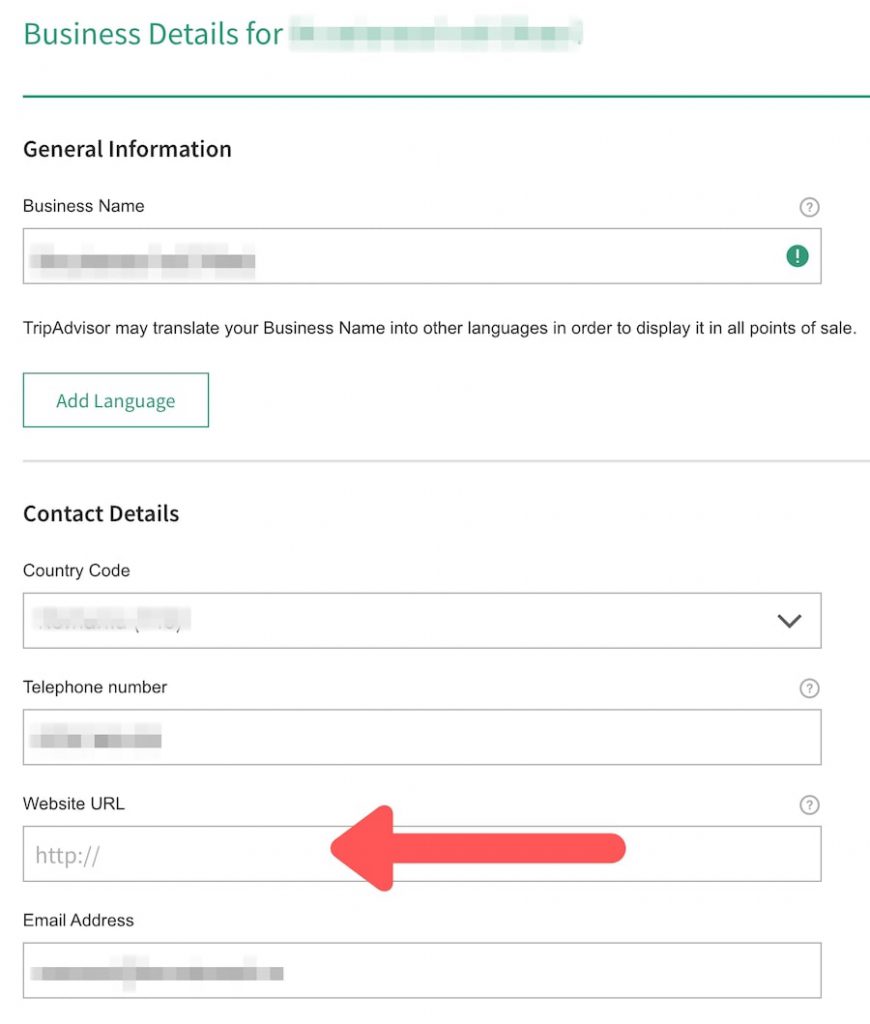 Don't have a restaurant website yet?
Get one for just $9/month
Start Now
Step 3: Upload 10+ images
According to a TripAdvisor study, restaurants that upload between 11 and 15 photos on TripAdvisor get double the customer interaction. Naturally, uploading representative photos should be your next step.
To do that, sign in to your TripAdvisor business page, then go to Manage Listing and choose Photos. Click the "Add More Photos" button to enrich your profile.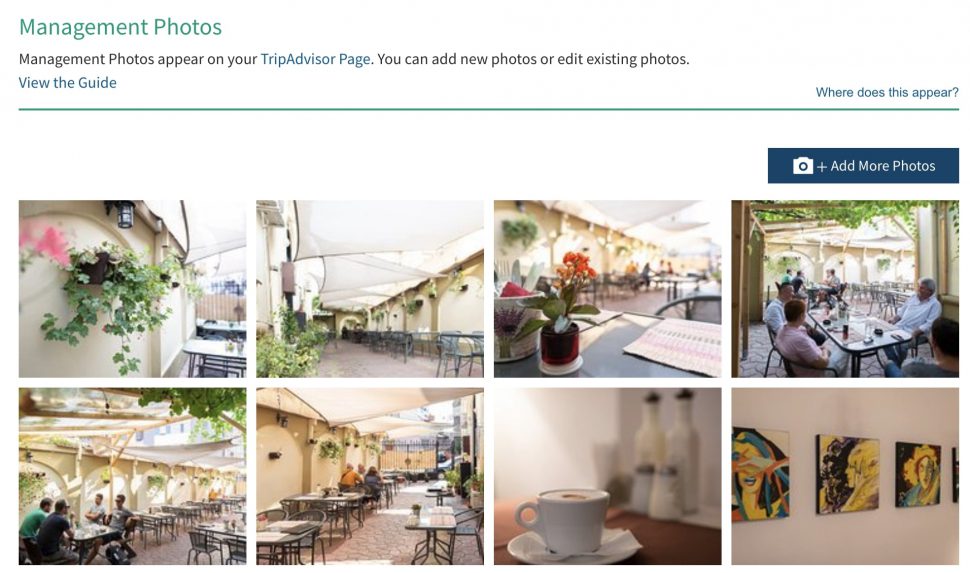 Step 4: Order TripAdvisor business cards to encourage users to leave you reviews
One way to encourage your customers to leave you a review on TripAdvisor is to order branded business cards and leave one on every table.
To order your personalized business card, go to your TripAdvisor restaurant profile under Marketing Tools, and choose Promotional Tools. Then, select Business Cards.
This will take you to a new page where you can browse a variety of TripAdvisor branded promotional materials for business owners. Since you need cards, select the Business Cards category, then choose the message you want to be printed on the cards. We recommend "How was your meal?"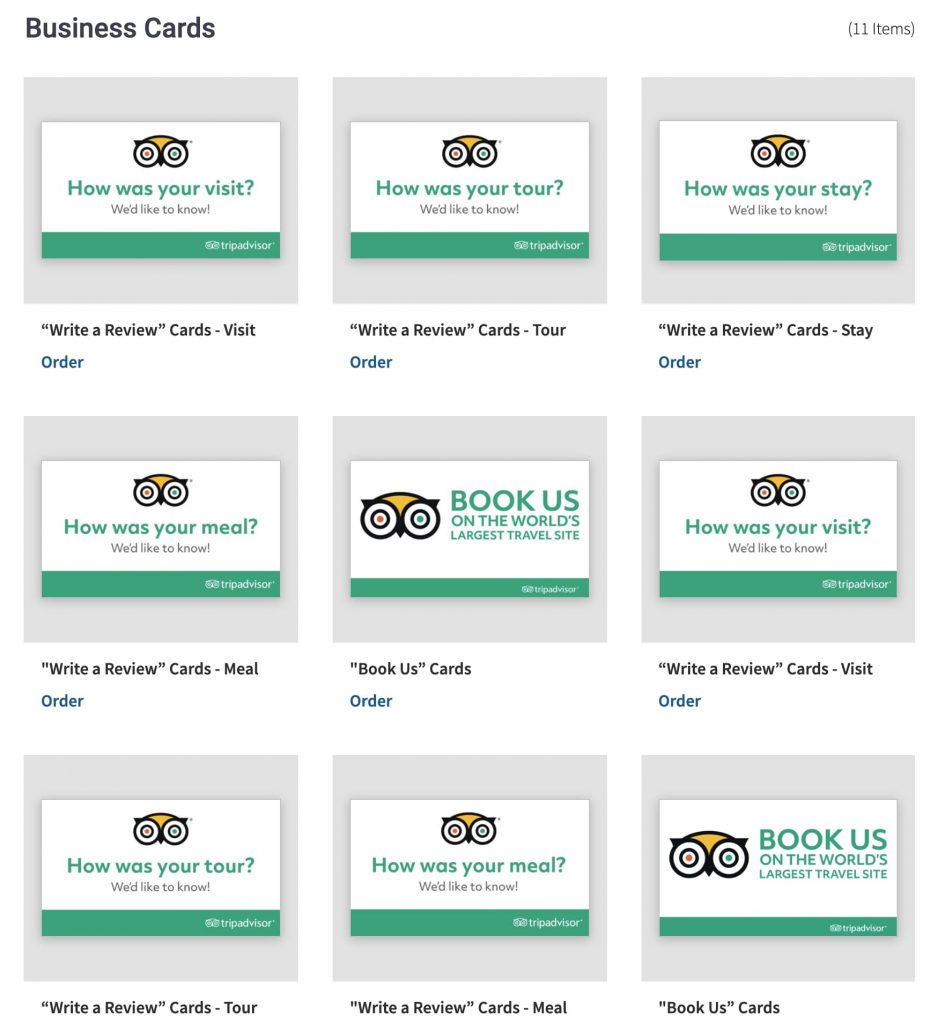 After you've selected it, you will be able to design it to include your business name, city, and TripAdvisor profile on the back.
Step 5: Respond to reviews
Finally, once those reviews start pouring in, it's crucial that you respond to them ASAP. We'll tell you more about the best ways to respond to TripAdvisor reviews below.
How to Improve Your Ranking on TripAdvisor
In this section, we'll teach you how to rank higher on TripAdvisor using a combination of review tracking and responding, updating your profile, uploading photos, and building a brand that is worth sharing.
1. Collect as many reviews as possible
Reviews are the main event on TripAdvisor. They're what boosts your ranking and brings you more customers. That said, asking for reviews is extremely important. Well, duh, you might say. The fact of the matter is not enough restaurants dare to just ask for reviews, but this is how to increase followers on TripAdvisor.
And there's another reason why it's important to ask. According to a study conducted by the Spiegel Research Center, the average rating of prompted reviews (those you ask for) is 4.34 out of 5 stars, while that of unprompted reviews (those that people leave on their own volition) is 3.89 out of 5. So start asking for those reviews!
You can choose to ask for a review when the customer leaves, send them an email, or an SMS asking for one. Regardless of how you do it, the important thing is to do it.
If customers are particularly satisfied with one of your signature dishes, ask them to mention it in their review. For instance, if your specialty is lasagna and you're trying to advertise that on TripAdvisor, having reviewers say "This is the best lasagna I've ever had" will convince other customers to give it a try.
2. Respond to reviews
Responding to reviews is almost as important as collecting them. They're the digital version of word-of-mouth. That said, when the reviews start piling up, we understand it can be difficult to respond to all of them. Luckily, you don't have to. According to a Yext study, responding to at least 50% of the reviews you get across all platforms is enough.
However, when you do respond, make sure you fully commit. That means replying with a full paragraph, not just one phrase, and really making the customer feel heard. We'll get into detail about responding to reviews further below, so keep reading.
For now, let's discuss a tactic of prioritizing the reviews you respond to. Start by replying to bad reviews first. Why? Because they're the most urgent and you should do your best to solve the situation. Then, take some time to respond to the best ones, because you will make the customer feel important and valued.
If you have some time, respond to those 3-bubble reviews too. They're not as urgent as the other ones, but it looks good if you reply to those as well.
3. Have recent reviews
Recency is one of the parameters TripAdvisor uses when calculating your restaurant ranking. Newer reviews get priority. Older reviews, while still somewhat relevant, are pushed to the side because they don't reflect the current state of the restaurant, which is exactly what users are looking for when researching on TripAdvisor.
If your most recent review is 3-months-old, it's time to get to work and start collecting more reviews. How? We'll get to that in a second.
4. Update your hours of operation
Restaurants that have their hours of operation displayed on their TripAdvisor profile get 36% more engagement than those lacking them. Just think about it. Such an easy thing to do (it takes less than 2 minutes) can bring such significant results. It would be a pity not to take advantage of this opportunity and learn how to rank higher on TripAdvisor.
You can update your hours of operation by signing into your TripAdvisor restaurant profile, going under Manage Listing, and selecting Hours.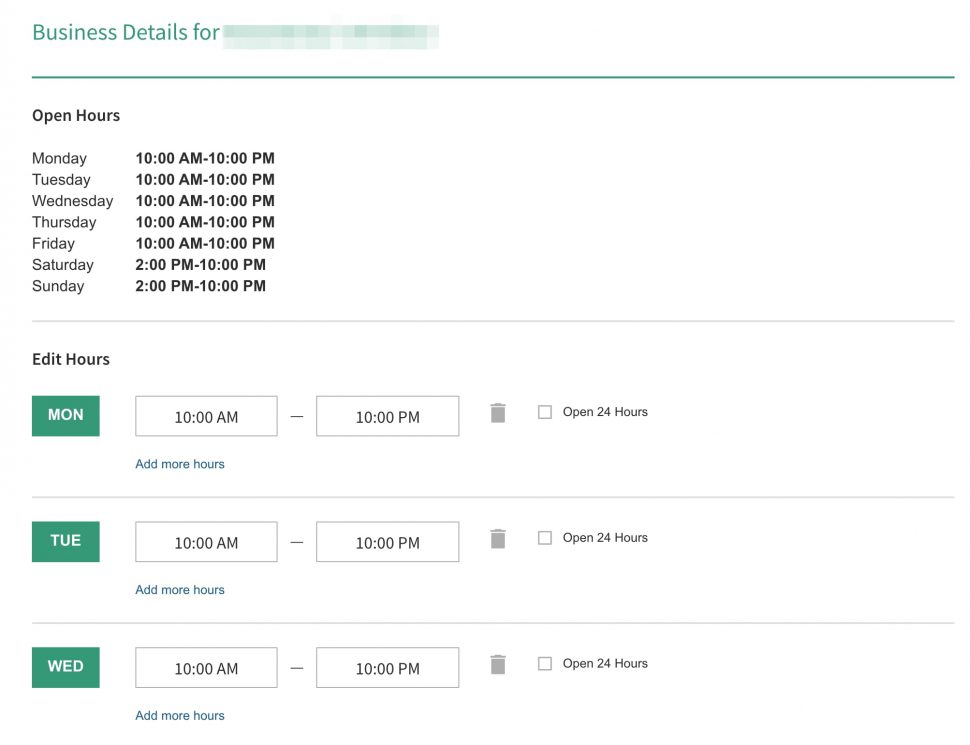 5. Provide excellent service
Your restaurant reviews not only bring in more customers, but they can also help you improve your service. If you get multiple reviews saying you could do something better, then it's clear that something needs changing. Learn from your reviews and use them to improve your restaurant.
When you do change something, respond to the review explaining how you took action and what exactly has changed. This will show everyone who reads the review that you take your customers' suggestions and complaints seriously and will lead to more positive reviews.
6. Build a brand vision
Customers typically appreciate consistency in a restaurant. To make your establishment unique, build a brand vision and stick to it. That doesn't mean never experimenting but simply making sure whenever a customer thinks of your restaurant, they have a clear brand image in mind.
Think about what your mission statement is. Who are you? Who do you want to be? Why are you doing what you're doing? Decide how you want to present your brand to the public. For example, if you want to make your brand fun, exciting, and appealing to young people, consider brainstorming punny menu descriptions, decorating your restaurant using bright colors, and coming up with a smart logo.
Make sure everyone in your staff is aligned with that vision as well because they interact with customers on a daily basis.
You Might Also Like: 3 Secret Menu Writing Tips: The BEST Food Descriptions that Make You Hungry
7. Go the extra mile
Amenities like complimentary water or free Wi-Fi can really make a difference in the experience customers have at your restaurant, and as a result, in the reviews they may decide to leave on your TripAdvisor business listing.
8. Make sure your restaurant is relevant for your cuisine
One interesting thing about TripAdvisor is that a restaurant can rank differently for different cuisines. This means you have to make your restaurant relevant for the type of cuisine you want to be known for.
When people search for where to eat online, they don't search for general keywords like "restaurant in New York." They go for more specific searches like "dinner in New York," "pizza in New York," or even "TripAdvisor best restaurants near me."
Not only do you have to use your restaurant description to target the keywords that apply to your restaurant, but you also have to see what you're good at and capitalize on that.
Don't despair if you're the number one hit for "pizza in New York" but you're only number 8 for "burgers in New York." That just means other restaurants are better at burgers than you, and you should embrace your skill of making delicious pizza.
9. Use "social proof" to your advantage
If you're not familiar with the concept of social proof, it is a psychological phenomenon in which people look at what others did before them to determine whether a situation or behavior is correct. In this case, people look at others' reviews of a restaurant to determine whether or not it's a good idea to go there.
This is a concept that you, as a restaurant owner, can use to your advantage. How? By incorporating your reviews into your online and offline marketing efforts. First off, you can add the TripAdvisor widget to your website so that whenever someone visits it, they see you're on TripAdvisor.
Social media is a great platform for posting the reviews you get on TripAdvisor, especially when you're all out of ideas on what to post. Post quotes from positive reviews on your Facebook page, and include a thank you to the reviewer.
You can use reviews in the offline world as well, by taking quotes from your most stellar reviews and writing them on your store windows, specials boards, and so on.
If you dare, you can even (respectfully) make fun of bad reviews and incorporate some humor into your offline marketing strategy. For example, Faye McFarland, the chef at the Harlem Cafe in Northern Ireland, decided to make the most out of a bad review by broadcasting it to the world.
View this post on Instagram
As a result, people couldn't stop ordering the dish at the center of the complaint to see if it's really "the worst salad ever," which turned it into a best-seller.
10. Take great photos of your food and restaurant ambiance
If you had to choose between dining at a restaurant that has a lot of pictures of their dishes, decor, and staff online and one that has none, which would you choose? It's not even a question.
Not only do pictures give more legitimacy to your business, but they also persuade hungry customers to dine in your establishment.
Naturally, photos of the food are the most important. Make the dishes the center of attention, but have the surrounding be appealing too. Use overhead shots, experiment with lighting, and create a contrast between the food and the plate.
Read more: 6 Restaurant Photography Tips & Tricks
However, just photographing the food is not enough. You will want to include photos of your storefront, decor, seating, and staff. Behind the scenes photos are also a hit, especially of your chef cooking the food. Include photos of your restaurant when it's full of people to highlight it at its best.
The number of photos you upload is also relevant, as we've mentioned earlier in the article. Strive to have more than 10 to get more diner interaction.
11. Create an experience that is worth sharing
If you want to boost your TripAdvisor ranking, it's important to immerse your restaurant into the culture of online sharing. Create an experience people can't help but share and you'll see how more and more customers will flock to your restaurant.
Taste is the main thing to focus on when marketing a restaurant but engage other senses as well, like sight (decor), sound (music), smell (mouth-watering), and feel (fabrics, spaces).
Note: If you want to learn more about how TripAdvisor rankings work and what the TripAdvisor ranking formula looks like, check out part 1 of this TripAdvisor guide for restaurants.
How to Get More Reviews on TripAdvisor
In the sections below, we'll tell you how to rank higher on TripAdvisor by getting more reviews of your restaurant. More reviews mean more visibility, which in turn, leads to a higher rank.
1. Make sure your listing is up to date
The more information you can provide to customers about your restaurant on TripAdvisor, the better. From hours of operation to the website, location(s), menu, and so on, a complete and up-to-date profile will drive more engagement, which can lead to more reviews.
You can do all of that on your TripAdvisor profile under Manage Listing.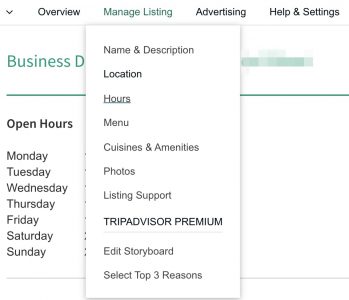 2. Ask for a review right after the customer finishes their meal
This is the best time to ask a diner to review your restaurant on TripAdvisor because that's when they're at their most satisfied and more likely to be a good sport.
That said…
3. Train the staff to ask the customers how everything was
Before going in for the question, have your servers ask the customer how they enjoyed their meal. If they say it was great, kindly ask for a review. If they don't seem that satisfied, it's obviously not a good idea for them to leave you a review, so it's better not to ask.
4. Send them offers online or via SMS for their next visit
If you have a directory of phone numbers and/or emails from your customers, make use of it to send them offers, vouchers, or discounts and turn them into return customers.
Without even having to mention a review, they'll be more likely to give you a positive one if you incentivize them in some way. This is how to encourage TripAdvisor reviews without breaking the company's policy of not offering rewards in exchange for reviews.
5. Send them an email asking for a review
A short and sweet email asking for a review can persuade former customers to help you out. Make sure you provide them with a link of where they should go to leave the review and clear instructions on how to do it.
You can use TripAdvisor's free service Review Express to create a customized email asking for reviews. The service also offers campaign tracking and analysis to see how your emails performed.
6. Order TripAdvisor branded materials
TripAdvisor offers a lot of branded materials that restaurants can display in their establishment to let people know they're on TripAdvisor and encourage them to leave reviews.
You can request a free TripAdvisor sticker to put on your store window, get customer reminder cards to place on your tables or download a reminder flyer to place in every online order bag. You can find all of this in the Promotional Tools tab under the Marketing Tools category.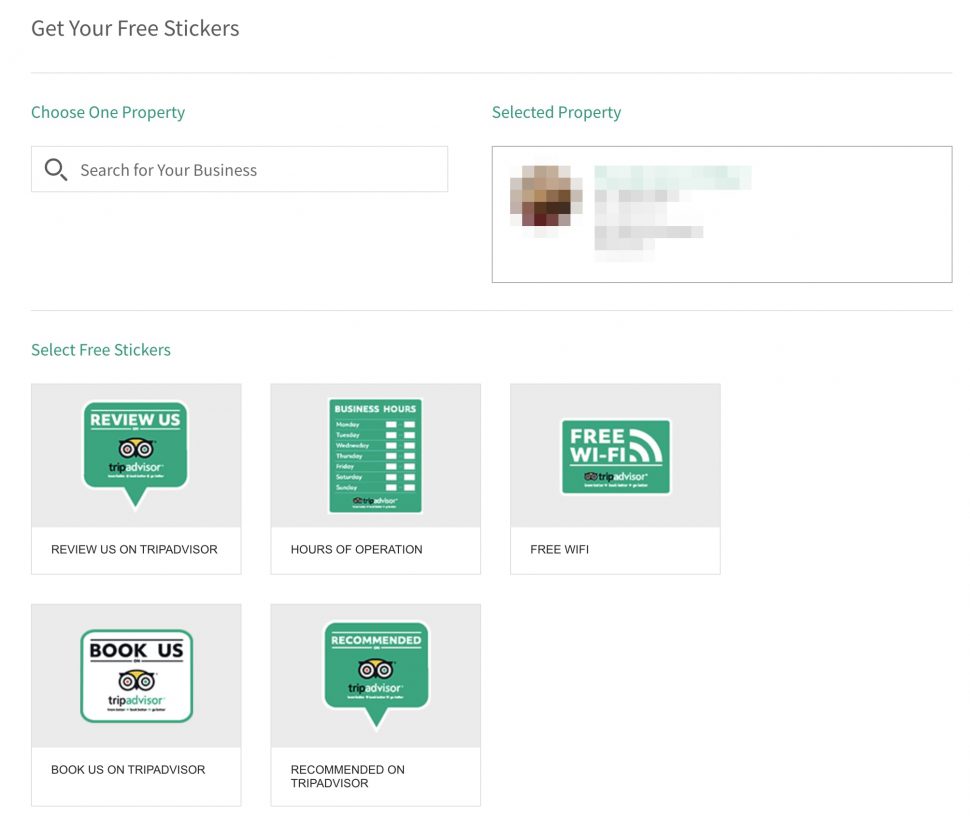 7. Check out the competition
If you're all out of ideas on how to get more TripAdvisor reviews, it's always good to look at your direct competitors and see what they're doing right. Choose a competitor that has a lot of reviews and a high ranking, and research them a bit.
See what works for them and what your profile is missing, and try to update your TripAdvisor restaurant listing accordingly. Maybe they have more photos that catch the eye or a specific way of ans wering reviews that leaves customers satisfied.
How to Respond to TripAdvisor Reviews
A huge part of learning how to rank higher on TripAdvisor relies on responding to the reviews you get. This will show customers you care about their experience at your restaurant.
1. Make it personal
Your reply doesn't have to be long – it has to be personal and let customers know you appreciate their feedback.
Pay attention to personal details to make your response stand out. For instance, if the user that left a review mentioned they spent their birthday at your restaurant, make sure you wish them a happy birthday when you reply. These small gestures can go a long way.
Pro tip: If customers mention a specific dish they liked, remember to include whether you have a promotion on it or a discount that they can benefit from in your response.
2. Thank the customer for dining with you
You should start every review by thanking the customer for dining at your restaurant and taking the time to write a review.
3. Include a return invitation
Every reply should also include an invitation for the customer to return. Depending on whether the review is good or bad, customize your response.
For a positive review, express how you'll be thrilled to have them back. In case of a negative one, tell them you hope they'll give you another chance to make a better impression in the future.
4. Apologize to negative reviews
If you get a negative review, it's important that you apologize first. Thank them for their feedback, even if it's negative, and show them you're taking it seriously and using it to improve your service. Invite them to contact you further to discuss the situation.
Taking a personal approach matters especially when you have bad reviews – let them know you will be addressing the problem personally.
5. Adopt the customer is always right mentality
Even if you know the review is not entirely deserved or accurate, make the customer feel like their feedback is valued. The key is to apologize even if you don't feel like it. However, don't apologize more than once. Instead, focus on how to fix the situation.
6. Be positive
Even when dealing with a negative review, keep your tone positive and encouraging. Come up with unique action plans to solve the issue and don't allow a negative review to gain traction.
If you're also negative in your response, other potential customers might be deterred from visiting your restaurant.
7. Strike the perfect balance between friendly and professional
While sounding professional is important, it can also make you sound a bit like a robot. Try to use a friendly tone, include humor if the situation allows it, and make the customer feel like they're talking to another human being.
8. Use keywords in your responses
When people search for restaurants like yours or for your restaurant in particular, the reviews (including your replies) will pop up. This is your chance to associate some keywords with your restaurant.
Depending on how you want to advertise your restaurant, include keywords in your replies like family-friendly, gastronomic, local ingredients, organically-sourced, wine and tapas, etc.
What's Next?
Restaurant listing sites like TripAdvisor can help restaurant owners grow their business online. TripAdvisor best practices for restaurants include having an up-to-date, complete profile, responding to reviews, and creating an atmosphere that is worth sharing online.
Do you have any other tips on how to rank higher on TripAdvisor? Click on the blue button at the bottom of this page to send us a message.
Here's what to look forward to in the third and last part of our TripAdvisor for restaurants guide:
Do's and Don'ts
TripAdvisor Ads for Restaurants – Are They Worth It?
How to Maximize Your Restaurant Profits with TripAdvisor Premium
How to Boost Restaurant Sales with Unique TripAdvisor Services
TripAdvisor Restaurant Success Stories