Using Restaurant Coupon Codes to Grow Your Online Business
Discounts are a fantastic method to reward loyal customers and attract new clients. Discounts are applied to online orders using promotional coupons. You may entice customers to place orders online via your restaurant website by offering discount coupon codes so they can benefit from a special offer.
Your restaurant can profit and reach its business goals by strategically using discounts, whether those objectives are to draw in new clients, encourage repeat business, or boost profitability.
In this post, we'll discuss the advantages of providing restaurant coupon codes, helpful hints, and original suggestions to help you choose the best promotions for your restaurant.
Additionally, we'll go through how to effectively use GloriaFoods' built-in marketing tools to attract and keep consumers with special offers.
Powerful Restaurant Coupon Code Statistics You Should Know

Advantages of using restaurant coupon codes for your restaurant
One benefit of giving out coupons is that it attracts new customers to your business or website. Coupons can be used to launch new product lines and assist in selling surplus or undesirable stock.
Coupons can also be strategically utilized to entice clients to purchase a new, more lucrative product, helping to increase your profit margin.
Additionally, coupons can foster loyalty with current consumers by using the discount as an incentive to encourage them to keep purchasing from your restaurant.
Read more: How to Keep Customers Coming Back to Your Restaurant Again & Again
When to offer restaurant promo codes
The gist is that you can use a promo code whenever you like! You shouldn't offer them constantly since once customers learn to recognize a trend and anticipate discount codes frequently, they won't ever pay the total price.
Try giving discounts as prizes, for special events, or to encourage repeat business.
Use restaurant discount codes to introduce new menu items
Trying something new could be uncomfortable for returning customers and new clients alike. But offering them a discount on your latest menu item can persuade them to try something they normally wouldn't, leading them to discover their new favorite food.
Read more: How to Promote New Menu Items Without Breaking the Bank
Move inventory before it gets unusable
By adding restaurant coupon codes on specific menu items, you can encourage customers to order dishes they might not have otherwise chosen and use old inventory before it expires.
Use seasonal restaurant coupon codes
While running a promotion for every holiday that rolls around is unnecessary, you should make plans in advance for the ones that are appropriate for your business.
Introduce discount coupon codes for significant get-together holidays like Christmas, Easter, and Thanksgiving.
You may also consider using restaurant promo codes on other popular holidays such as Halloween, Memorial Day, Mother's Day, and Labor Day.
Download our Food Holiday & Promotion Ideas Calendar for more inspiration on how to promote your restaurant to the holiday-loving crowd.
Use restaurant discount coupon codes to increase the average order value
Think about offering group or family meals at a discount or bundling high-margin and pricey items. People will be drawn in by the bundle's lower price compared to the total cost of the items purchased separately.
It makes ordering more straightforward for the entire group and gives the impression that the item is of higher value.
Family bundles can be very popular because you are not only giving them fantastic food, but you are also saving them the time and money it would take them to prepare the entire meal themselves.
Since you want to raise the average check, you might want to consider advertising the specials during your busiest periods.
Related: 15 Unique Restaurant Promotion Ideas that Will Increase Loyalty in 2022
Want to offer irresistible coupons to your restaurant customers?
Create a free account and start selling your dishes online today!
Create account
What to consider before you implement restaurant coupon codes
Understand your customer base
It's crucial to note that no campaign is successful without first identifying, assessing, and understanding your current clients and your target customers before we get into particular restaurant marketing ideas.
Running a promotion that won't appeal to your audience wastes time, yet it does occur frequently.
Do you live close to any office buildings? An arena? Do you typically see older or younger customers? Families? Experiencing new things, trying out new foods, saving money, or something else—what drives your customers?
Finding restaurant marketing ideas that encourage repeat business will be a lot easier if you can figure out the answers to these questions.
Be mindful of your margins
It's crucial to understand the margins for each menu item, including food and drink. This makes it easier for you to develop imaginative sets of products that collectively provide you with the profit margin you want.
For instance, you might offer free fries to all customers for a brief period, but offering free fries in exchange for people purchasing milkshakes might be more successful.
Generally, it's preferable to use high-profit margin items to introduce customers to the rest of your menu.
However, it's essential to fully comprehend your margins so that you may not only determine how much you can discount but also so that you can make better purchasing decisions and find strategies to extend the life of your inventory.
Explore various types of restaurant discounts
Discounts can be used in various ways, such as taking a percentage off, running a limited-time promotion, giving away a free item with a purchase, granting a discount once a particular amount is spent, and many more.
Try out different promotions, but make sure they always suit your company's bottom line.
Create a small test group
If you've never used a promotion or coupon codes for restaurants before, start by sending it to a select number of your most valuable clients. Consider it a "soft opening" where you and your employees may test how well-liked the promotion is and iron out any problems before releasing it to the general public.
Read more: How to Use Restaurant Promotion Templates Effectively to Boost Sales
How to create a discount coupon code using GloriaFood's online ordering system
1. Begin by creating an account and filling out your restaurant profile.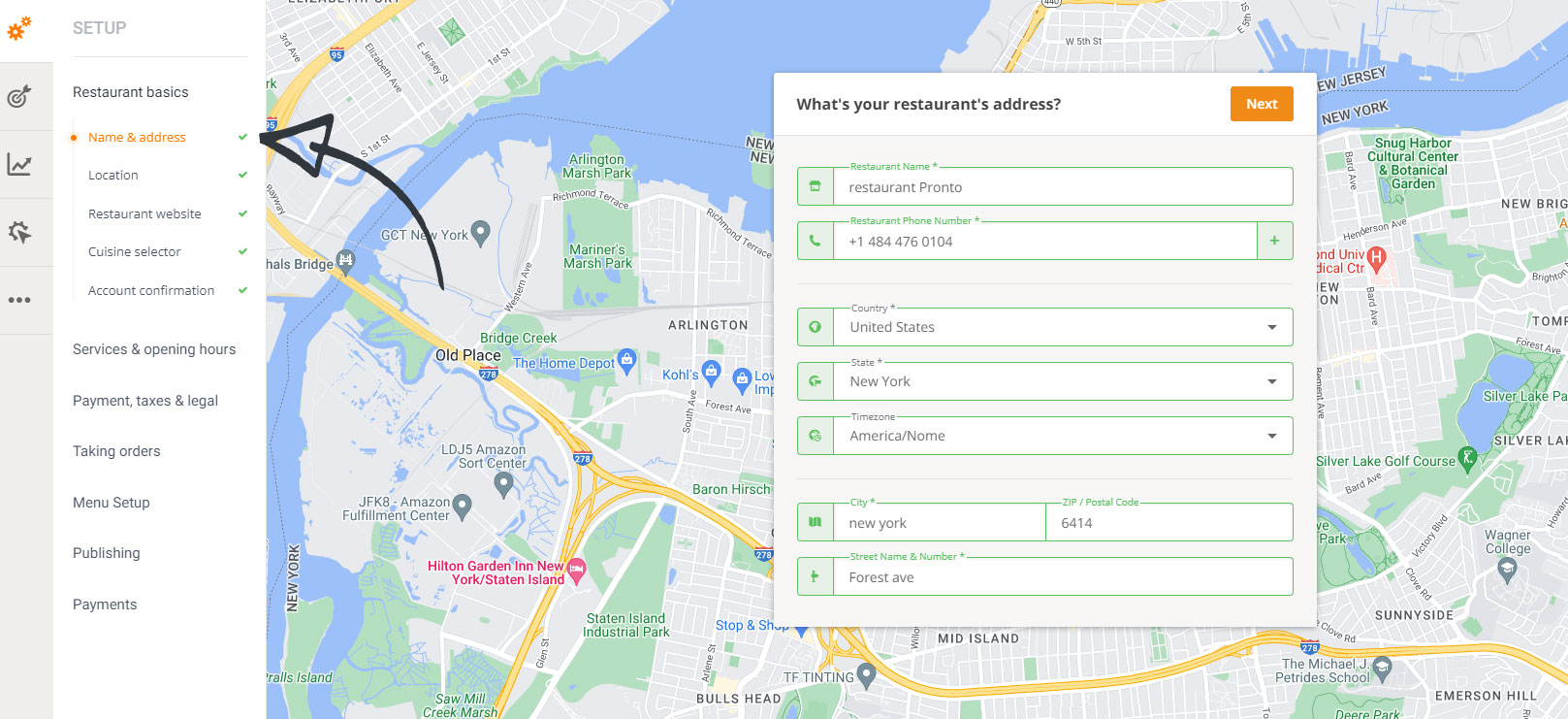 2. Navigate to the Marketing tools section, Promotions, then select "Self-made promos."

3. Click on the "Add promo deal" button to select the type of discount you want to offer.

4. Click on the "Next" button beside the promotion of your choice.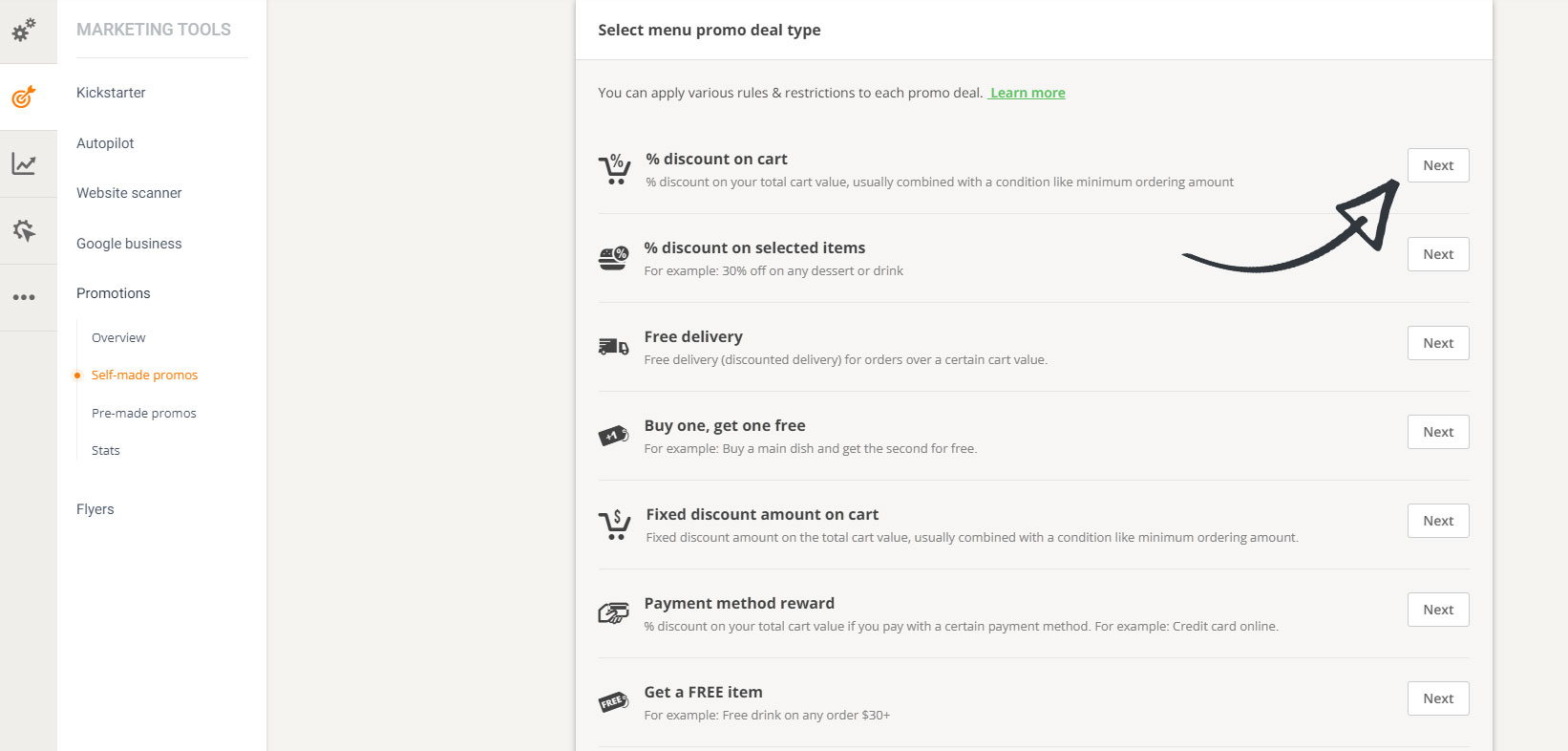 5. Change the details of your promotion.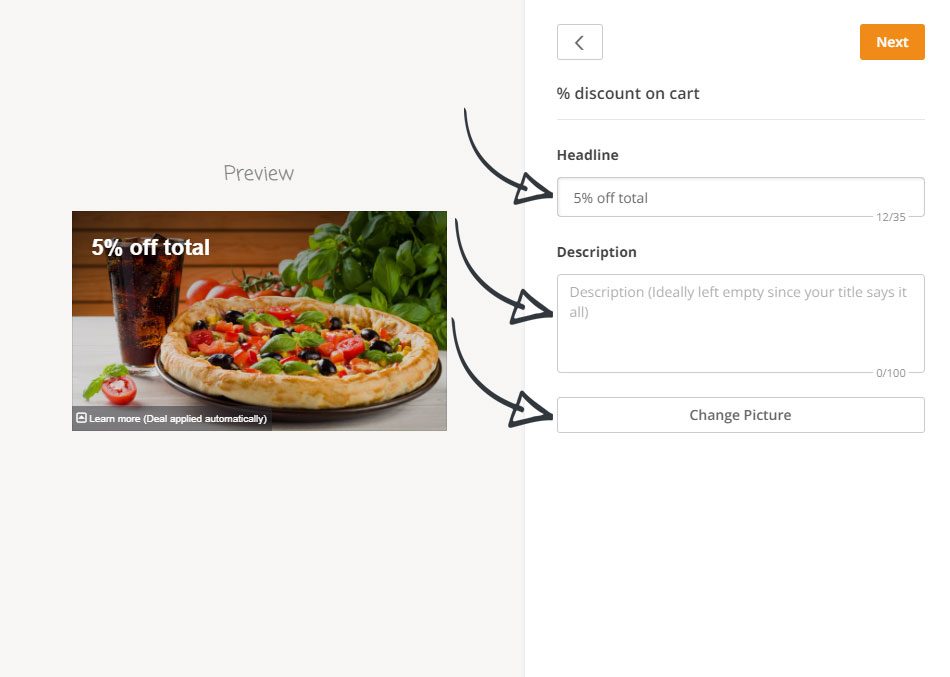 6. Set a discount percentage and minimum spend amount.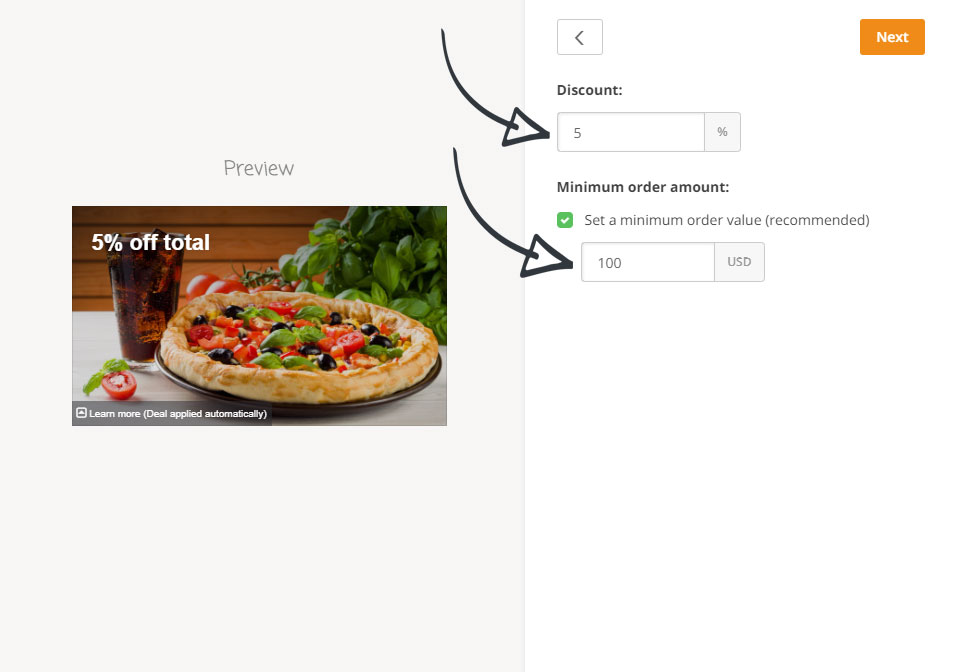 7. Select "Hide from menu (redeem with coupon code)" from the "Display Time" dropdown. Then select the "Use coupon custom code" option and enter an alphanumeric code of your choosing.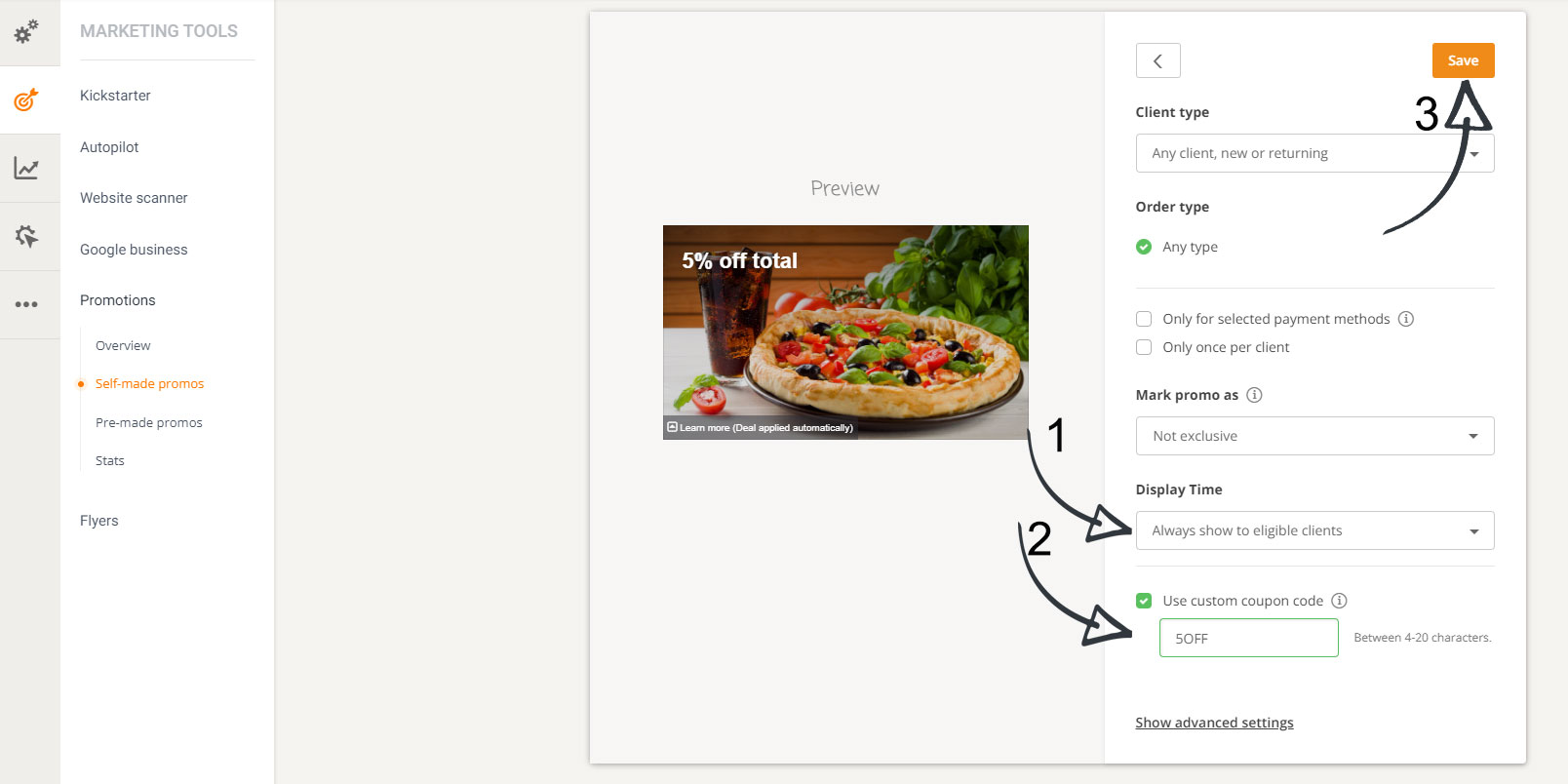 8. Set the promotion to active by toggling the slider under the "Status" column.

Your customers can enter the coupon code in the checkout cart by clicking the "Add coupon code" link.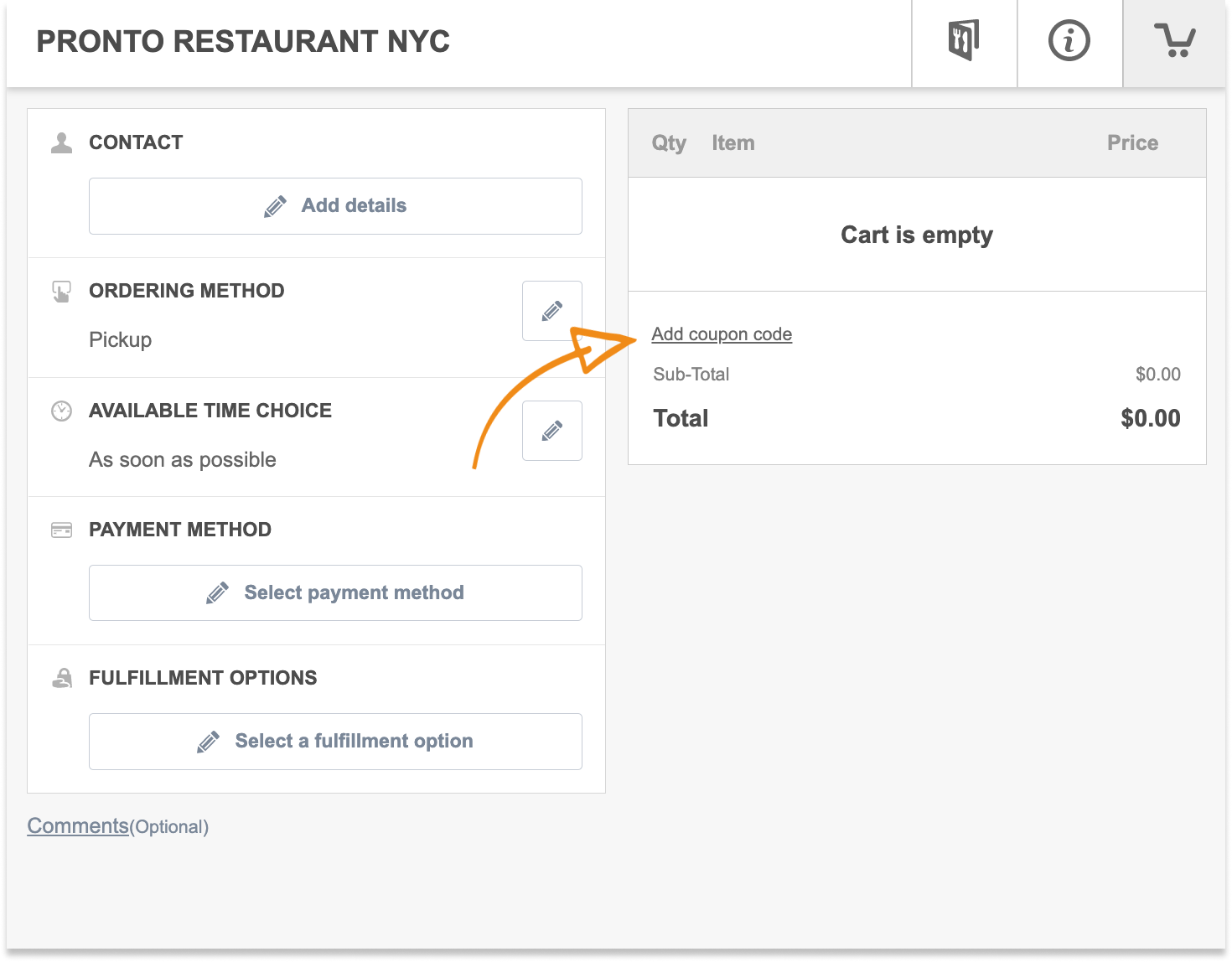 For detailed instructions on how to set up a discount coupon code, check out the video below.
Conclusion
You can create enticing deals for your customers by being aware of when and how to provide restaurant coupon codes. You can prevent slipping into a low revenue trap by being conscious of the pitfalls to avoid while using discount vouchers.
Most importantly, don't forget to distribute the discount coupons to clients via your company's marketing emails, social media accounts, and other channels of communication.
In exchange for a few promos on social media, for example, a restaurateur can sell a handful of extra dishes each day—and every penny counts in the world of restaurants.