Boost Your Restaurant Customer Retention Rate with These Re-engagement Campaigns
Are you having trouble drawing customers in for a second order? Is your restaurant customer retention rate low? I'm going to teach you how to keep customers coming back to your restaurant through targeted, personalized email campaigns that you can put on Autopilot. That way, you can focus on running your restaurant business as usual.
How to Keep Customers Coming Back to Your Restaurant & Placing Online Orders
1. Install an online ordering system on your website for FREE
No matter where your restaurant is based or who's your target audience, the easiest way to reach people and ensure you make a profit even in trying times is to get online.
I'm talking about accepting online orders on your website and providing pickup and delivery options for customers who prefer to eat at home.
There are many advantages of online food ordering for restaurants, chief among which visibility, a better customer experience, increased loyalty, and repeat business.
One huge benefit of the increased popularity of online food ordering and delivery is you can add this service to your restaurant without any technical knowledge. All you need to do is add an order button to your restaurant website.
Read more: 7 Reasons Why an In-House Online Ordering System is the Best Choice
With GloriaFood, you can do it for free. To get the process started, click here and enter your restaurant name.
Free Online Ordering System for Restaurants
No commissions, no hidden fees, no surprises.
Get Started
Learn more: Website Ordering
2. Set up your restaurant profile and start taking online orders
Once you are redirected to what will be your restaurant dashboard, the platform will prompt you to fill in your profile so you can start taking orders ASAP.
You will have to enable the services you want (delivery, pickup, etc.), set up opening hours, add your menu, download the order-taking app, and publish the order button on your website.
You might also like: How to Promote Your Food Delivery Business as a Restaurant Owner
For additional help on setting up your restaurant profile, check out these detailed restaurant setup articles.
3. Enable the Autopilot service
Once you've completed the setup, you can find the Autopilot service in admin -> Marketing tools -> Autopilot. Click on "Show me how" and follow the steps on the screen to start the activation process.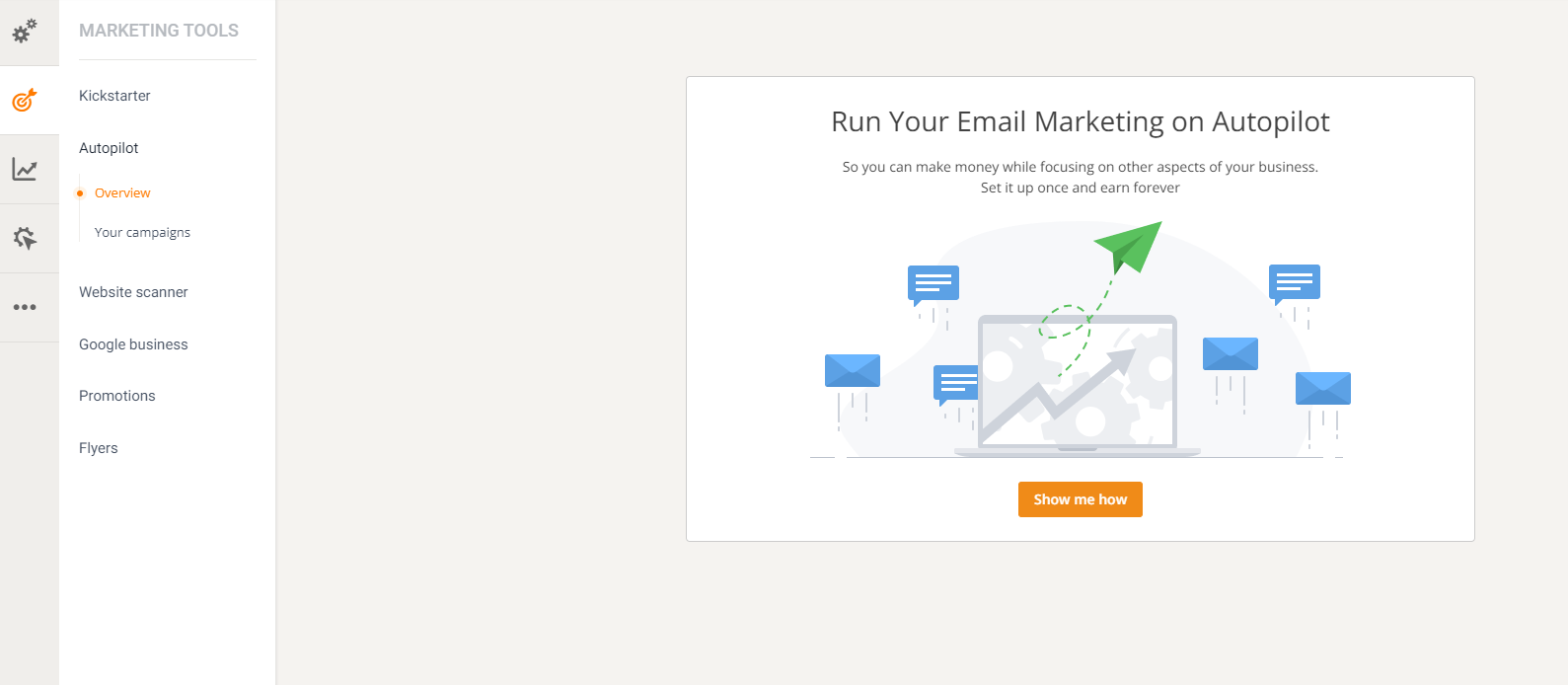 4. Create your email campaigns using our templates
After you've activated the service, you can start creating campaigns. There are three pre-built campaigns that you can choose from:
Encourage second order
Cart abandonment
Re-engage clients
Once enabled, each of these campaigns will send automated messages to your customers via email.
You'll notice that when you click "Enable" on any of the campaigns, the messages are already pre-filled. These are taken from your very own promos. However, they only act as suggestions.
If you prefer a different approach, you can edit the promotions and text. Still, keep in mind that for customers to have a good user experience, the messages should coincide with those they can see in your online menu.
We've created these templates to follow a fixed campaign logic. That means that while you can play around with the text and promos, you can't change the template. Otherwise, Autopilot won't function properly.
5. Activate the campaigns and let them run on Autopilot
Once you activate a campaign, Autopilot segments your customers based on their total number of orders and their last order date. Using this purchasing history data, it sends messages designed to motivate customers to order again.
You can monitor and export sales generated by Autopilot by going to admin -> Reports -> List View -> Orders -> Export all orders.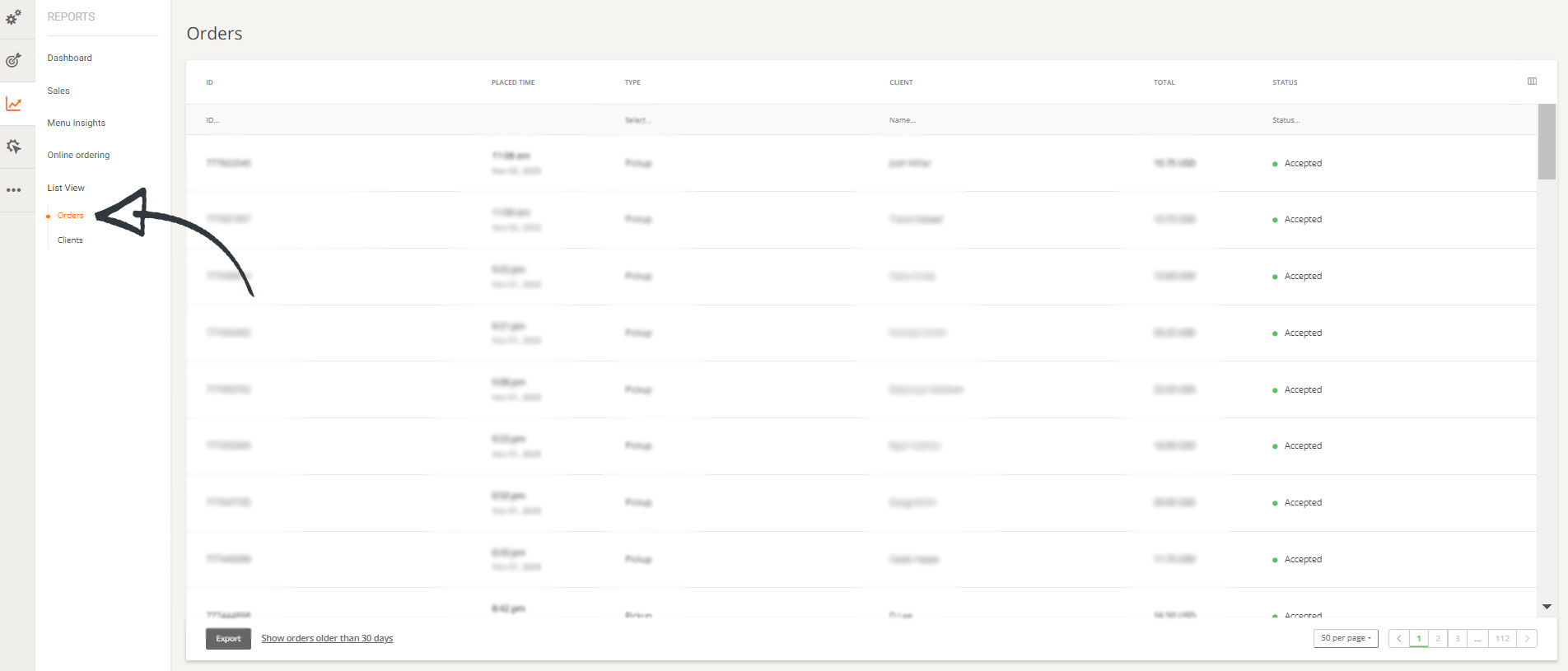 Then, choose Custom and select the fields Order ID, Total, and Marketing source.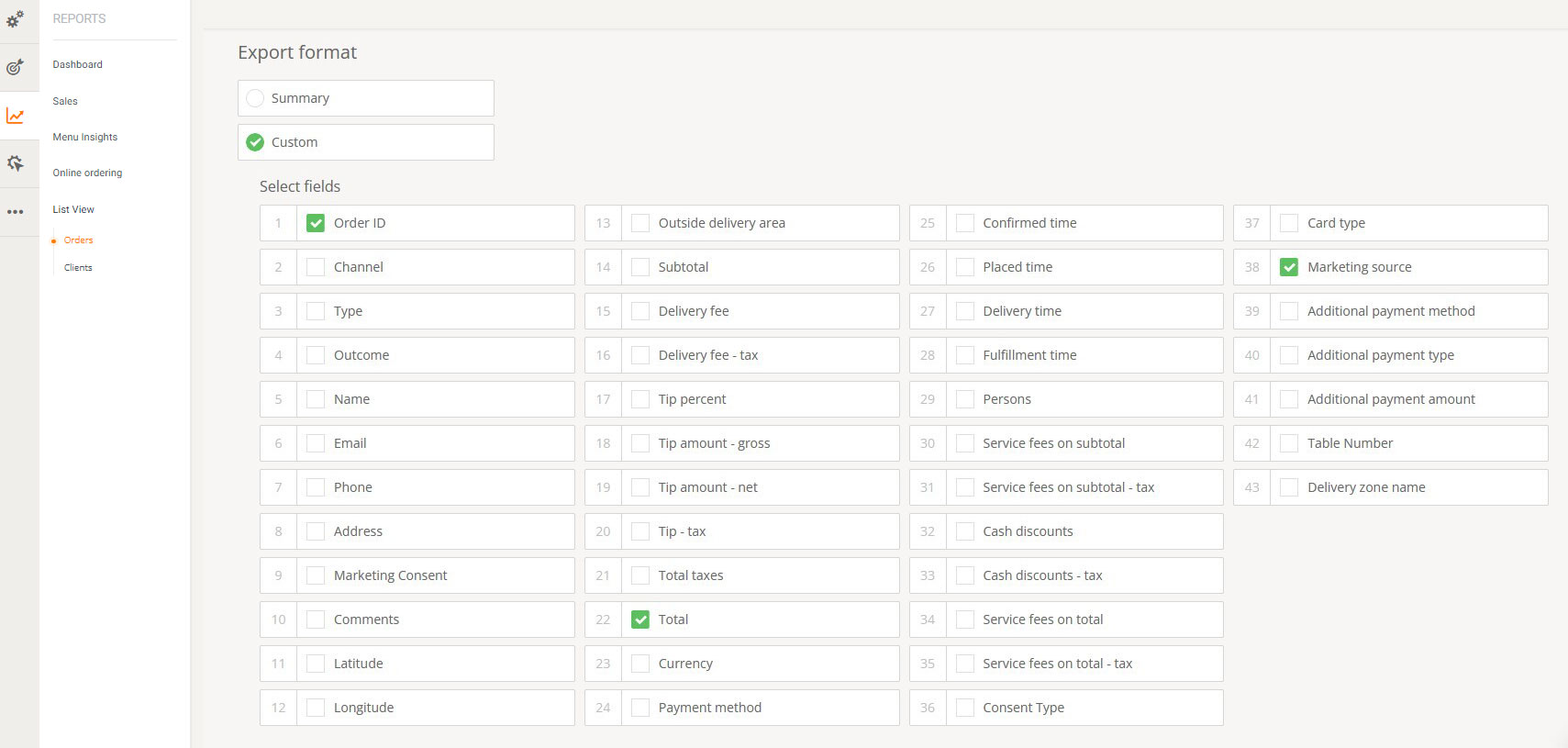 You will see the orders generated by Autopilot by looking into the Marketing source section of your report.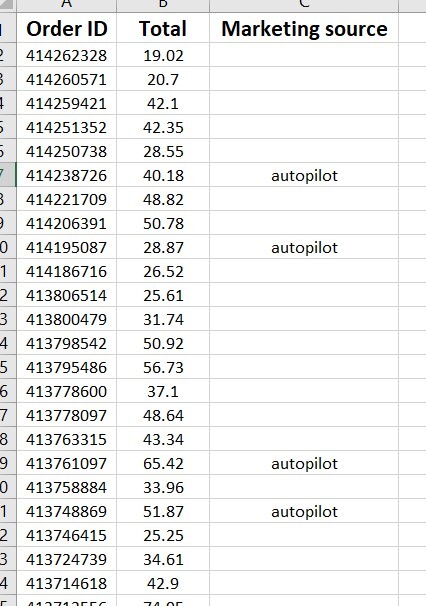 How to Keep Customers Coming Back to Your Restaurant: Autopilot Video Instructions
What Is Your Restaurant Customer Retention Rate?
Before we look at each campaign type more in-depth, do you know what your restaurant customer retention rate is or how to calculate it? It's easy!
Just follow this formula:
( (No. of customers at the end of a time period (week, month, quarter) – No. of customers acquired in that time period) / no. of customers at the beginning of that time period) ) x 100
If you start the quarter with 2,000 customers and end it with 2,200, out of which 600 are newly acquired, you will calculate your restaurant customer retention rate as follows:
( (2,200 – 600) / 2,000)) x 100 = 80%
Customer Retention Strategies for Restaurants
Stimulating repeat orders
If you have many one-time customers that for one reason or another haven't placed a second order, our "Encourage second order" campaign is perfect for you. It helps you build customer loyalty by turning one-time customers into regulars.
Who gets this message: customers who have recently placed their first order with you
What type of message can you send: email
When will the messages be sent: 7 days after they place their first order
Here is an example of an email you can send to encourage customers to place a second order.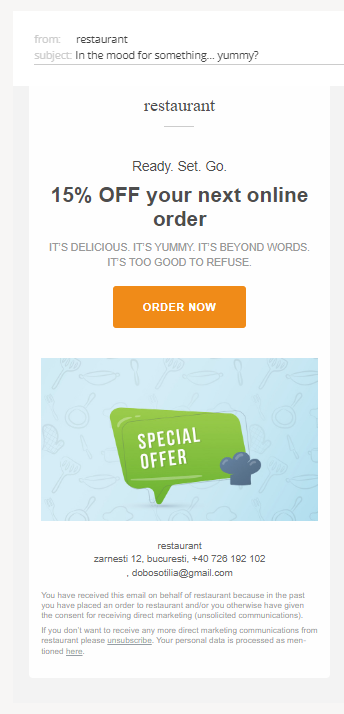 You can edit the promotion (15% OFF your next online order) and change the image as you wish to better reflect your cuisine. The easy-to-spot "order now" button will redirect customers to your online menu.
Re-engaging old customers
Are you still having trouble fostering customer loyalty? Our re-engagement campaign can help with that. How? By identifying customers who are slowly slipping away and sending them offers to motivate them to place another order.
Who gets this message: 60% of the clients that have ordered the least recently in the last 6 months
What type of message can you send: string of emails
When will the messages be sent: as soon as Autopilot identifies the customer as slipping away. The customer will stop getting messages once they order again.
This is how a potential re-engagement email could look. We advise you to offer higher discounts to customers who haven't ordered in a long period of time.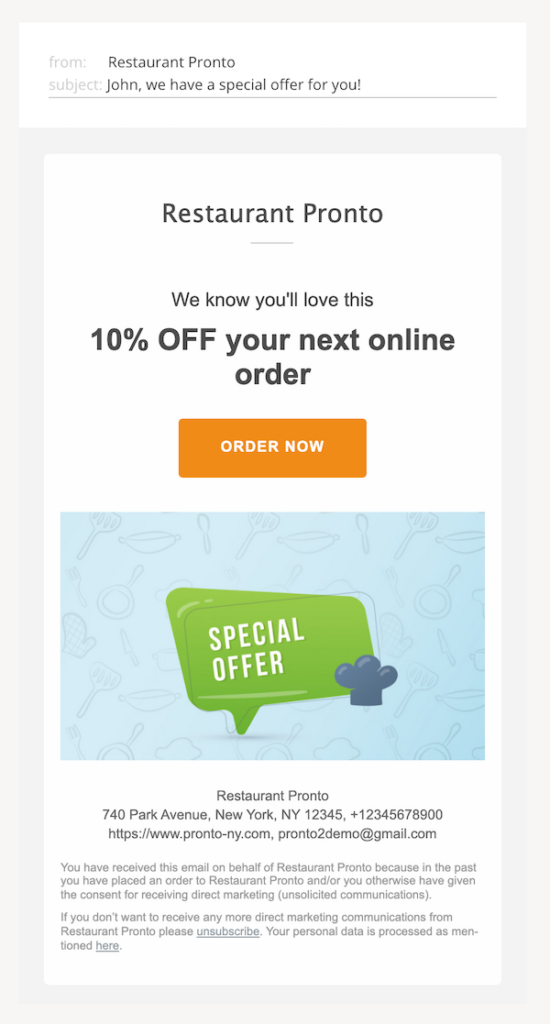 Preventing cart abandonment
Are your customers abandoning their cart often? Here's how to get more restaurant customers without breaking a sweat. Use our strategy to combat cart abandonment by reminding them to complete their orders. That way, you won't lose precious sales.
You might also like: How to Increase Restaurant Delivery Sales Fast
Who gets this message: customers who started an order but didn't finish it
What type of message can you send: email
When will the messages be sent: 1 to 2 hours after a customer has started an order
Below is the email we use to help you give customers a gentle reminder that they've started an order.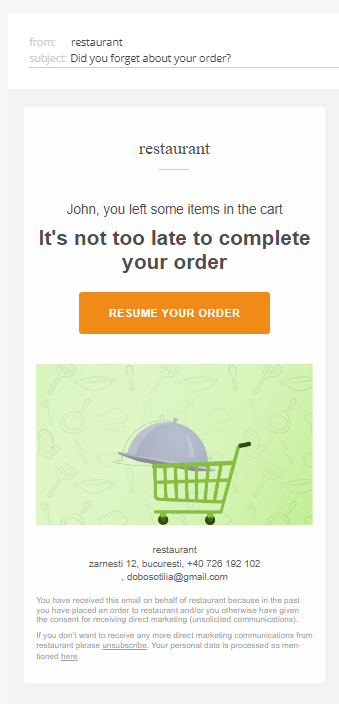 The Benefits of Running Your Restaurant Marketing Campaigns on Autopilot
I know that as a restaurant owner/manager, you are juggling a lot of responsibilities. Re-engagement marketing campaigns shouldn't be one of them. By enabling our Autopilot service, you can enjoy the following benefits:
Increasing restaurant sales incrementally
A fully equipped service ready to go live in minutes
Campaign templates so you don't have to create campaigns from scratch
A much more affordable alternative to external email marketing services
An ongoing marketing engine that keeps your restaurant customer happy
You might also like: How to Devise a Marketing Strategy for Your Food Delivery Service
Conclusion
Anyone can open a restaurant. However, learning how to keep customers coming back to your restaurant can pose a challenge even to the most prepared restaurant owner.
Luckily, we live in an age of automation where you can allow your customer retention and re-engagement campaigns to run on Autopilot. That way, you can focus on other tasks while sales keep coming your way.