Marketing Strategy for Food Delivery Service Blueprint
The COVID-19 pandemic and the lockdowns that occurred over much of 2020 resulted in consumers becoming increasingly reliant on food delivery services either from the restaurants themselves or via third-party apps.
According to this article in the New York Times and a recent JD Power survey, the trend could become permanent now that consumers are used to the convenience of delivery apps and online delivery.
As a food delivery service, this presents an opportunity to increase your customer base and expand your business. But devising a marketing strategy is not as simple as just making yourself visible online or on app stores. You need to take into account logistics trends, the competition, and what consumers are looking for in a delivery service.
If your restaurant hasn't already fully embraced the consumer demand for meals brought to their doorstep, now is the perfect time to devise a marketing strategy for your food delivery service.
In this article, we'll go over everything you need to know to get started when you're considering offering delivery to your clientele. We will explore how to devise your food delivery marketing strategy, including how to decide whether to outsource the delivery part to a third-party or if you're better off providing it yourself.
Analyze the cost of offering delivery vs. the potential profits
Before we go into how to market your food delivery service, let's look at how to evolve your business model to offset the costs so you can profit from the new service. There are plenty of pros and cons to delivering your restaurant's menu items.
In the foodservice industry, profit margins are thin for every type of restaurant, from inexpensive fast foods to high-end five-star establishments.
As a result, adding a service that has associated costs of its own takes careful planning. After all, you want your business to reap the rewards of increased revenue. Offering a food delivery service can result in that when it's done correctly. And the potential rewards are great.
The global online food delivery services market's projected growth is significant—from $115.07 billion in 2020 to $126.91 billion in 2021 and $192.16 billion by 2025.
Conversely, a 2019 report by Capgemini on last-mile food and grocery delivery found that businesses that didn't upgrade logistics lost 26% in net profits—as much as $21 million per month in 2018. The same study projected that number would rise to a loss of $33 million per month in 2021.
What does upgrading your restaurant to accommodate last-mile food delivery look like?
During the pandemic, to stay afloat, you probably retrofitted your restaurant to implement social distancing for in-person dining. You might have already pivoted to providing delivery, curbside and to-go services.
Suppose you started your food delivery with zero planning or strategy in place. In that case, it's not too late to invest in upgrading your business. This will increase your return and ultimately profit from the service. The following steps will get you started.
1. To minimize any inconvenience to your dine-in clientele, renovate your entryway and kitchen. Create designated spaces for delivery logistics, including delivery drivers and a delivery food preparation and packing area.
2. Consider investing in separate spaces, also known as ghost kitchens or dark kitchens, dedicated to delivery orders.
3. Add online delivery order capabilities to your website. Develop a mobile delivery app to make ordering from your restaurant convenient and straightforward.
Add online ordering to your website in minutes
Install the GloriaFood free online ordering system
Get Started
4. Hire one or more staff members dedicated to processing and packaging delivery orders. Do this regardless of what type of delivery service model you choose or if you decide to also open a ghost kitchen.
For more ideas, take a look at this article on improving your food delivery service.
How to decide what type of food delivery service model is best for your business
Now you have your business plan and plan for retrofitting your existing organization to accommodate your new food delivery service. Next, you need to decide on the delivery service model you intend to use.
You have three main choices, and all of them have advantages and disadvantages. Still, one or more of them will work for your business if you are smart about pricing menu items, controlling costs, and adjusting your business model to account for your new food delivery service.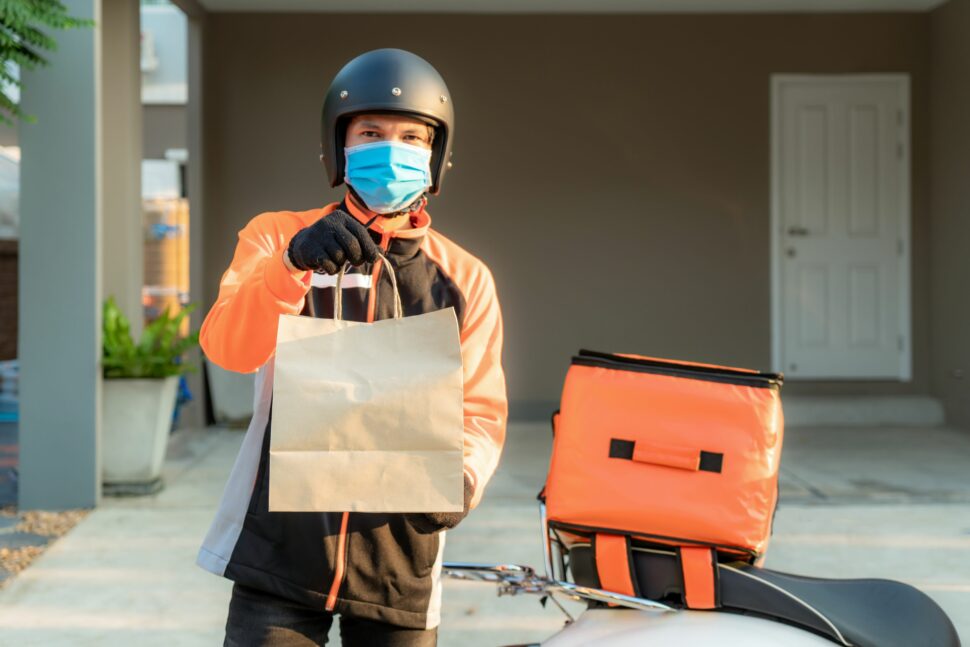 1. Using a third-party app
These services aren't free to restaurants. They make their money from fees charged to consumers per delivery and in premium subscription fees and by taking a percentage of each delivery before paying your business.
Before COVID-19 and the pandemic, many third-party delivery services took as much as 20%-30% per delivery. During COVID-19, they've been temporarily capped at 10% or 15%. Some areas are moving to make the 15% percent cap permanent.
Recently, DoorDash changed its pricing model to offer basic services to restaurants for a 15% fee, with the option to pay higher fees for marketing and additional services. All these fees cut into your margins.
Once the pandemic ends, if caps in your area aren't permanent, will you be able to afford a return to 30% fees? Will your customers be willing to absorb the increase by paying more for their favorite dishes?
The advantages of using a third-party delivery service are not having to hire delivery drivers yourself and not needing to pay a developer to upgrade your website or create a mobile app.
These third-party apps are also suitable for acquiring new customers. Still, you may want to consider using them for a boost at the beginning and then switching to your own online ordering system.
Luckily, there are simple, easy, and affordable ways to turn your website into an online ordering portal. Take a look at the video below to learn how.
2. Implementing your own delivery service and infrastructure
When you opt to hire your own delivery drivers and lease or purchase a fleet of delivery vehicles, as well as upgrade your website to add online ordering capabilities, you own the entire last-mile delivery service from start to finish.
You don't sacrifice any of your potential profits to a third-party service. You control the quality of the food and the price, including the delivery fees. Plus, your employees receive a portion of customer tips, and you and your staff oversee customer service.
Furthermore, when you implement delivery yourself, you have greater flexibility in the types of services and payment options you provide. You don't have to worry about hidden fees or changes to services a third-party might provide. You also control all the marketing of your delivery business and brand, including customer loyalty programs.
Increasingly, white-label apps provide restaurant owners with greater flexibility and control while offering many of the benefits of third-party services at lower costs. There are also free online ordering systems such as GloriaFood. These result in increased revenue that you would have otherwise lost to a company like DoorDash or Uber Eats.
The potential downside of owning the entire delivery process is paying for it and running it yourself. You need to ensure your deliveries are running smoothly and efficiently.
Plus, even if you don't want to be listed on third-party services such as GrubHub, you will have to do the work of opting out of their services since all of them have been known to add brands to their services without permission to boost their own marketing efforts.
Alternatively, you can direct customers to order directly from you, rather than profiles they see on their third-party apps with your name and logo.
3. A hybrid approach
Are you worried about the current labor shortages? Do you want the freedom to own some of the processes combined with the convenience of outsourcing some aspects of your food delivery service to a third party? Then, a hybrid solution might be ideal for your business.
You could use a white-label online ordering system and mobile app combined with one or more third-party partnerships. Their fleet would be responsible for picking up orders from your restaurant or ghost kitchen and delivering them to your customers. These services effectively create a mind-meld between your restaurant, the third-party, and your customers.
With this approach, you still own part of the process and pay fewer and lower fees than relying entirely on a third-party.
However, remember that even with partnerships where you maintain your own online ordering, a third-party partner might still retain a listing for your restaurant on their own app. You'll have to invest in marketing and advertising to drive your customers to your ordering platform.
Tired of paying third-party delivery app fees?
Get your own online ordering system for free now
Get Started
Don't forget about branding your restaurant food delivery service
With delivery, you're competing with many other foodservice businesses. That is why your marketing strategy for food delivery should stand out. Consider creating a clear, cohesive, and consistent brand that includes a memorable, professional and trademarked logo.
These actions will create a personality for your restaurant, boost name recognition, and cement customer trust. Additionally, you could also go further and create an offshoot brand for your food delivery service that uses your existing branding as a starting point.
By doing this, you differentiate your restaurant delivery service from an unauthorized listing on a third-party delivery app.
Marketing strategy for food delivery service
Regardless of what type of delivery service you're using, you will need to promote it to your customers. The following ideas will help you start devising your own marketing strategy for food delivery service.
Add online ordering to your website
Make it easy for your customers to order delivery right from your website with handy menu and order widgets. That way, they don't have to take extra steps to call you or go to yet another website.
Develop a mobile app
An app your customers can download directly to their phones makes ordering delivery and tracking their orders incredibly easy and just as convenient as any third-party service's app.
Optimize your GMB listing
Add an order button to your Google My Business (GMB) listing. GMB support has instructions here for how to add one to your listing.
Do social media marketing
Promote your new food delivery service on your social media profiles. Add an online order button to your Facebook page. Consider using social ads to help drive customers to your website or download your app to order delivery.
Do Search Engine Optimization (SEO)
Search engine marketing, including local SEO and location-based Google advertising, are powerful ways to boost your restaurant delivery service and online ordering visibility to customers when they perform a search for terms such as "restaurants near me," "food delivery near me," etc.
Try email marketing
Email announcements about your new delivery service to your customer contacts. You can employ email marketing to send messages to your customers. Inform them of free delivery specials, delivery loyalty programs, incentives, restaurant promotions, etc.
Download our Food Holiday Calendar featuring promotions for every month of 2023 whenever you run out of creative restaurant promotion ideas.
Announce it in-restaurant
Posters, flyers, QR codes, and more inside your establishment and outside the building are just some of the ways you can inform customers you now offer delivery and let them know how they can order from home.
Other marketing tactics to consider include loyalty programs, free delivery incentives, and food packaging. This article has a plethora of tips for improving your food delivery service if you're stuck.
Conclusion
Today's consumers want convenience above all else. With the global pandemic, more of your customers have become used to the option of having their favorite meals delivered at home.
Even as people have begun to eat out again, they continue to have food delivered. It's true, third-party companies can eat into your margins. However, savvy restaurant owners can increase revenue by using their own online ordering system and keeping 100% of the profits.
Apply the tips above to devise a bulletproof marketing strategy for your food delivery service.