Advantages Of Online Food Ordering System For Restaurants
The food delivery market is changing at an accelerated pace. And as a restaurant owner, being online is the way to go when it comes down to expanding your current customer base & boosting your stream of revenue.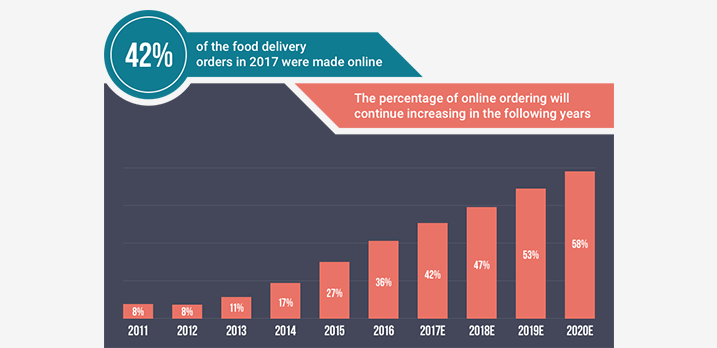 Having an online presence makes you "sparkling visible" to clients who'd otherwise never see an ad or hear about your business, and who would probably never come knocking on your restaurant door. So there goes your foot traffic.
However, building an online presence is just like tapping your customers on the shoulder and storytell them all about your great restaurant.
And when you add to the table an easy-to-use feature, like a customer-friendly online ordering system for restaurants, then you've just skyrocketed your chances of boosting sales and increasing your profit margin.
But still, you may ask yourself: "Can't we just be online without online ordering?" Well yes, yes you can. But then you'd be missing out on this huge cash-cow opportunity.
And why should you let it slip through your fingers?
Restaurant owners around the world who are racing to capture new customers have already jumped on board of the online delivering trend.
People have moved on from ordering offline to ordering online because it is easy, convenient and completely transparent.
They can finally say goodbye to the hustle and bustle generated by the old ways of food ordering.
This is what they want. So then, why not give the people what they want?
So What Are The Advantages Of Online Food Ordering System For Restaurants?
1. More customers choose to order from restaurant websites and apps VS food portals
The following infographic below brings proofs showing that most often, customers choose to order straight from a restaurant's website and mobile app rather than using a third-party app.
2. It's just one click away
Today, more than ever, people can easily order online thanks to the smartphones and tablets. Studies conducted by the Interactive Advertising Bureau and Viggle show that about 69% of customers order food online using a mobile device.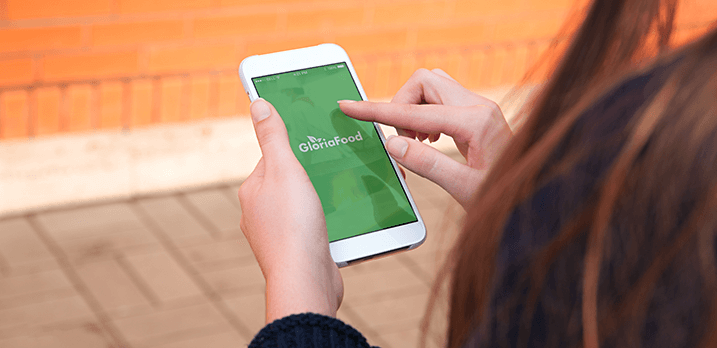 Whether on a break, stuck in traffic, or riding the bus, virtually anyone will place an order quickly and painlessly.
In fact, this is a better, and highly desirable alternative to waiting until getting home and placing the order over the phone.
3. It's fast, easy and comfortable
In a nutshell, your customers choose to order food online because it's literally at their fingertips.
Virtually anyone with a smartphone can order food online from your restaurant. And according to a Harris poll, in this day and age, millennials (people under 30) are your most important target audience.
In fact, the report clearly states that restaurant dining accounts for 43% of the average family's annual food budget — and millennials are the driving force behind it.
Over 97% of Millennials actually use their phones for just about anything. And ordering food online falls right into the same broad category.
So using an online ordering system is the easiest way way to allure millennials - probably your most important, sale-generating target audience.
But there's more. You've just found a way to persuade virtually ANYONE from ordering food from your restaurant.
And do you know why?
***Drum roll***
4. Because it's visually appealing and stimulating to ALL of the hungry customers
New research from the University of Minnesota's Carlson School of Management showed that an empty stomach leads to a an empty pocket. Or wallet, as the case may be.
Here's what Alison Jing Xu, Assistant Professor of Marketing at the Carlson School, discovered at the end of the study:
"Hunger makes us think about seeking, acquiring, and consuming food. The acquisition-related thoughts can spill over and put us in a mode of also getting nonfood items even though they are incapable of satisfying our hunger."
Another study co-authored by Norbert Schwarz (USC's Marshall School of Business) and Robert S. Wyer, Jr (the Chinese University of Hong Kong) revealed that hungry mall shoppers spent 64% more money that those who were satiated.
The take? Hungry customers order much more food online. That can be translated into bigger and higher orders and a significantly larger stream of revenue fueling your accounts.
As the saying goes, the first bite is with the eye. So enabling your customers to go online and see the entire menu when they're hungry pushes them towards ordering more food that they wouldn't normally order over the phone.
Without actually realizing, you are doing the exact same thing everytime you go shopping and you're at your hungriest.
So take it from your own shopping experience: when you're hungry, you tend to buy just about anything that appeals to you, so at the end, you leave with a cart full of food.
So how can you use this insight to your advantage?
Well, in layman's terms, when your customers actually see the menu, they are visually stimulated to order more food items that they wouldn't normally order over the phone.
And that means bigger and higher orders for you. It is one of the best methods to streamline your business.
Menu engineering and the attention you pay to write dish descriptions that sell is also a key component of being online. Read our "Menu Engineering Design Tips" and "Best Food Descriptions that Make You Hungry" to learn how to write the perfect menu.
More reasons to consider online ordering for your restaurant
So the advantages of online food ordering system are multiple.
No matter how good you are, offline ordering has limitations that do not exist online. Here are some examples:
5. No misunderstandings and no frustrations
One of the biggest issues with phone conversations is that misunderstandings can happen quite easily.
Usually due to the noise, either in the restaurant or on the other end of the line, all it takes is one simple mistake to compromise an order and frustrate a customer.
With online ordering, all preferences are specified directly by the customer, so there is no room for confusions or misunderstandings.
6. Online food ordering is open 24/7.
Your restaurant might not be open 24/7, but your online ordering system surely is. And it can help you make money even while you sleep.
By using an online food ordering system, you give your clients the flexibility to place the orders whenever it's most convenient for them. Even if that happens outside your business hours.
And this can help scale your order size considerably. Because they can easily choose to schedule a preferred pickup or delivery time within your working time.
And so, when you open, you already have a to-do list to review and to start acting on.
7. An online menu is simpler to manage
It is much easier and considerably cheaper (or even free) to create and maintain a great looking menu that will impel your customers to order from you everytime they see it.
Not only do you get rid of the burden of printing and relieve yourself of the printing fees, but you also gain a great deal of flexibility in changing the menu whenever you want.
Plus, you can easily...
Test different placements of your dishes in the menu to see which ones entice diners the most,
Set up daily promotions,
Or advertize in-stock food items with limited shelf availability.
Moreover, with a great online menu and a customer configuring the order online himself/herself, up-selling just happens :)
That means that if they see the dessert page, they'll also add that to their order, alongside their favorite main course.
According to NPR, online clients tend to spend, on average, 4% more money.
If you'd like to see for yourself how easy it is to place an online order using GloriaFood, check out the demo menu below.
See Demo
8. Less hassle for you
Customers can order very quickly or can take a very long time to decide. No longer an issue for you. Switching the focus from offline ordering to online ordering means less hassle on handling undecided calling clients and the staff time lost in the process.
And that means significant money savings for YOU.
And if you do it like a pro, you can eliminate even the follow up calls. With an ordering system like ours, the order confirmation is received by the client in real time.
So there is no reason for you to waste your time calling them back to confirm their order.
As for the costs of online ordering itself, good news: this comes for free for both the client and the restaurant.
For example, our food ordering system is completely free. There are no commission or setup fees. It's just as breezy as a tropical dream.
All you need to do is connect it to your website or Facebook page and start converting your prospects (those who just browse around) into actual paying customers. Discover how easy it is to start advertising on Facebook, so you can get a lot of online exposure.
If you're thinking that a food portal would be more appropriate to start with, well… it depends. There are advantages and disadvantages you should consider.
In a nutshell, don't let your business slip-away from you, hoping that "others" will take care of it better than you can.
No matter what you do, make sure you always have a good grip on your operations and clients. Read here our recommendation on how to work with online food delivery portals.
Oh, one last idea: don't put the wagon before the horse. Think first of what and how you want to sell, then take the time to choose the right marketing for it. Not the other way around.