Free Weebly Reservation System for Restaurants
Start accepting free table reservations on your Weebly restaurant website. Within minutes.
Accept table reservations in-house, with this free Weebly reservation system
Forget about paying fees to third-party reservation portals that retain all your clients' data.
With this Weebly reservation system, you can accept free table bookings like a pro.
Simply add the Table Reservation button at the top of your website's homepage to enable customers to book a table online.
Anyone can use the intuitive reservation widget to secure a spot at your restaurant.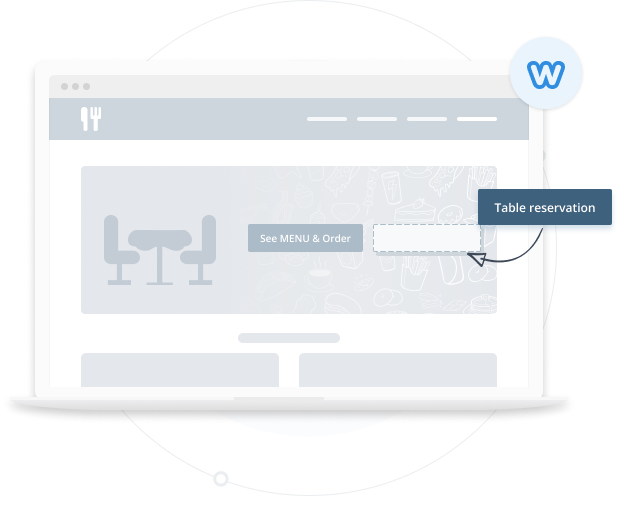 Go above & beyond: enable customers to pre-order food when reserving a table
Enable the Order Ahead feature of our restaurant table booking system to enjoy many benefits:
Turn your new clients into regular

With drastically reduced waiting times, your clients will have their steamy food brought to the table shortly upon their arrival. Increasing guest satisfaction has never been this easy.

Speed up table turnover time

Since clients already ordered, they won't spend time deciding what to eat. And if you enable online payments, your customers can also pre-pay for their food when making a reservation.

Better organize your food stock & staff

Prepare for the busy times ahead! Get more waiters to cover the busy hours or mark items as 'out of stock' or even hide them from the menu if you get too many pre-orders.
Triple win!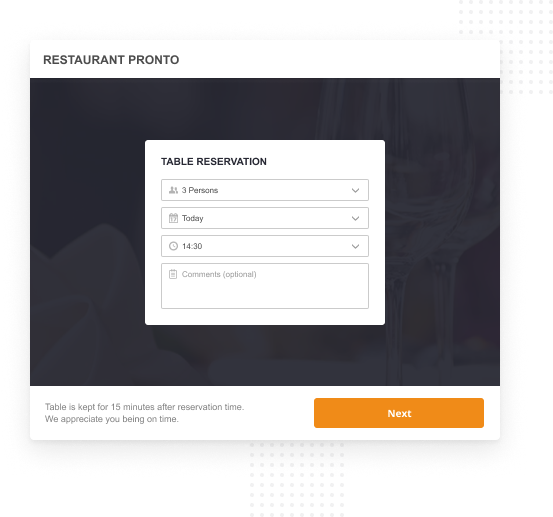 How to add this reservation system to your Weebly restaurant website