15 Ways to Celebrate Mothers at Your Restaurant This Mother's Day
This Mother's Day, turn your restaurant into the place to be in the neighborhood for good food, delicious drinks, and festive entertainment.
Check out the Mother's Day restaurant ideas below to learn how to use promotions, special offers, and unique menu items to attract mothers to your restaurant.
Mother's Day Restaurant Ideas and Promotions for 2022
1. Offer Moms a Free Dessert or Drink
If there's one thing we know is that moms need to be treated to nice things on Mother's Day, from gifts to food and drinks. Offer a dessert or a drink on the house to moms on their special day.
If you want to take it one step further, you could offer an entire meal for free. Regardless, a freebie on Mother's Day is practically mandatory. Make sure you advertise that on your online menu, too, so people who order online can benefit from the Mother's Day promos.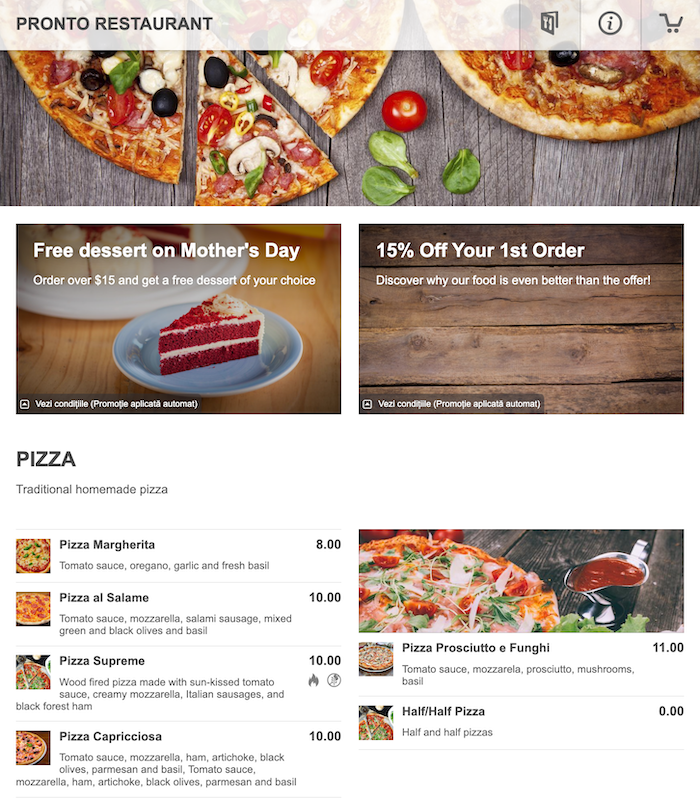 Learn more about how you can customize your own Mother's Day restaurant promotions using our restaurant promotion templates.
Start Creating Your Mother's Day Promotions Now
Add them to your online menu in minutes and get ready for the orders
Start Now
2. Customize Your Menu with Mother's Day Specials
Besides classic Mother's Day restaurant deals, you should create a special menu only available on this day. Limited-time offers always draw a crowd due to their sense of urgency.
Here are some Mother's Day restaurant specials you could serve:
Mother's Day breakfast ideas: banana and Nutella pancakes, blueberry and lemon scones, eggs benedict with homemade hollandaise, pineapple smoothie and granola bowls.
Mother's Day brunch ideas: smoked salmon bagels, scrambled eggs with goat cheese and a side of asparagus, spinach quiche, strawberry cupcakes with cream cheese.
Mother's Day lunch ideas: chicken Caesar wraps, carrot soup with orange and tarragon, prosciutto and pesto pizza, blue cheese and blueberry salad.
Mother's Day dinner ideas: lemon ricotta pasta, baked garlic butter salmon, lemony garlic and herb grilled pork tenderloin, Moroccan olive and orange chicken.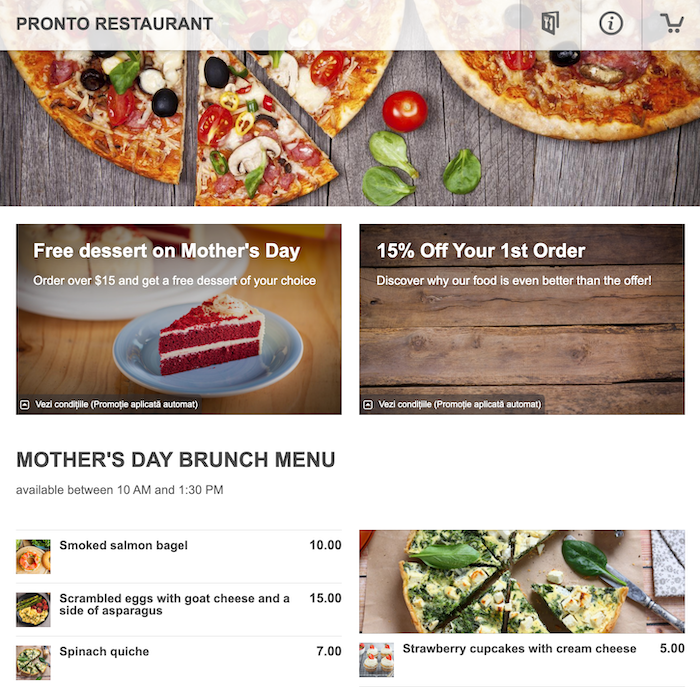 3. Host a Mother's Day Event
A delicious meal is just step one of celebrating a perfect Mother's Day. Next, you need activities to keep mothers entertained. Consider organizing a fun event that they'll remember for years to come. Check out these Mother's Day event ideas you could organize at your restaurant:
Arts and crafts day: from painting to pottery or knitting, have a little something for every mom.
Cooking class: for mothers who love to learn how to cook delicious restaurant-grade meals for free.
Wine tasting: who doesn't love a nice glass of wine and feeling pampered on their special day?
High tea: if you're feeling extra fancy, invite moms to sip tea from expensive china and snack on tiny tea sandwiches.
Flower arranging class: on Mother's Day, flowers are in bloom. Perfect for a class where moms can learn this unique skill.
Read more: 15 Restaurant Event Ideas to Get Customers Through the Door
4. Promote Your Mother's Day Offers Online and Offline
These Mother's Day marketing ideas won't get you the desired results if you don't know how to promote them and spread the word.
First, print flyers advertising your Mother's Day events, menu, and special offers and distribute them around the neighborhood.
Use our handy heatmaps feature if you'd like to maximize conversion and make sure your flyer gets to the people who order from you most. It will show the highest-density order areas in red so that you can distribute your flyers accordingly.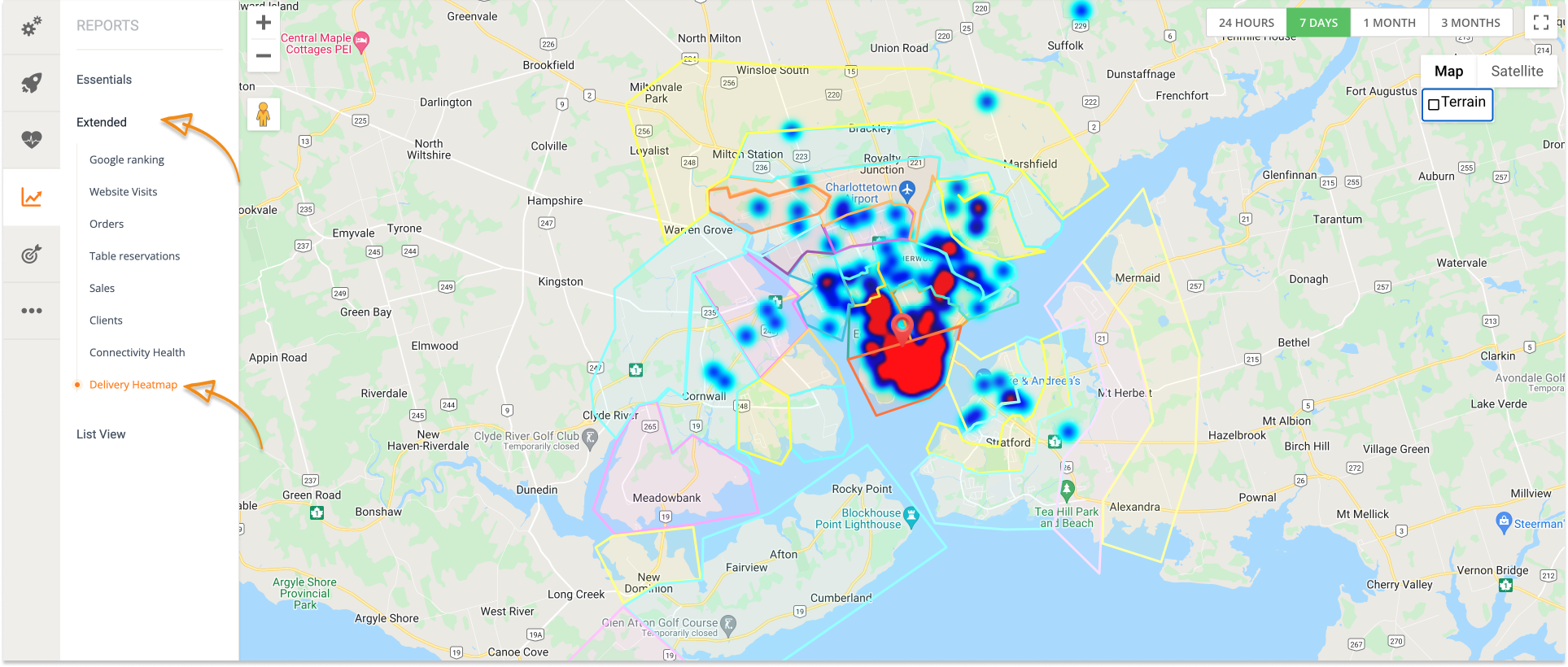 Next, print the same flyers in a poster format and tape them to your door and windows. This will attract passersby's attention.
The first place where you need to promote your Mother's Day restaurant ideas is on your website. Add a visible message to the homepage to let users know about your Mother's Day promotion flurry.

Then comes social media. Create individual posts with attractive Mother's Day restaurant deals for the platforms you're active on and pin them to the top of the page so it's the first thing people see.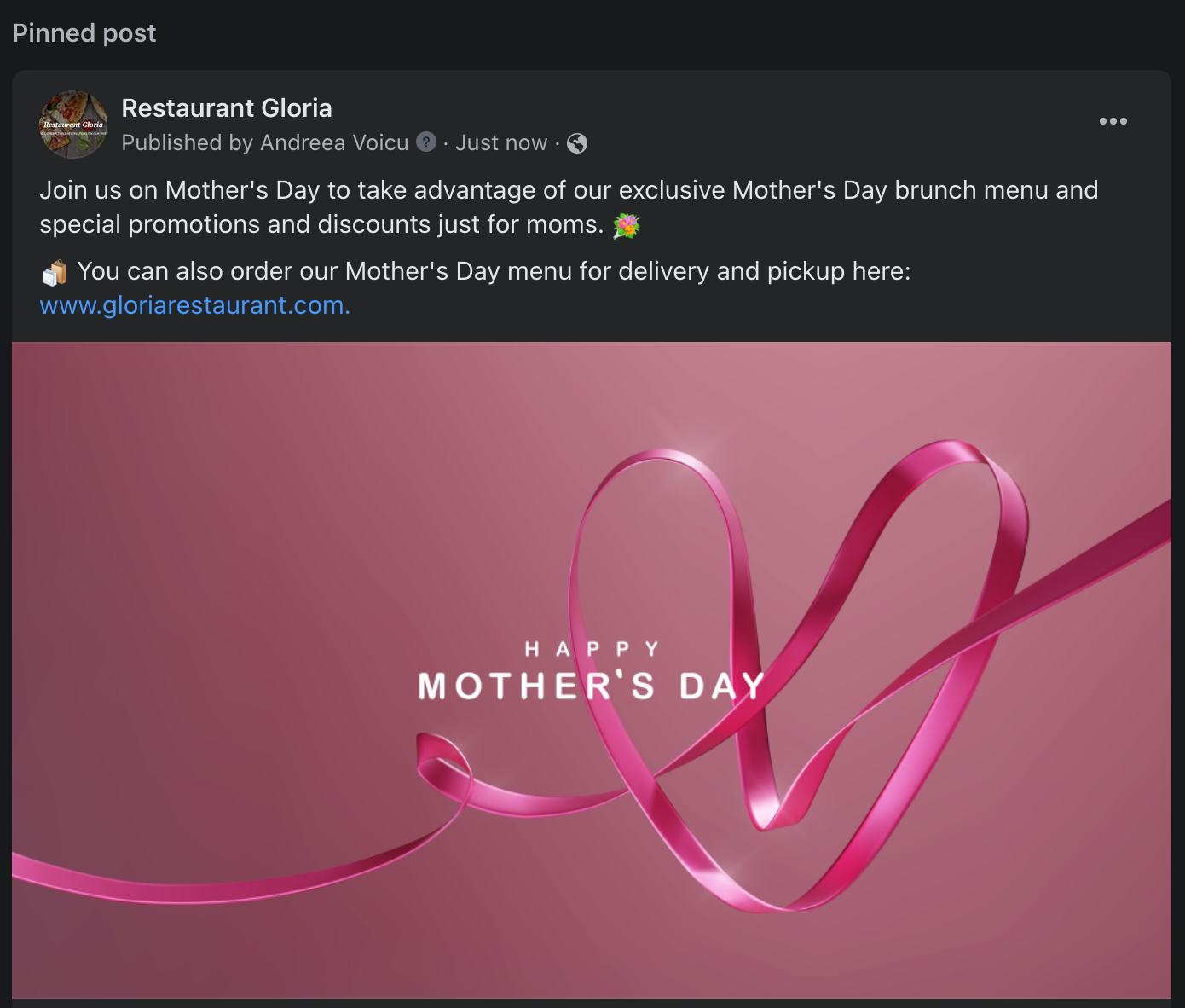 Use our Facebook smart link to create personalized Mother's Day pinned posts
Allow followers to order food online from your Facebook page
Get Started
5. Offer a Flower to Every Mother
Small gifts and tokens of your appreciation are always welcomed on Mother's Day. You don't have to break the bank to put a smile on your customers' faces. Think outside the box when you're coming up with Mother's Day promotions ideas for a restaurant.
A flower to every mom who comes into your place on Mother's Day is a gesture everyone will appreciate.
6. Bring in Live Entertainment
If you don't necessarily want to organize an event on Mother's Day, that doesn't mean you can't make this day memorable by treating your customers to live entertainment.
Hire a local band to perform in the background while people are enjoying a nice dinner. If you're looking for more than just atmosphere, you can organize a stand-up show or even an open mic night where moms get to perform.
Read more: 15 Restaurant Entertainment Ideas to Bring Your Eatery to Life
7. Keep the Kids Occupied
Some mothers will surely bring their kids to your restaurant to enjoy an evening out with the entire family. But that doesn't mean you shouldn't help them out by giving the kids some activities to do while the adults celebrate the holiday.
Put together a kids' corner with drawing supplies, toys, and games, and appoint one of your staff to supervise them, so parents feel confident their kids aren't left unattended.
You can browse other kid-friendly restaurant ideas here.
8. Offer a Gift Card to Encourage Them to Come Back
The goal of your Mother's Day promotion ideas should not be just to attract moms to your restaurant on this special day but also to have them return in the future.
How can you do that? It's easy. You offer them a gift card with a discount on their second visit. This is one of the easiest strategies to keep customers coming back to your restaurant.
If you'd like to learn more about restaurant promotions that encourage second orders, re-engage clients, and even prevent cart abandonment, watch the video below.
9. Encourage People to Bring Their Moms for a Double Discount
Not all Mother's Day restaurant ideas have to be exclusively about the mom. You can also offer a treat to the customers who bring their moms to your restaurant to celebrate.
From meal bundles like "Mother's Day Lunch for Two for $29.99" to promos like "Bring Your Mother to Our Restaurant and You Both Get Free Desserts," everybody wins on this special day.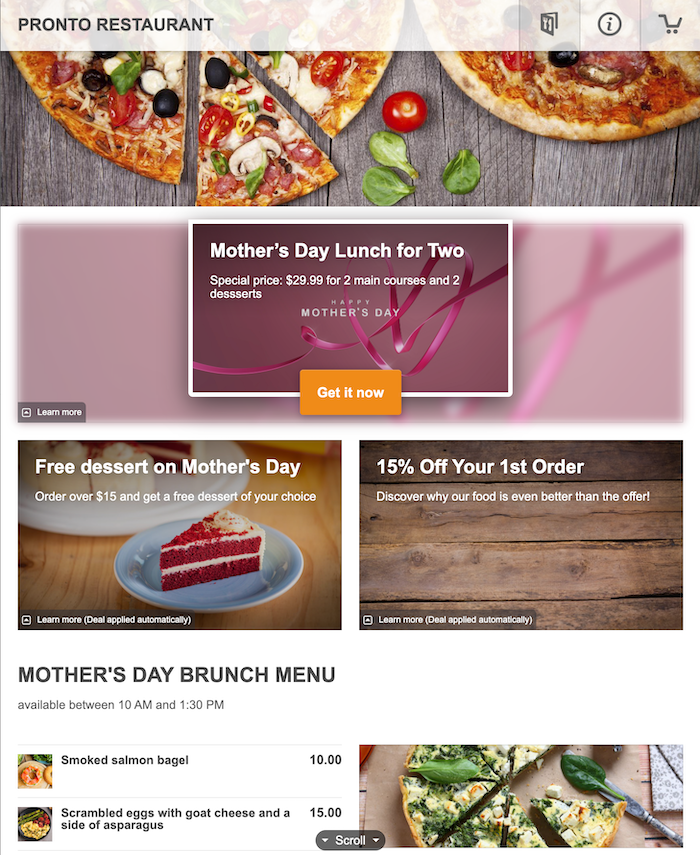 10. Create an Instagrammable Corner for Moms to Take Photos with Their Kids
Make sure moms and their kids leave your restaurant with a lovely memento of their fun by putting together a photo corner with decorations, props, good lighting, and Mother's Day slogans for restaurants like 'My love is pizza shaped.'
Related: 15 Pizza Marketing Ideas That Will Increase Traffic & Orders
If you can afford to rent a photo booth, those memories can become even more tangible in the shape of polaroids.
Put up stickers all over the photo corner with your Instagram handle and encourage people to post the photos they take and tag you.
Read more: Restaurant Instagram Marketing Ideas That Will Help You Increase Sales
11. Organize a Raffle
Another creative Mother's Day restaurant idea is to put together a raffle with fun prizes to increase customer retention and boost loyalty. Examples are coupon codes for online orders, gift cards for future visits, or coupons to share with a friend, and both get a freebie in the process.
You can also offer prizes like gift cards to local shops or other businesses or a larger voucher that allows the winner to host their birthday party at your restaurant with the drinks on the house.
12. Encourage Table Reservations to Avoid Keeping Moms Waiting
No one likes to wait in line to get a table at a restaurant or drop by and realize there are no available tables. Moreover, no one should wait, especially moms, on Mother's Day.
Avoid wait times, lines, and disgruntled customers by providing a table reservation feature and encouraging people to book a table for Mother's Day to make sure they get seated on such a crowded holiday.
Free Table Reservation System for Restaurants
No more queues, overworked staff, or disgruntled customers
Install Now
Share the link where people can book a table on social media and print it on your flyers for easy access.
If you'd like to sweeten the deal, you can offer a 10% discount to people who book a table in advance. You can also activate the order ahead feature and enable them to choose their food when they reserve a table.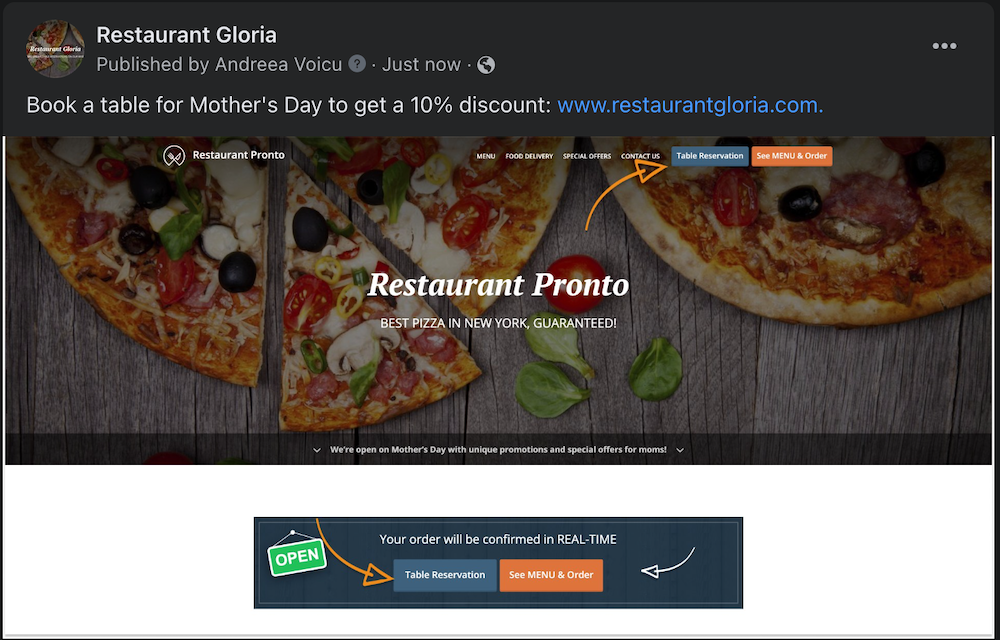 13. Decorate Your Restaurant for the Festivities
Not all Mother's Day restaurant ideas are about promoting your food and drinks menu. Sometimes, you have to sell your restaurant for the atmosphere. And a large part of that is décor.
This Mother's Day, decorate your restaurant with festive banners saying 'Happy Mother's Day!', spring flower centerpieces, mom typography cupcake toppers, scented candles, balloons, and heart-shaped signs.
You might also like: 15 Restaurant Design Tips That Will Attract More Customers
14. Start Celebrating Early with a Mother's Day Breakfast Menu
On Mother's Day, it's all about moms, all day long. That means you don't have to wait for dinner to bust out your special menu.
Make a day of it by starting with a breakfast menu and early-bird promotions and updating your specials and offers as the day goes by.
That way, no matter when during the day mothers visit your restaurant, they know they'll get to enjoy a special treat.
15. Create Signature Cocktails and Drinks
Your food isn't the only one that should shine on Mother's Day. Put together a special drinks menu for the occasion and have fun naming the cocktails to draw everyone's attention.
If you're lacking inspiration, here are some Mother's Day cocktail ideas you can try:
Thyme for Bellini (3 sprigs fresh thyme, ¼ ounce simple syrup, 1 white peach, 4 ounces chilled, 1 dash peach bitters, Prosecco)
Tequila Mockingbird (2 ounces silver tequila, 1 slice jalapeno, 3 watermelon cubes, ¾ ounce lime juice, ¾ ounce agave syrup)
Rye Me a River (2 oz. Bulleit Rye, .5 oz. brown sugar syrup, 2 dashes Fee Brothers Rhubarb Bitters, .5 tsp. lemon juice)
Lavender Vida Loca (gin, sugar, crushed ice, lavender, mint)
Bee's Knees (1/2 ounce honey syrup, 2 ounces gin, 1 ounce lemon juice, lemon twist for garnish.)
16. Make Clients Battle for a Seat at Your Tables
If you are searching for restaurant marketing ideas for Mother's Day, you must organize a social media contest with the great prize of an all-inclusive meal for a family.
For a chance to win, followers must both like & share your post and comment tagging a friend and telling you why they appreciate their mother figure. You get more online exposure and reach new potential clients, and participants have a chance to win an amazing prize. Win-win.
If you want to reach more people than the ones who follow you, you can try investing in a few Mother's Day restaurant ads to get the word out about your contest.
17. Offer Deals for Mother Figures
Every person's situation is different, not everyone has a mother in the typical sense. Promote inclusivity by including all mother figures in your Mother's Day restaurant marketing ideas.
For example, you can implement some Mother's Day restaurant offers where you specify you celebrate mother figures in the general sense, such as "Celebrate your mother figures with 10%OFF on all desserts" or "Order today and get a free dessert for your mother figure".
Conclusion
Implement these Mother's Day restaurant ideas, and your eatery will stand out as a place that goes all out on special holidays.
The décor, discounts, food and drink specials, and entertainment will have mothers and their kids flock to your restaurant in no time.
Free resource: Download our Food Holiday Calendar 2023 to learn which holidays to capitalize on and get promotion ideas for each.