Try These Restaurant Event Ideas to Boost Profits
A fun, creative event can do wonders for your restaurant's popularity. When coming up with ideas, focus on your target audience and restaurant branding to organize events that you know your customers will love. To help you get started, I've put together a list of restaurant event ideas ranging from themed nights to food tastings and sports viewing parties.
Restaurant Event Ideas to Increase Footfall
White Elephant Christmas party
You're probably familiar with the concept of a White Elephant party. Also known as Yankee Swap or Dirty Santa, it's a less traditional way of exchanging gifts than the classic Secret Santa, for instance.
Here's what you need to do for a successful White Elephant party at your restaurant:
Set a price limit for the gifts
Prepare numbered pieces of paper and ask guests to each draw one
The person who picks number 1 gets to go first and pick and unwrap a gift of their choice
Person number 2 can then choose to steal the first one's present or pick a new one to unwrap
If someone gets their gift stolen, they can then select another one
The same gift can't be stolen more than twice
The game ends when everyone got to open or steal a gift
And there you have it! A fun Christmas party idea that doesn't require extensive preparations. Taking advantage of popular holidays to promote your menu is a must-do in the restaurant business.
Did you know we've created a printable calendar including Food Holidays & Promotion Ideas for 2023? You can download it for free here.
If you're looking for ideas to streamline your private events, we recommend checking out Perfect Venue's private event management software.
Speed dating
With the world slowly going back to normal, people are excited to get back on the dating scene and have fun. One of the most popular and entertaining types of dating events is speed dating. It involves quick-fire encounters with several other participants until everyone has met each other.
To get people to talk more and avoid repetitive conversations, you can suggest quirky questions for each table. You could also ask people to dress up according to a specific theme. Once the event gets going, attendees will start ordering foods, drinks, and snacks, and you'll boost your profits for the night.
Sports viewing party
Is your target audience interested in football or other sports? Are you looking for pub ideas that will attract more sports fans your way? All you need is a TV (or multiple, depending on the size of the establishment) and lots of game food.
Whether you stream national sporting events or local competitions, customers will flock your way if you serve beer on tap and traditional game-watching snacks like wings, loaded potatoes, nachos, and dip.
Learn more: Super Bowl Restaurant Promotions That Will Help You Sell More Food
Restaurant Opening Event Ideas
Exclusive tasting for influencers
Many restaurants do a soft opening before their big opening night. To make sure you get extra publicity and raise interest in your grand opening, do a soft opening featuring local food and lifestyle influencers. Private events at restaurants create a sense of exclusivity that everyone wants to be a part of.
Invite influencers to taste your food, share their feedback, and post photos and opinions of the food and atmosphere on their social media. That way, their followers will get curious and potentially book a table for the grand opening.
Free Table Reservation System for Your Restaurant Website
Accept table reservations in real-time and fill empty seats every night
Get Started
You might also like: Restaurant Influencer Marketing Guide: How to Do It and Why
Charity event
What better way to stand out on your big night than to show your commitment and dedication to helping the community? A grand opening where all or part of the proceeds goes to feeding the less fortunate will start you off on the right foot.
Once the event ends, donate the remaining food as well. There's no greater feeling than knowing you've helped someone who is struggling.
Raffle with special prizes
Some of the best restaurant event ideas involve rewarding your customers for having chosen to dine with you. Kick things off with a raffle that includes special prizes like gift cards or vouchers to your restaurant, discount coupons, or swag boxes. Customers will come for the food and drinks and stay for the prizes.
Restaurant Special Event Ideas
Karaoke evening
In terms of popular restaurant event ideas, karaoke is definitely at the top of that list. Everyone has fun at karaoke, whether you're brave enough to sign or just enjoy listening to others do it. You don't need a huge investment to set up a small karaoke scene, and the boost in profits is more than worth it.
Choose a different karaoke theme every time and promote the event by distributing flyers and posting them on social media. Here are some handy karaoke themes for you:
Disney
Movie soundtracks
Disco
Love songs
Best songs of the decade
Dancing party
If there's singing, let there be dancing too! Not necessarily on the same evening, but dancing can be a great way to get people who want to have some fun to your restaurant. If the seating arrangement allows, create a cozy and romantic atmosphere where customers can dine and dance around the tables.
If your focus is solely on dancing, consider rearranging the furniture to create a proper dance floor. Customers can order drinks at the bar, and you can even serve a buffet with food you can eat quickly and easily.
Live entertainment
Dancing parties go hand in hand with live music. Find local musicians who would like to play at your restaurant and combine the two for an unforgettable night.
And live entertainment doesn't stop at music. Bring in standup comedians, organize an open mic night, hire a magician, a caricaturist, or even a fortune teller to spice things up.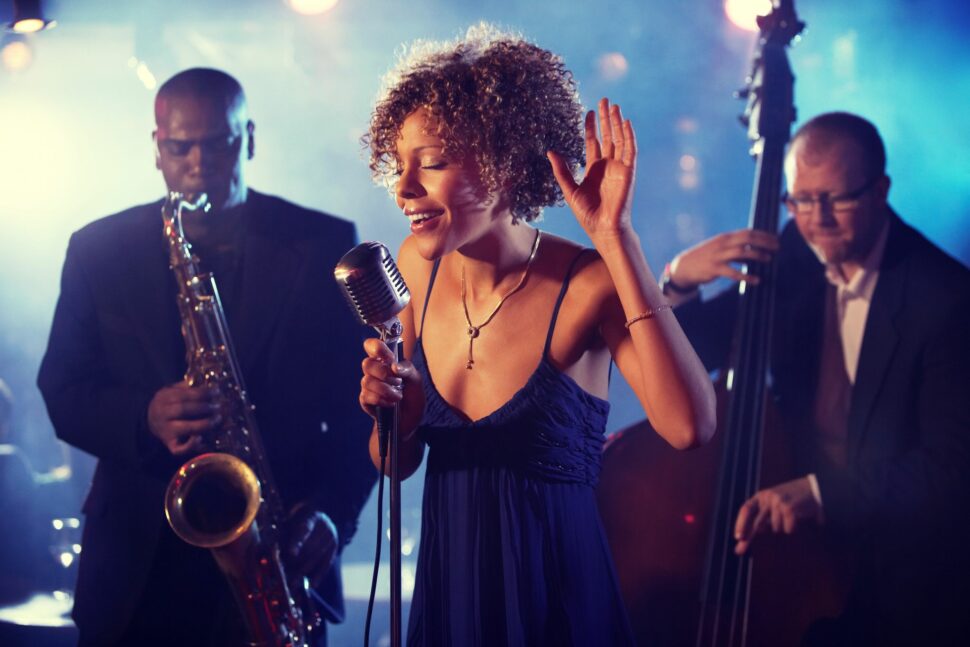 Restaurant Theme Nights Ideas
Pop culture night
Looking for restaurant theme ideas to fit your establishment? You need not look further than popular culture for inspiration. That's where the most popular costumes and decorations come from, and there's just so much material to work with.
These are just a few of the pop culture themes you could bring to life at your restaurant:
Lord of the Rings and The Hobbit
Stephen King
The Office
Dr. Seuss
Under the Sea
Star Wars
Harry Potter
Murder on the Orient Express
Grease
Narnia
Find decorations that fit the theme and cook iconic food from that universe, and guests will be delighted. You can also rename your menu items based on wordplay from the universe you chose.
Costume party
Who said costume parties are only a thing on Halloween? Break the norm and organize a costume party whenever you feel like it. Customers will love an impromptu chance to dress up – it will be a welcomed break from their daily routine.
To make your costume party irresistible, pepper different food and drink promotions, special offers, and surprises throughout the evening. Maybe even organize a costume contest.
Decade nights
Everyone loves a good escape to a long-gone era. The 20s, 50s, 60s, 80s, 90s, and more are excellent restaurant event ideas increasing in popularity due to their ability to transport people to a different reality.
Have your staff dress up and install a photo booth so people can leave your restaurant with tangible keepsakes of the memorable night they spent there.
Restaurant Food Event Ideas
Cooking class
Now, as a restaurant owner, it makes sense to brainstorm some food-related restaurant event ideas too. A cooking class might not be the most obvious one. Still, it's a novelty that will surely attract new customers to your restaurant.
Whether you'll ask your chef to lead the class or hire another professional is up to you. There will always be people willing to learn how to cook good food in a professional setting.
Food tasting
A food tasting event is a no-brainer in a restaurant. Let's say you want to experiment with your menu and introduce some new items.
Organize a food tasting evening where people can give you their honest feedback on the dishes. That way, you'll ensure that whatever you end up releasing will be a fan favorite.
Wine or beer tasting
Drink tasting evenings are the perfect opportunity for you to showcase local producers and form a long-lasting relationship with them. Look for winemakers or artisanal beer makers in your area and propose a mutually beneficial partnership.
With customers sampling so many types of wine or beer, they're sure to get peckish and order food as well, thus boosting your profits.
Before You Go
When you're out of restaurant event ideas to attract more customers to your establishment, the list above will give you plenty of material to work with.
Remember that in the extraordinary circumstances we live in today, you need to abide by all local health and safety rules and regulations to prevent the spread of COVID19.
If events are permitted in your area, keep your customers and staff safe by maintaining social distancing, disinfecting all surfaces regularly, and providing free hand sanitizer.