Effective Pizza Marketing Ideas for Your Pizzeria
Everyone loves pizza, and everyone loves pizzerias that know how to advertise themselves. From unique promotions to contests, branding, email marketing, and more, here are some pizza marketing ideas you can implement to attract customers like a magnet.
15 Pizza Marketing Ideas to Make Your Pizzeria Stand out
1. Allow menu customization
The easiest way to attract customers to your pizzeria is to provide a wide range of menu options. But since small menus are better, how can you offer that while keeping your menu short? The answer is easy: menu customization.
Instead of overwhelming your customers with items, allow them to customize their pizza, add extra toppings, and choose different sizes.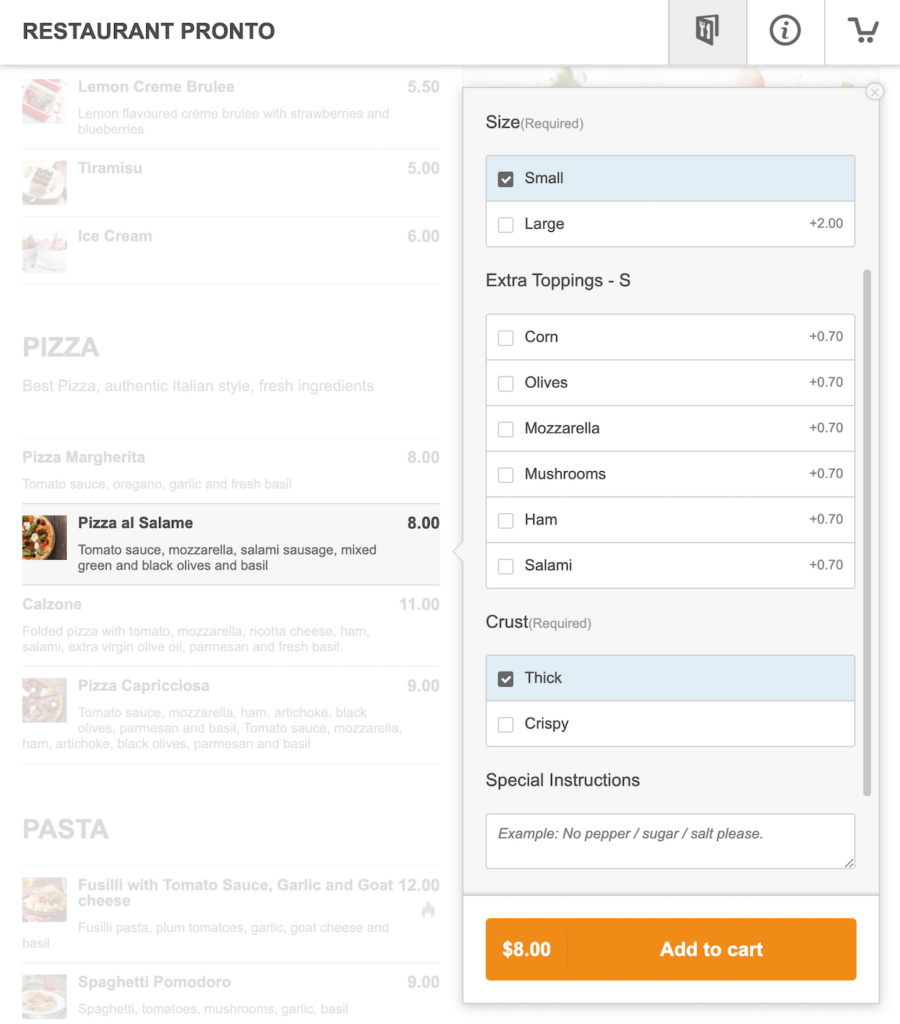 Read more: How to Improve Your Restaurant Menu with Choices and Add-ons
Selling pizza by the slice is another profitable idea, especially if pickup is popular in your area or if you're located around office buildings. People might want to drop by to grab a slice on their lunch break instead of buying an entire pizza.
Add a "half and half" pizza option to your menu to allow even further customization. Learn how to add this option to your GloriaFood online restaurant menu in just a few steps. Here's how your customers will see it on your menu.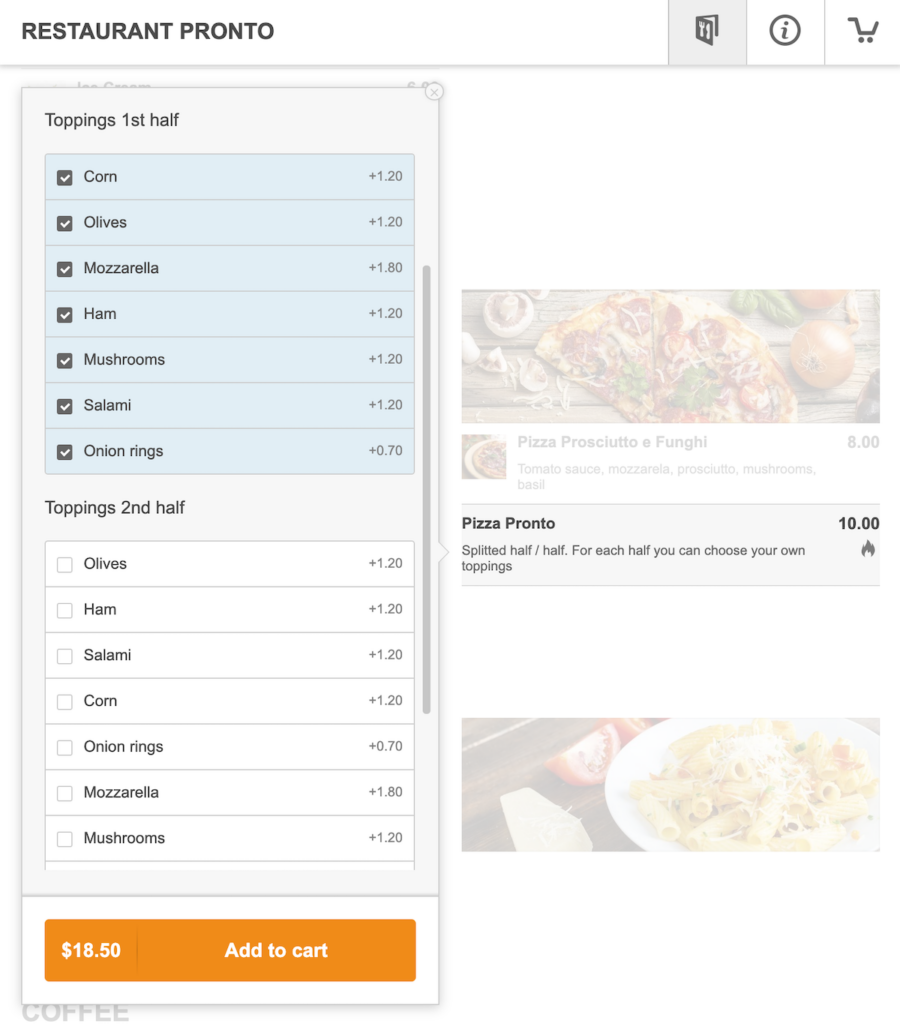 For more menu personalization tips, check out our latest YouTube tutorial:
2. Offer deals for groups
Pizza marketing strategies don't have to be complicated to work. Restaurants that offer discounts and special deals will always draw in customers. Especially for a pizza place, group deals are your bread and butter.
Many people order pizza when they're hanging out with friends, so if they see a "Buy 3, Get 1 for Free" deal, they'll be motivated to buy from you.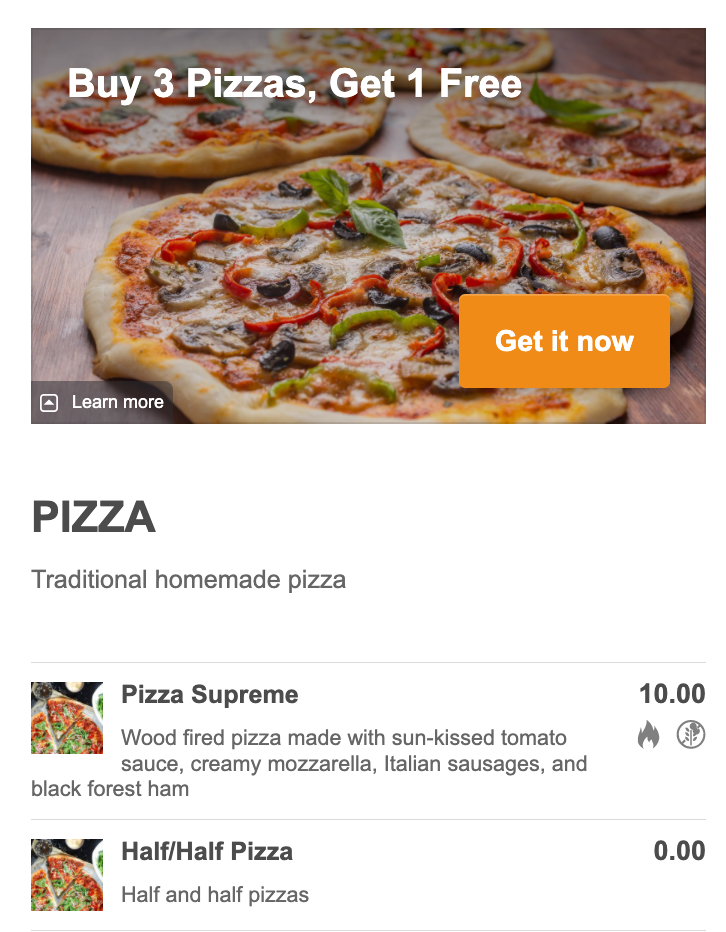 And since they're paying less, they might also be tempted to add some sodas or desserts to their order, which would increase the average check.
Deals for groups can also include meal bundles that include pizza, wings, fries, and dessert. If you sell more than pizza, consider pairing some of these menu items for affordable group bundles.
Free Restaurant Promotions Module
Customize your desired promotion and add it to your online menu in minutes
Get Started
3. Provide discounts and free delivery
Other pizzeria marketing ideas surrounding promotions are offering regular discounts or free delivery for orders that surpass a specific set value.
You can create a tradition that all your customers will look forward to every week, such as "Fabulous Friday: 15% off all pizzas" or "Wacky Wednesday: 20% off the entire menu."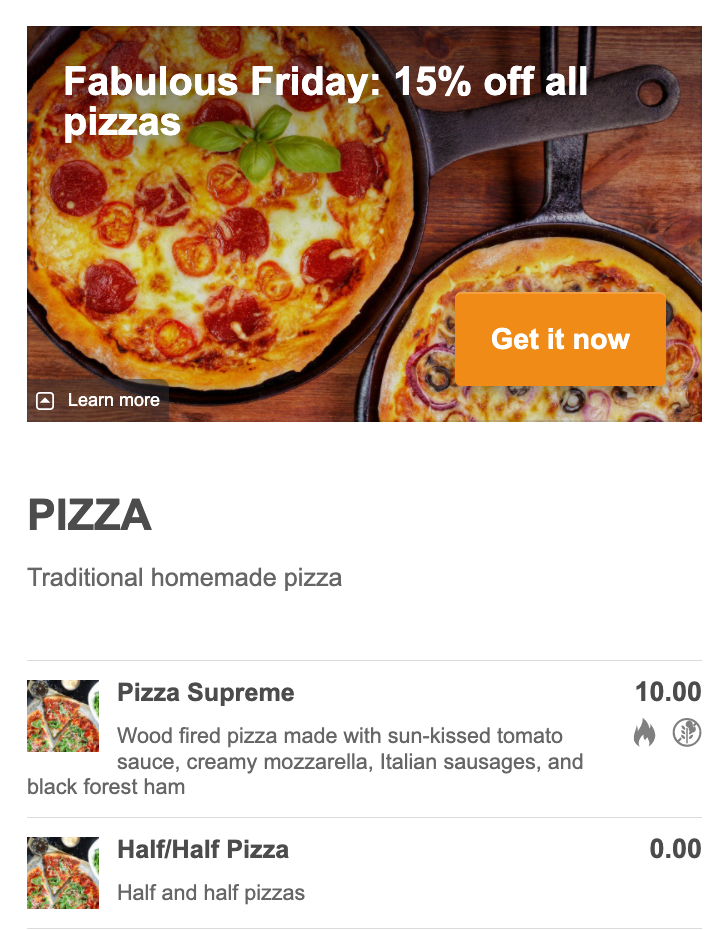 Limited-time offers (LTOs) also work well due to their short-lived nature. Customers will be much more eager to order if they see taglines like "Hurry! Limited-time offer!" or "Grab it while it's hot: Today Only!"
Free delivery is a no-brainer when it comes to pizza shop marketing ideas. Providing free delivery for first-time buyers is an excellent way to motivate them to try your restaurant. A "free delivery" coupon in their inbox will also tempt loyal customers to reorder.
4. Organize a "Free pizza for a year" contest
Are you looking for pizza promotion ideas that you can implement on social media? Look no further than contests. They engage customers, allow you to collect user-generated content, and will boost your popularity online as people share it with their friends and family.
Read more: 20 Restaurant Contest Ideas That Will Delight Your Customers
Sure, you can organize smaller contests with prizes like a voucher or coupon code throughout the year. However, if you want to make some noise, consider going big with a huge reward. Free pizza for a year will get you tons of good publicity and engagement.
5. Optimize your website to pop up in relevant local searches
To bring people to your website, you need to focus on local search engine optimization (SEO). This means you have to optimize your website with relevant keywords for your cuisine and location.
For example, if you own a pizza place in Greenwich Village, New York, here are some examples of keywords you should add to your website:
pizzeria in Greenwich Village
pizza place in Greenwich Village
pizzeria in Greenwich Village, New York
pizza place in Greenwich Village, New York
pizzeria in Greenwich Village, NYC
pizza place in Greenwich Village, NYC
Greenwich Village pizza
Greenwich Village, New York pizza
Pizza near Greenwich Village
Replace "Greenwich Village, New York" with your location, and you have a list of keywords you can use to optimize your restaurant website.
Read more of our SEO guides:
6. Add mouthwatering images to your online menu
Images play an important role in online pizza marketing because they draw customers' attention and trigger hunger. When people browse your menu, they should be able to see what they're going to order.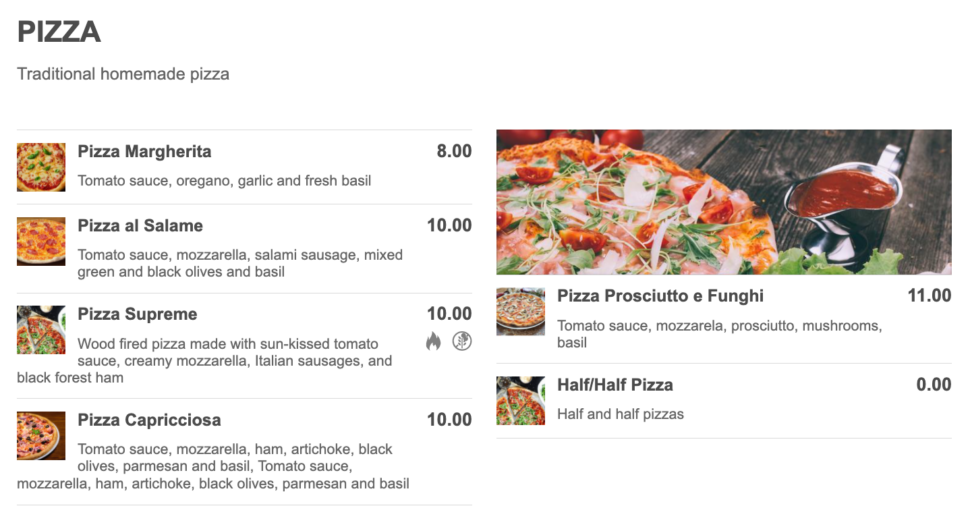 That's why your safest bet is to hire a restaurant photographer who can make your dishes justice without creating false expectations about how the dish will look in real life.
You need to strike a balance between unedited photos taken on your phone and stock photos that look too good to be true.
7. Add your branding to your delivery vehicles
Your delivery drivers and vehicles are a traveling commercial for your restaurant. That's why you need to make sure they represent your business to the best of their abilities.
Add your logo, brand colors, and website to all delivery vehicles so that they're easily recognizable. Add "Order Now" in front of your website to let passersby know you accept online orders.
Here are some pizza slogans you can use on your delivery vehicles too:
Best Pizza in Town
[name] Pizza: Already Ready
Best Pizza, Best Value
Good Friends. Great Pizza.
Best Ingredients. Better Pizza.
You might also like: 12 Restaurant Branding Ideas to Build a Memorable Presence
8. Take your social media followers behind the scenes
Moving on to more unique pizza shop marketing ideas, you can grow your social media following by showing them more than just your pizza. Post sneak peek photos and videos of what happens in the kitchen and how pizza is made at your restaurant.
This will make customers feel closer to you and safe knowing that their pizza is in good hands. You can also shoot a BTS video of the steps of delivering a pizza, from making it to packaging it and handing it to the delivery driver.
9. Organize a pizza making class with your chef
The best pizza advertisement you can make is showing customers you're not afraid to share your secrets with them because your pizza is so delicious, they'll keep ordering it anyway.
There's nothing wrong with showing customers how to make pizza as your chef does. In fact, it's a creative restaurant event idea that will draw a crowd and make your restaurant stand out.
Read more: 15 Restaurant Event Ideas to Get Customers Through the Door
10. Take your delicious pizza to festivals
Who doesn't want to enjoy a delicious slice of pizza at a festival? Pack your restaurant to go and visit local music and food festivals to meet new customers.
Be prepared with business cards, flyers, and promotions to make a memorable first impression. When you hand out the order to a customer, include a business card featuring a first-order coupon code and say, "If you enjoy our pizza, use this coupon code for a discount on your first order."
You might also like: 10 Food Truck Marketing Ideas That Are Guaranteed to Work
11. Celebrate special holidays with unique types of pizza
One of the best things about pizza, besides being delicious, is that it's incredibly versatile. You can play around with toppings, shapes, and sizes, but also with custom pizza boxes and get a truly unique product.
To make your restaurant stand out, celebrate popular holidays like Valentine's Day or less popular ones like World Pizza Day by adding something special to your menu.
Think outside the box with these pizza restaurant ideas for special holidays:
Sell heart-shaped pizzas for Valentine's Day

Create a Thanksgiving leftover pizza for people who want to order a pizza the day after Thanksgiving
Shape and decorate your pizzas like a Christmas wreath or a tree for the holidays
Sell pizza rolls on Super Bowl Day
Decorate your pizzas with three-leaved clovers for St. Patrick's Day
Download our Food Holiday Calendar for 2023, and you'll get plenty of food promotion ideas for a variety of holidays throughout the year. It's all free!
12. Distribute flyers with special discounts
Good old-fashioned offline marketing still works. One of the easiest pizza marketing ideas you can implement offline is printing and distributing flyers in the neighborhood.
Most flyers are easy to miss if they don't contain something that will catch people's attention, such as a discount. Make sure the discount is the main focus of the flyer.
Once you've captured someone's attention, the next thing they should see is where they can place an order. Don't forget to add a mouthwatering image of the discounted product and use some of the pizza advertising slogans above as the inspiration for a catchy tagline.
Instant Restaurant Flyer Generator
Create your own to drive new customers to order online
Get Started
If you want to know exactly where to distribute your flyers for maximum success, use our heatmaps to analyze your most profitable locations.

13. Send promotional SMSs and emails
One of the easiest ways to reach your customers is by email and SMS. If you have a generous customer database, you can start sending emails and texts with targeted promotions and discounts to encourage people to place an order.
Start campaigns to encourage second orders from people who've only ordered once, re-engage customers who haven't ordered in a while, or prevent cart abandonment and draw customers back in.
Learn how to set up all of these campaigns and let them run on autopilot from the video below.
14. Offer healthier pizza options
Healthier menu options is one of the main restaurant sustainability trends of 2022. While pizza is inherently considered junk food, there are ways in which you can make your menu healthier even if you own a pizzeria:
Use whole-grain crust instead of regular
Add a lot of veggies
Use leaner meat
Make a healthier sauce in-house
Offer smaller portion options
Use lighter types of cheese
15. Advertise your pizzeria offline
While you should focus most of your pizza marketing efforts online, that doesn't mean you can't still reach people offline too. Make friends in the neighborhood by visiting other businesses (with a pizza box in hand) and proposing mutual promotion.
If you have the budget, invest in newspaper or local radio ads that will target a different age group than online ads.
Bottom Line
Knowing how to play on your strengths when promoting a pizza place is crucial. Think about what makes you unique and advertise that thing online and offline to get customers talking.
Do you sell the spiciest Diavola pizza? Is your crust the healthiest? The pizza marketing ideas will help you deliver that message to the world.