Implement Menu Add-ons to Improve Your Online Menu
According to a study conducted by researchers from Columbia and Stanford University, people prefer to have fewer choices. Too many choices can demotivate a consumer and make it harder for them to decide. This applies to the hospitality industry too, where learning how to improve a restaurant menu doesn't imply adding more items to it. It's not about the number of items, it's about item customization.
Instead of struggling to serve a little bit of everything, focus on the things you do well, and allow customers to customize their meal with choices and add-ons.
How Many Items Should Be on a Restaurant Menu?
The answer to this question depends on many factors, including your restaurant concept, budget, staffing, and more. You will have to go through some trial and error before you find the right number for you.
However, this is the average number that, according to researchers from Bournemouth University, you should aim for:
six for quick service items
seven to ten for fine dining items
If you're thinking of decreasing the number of items on your restaurant menu, download our small menu template and fill it in as you wish.
Keep Your Most Profitable Restaurant Menu Items
Before you start cutting off menu items that actually sell, figure out what your best-sellers are and what items bring in the most money.
If you're using the GloriaFood restaurant order menu, you already have access to detailed reports that show you what your star items are. If you're not, what are you waiting for?
Restaurant Menu with Online Ordering Included
Accept orders online & keep track of your sales easily
Get Started
Why Customization Will Help You Get the Best Menu for Your Restaurant
Instead of having your customers sift through pages and pages of menu items trying to find something they like, give them the option to create their own meals by adding customization options.
Personalization will help you streamline your menu and make the most of a limited number of ingredients by creating multiple combinations between them. For example, you can use chicken to make a delicious chicken sandwich, you can grill it and add it in salads, or a fresh wrap.
Minimizing ingredients will also lower costs and allow you to purchase locally, which is something customers appreciate.
You might also like:
Often, customers are looking for healthier options to popular meals. Give them the option to substitute meat with a meat replacement or add healthy ingredients like quinoa and salad to their meal.
The trend of giving customers choices is taking the restaurant industry by storm, not just when it comes to menus. Foodies want multiple ordering and order fulfillment choices, payment choices, and delivery choices.
Let's see how you can improve your online restaurant menu, give customers what they want, and increase restaurant sales at the same time.
How to Improve Your Restaurant Menu with Choices and Add-ons
First things first, what are add-ons? They are options that allow users to customize their order by adding sides, toppings, dressings, or flavors.
To customize add-ons using the GloriaFood online ordering system, you have to go to your restaurant dashboard -> Setup -> Menu setup & receive orders -> Menu setup.
To the left of the screen, you'll see the Choices & Addons section. You can click on "Add Group" to add and name your own add-on.
You can set add-ons as either "Optional" or "Mandatory." Optional add-ons allow customers to add as many choices as they want. This option would work well for toppings, where some customers might want to add three or more.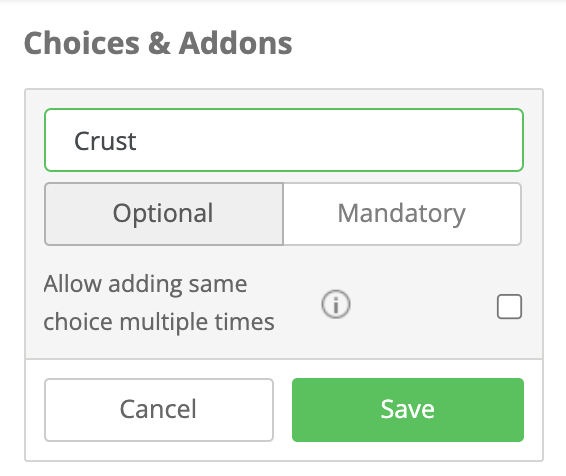 In the case of mandatory add-ons, customers need to make a choice based on the parameters you set. If you set the minimum and maximum to 1, customers will have to choose at least one option and no more. This works well for options like crust type.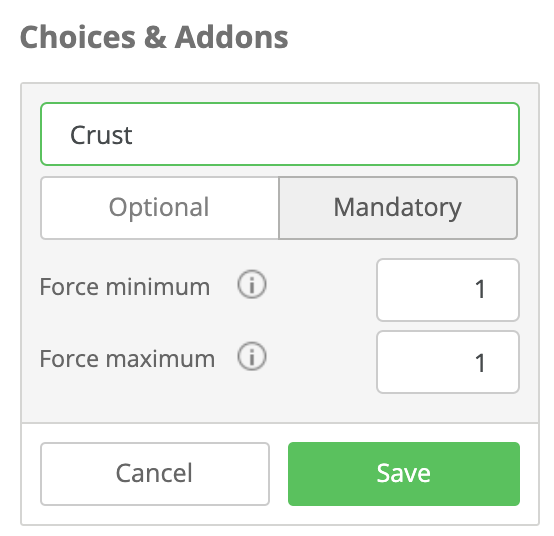 Mandatory add-ons
Following the crust example, after you've saved your add-on, click on "Add choice of Crust" to customize it.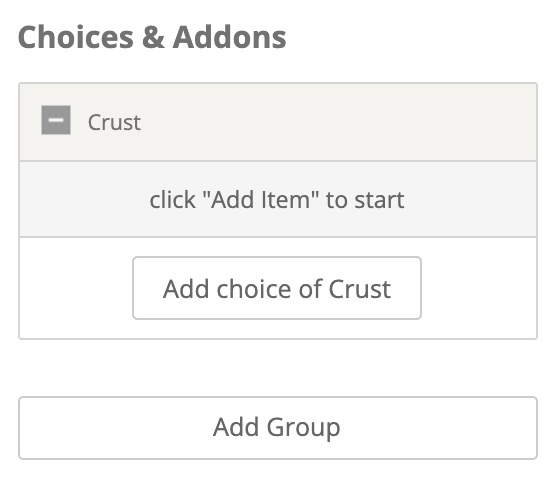 Here, you can insert the name of the item and its price.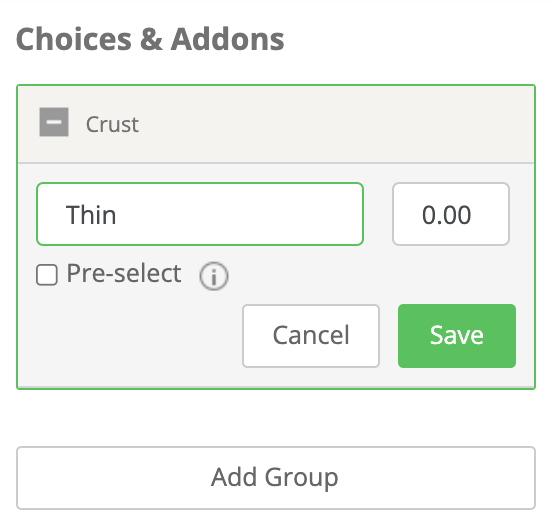 To assign your newly created add-on to a category, a menu item, or an item size, all you have to do is drag and drop it onto the desired place.

If you want to see how this add-on will look to your food clients, you can click on the "Preview & Test Ordering" button at the top of the page. Since the add-on was set as mandatory, customers will only be able to choose one type of crust.
Optional add-ons
Now, let's see how an optional add-on would look like. To create an optional add-on, follow the same steps as before, but set the group as Optional.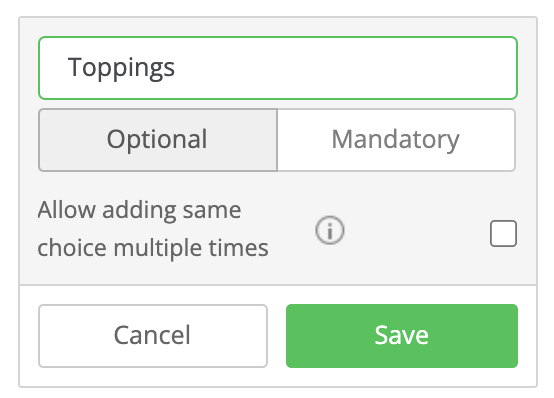 Drag and drop the group to a food item of your choice and test it again using the "Preview & Test Ordering" button. Food clients will be able to choose multiple options from the Toppings category, as they wish.

Duplicate add-ons
What happens if you have groups with the same add-ons, but different prices based on the size of the item? We have a solution for that too. All you need to do is duplicate the group and adjust the prices accordingly.
Click on the Options button of the add-on you want to duplicate, and then on "Duplicate."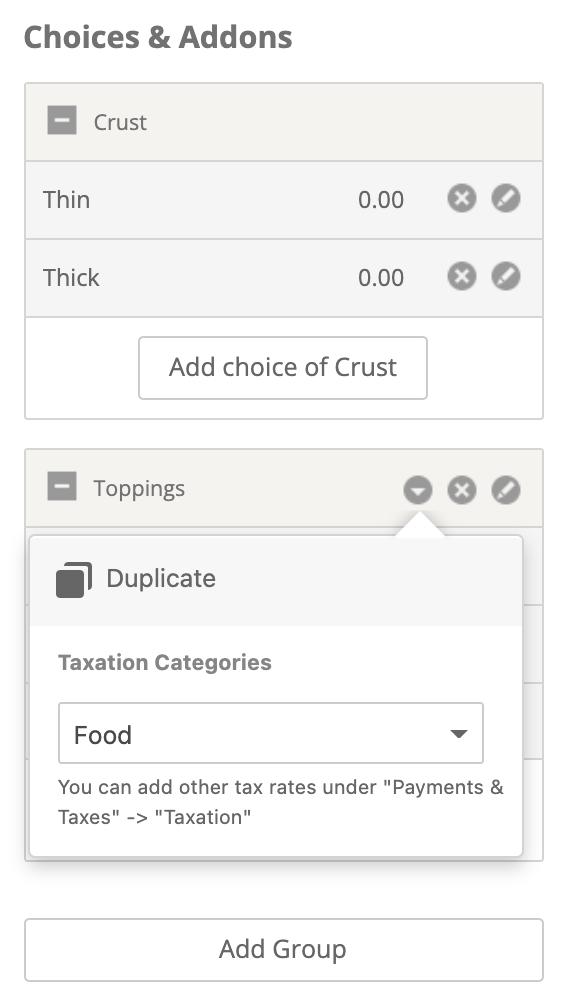 You can then click on the Edit button to rename the add-on group. For example, you could rename this one to "Toppings – Large" so you can apply it to large items only. Then, edit each topping price accordingly. That way, you can drag each size of toppings on the corresponding dish size.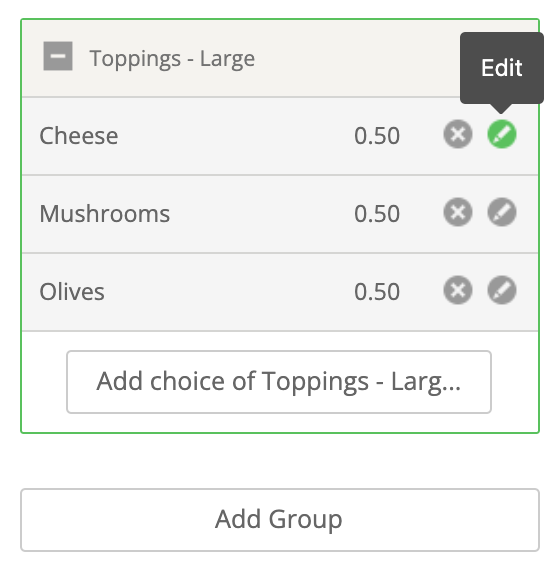 By customizing your dishes with add-ons like toppings, crust type, sides, and more, you allow customers to take control over their meal and create the dish that they truly want.
Not to mention more toppings and side options mean more chances for customers to increase their check value because they'll be tempted by your delicious add-ons.
Read more: How to Increase the Average Check in a Restaurant
How to Add Choices and Add-ons to Your Restaurant Menu – Video Tutorial
If you're more of a visual learner, take a look at the tutorial below detailed all the steps you need to follow to customize your online menu using choices and add-ons.
Conclusion
The days of long, endless menus with little customization are long gone. Now, customers demand personalization in everything, including their meals. If you want to learn how to improve your restaurant menu, think of quality instead of quantity.
Empower your restaurant customers to take matters into their own hands and create their favorite meal by adding a large variety of add-ons to your online menu. Your profits will thank you.