If you want to learn how to increase the average check in a restaurant, you're in the right place. This tiny piece of paper is where your money comes from, and it's what can boost your profits and increase the average restaurant revenue. As a result, any action plan to increase sales in a restaurant should look, first and foremost, at the check value.
Below, I teach you how to calculate the average spend per head in restaurants. We will then explore how you can increase the average check without being pushy and making customers feel pressured into buying more. Let's begin!
Learn How to Increase Your Average Check
Average Check Formula
First thing's first, what is the average check in a restaurant? Easy: the average amount a customer spends. How can you calculate the average check in your restaurant? By dividing the total number of sales by the total number of customers. The period is up to you. You can calculate the average check in a day, month, year, even time slot. For instance, if you want to increase lunch sales in your restaurant, you need to know the average lunch check size.
Here is the average spend per customer formula:
Average check = Total number of sales / Total number of customers
If you're new to this, you can use an average check calculator to calculate the average check per person.
Remember that you should always divide the total number of sales by the total number of customers instead of the number of orders. You need to focus on restaurant sales per seat for the calculations to be accurate.
Now, let's apply the average spend per head formula to a real-life example. At the end of the evening, you have $1,500 in the cash register. If you served 65 guests, your average check is $23.
How to Increase Average Check in a Restaurant: 10 Tips & Ideas
1. Train your staff to upsell and cross-sell
One of the main things you need to focus on when learning how to increase the average check in a restaurant is hands-on, intensive staff training. Your servers should be able to upsell and cross-sell to get customers to spend more, without them feeling pressured into it.
First off, let's establish the difference between upselling and cross-selling. To upsell is to convince customers to upgrade to a more expensive item or choose something pricier. To cross-sell is to persuade them to add extra items that would complement their meal, like a drink, a dessert, or even side plates.
How to upsell and cross-sell
For your staff to know how to upsell and cross-sell, they need to know the menu inside out. Not just that, but they should also know how each dish tastes. For that purpose, I suggest organizing taste test evenings every time you introduce a new menu item, so every one of your staff tastes the dish themselves.
Make sure to share every tip you'll learn from this article with them, but don't just expect them to do it out of the kindness of their own hearts. Motivate and inspire them with rewards and bonuses when they reach specific goals or an average sale per server threshold. This will also create a healthy sense of competition among your staff.
2. Invest in online ordering
On average, online orders are 20% larger than your standard phone or in-store order. They can significantly boost your revenue. If you don't have online ordering yet, what are you waiting for?
Free Online Ordering System for Restaurants
Set up your restaurant account in minutes and take your first order by tonight.
Start Now
Online ordering is all about upselling and cross-selling, except you don't need to train an employee to do it anymore. The reason why people tend to spend more when ordering online is that they have plenty of time to peruse the menu at their leisure. During that time, they might spot something else they like.
However, you have to make a little magic of your own and get them to order more. One easy and effective idea is to add many menu modifiers that allow for meal customization. Examples include sauces, toppings, sides, desserts, etc. The add on sales strategy is pretty successful for many restaurants.
If you have active promotions that require reaching a specific cart value, create pop-ups that let customers know when they're close to reaching that sum. To get the deal, they will most likely add more to their order, resulting in a larger check.
3. Re-engineer your menu periodically
Menu engineering is critical if you want to learn how to increase the average check in your restaurant. It helps you see items you should remove because they are not performing well or items you should place somewhere else on the menu to help them shine more.
When re-engineering your menu, take customer reviews into account as well. Maybe people would like you to add a specific new dish or think one of your existing dishes could be improved. All of this feedback can ultimately lead to a larger average check size.
Menu design tips:
Include items with high-profit margins in the "golden triangle" of a menu: the center – the top right – the top left.
Use bold and italics to highlight specials, meal upgrades, and add-ons.
Keep your menu small, so customers don't become overwhelmed by the choices and end up choosing a familiar, low margin item.
Read more: Why Restaurants with Small Menus Are More Successful [+ Small Menu Template]
4. Increase the check dollar by dollar
Your recommendations don't have to be expensive for you to make a profit. On the contrary, customers become suspicious and are put off by servers who try to push costly items. It becomes clear that they're doing it to increase the check.
Instead of doing that and risking alienating your customers, try recommending items with an average price, but that cost virtually nothing to make. This will look good and also boost profits.
Another trick when making recommendations is to suggest items that are just slightly more expensive. Offer a flavored lemonade instead of a regular one or a large appetizer that the party can share instead of a regular-sized one. You will see that these dollars add up in time.
5. Offer bundles and family deals
Bundles such as a three-course meal at a reasonable price, are always a hit. So are family packs or deals that can serve an entire group of friends.
You might think this is counterproductive because of the discount. Still, even so, the final check value will probably be higher than what the customer would have paid without the deal. If it weren't for a three-course meal bundle, a customer might just order a main dish.
If customers are hesitant to order something because they find it too expensive for just one person, always recommend sharing. If they know they will pay less for it, they might agree to get it for the table.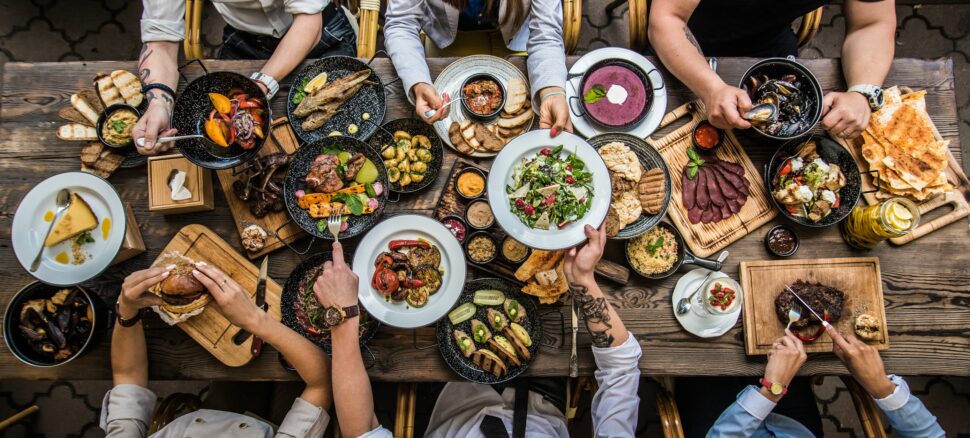 6. Target pickup orders
If you also do pickup, make the pickup area irresistible for clients who are already hungry. Sell small treats at the counter that they might be tempted to grab on their way out. From chips to desserts, these treats can add up to the final check.
7. Entice customers with limited time offers
People love limited edition items because they always have that premium feel. If you know how to highlight them on your menu, you will reap the rewards soon enough. Make sure you stress the fact that the items won't be there forever. Knowing they might not get a second chance to try out that delicious dish will persuade people to buy it ASAP.
8. Use affirmative language
Language is everything when it comes to sales. It's essential to know how to address your customers when you want to persuade them to order more. Here are some examples of phrases you can use and phrases you should avoid:
Use: "Would you like a glass of wine with this appetizer?"/" Can I get you some tea, fresh juice, or a glass of wine?"
Avoid: "What would you like to drink?"/" Would you like something to drink?"
Use: "I recommend the [name] appetizer made with [ingredients]. It's [adjective]."
Avoid: "Would you like an appetizer?"
Use: "Can I get you a dessert? I think you may like the [name]. I tried it, and the [ingredients] make it truly [adjective]."
Avoid: "Would you like anything else?"
Use: "We have this brand-new beer that customers love to order. I advise starting with that."
Avoid: "What kind of beer would you like?"
9. Sell more beverages
Did you know that an extra drink can increase the average check amount by 10%? What does that mean for you? It would be best if you offered drinks early on, as soon as customers sit down. That way, they might order a second round of drinks by the time the meal will be ready.
Don't forget to add a variety of beverages to your menu, from juices to lemonades, non-alcoholic cocktails, beer, wine, spirits, and of course, alcoholic cocktails. Craft beer is always a hit, especially if it's locally made. As an extra tip, when customers order multiple glasses of wine, suggest a bottle for the table.
10. Use price anchoring
In short, price anchoring is the strategy of increasing the perceived value of an item by placing it next to a much more expensive one. Customers usually perceive pricing relative to other commodities. This also works for items that are shown as discounted from an original, often much higher price.
You can use price anchoring to your advantage by slightly increasing the price of the cheaper items on your menu. Compared to your most expensive items, they will still look more affordable, and customers won't mind.
Final Words
Learning how to increase profits in a restaurant can be overwhelming if you don't know where to start. I suggest you start by calculating the average customer spend and applying these techniques to persuade customers to order more.
Don't forget the ideas above only work if the customer is open to them, so if you notice resistance, don't push them. It's better to sacrifice a potentially larger check than to have customers vow never to return to your restaurant again because of how they were treated.
Any advice for fellow restaurateurs who want to learn how to increase average check in a restaurant? What other tactics have worked for you? Let me know!