Your food, while the main attraction of the restaurant, is not the only thing that can help you sell more and gain repeat customers. The way you design and decorate your restaurant will too. The importance of interior design in restaurants is undeniable. Even back in 2014, customers agreed that interior design is one of the factors influencing their satisfaction with a restaurant. Below, we go through a couple of restaurant design tips that you can implement to attract more customers and ensure their loyalty.
Give these restaurant interior design tips a try to boost your sales
15 Restaurant Design Tips That Will Help You Sell More
1. Settle on the concept, style & theme first
If you're just getting started, start from the idea and work your way through to the decoration. A traditional Italian restaurant design concept will probably feature red and white checkered tablecloths and rustic walls. In contrast, Chinese restaurant design concepts might emphasize simplicity, minimalism, and exotic accents.
Cafe design concepts can range from classic to hipster or can feature a unique theme like a cat cafe, a movie-themed cafe, or a cafe that also doubles as a bike repair shop. There are so many restaurant interior design themes that the sky is the limit.
You will see lots of cool sample photos by visiting platforms devoted to this topic. Some of them are edited with free interior design Lightroom presets to highlight a specific mood, while others are posted without any improvements to preserve a pristine vibe.
Just remember to decide what you want your restaurant or cafe to be before you start planning the design.
Read more: Restaurant Opening Checklist: How to Start a Profitable Restaurant
2. Draw attention with an eye-catching entrance
If you rely on foot traffic outside your restaurant as your main clientele, you need to draw them in somehow. And what better way to do that than with a unique restaurant front door design? Make your restaurant entrance doors pop by using these restaurant facade design ideas:

This photo of Cheers Restaurant is courtesy of Tripadvisor
All glass door and windows to give customers a sneak peek of the interior
An entrance in an unusual shape like a shell door for a seafood restaurant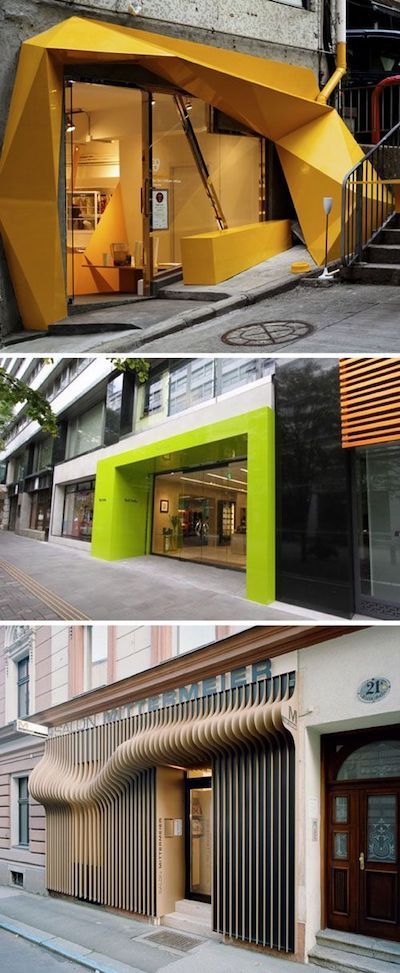 via Pinterest
Bold colors that stand out in the neighboorhood
A couple of tables outdoors with a classic cover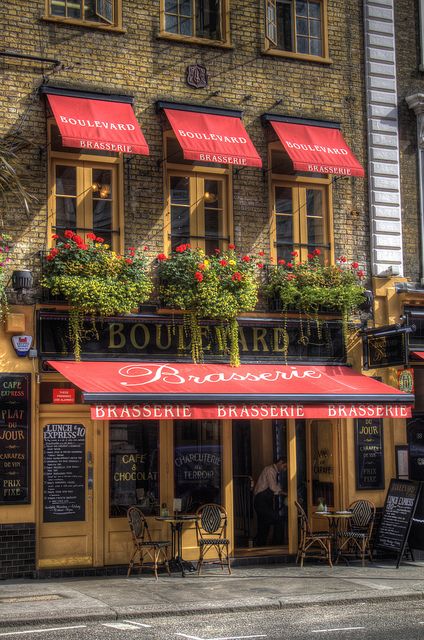 via Pinterest
3. Choose colors wisely
Colors are extremely effective at conveying different emotions. We're not saying you'll be able to manipulate people to order more just by using color psychology. Still, it certainly can't hurt to try and nudge them a bit, can it?
The best colors for restaurant walls are shades of red, brown, green, orange, yellow, blue, and purple. These may seem like all the colors, but it's pivotal how you use them and in what combination.
A fine dining restaurant design would benefit from warm earth tones like browns or deep reds. You want to encourage your customers to relax, stay as much as they want and order appetizers, desserts, and an extra drink.
When it comes to small or very small restaurant design, use white to make the place feel bigger. Looking for the best color for fast food restaurant interior design? Red is the winner. It encourages impulse eating because it makes you feel hungrier.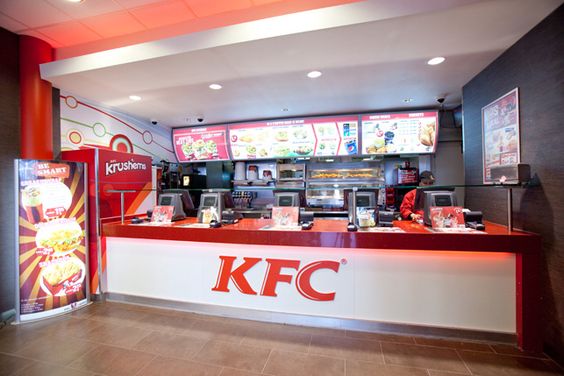 via Pinterest
4. Focus on your restaurant design layout
The layout of a restaurant is fundamental, not just from a design point of view but also from a practical standpoint. You want to make the most of the space you have, especially with a small restaurant layout. So, let's start with the restaurant seating layout. Ask yourself these questions:
Do you want to create a cozy atmosphere by putting the tables close together, or do you want the restaurant to look more spacious?
Do you have a bar where you can add some extra seats?
Is the atmosphere going to be sophisticated and private or communal and bustling?
Will you have outdoor seating?
Do you plan on hosting large parties like birthdays or office celebrations?
Will you be needing a waiting area or offering takeout?
Free Takeout Menu with Built-in Online Ordering
Allow customers to place pickup orders within minutes
Get Started
A traditional pizza shop design layout won't be the same as a fine dining restaurant layout because customers will have different expectations from them. A pizza shop is more casual and relaxed, which means you can consider communal tables or restaurant seating booths. At the same time, a fine dining establishment insists more on privacy and tables that are far apart.
A sports bar floor plan design plays by other rules (pun intended). You're going to have to make the TV the center of attention, choose sports memorabilia to display, and add games like foosball, darts, or pool.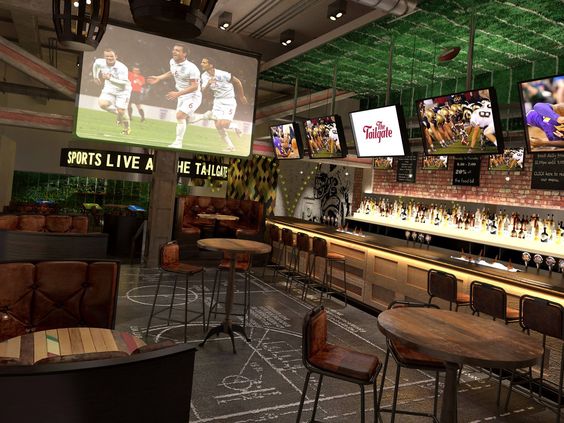 via Pinterest
On to restaurant kitchen layout design, it's all about maximizing efficiency. The workflow should run like a well-oiled machine. Usually, this all happens behind the scenes, but lately, the open restaurant kitchen layout has gained more popularity. If you want to show your customers how their food is made, which can be a unique restaurant concept in itself, give it a try.
If your restaurant also has a bar, but you want the focus to be on the food, think about a simple bar layout that won't distract from the actual restaurant. Ideally, the bar should just be a waiting area where customers can have a drink before their meal is ready.
5. Don't forget about HVAC
Restaurant interior decoration might be more fun, but there are more "boring" restaurant design considerations to keep in mind as well, such as HVAC. HVAC stands for heating, ventilation, and air conditioning, and these are all services you should offer in your restaurant.
On hot summer days, make sure customers will be able to take refuge in your cool restaurant. On cold winter nights, warm up their cold hands with a cup of hot chocolate and proper heating. Not to mention how vital ventilation is to keep the smell from the kitchen from entering the seating area.
6. Design a stunning menu that reflects your brand identity
Restaurant design tips shouldn't be limited to the interior and decorations. Restaurant menu design is an essential part of your restaurant architecture. It's not just a list of dishes you sell. It shows customers what your brand is all about, what your view on cuisine is, and what you're offering. For this reason, having a strong restaurant logo design that reflects your brand identity is essential.
Your menu should align with your restaurant concept. If you're focusing on modern restaurant design, use current fonts. Contemporary restaurant design might benefit from a sizeable one-page menu printed on high-quality paper. Use pictures in your menu if you own a fast food but not so much if you own a fine dining restaurant.
Are you considering a small menu design? Download our one-page menu template for free.
Related: 3 Secret Menu Writing Tips: The BEST Food Descriptions that Make You Hungry
Remember that your physical menu doesn't (and shouldn't) be the same as the digital menu you have displayed on your website. The one on your website should contain photos for every dish because that's what helps customers decide when ordering online.
Use Our Free Menu Plugin to Take Orders from Your Website
Choose any mouth-watering image from our photo gallery.
Start Now
In the video below, we teach you how to add an online ordering button to your website created with Duda, Joomla, Drupal, Squarespace, Weebly, Wix, and WordPress.
7. Use light to create an atmosphere
One of the main questions to ask when designing a restaurant is how you plan on lighting it. Light can set the mood in a way nothing else can. When you're doing interior design for a restaurant whose goal is to receive as many customers as possible per day, consider red lighting. It works similarly to red paint by making us hungry and accelerating the process of eating.
If you want to create a romantic atmosphere, adding candles for diffuse lighting is an inspiring restaurant decoration idea. A small restaurant design might benefit from low light to contribute to the relaxed and intimate atmosphere. Experiment with lighting to get back to restaurant design basics.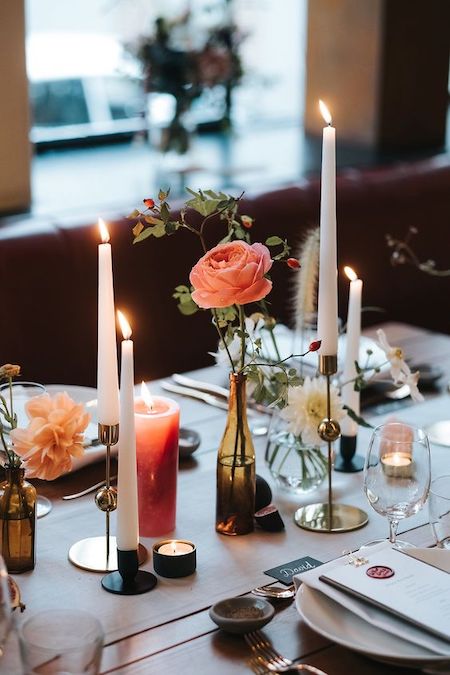 via Pinterest
8. Fashion an irresistible aroma
Smell is another sense you should capitalize on when browsing restaurant design ideas. Scented candles can double as lighting and perfume. However, you don't want the scent to be too overpowering. When the food arrives, its aroma should overcome customers.
At the same time, smelling food cooking from the moment you walk into a restaurant can be a huge turn-off. That's why you need ventilation to keep those smells away from the seating area.
If you own a coffee shop, the smell of freshly ground coffee is bound to attract customers. To fashion that aroma, consider purchasing a coffee maker with grinder so that the coffee does not only smell but also taste fresh.
9. Use music and ambient noise to make a difference
A restaurant is not just about what we see and smell, but also about what we hear. When learning how to design a restaurant, consider how you can attract customers through sound. First of all, if you're going to play music, play it in the background so as not to disturb the customers. Secondly, choose music according to your restaurant cuisine, concept, and theme.
If you have particularly slow days or times of the day, try playing the ambient noise of a bustling restaurant outdoors. People passing by will notice it and might decide to grab something to eat at your place. And a final tip for you: play music in the bathroom as well. People will feel more comfortable like this than surrounded by dead silence.
10. Keep in mind your storage and refrigeration needs
While these are areas your customers won't see, it's essential for the efficiency of your restaurant to think long and hard about how you're going to compartmentalize these needs. The design of a small restaurant might not require that much storage space but at least easy access, so you don't waste time.
Establishing the space requirements for restaurant design is a decisive step in the process of opening a restaurant, and it is often not as prioritized as it should. You don't want your customers to see your storage area or refrigerators. Moreover, if you get expensive inventory like fancy bottles of wine, you need to make sure they have all the security they need.
Design meets function when it comes to refrigeration needs as well. Depending on how many perishables and frozen items you sell, you might need extra refrigeration space.
11. Eliminate problem areas
One of the most crucial restaurant design tips to keep things running smoothly is to get rid of all problem areas. What does a problem area mean in restaurant building design? A place where customers don't like to sit such as near the bathroom, the kitchen, or the front door.
When you design the restaurant interior, put yourself in your customers' shoes. Test sitting at each table to see if there's anything that's bothering you like not enough legroom or a draft of cold air. Try to solve these problems by rearranging the furniture or adding a partition to hide something your customers wouldn't want to see.
Read more: The 13 Worst Restaurant Problems and Solutions to Each of Them
12. Focus on details that make a difference
All successful restaurant design ideas focus on the importance of details. There are many types of restaurant interior design, and each of them comes with unique features and decorations. For instance, implement these small restaurant decor ideas if you're short on space: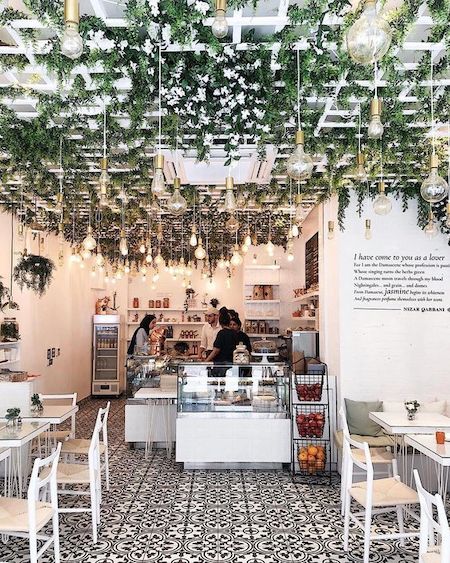 via Pinterest
Modern restaurant furniture like folding wall tables and bar stools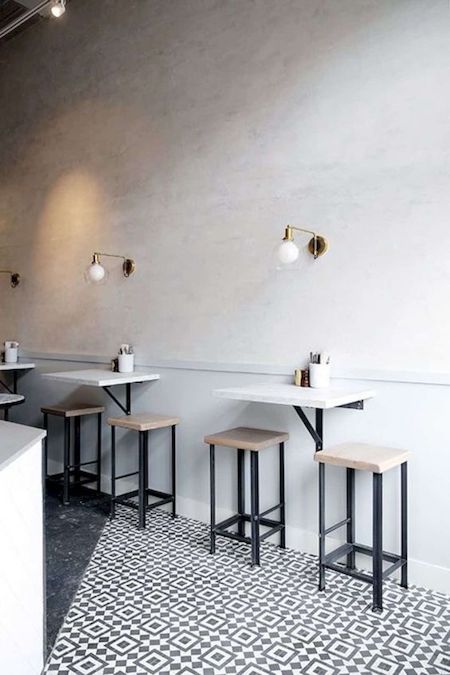 via Pinterest
Window frame seating or seats built into the wall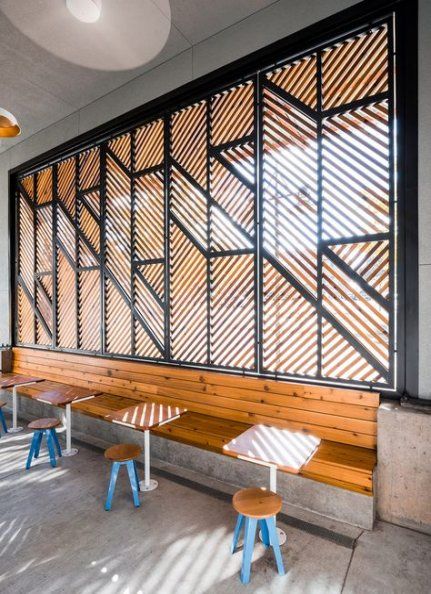 via Pinterest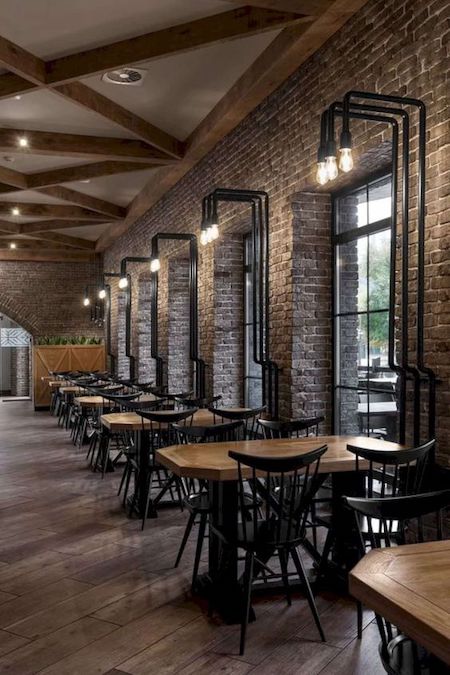 via Pinterest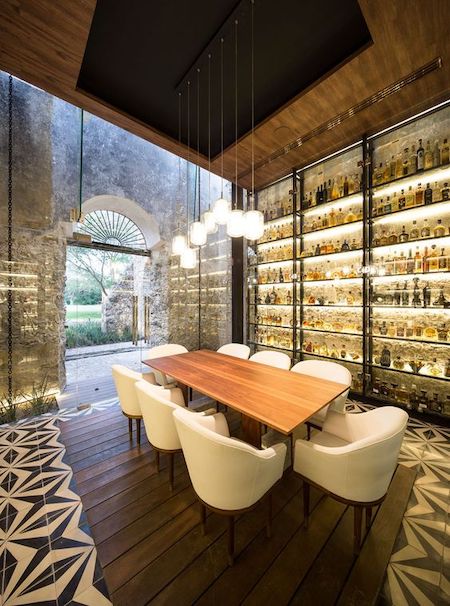 via Pinterest
These also work as low budget restaurant ideas that teach you how to do more with less. And here's another impressive small restaurant decoration: mirrors. They reflect light, which will make the place feel bigger.
Especially for small venues, restaurant wall design is fundamental. Invest in local art and show you support local artists by hanging paintings on your walls. Here are a couple of restaurant wall design ideas to get you started: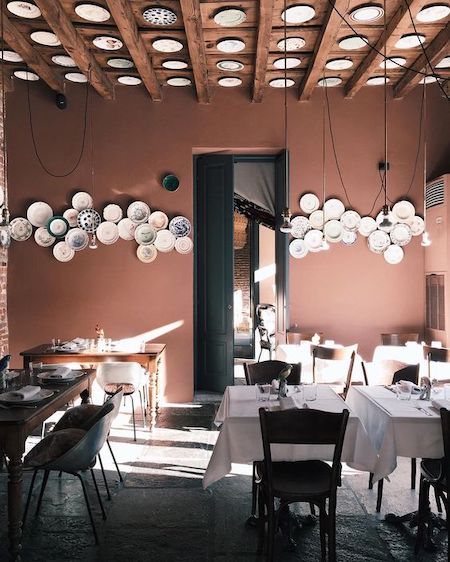 via Pinterest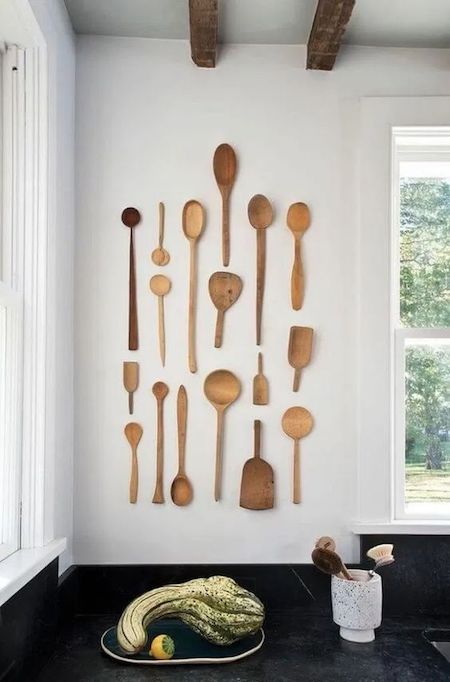 via Pinterest
Wall decals featuring beautiful typography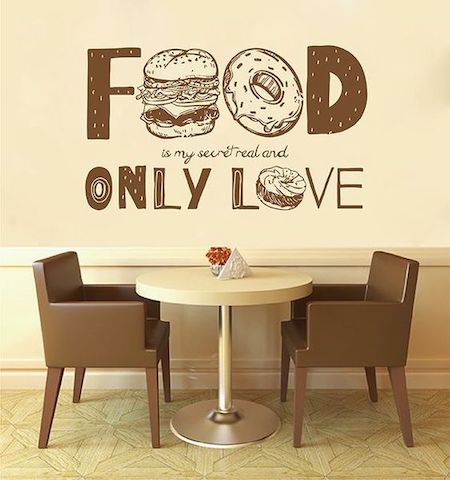 via Pinterest
An installation of old-timey photos in different types of frames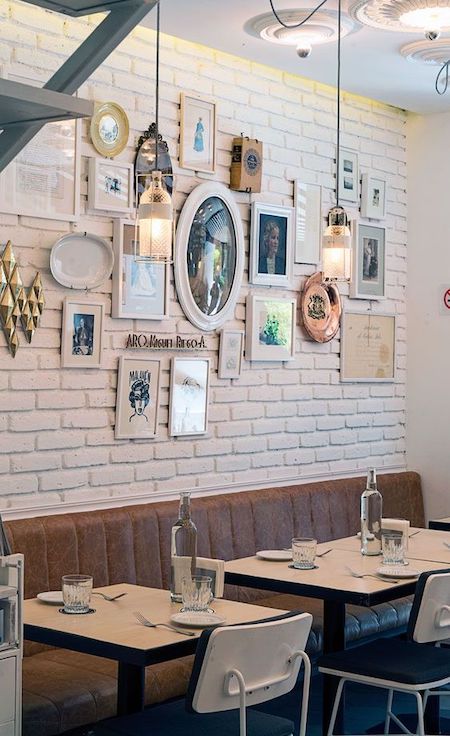 via Pinterest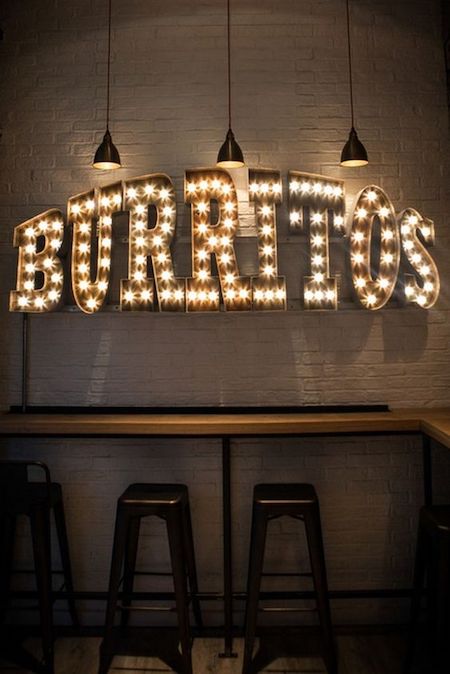 via Pinterest
Decorations also depend on your cuisine. If you own an Indian restaurant, consider bringing in Indian restaurant decoration items like traditional tapestries and intricately woven rugs. Apart from your basic restaurant decorating ideas, pay attention to details like the servers' uniforms and the silverware as well. Neither must look cheap or dirty.
13. Craft a pleasant bathroom experience
While you might be tempted to look for restaurant design tips that focus strictly on the dining area, we're here to tell you that's not all that matters. Restaurant designs that craft a pleasant experience from start to finish are those that sell.
That said, make sure the bathroom is spotless at all times. It should be clean and smell nice, but we advise going the extra mile and adding decorations in the bathroom as well. Candles, cute mirror frames, beautiful wallpaper, or complimentary toiletries like hand cream can go a long way.
14. Take your restaurant design ideas to the outdoors as well
Before people go into your restaurant, they might be coaxed by a colorful mural or well-thought-out outdoor seating. Restaurant design exterior is a detail you shouldn't forget. If it's possible and your landlord approves of restaurant building design, go nuts with the wall art.
Commission a mural that customers will want to take photos in front of and post on social media. Not only will you get more exposure, but also free user-generated content you can repost on your own social media profiles.
15. Always take into account your customers' expectations
One of the final restaurant design tips we have for you is to define who your target audience is and what they might expect from a restaurant like yours. The location also plays an integral part in this choice because it can help you choose the decor. When you think about a French restaurant in Manhattan, can't you already picture the gorgeous chandelier and luxury tapestry chairs?
If you're targeting millennials, feel free to experiment with modern restaurant kitchen design and funky decorations. If your clientele fancies a glass of wine while waiting for their table, brainstorm some small restaurant bar design ideas that will make their experience unforgettable.
Read more: How to provide excellent customer service in a restaurant
That's a Wrap
Now that you know how to design a restaurant interior that will woo your customers, it's time to get to work and implement these unique restaurant design tips. If you're feeling overwhelmed, you can always use a restaurant design app or software like SmartDraw, FloorPlanner, or DreamPlan Restaurant Design Software. They can help you design your floor plan.
How did you manage this aspect of starting a restaurant? Share with us your restaurant's design plan and hit us with your best restaurant design tips.