Stay ahead of the competition by enabling your clients to order ahead. Here's why. While restaurants can make a profit by selling food in advance… clients can use a food pre-order app to buy time and avoid sitting in a queue. It's a win-win, because it works out great for both parties. More on how to enable food pre-order and why you should do it, here.
In these busy times that we are all living in, there is a high consumer demand to place food orders online. People choose to pre order food online to save time. And most of them choose to do it from their own smartphones.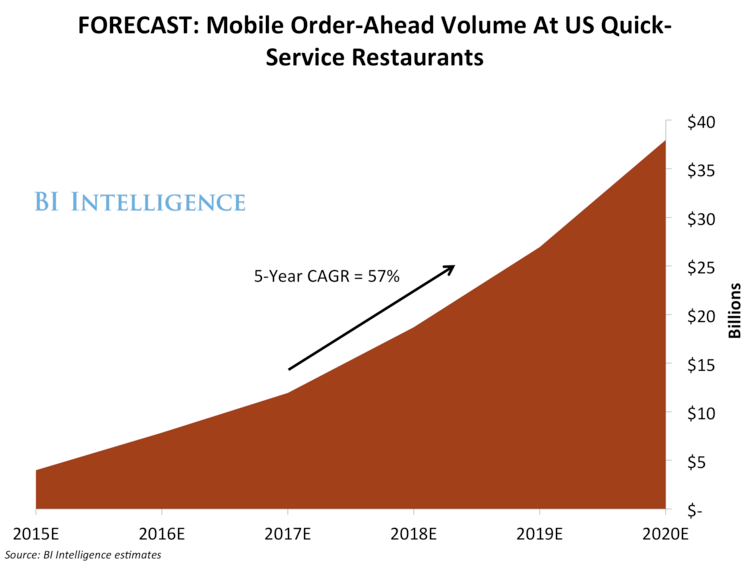 Using an online food pre-order system will definitely help you roll your sales. According to Business Insider, by 2020 mobile ordering will be a $38 billion industry and will account for almost 11% of all quick-service restaurant sales.
So what are the simple reasons that push people to use an order ahead app?
To what do we owe this increasingly high consumer demand aimed at placing online food orders? Well, according to a study presented in the Journal of Retailing and Consumer Services, customers choose to do it because of the following mix of reasons:
social interaction
convenience
customer satisfaction
…with the first two strongly influencing the latter.
Social interaction and convenience should be directed to enhance customer experience.
Retailers must understand the ingredients of competitive advantage to achieve satisfaction." (Journal of Retailing and Consumer Services)
Every business owner wants to keep their customers happy. Because a happy customer is a loyal customer who will keep coming back to you over and over again.  And not just that, but chances are they will also recommend your business to other people. That's the very definition of customer satisfaction.
Plus, as you know, word-of-mouth recommendations are as great as the written testimonials on a website, because they will help you pick up more business.
With all roads leading to customer satisfaction, it comes as no surprise as to why tech-savvy clients are now dictating the success of a modern restaurant. Right from its inception. With that said, here's how restaurant business have adapted to this mobile ordering trend.
Related: How to easily sell your dishes in advance whilst enabling your customers to pre-order food
Why embracing a restaurant pre-order system will increase your sales
Customers are now enticed to pre-order lunch from a certain restaurant because they're promised that they will skip the line. And that they'll be able to go in and out of the store much quicker, thus saving plenty of time.
So if you have your own restaurant or coffee shop, then the best thing you can do to improve customer satisfaction is to have an online food ordering system integrating the "Order Ahead" feature with the table reservation feature. So basically you'll enable them to book a table and order their favorite foods in advance. You can even enable them to pay in advance, and optimize the order ahead process even more.
Related: How To Take Table Reservations The Easy [& Profitable] Way?
Benefits of food pre-order for clients
Doing this will surely help you attract a loyal fanbase of tech-savvy clients who will love to pre-order food. Directly from their own phones. For instance, as soon as they'll start their day, people can use the app to order ahead food for pickup.
Once they'll get into their lunch break hour, people will storm to your restaurant and pick up their food, thus skipping the queue. Likewise, if you're using our system, then your customers will also be able to pre-order food for dine-in. And enjoy a nice eating out experience. (Find out more about this GloriaFood feature).
Benefits of food pre-order for restaurant owners
Enabling the food pre-order (or order ahead) feature saves you a lot of hassle in the logistical department, too. Or the headache department, if you will. Because it gives you the chance to predict upcoming orders.
And this gives your staff plenty of time to:
better organize themselves
be more efficient andproductive
cook your clients' desired meal in a timely manner
All these combined will help you deliver an outstanding service that will help you skyrocket your customer satisfaction. 
Plus, reducing the long waiting time to just a few minutes, you'll be also able to serve more customers in a day's work.
More customers = higher profits.
Using something as simple as the "Order Ahead" or food pre-order feature can have a powerful, and positive ripple effect on your entire business. Because it will give you a competitive edge over the others.
Related: Online ordering system for multi-location restaurants
The modern man will always choose convenience over anything else. He will always prefer to pre-order lunch or dinner for an enhanced eating out experience. As opposed to waiting for minutes for their food to be ready.
In fact, the beauty of using an online ordering system for restaurants resides in the fact that it will create a favorable brand image for your business. Once your client places an order, it will get put into a queue for preparation. They'll basically stand in a digital line. It's completely opposed to the old-fashioned line, which eats up their spare time by forcing them to stay in a queue.
Oh, and if you want to optimize the walk-in-and-out-experience of your mobile ordering friendly customers, then all you need to do is have a designated pick-up area for mobile orders. Just like Starbucks does.
Companies like Starbucks, McDonald's and Panera have already spotted the huge potential that the food pre-order feature holds in snowballing their sales. And you should be, too.
BONUS  TIP: Create an account with us and enable the "Order Ahead" feature for pick-up, delivery and/or dine-in. And the best part? Our free restaurant ordering system software is really simple to use to increase your online orders. So give it a try to start taking food pre-orders within a few hours.
Related: How to sell your restaurant foods in advance with Food Pre-ordering
Sources:
THE MOBILE ORDER AHEAD REPORT — Market Forecasts, Top Adopters and Key Trends For Quick Service Restaurants. Website title: Business Insider URL: https://www.businessinsider.com/mobile-order-ahead-market-forecasts-adopters-trends-quick-service-restaurants-2016-9
Srivastava, M. & Kaulb, D., 2014. Social interaction, convenience and customer satisfaction: The mediating effect of customer experience. Journal of Retailing and Consumer Services, 21(6), pp.1028–1037. Available at: https://www.sciencedirect.com/science/article/pii/S0969698914000563.