Life in plastic, it's fantastic: in a society that cannot live without credit card payments, restaurant owners have no choice but to make sure they have a solution for their customers, especially when they are dealing with food delivery.
In our mission to support restaurant owners and to improve the ordering experience, we've just made our online ordering system even better: we've released credit card processing for restaurants!
How do online payments work for food delivery?
Related: On-site payment methods for online food orders 
Imagine the food lover John, meal-craving on the couch. He grabs the closest device, and in no time, he's looking at your restaurant menu. A few more clicks and his order got placed and paid without even reaching out for the wallet. A few more seconds… the order is processed…and John finds out in real time how long it will take for the food to be delivered.
This is what online orderers dream about all around the world. So we've made this for real. It may look easy, but it was quite challenging to get it done. There are some finishing touches that make a big difference when it comes to online ordering on websites and Facebook:
The ordering flow has to work well on any type of device, including mobile. It has to be easy to navigate, read, and fill in the ordering form.
Ask the customer for as little information as possible, when possible. Moreover, if the customer has ordered before, prefill the contact and delivery information.
Auto-Reconnect the user with their payment details PCI vaulting. In terms of secure online payments, this is state of the art. The client's credit card information is tokenized by the restaurant payment gateway that does that PCI vaulting. We only tell the payment gateway that the customer wants to buy again (and again..:) ) with the same credit card.
This is how it all ties up in our online ordering system:
Your customers access your menu through your restaurant website: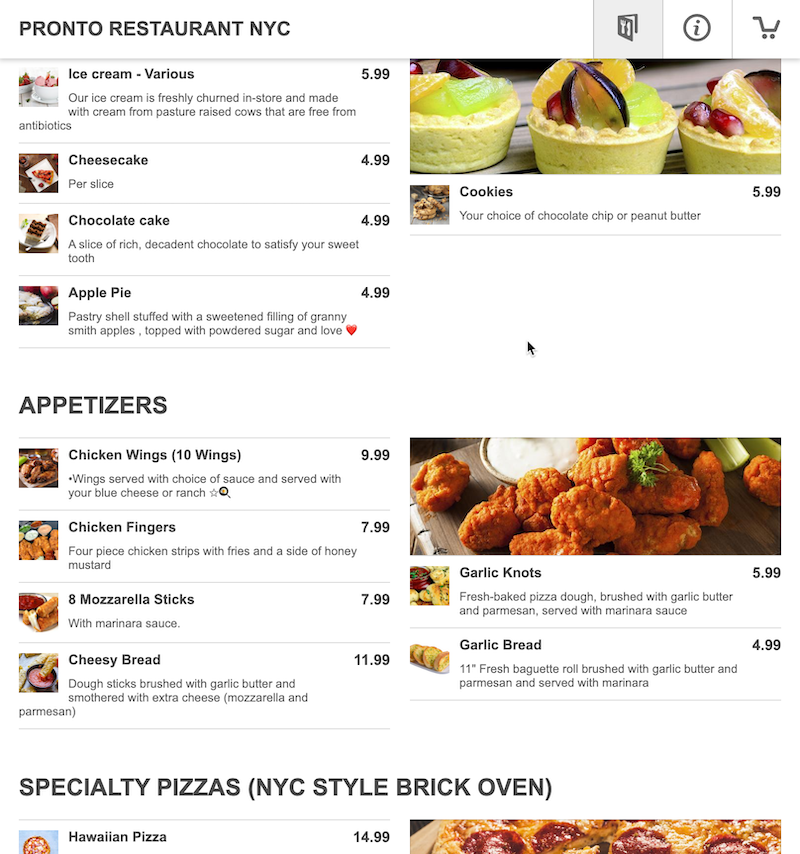 After they add menu items to the checkout cart, they are prompted for their personal information and preferred restaurant payment method.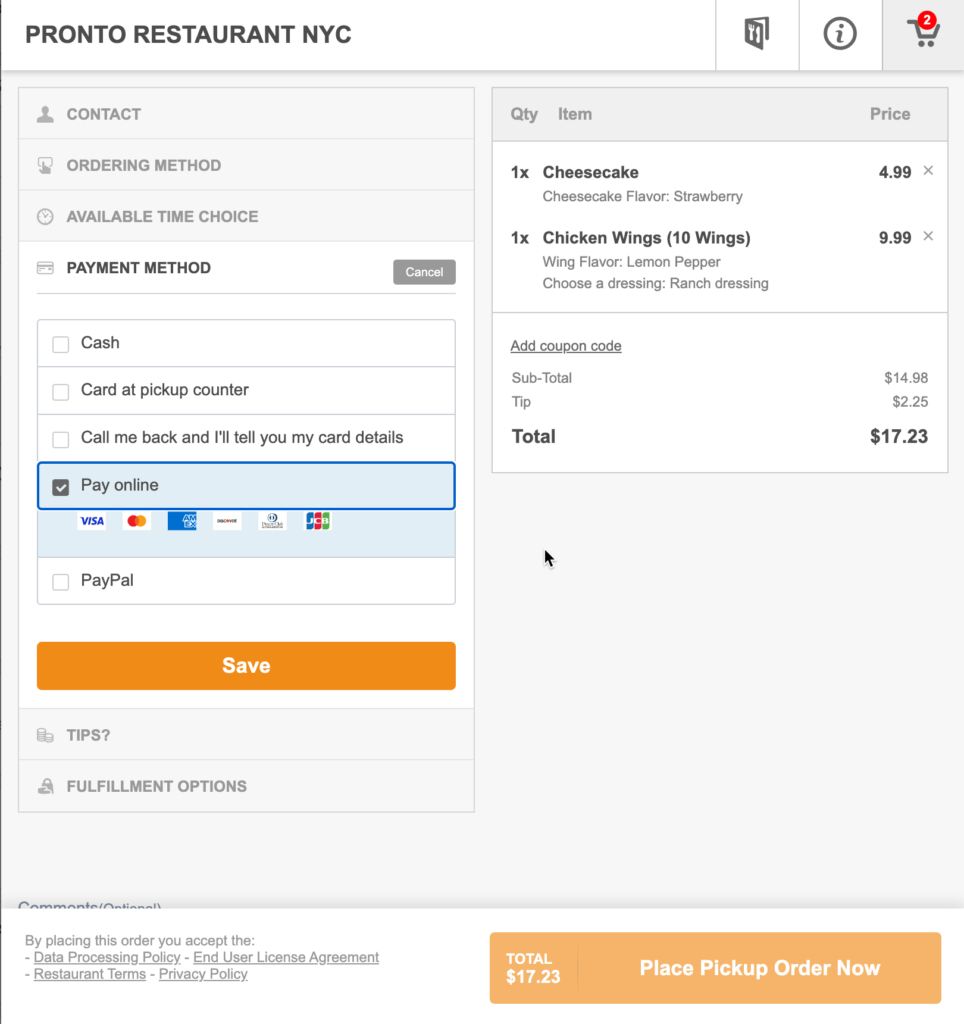 If you are using stripe for restaurants as your supported Gloriafood payment gateway, your customers will be prompted to enter their card details. They will only have to do that on their first order since that information will be stored for their subsequent orders.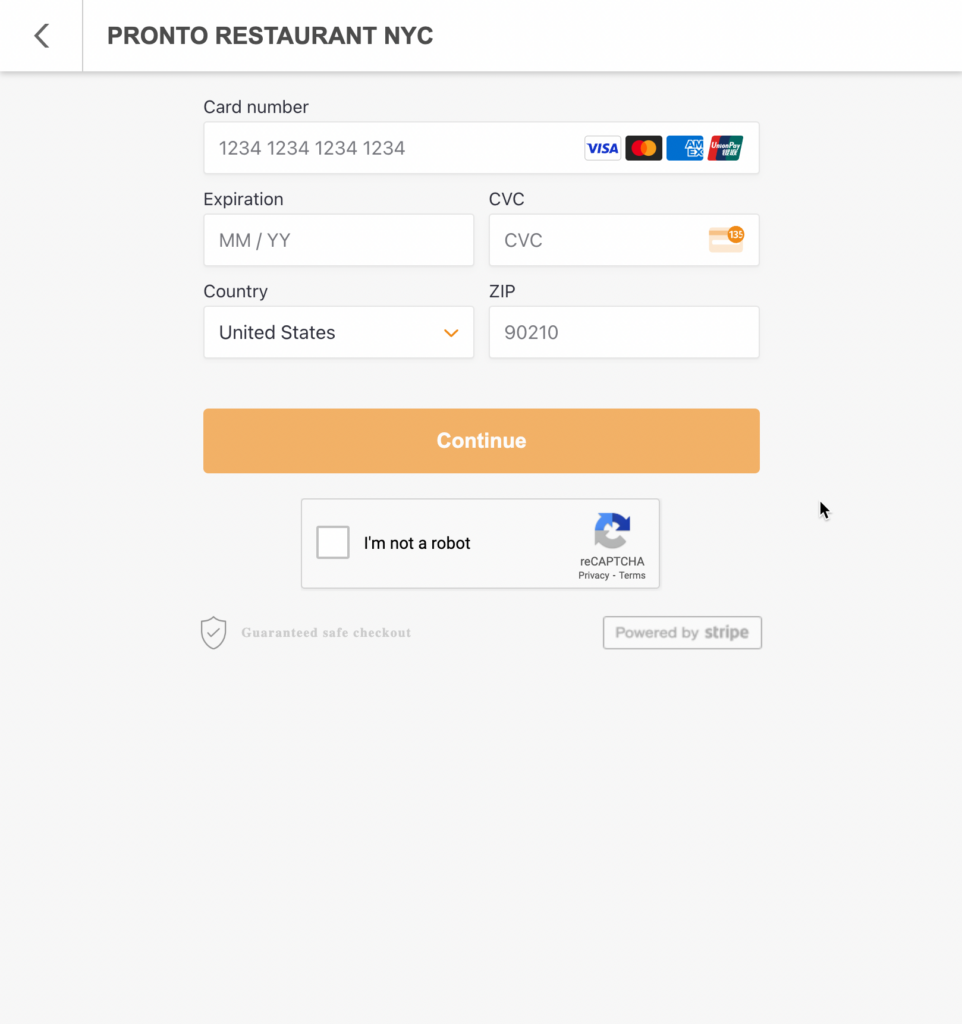 So now that we've made John's story possible, it's worth mentioning that online payments have some more advantages for restaurants as well. You no longer need to worry about the petty bill change on delivery or sorting out alternative means for swiping credit cards somehow…somewhere. The payment is also confirmed before you even start preparing the food.
Give your customers a more convenient way to pay for their orders.
Enable online payments to allow your customers to easily pay for their food at checkout.
Start now
How to enable online payments in our online ordering system
You can turn on the Online Payments from the Admin Panel. Today we support the most popular credit card processors that operate in a wide range of countries more are added continuously (US, Canada, UK, Australia, most European countries, etc.). Once you sign up, you can accurately check the availability in your country from the admin area of your restaurant account.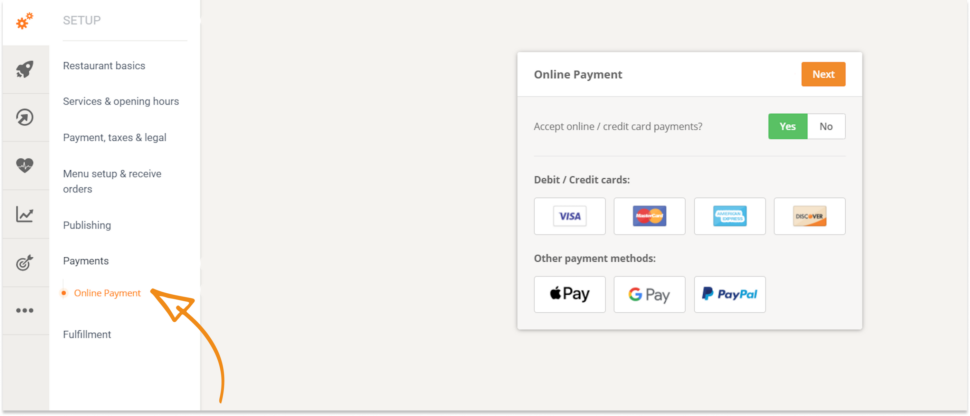 As a restaurant owner, all you need is a merchant account at a payment gateway (similar to an online bank account where your money is collected). Our role is to connect the ordering system with the payment gateway of your choice. The money gets transferred from your client to your merchant account. The payment gateway will charge their typical fee per transaction, while we will only charge a fixed monthly fee, regardless of your order volume.
Take a look at this short video of how to set up online payments for your restaurant
Technology has opened the door for opportunities like this that require little investment and no IT knowledge. Are you making the most of it?