Negative customer reviews can singe your restaurant's reputation and deter other potential clients from dining with you. However, you can change that by learning how to respond to negative restaurant reviews in a way that satisfies the reviewer and convinces them to change their review. Below, you'll find a guide to the best practices for responding to negative restaurant reviews.
How Bad Reviews Affect Your Restaurant
Bad reviews are for restaurants what health code violations are for… well, restaurants. They will drive customers away faster than you can say, "I'm sorry." And you should say you're sorry. But we'll get into that in a second.
First, let's look at the effects bad reviews can have on your restaurant business:
Potential customers will avoid your restaurant: A study by Soundwave showed that one negative review will drive away 22% of your prospects. Furthermore, three negative reviews will make 59.2% of your customers look the other way, while more than four will raise the percentage of lost customers to 70%.
Your revenue will decrease: According to an LSA Insider study, businesses with a star rating of 1-1.5 have 33% less revenue than the average business.
Trust in your brand will go down: Forbes reports that 50% of customers question the quality of a business that has negative reviews.
Your restaurant will rank low in search results: Review ratings are a ranking factor in Google and other search engines. Their goal is to show the customer the best of what they're looking for, so if you have poor reviews, they're not going to recommend you as a top option.
The more negative reviews you get, the harder it will be for you to recover: A business that has already received many negative reviews might have to rebrand itself entirely to regain customer trust, and even that is not a guarantee.
Read more: How Diners Choose Restaurants: The Importance of Customer Reviews for Restaurants
Bad customer service examples in a restaurant
Most people leave negative reviews following a bad restaurant experience. Let's see what constitutes lousy customer service in a restaurant to see how to avoid a bad customer service complaint:
Long wait times: This is one of the most common issues customers complain about when it comes to restaurant service. Optimize your workflow and make sure every employee knows their responsibilities, so you don't keep customers waiting.
Issues with the staff: These can range from employees who don't know how to solve a problem to those that are downright rude to customers. Train your staff to offer the best customer experience possible no matter the situation.
Ignoring messages: If you have a presence on social media, you should also check your inbox often. Many customers contact businesses on social media. If their question, request, or feedback is ignored, they will consider that bad customer service.
Unresolved complaints: If a customer has complained to you about something (that is within your control, of course) and you promised a solution, you have to stay true to your word. Otherwise, you will be just another business that doesn't care about its customers.
Lying: Trying to convince a customer that they're in the wrong when they're not is a battle you're going to lose. Never lie to cover a mistake you've made. Instead, own up to it, try to solve the problem, and promise to do better next time.
Related: How to provide excellent customer service in a restaurant [List of Tips👌]
Should You Respond to Negative Reviews?
The answer is a resounding YES. Not just that, but you should take restaurant review responses very seriously. While you might be tempted to give funny responses to negative reviews or use sarcasm, this will only further enrage the customer and damage your brand reputation.
How to Respond to Negative Restaurant Reviews
You need to tick some boxes when replying to negative reviews, no matter the channel. However, the approach differs slightly from one platform to another.
How to respond to negative reviews on Google
Google ratings and reviews are crucial for restaurants. This is the first place you should check for negative reviews. Replying to them is the first step to learning how to increase your Google review rating. Here's how to respond to a 1-star review on Google:
Maintain a professional and helpful tone.
Read the review thoroughly to understand the issue and take a few minutes to brainstorm solutions and decide how to proceed next.
Apologize and admit to your mistake (if you've made one). Don't apologize if it's not your fault or if the customer is rude for no reason.
If the problem requires further investigation, reply first to let the customer know, then come back and update your response after the issue is resolved. If you need more information from them, ask them to get in touch via email or phone.
If the problem has an easy fix, tell the customer exactly what you've done to address it.
End the response on a positive note and thank them for bringing this issue to your attention.
Check out this excellent example response to a bad restaurant review: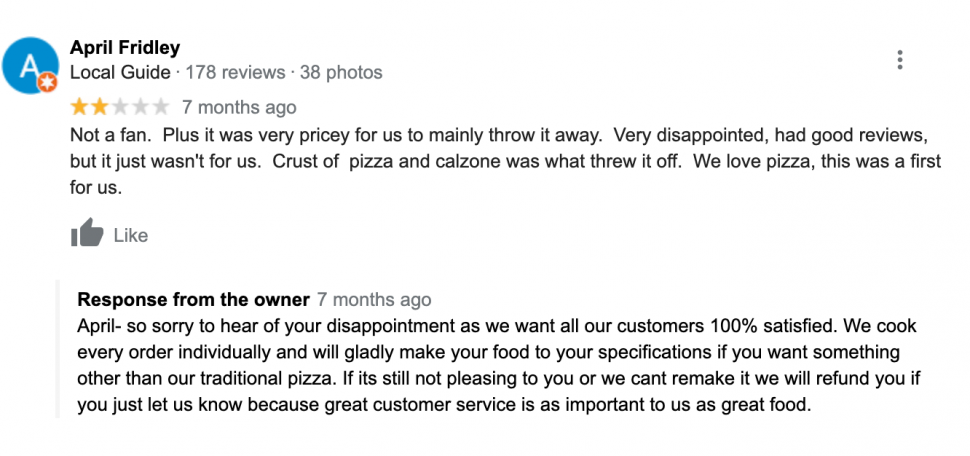 As you can see, the owner apologized for the customer's bad experience, specified that they can customize pizza if asked, and highlighted how important customer service is for them. They even offered to refund in case the customer is still not satisfied with their order.
Get more clients and prevent negative restaurant reviews!
Install our user-friendly online ordering system
Get Started
If you want to encourage people to leave you reviews on Google, you can get a "review us on Google" sticker and place it on every table in your restaurant.
How to respond to a bad review on Yelp
If you need proof of why you should reply to negative Yelp reviews, you should know that a one-star increase in your Yelp rating will increase your revenue by up to 9%. Now you should be more than motivated to raise your rating. Do the following things when responding to a bad review on Yelp:
Make it personal by using the customer's name and signing your own at the end.
Apologize for the specific issue they've raised and not for something general like "your experience." This will make your reply feel less like a template you send to everybody and more like a genuine reply.
Let them know what you've done or are going to do to correct the issue and make sure it doesn't happen again.
Offer a discount code or a freebie as compensation for their troubles and a token of your appreciation.
Here is a practical example for how to reply to a bad restaurant review on Yelp: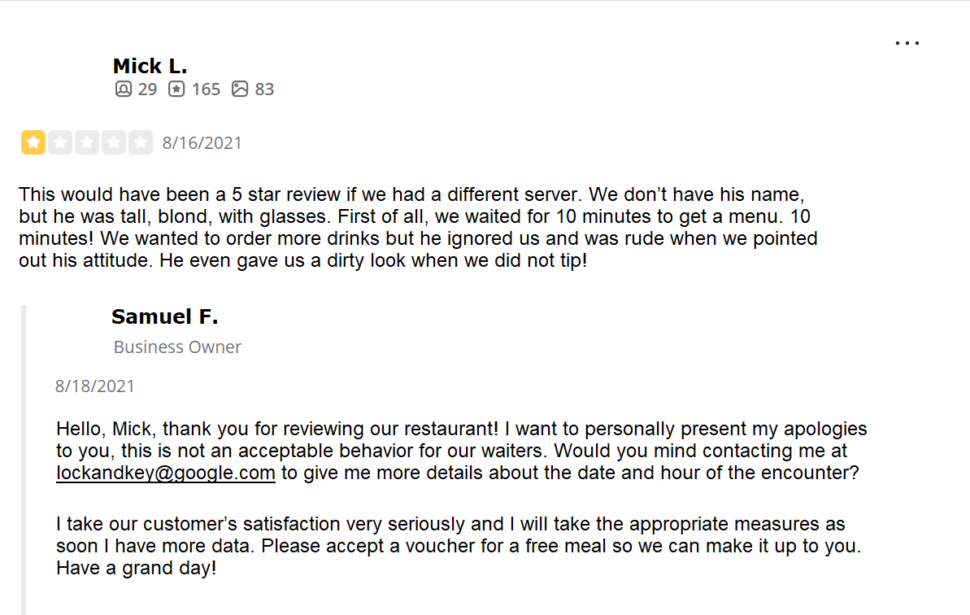 When responding to negative restaurant reviews, always think how you would like to be treated in the same situation and act accordingly.
Related: Complete Guide to Yelp Restaurant Marketing: How to Get Ahead of the Competition
How to respond to a negative review on Facebook
Learning how to respond to customers on social media is a must for any restaurateur. Sometimes, these platforms come with unwritten rules that you will only learn from experience. Because Facebook is one of the leading platforms where people review restaurants, here are a few tips on how to reply to a negative Facebook review:
If you consider the review unfair and its content makes you angry, wait and respond to it after you've cooled down to avoid a conflict.
Start the review with an apology if you genuinely messed up. If you did nothing wrong, you should still use an empathetic tone to let the customer know their complaint has been heard and understood.
Ensure the reviewer (and the rest of the people reading the review) know this issue is not a common occurrence.
Thank the reviewer for sharing their feedback and helping you improve your business.
Here is a negative food review example with a great reply: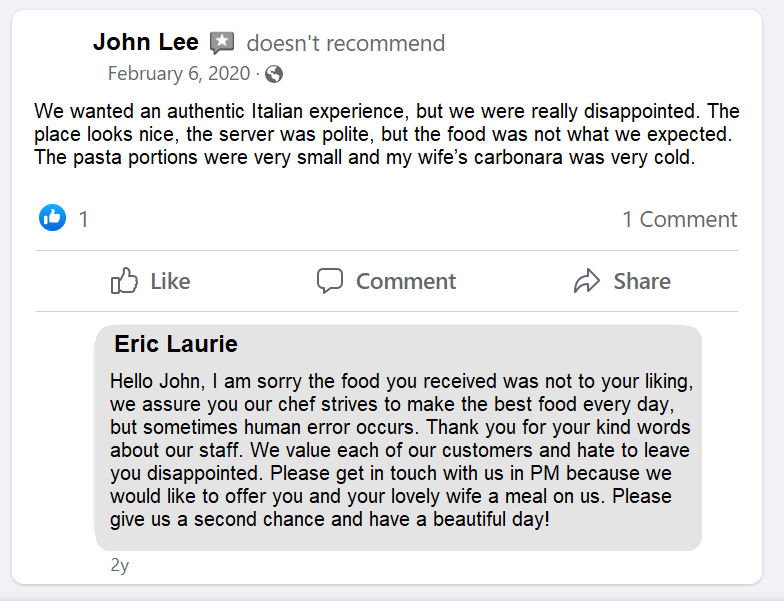 Why is this bad review reply a good example? Apology – Thanks – Admission of guilt – Solution, all done very politely.
You might also like: Restaurant Review Sites You Need to Be on Right Now
Best Practices for Responding to Negative Reviews
Here's how to respond to negative reviews of your restaurant in a way that leaves the customer satisfied and your brand reputation intact.
"Thank you" and "sorry" go a long way
I can't stress this enough. These two phrases are critical when your reply to a negative online review. If someone took the time to leave you feedback, you should thank them even if it wasn't positive. It allows you to improve your services and maybe spot issues that you wouldn't have spotted otherwise.
Saying sorry is also vital when responding to a negative review. However, make sure you're not overly apologetic. That will make you look unprofessional and suggest that you are unprepared, inexperienced, and not great at customer service.
What's more, don't apologize just for the sake of it. If it's truly not your fault and the customer is aggressively and undeservedly blaming you, it's not your responsibility to apologize. "The customer is always right" is right only up to a point.
Reply promptly
When deciding how to respond to a bad restaurant review, keep in mind time is of the essence. If you take too long to respond, the person that complained may not be interested in any solutions you offer, and they will avoid your restaurant in the future.
Try to check and respond to bad restaurant reviews on every platform at least once every two to three days.
A negative food review is a learning experience
Your restaurant depends on your customers to make a profit, so their opinion should matter. For example, if you receive more than three negative restaurant reviews complaining the food is cold, it is time to check with the kitchen.
Don't use this advice on how to respond to bad restaurant reviews just as a marketing strategy, but actually strive to improve upon the feedback. This way you can make sure you run a top-notch business with happy clients and will have less and less bad feedback to respond to.
Be available for further communication
I could show you countless examples of bad restaurant reviews that have been answered using a standard template response that leads nowhere. That is the opposite of what you should do. To truly solve the problem and turn that 1-star review into a 5-star review (ideally), show customers that you are willing to discuss the issue further.
Give them some options to contact you, and maybe you'll get an excellent restaurant review after all is said and done.
Personalize your response
There's nothing wrong with basing your reply on a template, especially when you're just learning how to respond to negative feedback. However, don't use the template as it is but personalize it from customer to customer. The simplest personalization, like using their name, is compelling.
Remember not to confuse personalization with being overly friendly with the customer. Keep a professional tone and be respectful. Even if some customers might appreciate a witty remark, you have no way of knowing beforehand, so it's best to stay away from those.
Take responsibility for the things you did wrong (if any)
This goes hand in hand with apologizing. If the restaurant review singles out something you did wrong, don't beat around the bush and accept responsibility. Both the reviewer and other potential customers who read the review will appreciate it. Again, don't take responsibility just to please a disgruntled customer if you didn't do anything wrong.
Related: The Importance of Online Reviews for Restaurants & How to Get More
Don't use your restaurant name in the response
If you're wondering how to respond to customer complaints online without letting bad reviews affect your image, I have a tip for you. Leave your restaurant's name out of it. Using it increases the chances of the negative review popping up when people google your restaurant.
On the other hand, include your restaurant's name when responding to positive reviews because you're going to want people to see those.
Don't get defensive
It's very easy to get defensive when people say bad things about you and your business online but remember you shouldn't take negative reviews personally. Listen with an open mind and try to do better for your customer. Becoming defensive looks bad, and it won't help your brand image.
Invite customers to visit you for a second chance
Finally, here's how to respond to negative restaurant reviews if you want to turn them into positive ones: ask for a second chance. But not just any second chance; one that's on you.
Offer a discount, a free dessert, or even an entire meal on the house to people who have had an unpleasant experience at your restaurant. If they give you the chance to change their mind, they might also change their review.
Looking for restaurant promotion ideas? Download our Food Holiday Calendar & Promotion Ideas.  We offer suggestions for the most prominent food holidays of the year. Print it and hang it in your restaurant for daily inspiration.
Negative Review Response Template for Restaurants
If you're a beginner who is just learning how to respond to negative restaurant reviews, use the template below as a starting point and add to it or remove parts according to particular cases:
Hello [NAME],
I'm sorry to hear [what the complaint was – that your food arrived cold, that the restaurant was too noisy, etc.]. I understand you are disappointed, and we take full responsibility for the problem. I would like to personally assist you so we can make things right.
Please reach out to me directly at [phone number/email] when convenient so we can discuss a solution.
In the meantime, in the hopes that you will give us a second chance to provide you with the flawless experience customary in our restaurant, please check your messages. There, you will find a discount code for your next visit.
Thank you for bringing this to my attention!
[NAME]
Conclusion
No matter how good your food or how impeccable your customer service, you will also get bad reviews from time to time. You have to accept that so you can move on to monitoring and replying to those reviews. Remember, this is how to respond to negative restaurant reviews: apologize – solve – thank.
You might also like: How to Write a Restaurant Review to Promote Your Food Business