How to Do Community Outreach for Restaurants:
Did you know that as much as 80% of a restaurant's sales come from repeat customers? If you want to make it in the competitive restaurant industry, you need to bank on your loyal customers, aka locals who will visit your restaurant day in and day out.
Below, we'll delve into some creative community outreach ideas for restaurants that will help you attract the local crowd and become a pillar of the community.
The Benefits of Building a Restaurant Community
Before we look at a couple of restaurant community involvement ideas, let's see what the main advantages of becoming more involved in the community as a restaurant owner are.
Attract more customers and secure their loyalty
The main thing community outreach is going to help you achieve is visibility. Especially if you own a restaurant in a small town, community is everything. The more involved you are, the more locals will visit your restaurant on a regular basis.
Reaching out and giving back to the community will set you apart and allow you to surpass the competition. When push comes to shove, who do you think customers will visit? A restaurant that took the time to build a strong relationship with them or one that hasn't?
Become a fixture of the community
Do you want to become one of those restaurants that people talk about regularly and recommend to friends, family, and tourists? That's what restaurant outreach can help you with.
Showing the community that you care will increase their attachment to your brand, and you'll be able to actually make a difference. It's a win-win situation!
Increase brand recognition
Implementing community outreach ideas for restaurants will turn your brand into a household name. The more people associate your brand with doing good and engaging with the community, the more they'll come back to it again and again.
Imagine your restaurant name and logo on flyers, blogger posts, the local football championship, or even other businesses in the area. Increased visibility = more sales.
Try These 10 Community Outreach Ideas for Restaurants Now
Without further ado, here's how restaurants can help the community and attract more business in the process.
1. Host events that bring the community together
From karaoke to dancing parties, quiz nights, or Halloween costume parties, people love spaces where they can come together to enjoy good food and tasty drinks in the company of their loved ones.
Don't forget to capitalize on local events that people are dying to celebrate. For example, organize a viewing party for a deciding football match or invite people to your restaurant after the Thanksgiving parade for a free cup of steaming coffee.
2. Offer your space for community groups
The importance of restaurants in the community cannot be understated. Restaurants should be a place where people can gather to engage in activities they enjoy, while also enjoying delicious dishes.
Are there any groups or clubs in your community, such as a book club, yoga club, or even the neighborhood association group? They may be struggling to find a place to meet. Offer your restaurant as a free option.
You don't have to worry about charging them because the food and drink sales will more than make up for it.
3. Source ingredients locally
One of the smartest community outreach ideas for restaurants is to find local farmers, butchers, vineyards, and bakers to supply you with fresh produce.
Not only are you sourcing your ingredients locally, which will lower food costs, but you're also supporting other small business owners such as yourself, which customers love to see.
This also increases menu flexibility because you can update your menu seasonally, providing customers with more variety and consistently fresh ingredients.
Remember to let customers know your ingredients are sourced locally directly in the menu description. This will make your dishes sound more authentic and show your dedication to quality.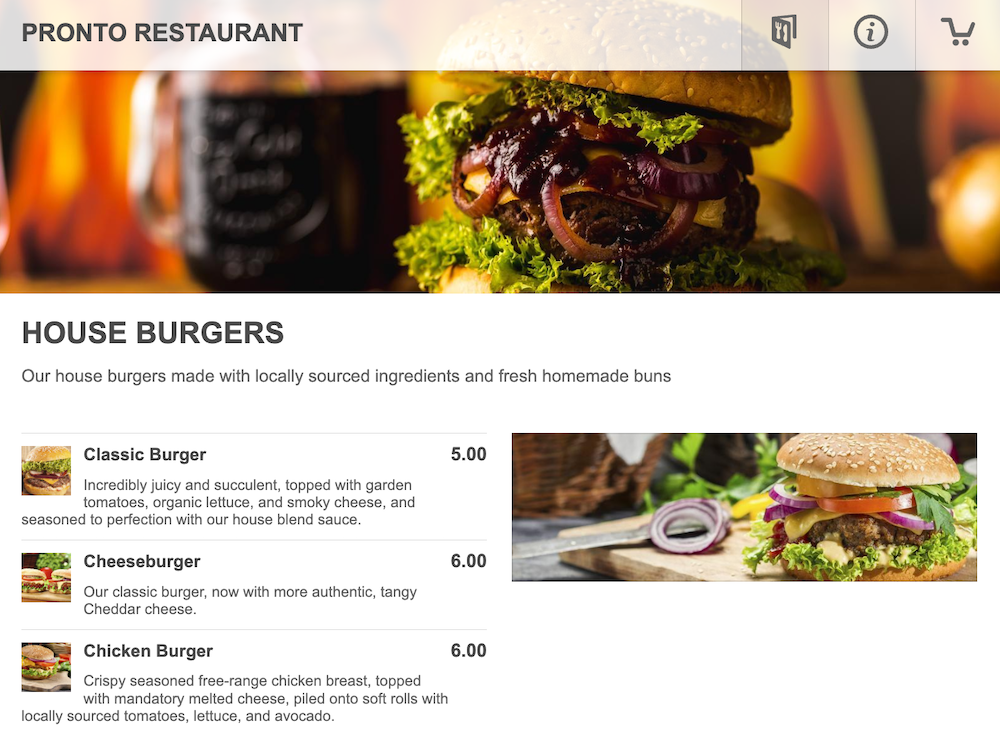 Craft tempting menu descriptions to help your menu convert better
Attract the local crowd with the promise of locally sourced ingredients
Create Menu
4. Reward loyalty and celebrate your regulars
Perhaps the easiest way to keep your regulars close is to show them you appreciate their loyalty. You can do that with rewards such as exclusive discounts, promotions, and special offers.
Strive to learn your regulars' names and birthdays so you can greet them with a personal touch and surprise them with a free bottle of champagne or a dessert on the house on their birthday. The effort won't go unappreciated, trust us.
Check out the video tutorial below to learn how to easily create promotions that reward loyal customers using GloriaFood's advanced promo module:
5. Partner with a local charity
Restaurant charity is an important part of community outreach. Whether you partner with a charity to host their event at your restaurant or simply donate to it, giving to the less fortunate has nothing but upsides.
Consider volunteering at soup kitchens and donating your leftover food to avoid waste, while making someone else's day. Restaurants helping the community will always have a special place in the customers' hearts.
6. Offer cooking classes
Community outreach ideas for restaurants are designed to give something back to the community. What better thing to give in return than a nugget of your culinary knowledge?
Organize cooking classes run by your chef where you can either teach people to make one of your staple dishes or share tips and tricks on how to make a restaurant-quality meal using common household ingredients.
7. Sponsor a local sports team
Few things unite people more than sports. If your town is heavily invested in the local sports championship, consider sponsoring one of the teams.
Take youth sports, for instance. Many teams don't have the necessary funding to succeed. You can help them with that, raise the kids' morale, and get more business in the process. The kids' families will be more than happy to support a restaurant that supports their kids' dreams.
8. Participate in food and music festivals
Festivals bring people together for days of good music, fun events, and delicious food. You could be one of the food suppliers as a way to attract a larger audience and be seen as a representative local brand.
Hire a food truck for a few days and take your food on the road. Don't forget to print promotional materials like flyers and business cards to hand out to customers.
To motivate them to come back, include a small discount for an online order. This is an excellent way to let people know you also deliver and encourage them to place their first order.
Drive customers to place their first online order with a discount coupon code
Bring the festival crowd online with flyers advertising online ordering
Get Started
Here's how you can create a first-order promo code and add it to a promotional flyer using GloriaFood's Kickstarter module:
9. Partner with other businesses in the area
Other local businesses are also probably looking for community outreach ideas that can help them attract a new crowd. Those businesses are your friends, and you can forge a mutually beneficial relationship that lasts long term.
Whether that is hotels that want to recommend a good local restaurant to their customers or cafés that want to also sell appetizers but don't have a kitchen, there are multiple ways in which you can approach these partnerships, from mutual promotion to selling each other's products.
10. Reach out to local food influencers and bloggers
People listen to and trust their local influencers' opinions. If you get bloggers and social media influencers to give their stamp of approval on your food, their followers will… well, follow.
Reach out to these figures in the community and invite them to visit your restaurant for a surprise taste test of a new menu item or an exclusive press and influencers event.
Wrapping up
Create a memorable brand and become the go-to eatery in the community by implementing these community outreach ideas for restaurants into your marketing strategy. Take care of your loyal customers and in turn, they'll take care of you.