Small town restaurant ideas that will help you boost sales
Opening a restaurant in a small town comes with its unique set of challenges, such as consistent new business, labor and land availability, and capital. If these obstacles scare you, you're in the right place.
Here's how to make a small town restaurant successful and popular in the community.
How Do I Start a Small Local Restaurant?
Before we get into the specifics of how to make a small town restaurant successful, let's look at the main things you need to open one:
Clear restaurant concept and format (family style, fast casual, fine dining, etc.)
All necessary permits and licenses
Finances and expenses plan
Funding and loans
Software and tools (POS, online ordering system, kitchen display systems, etc.)
Marketing budget and strategy
For a more in-depth look at the process of opening a restaurant, check out our restaurant opening checklist.
How to Make a Small Town Restaurant Successful
If you want to boost your small town restaurant profit and motivate customers to return to your establishment, take a look at these creative ideas.
1. Have a signature dish and daily specials
Restaurants in small towns benefit from small menus. To become a fixture of the town, all you need is a couple of dishes you do really well and a signature dish that people will associate with your restaurant.
Are you famous for making the best pie in your small town? Or maybe your signature house burger is so popular people come from neighboring towns to try it. Whatever it is, it has to get people talking.
Help your menu items shine with irresistible food photos and descriptions that highlight the authenticity and flavors of your dishes.
In a small town, where there aren't that many restaurants to choose from, keep customers interested by coming up with new daily or weekly specials.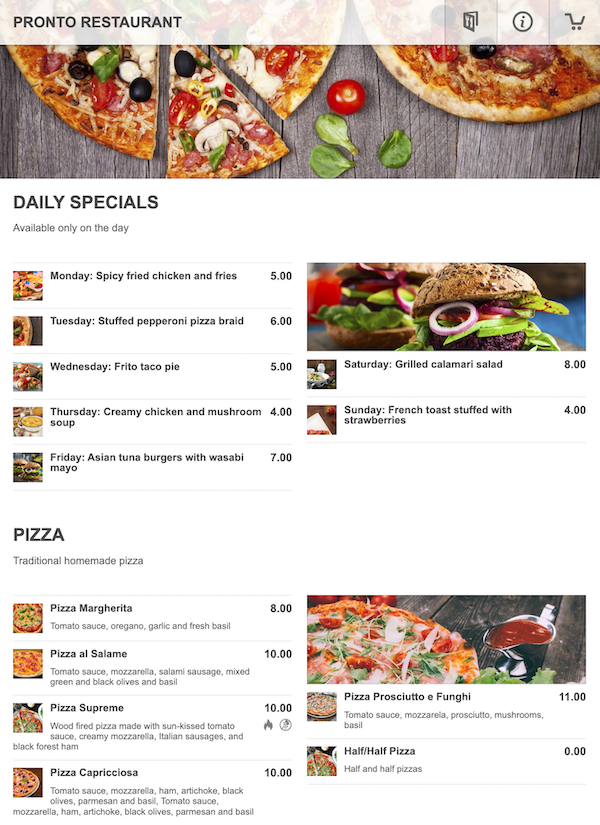 Adding new items to the menu is easy with GloriaFood's restaurant menu builder. Create your own following the steps below:
Once you've done that, use the same menu for dine-in, pickup, and delivery by creating a QR code menu and displaying it on every table.
You can now add daily specials to the menu in a matter of minutes and publish the changes in real time across all platforms where you accept orders.
Update your restaurant menu daily to attract more locals
Keep customers coming back with unique specials and promotions
Get Started
2. Offer delivery and pickup
Opening a restaurant in a rural area or a small town means you probably won't have that many dine-in customers to begin with. But you can expand your reach by offering takeaway in your small town and even neighboring towns.
Since you probably don't have a large budget, you need a free online ordering system that allows you to accept food orders without spending a dime.
Accept your first online order by tonight: it's free!
Install the GloriaFood online ordering system on your restaurant website
Start Now
Watch the video tutorial below to learn how to set up online ordering for your small town restaurant in under 10 minutes:
3. Reward regulars with special offers and promotions
Keeping regulars happy is how to make a small town restaurant successful 101. Loyal patrons will bring in most of your profits, so you need to show them how much you appreciate their patronage.
What if I told you there's an easy way to do that without you having to come up with consistent promotion ideas?
We've come up with a marketing tool that allows you to set re-engagement campaigns once and have them run in the background to increase your customer retention rate.
Autopilot will send returning customers emails and text messages to encourage second orders, re-engage customers that are slipping away, and prevent cart abandonment.
Learn more about the service and how you can enable it here:
4. Attract new customers with exclusive deals
Even if returning customers should be one of your main priorities, that doesn't mean you should ignore new customers. Constantly attracting new business is a must for any restaurant owner.
And what better way to do that than with the promise of a freebie or a discount if they make that first order?
Use our Kickstarter module to invite existing contacts to place their first order online and create discount coupon codes that you can print on flyers and distribute in the neighborhood. Here's how:
5. Market your restaurant locally
Marketing your restaurant locally is one of the main ways to attract customers that are likely to become long-term patrons.
From flyer distribution to local TV and radio ads, community networking, events, press releases, and sponsorships, many offline marketing ideas still work wonders when it comes to making a small town restaurant successful.
The key is to engage with the local audience in a real and meaningful way and try to become a go-to place in the community where people love to gather to enjoy a delicious meal and a good time.
6. Do online marketing to reach a larger audience
Online restaurant marketing is a vital tool for growing your restaurant both locally and on a larger scale.
Start with your website, which will serve as your digital business card. Customers can access it to browse the menu, find out your address or contact info, reserve a table, and place an order online.
Get a sales and SEO-optimized restaurant website in minutes
Make your restaurant visible locally and beyond
Get Started
The tutorial below will show you how to create your own restaurant website in less than 10 minutes:
Google Business Profile
Once your website is up and running, focus on external platforms like Google Business Profile, which will help your restaurant rank high in Google when people search for your type of cuisine and area.
Optimize your profile by adding your restaurant's category, address, contact information, business hours, website, menu, photos, and more. A complete profile will lend authenticity in the eyes of your customers and Google.
Read more about optimizing your Google Business Profile here.
Social media
Social media is a powerful online marketing tool for a small town restaurant. Use every platform's strengths to raise engagement and attract more customers to your restaurant.
On Facebook, you can start accepting orders by adding the smart link we provide to their 'Start Order' call-to-action button.
Free Facebook ordering system for your restaurant
Copy our smart link to the Start Order button to accept orders today
Get Started
Instagram is excellent for posting mouth-watering food photos that will convince followers to visit your restaurant.
You can also use newer platforms like Snapchat and TikTok to draw a younger crowd.
7. Attend local festivals
Small restaurant ideas usually focus on expanding the restaurant's reach in the community. That's exactly what attending food and music festivals can do for you.
If you have a branded booth at every local event, soon enough, people will start associating your name with the town itself.
Not to mention this is an excellent way to attract new customers who haven't tried your food yet, so come prepared with marketing materials like business cards and flyers.
8. Make customer service your top priority
You can't learn how to make a small town restaurant successful without putting the customer first. In a small town where everyone knows each other, word travels fast.
You want customers to speak highly of you and recommend your restaurant to friends and family. As such, focus on making them happy.
Naturally, that starts with the food but it's so much more than that. It's about the experience you create as a whole, from customer service to the ambiance, décor, and small gestures such as using the customer's first name.
9. Collaborate with local businesses and influencers
In a small town, you can't make it on your own. And you shouldn't have to. Rely on other businesses in the community for cross-promotion and everybody wins.
From hotels and Airbnbs to wine merchants or craft breweries, any business in the food and hospitality industry can be a marketing opportunity.
Influencer marketing can also help your restaurant grow. Find small local influencers who are willing to promote your restaurant to their followers in exchange for a free meal or discount.
10. Be active in the community
Small towns are usually close-knit communities where people love to help each other out. Organize or contribute to fundraisers, sponsor local sports teams, volunteer and donate food at the local soup kitchen, and so on.
You can also organize fun events at your restaurant such as a karaoke night, a costume party, or a wine-tasting event.
To create anticipation for the event, post on your website and social media encouraging people to book a table since seats are limited.
Free table reservation system for your restaurant website
Accept table booking and allow people to order their food in advance
Start Now
In Closing
Being a small restaurant owner can be an extremely rewarding job that puts you at the center of a community. But to learn how to make a small town restaurant successful, you have to think beyond your menu and focus on providing an experience that will have locals coming back for more.