Hi there, fellow restaurant owner. Today, we have a huge surprise for you. We'll tell you all about one very prominent restaurant industry trend, which will help you expand and grow your business: the Facebook food ordering system.
This is something that will make it easier for you to:
reach more people
create a higher customer base 
sell your foods like hot cakes
But why should you use a Facebook food ordering system? What's in it for you? Well, let's take a quick look at the advantages, shall we?
Benefits of Facebook Food Ordering System by GloriaFood
Online food ordering without disrupting the user's Facebook experience. That means that your clients won't even have to leave Facebook whenever they want to order food.
Creating a faster path towards ordering food online. The world is spinning at a fast pace. We're doing things at full speed. Because we simply feel that we don't have any time to waste. And that's why all of your clients (including your millennial target audience) will appreciate it.
Drive cravings: what's the easiest way you can stimulate your clients' hunger? By showing them mouth-watering images of your foods. People will always eat with their eyes first, and then with their mouths. So win-win.
Related: 6 Amazing Restaurant Food Photography Tips & Tricks
Ease of use for a great user experience: what more could your customers possibly wish for? Social media is getting more interactive than ever, so you can use that to your advantage to gain a boatload of diners. Because they'll know exactly how to go around using your restaurant's Facebook page.
Skyrocketing customer loyalty: by adding interactivity and feasibility to the Facebook user experience, you'll be drawing new followers and prospective clients to your page, who'll turn into actual paying clients. And if you add a few irresistible offers … Your clients will keep coming back to order from you, time and time again. Getting recurrent customers is the dream of every entrepreneur out there.
Reach larger masses: every time someone likes your page or shares your posts, your restaurant information becomes visible to their followers, as well. That means that every time their friends or followers end up on your page, they'll also spot the Facebook Start Order button, which will be winking at them.
Get more online orders
Integrate our online ordering system on your Facebook page to reach more of your clients
Get it now
The Facebook Experience: From Facebook to Online Food Ordering, One Click of A Button Away
You need to be on Facebook because that's where a lot of your customers are. Since we seem to have lost our ability to be social in real life, we're getting increasingly social online. And given that that's where we enjoy spending a great deal of our time, then that's where you need to be. It's like sitting at the same table with all the cool kids, so you can become one of them.
But right now, you might be thinking: "How can people order food from my restaurant through my Facebook page?" Can they do it using only their mobile phones?
Doing this sounds complicated, right? Plus, you can't have a Facebook food ordering system without adding the Facebook Start Order button. Because you may put up a few pictures of your foods or your menu, but at the end of the day, unless you use a Facebook Start Order button, people won't be able to buy your food. It's as simple as that.
These are all valid points. And so the question remains:
How to add a button on Facebook, especially the Facebook Start Order button?
Now, this may seem easier said than done. But breathe easy, because, by the end of this article, you're actually going to be shocked by how simple it is to set up your very own Facebook ordering system and make it look as pretty as in the image below: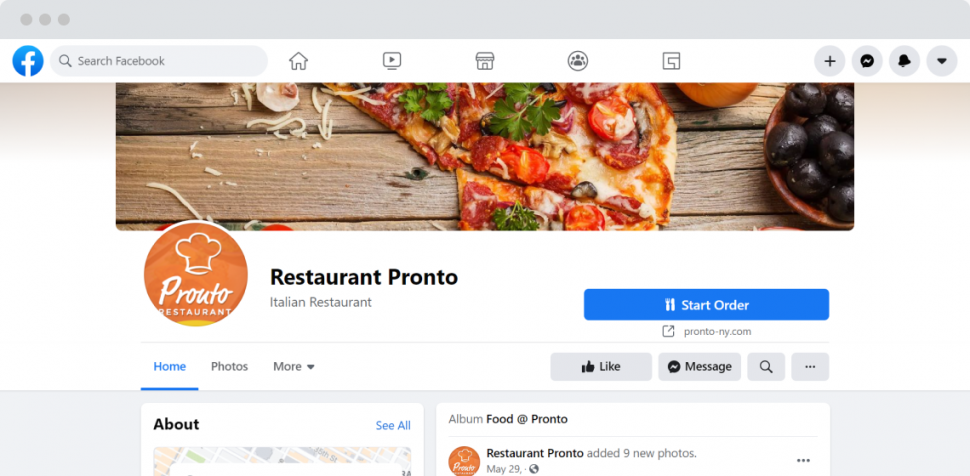 How To Set Up Your Very Own Facebook Online Ordering System (Step-by-step Instructions)
Step 1:
First things first: go to Get Access Now button, in the top right corner of this page and set up your restaurant profile. Then move onto the "Publishing" section -> "Facebook."
Step 2:
Copy the smart link we provide you with there.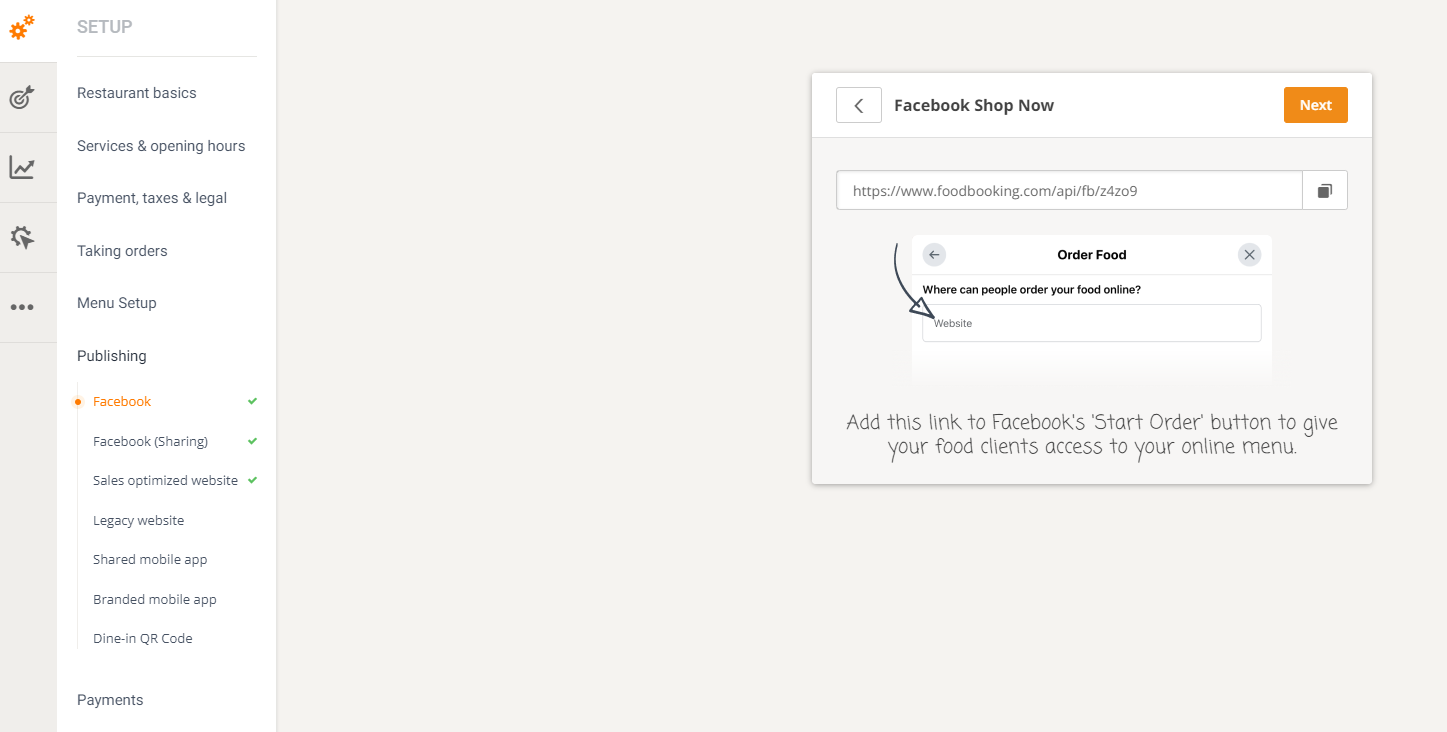 Step 3:
Go to your restaurant's Facebook page and click on the "Add a Button" button.

Step 4:
Choose "Start Order" from the list.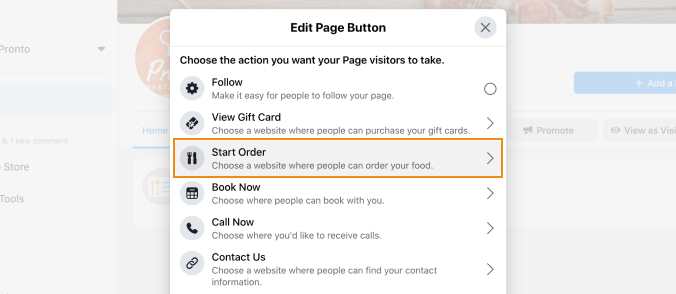 Step 5:
Paste the smart link you copied from your restaurant dashboard and click "Save."

Aaaand voila! You're done. And all it took was just a few clicks of a button.
You might also like: How to Take Restaurant Orders on Facebook
Bottom Line
As you can see, using the Facebook Ordering System by GloriaFood is easy as pie. Plus, not only you're building the path towards a great business venture (using Facebook as a marketplace for your restaurant), but you are also in complete control of installing the Facebook food ordering system… during your lunch break.
This is quite possibly the easiest way to do Facebook marketing for restaurants out there. Because the goal of marketing is to help sell. So let's sell.
What you need to remember is that the best restaurant Facebook pages out there are successful because they are meeting their clients' demands. And you can do that, too, by using an easy-to-use Facebook food ordering system.
So that hungry people no longer have to leave a restaurant's Facebook page to order food. And considering that Facebook has turned into our new "reality", you can use this to trap them and offer them food on sight.
This will turn you into a genuine Facebook restaurant owner. And it will trigger cascading sales.