How to Market Your Restaurant Online
Every business owner's goal is to be successful in their industry. However, having a functional restaurant is not the same as having a successful restaurant. The latter requires top-notch online marketing strategies for restaurants applied from the early days.
It's believed that many restaurant businesses go down within the first few years due to the industry being highly competitive.
Therefore, you need to stand out in every way to be successful. For instance, focus on menu optimization, successful digital marketing, excellent customer care, and effective restaurant management.
Recently, customers have embraced online restaurant operations. They search for eateries online, order food online, and have it delivered to their doorstep within no time.
For this reason, online marketing is the way to go if you want to reach out to new foodies, retain your current customers, and, most importantly, grow your restaurant business.
What is Restaurant Online Marketing?
Online marketing for restaurants, also known as digital marketing for restaurants, includes any actions your brand takes to promote itself through digital channels like website and social media. Ultimately, its goal is to help you gain new and returning customers and boost profits.
Remarkable Benefits of Digital Marketing for Your Restaurant
Today, nearly every business has secured a place in the digital world, and restaurants are no exception. Restaurant digital marketing is a critical factor in targeting customers and avoiding negative reviews that affect your reputation.
Here are a couple of the main benefits of online marketing for restaurants.
1. Access to Customer Feedback
Sharing an online platform with your customers to express their views enables you to understand them better and offer satisfying services. A happy customer will become your business' campaigner by default.
2. Effective Customer Care
Your customers can freely contact you through social platforms like Facebook and Twitter in case of any grievances or complaints. Direct contact with your potential and existing clients enables you to offer better customer care.
3. Reduced Expenses
Online marketing for restaurants is less expensive and has a broad reach. There are free online advertising options you can go for instead of paid packages and still make your eatery known to the world.
Not to mention, increased awareness leads to more orders and eventually more profits.
4. Sales Scale Up
Due to the vast reach of online marketing channels, you can draw more potential customers into your sales funnel and maintain the current ones at the end of your restaurant marketing campaigns.
Now that you know how crucial digital marketing is to your restaurant, you need to familiarize yourself with the best online marketing strategies for restaurants.
12 Best Online Marketing Strategies for Restaurants
Below are techniques you need to consider when planning for your restaurant's online marketing promotion.
1. Have a Perfect Website
Your restaurant's website is the face of your business in the digital world. When most customers search for products and services online, they depend on the business' website to gauge its credibility.
If your site isn't useful to your guests, chances are that they'll leave it for a more attractive one that suits their interests.
Therefore, your site should be functional, professional, and user-friendly. That is, visitors should be able to freely navigate your site and find basic information about your restaurant.
In addition, consider smartphone users by optimizing your site for mobile devices. Most people use their phones to access the internet.
Get a Sales Optimized Website for Your Restaurant
Free online ordering system included
Get Started
2. Post Professional Food Pictures
The second most important online marketing resource is your menu. You need to invest some time and money and take professional pictures of your menu items.
If you are doing this in-house, ensure you have properly researched the right equipment, such as a good camera for social media photos.
Use high-quality and mouth-watering photos on your site and other online forums to draw your customers' attention.
Posting your menu on social media platforms is a big plus in applying online marketing strategies for restaurants to your business.
3. Offer Loyalty Programs
As part of your online marketing strategy, consider creating a mobile app featuring a loyalty program. This will inspire your guests to download the app and keep checking it, so they take advantage of your loyalty program and its benefits.
You can offer visitors discounts or free purchases for a specific number of visits where they scanned their virtual card.
Alternatively, you could go for the ancient handout punch cards. They aren't as modern as the apps but can still express your appreciation for your customers.
4. Use Promotional SMS
You can send SMSs carrying offers or promotion codes to customers. Such text messages have maximum visibility and high opening rates, making them an effective online marketing strategy for restaurants.
Be sure to write a brief, straightforward and striking message to stand out in the floods of promotional and notification SMSs flowing into the receiver's inbox.
Remember to end your text message with a relevant CTA and phone number or a link to facilitate action taking by the recipient.
Also, you can identify inactive customers from your contact list and send them a welcome back message accompanied by a discount coupon.
Finally, you can use SMSs in delivery services to update customers on the status of their orders.
We recommend leveraging SMS marketing using platforms like Sender.net. It can help you merge SMS and email marketing campaigns to boost your outcome and brand awareness.
Here are few promotional SMS examples from other restaurants:
Domino Pizza
Satisfy your pizza craving! Only $19.99 for Domino's Perfect Combo – pizza, bread twists, & more. Code XXXX [link] STOP2 opt-out
Chili's
Chili's: Celebrate the weekend with a FREE Dessert! Valid thru Sunday. Reply STOP to cancel.
Red Lobster
Red Lobster: Order our mouthwatering seafood meals and earn 2X Points on your entire order from now through August 29th!
5. Use Social Media
Facebook and Instagram restaurant promotions are a detailed marketing strategy for your restaurant business.
As there are large numbers of people browsing these platforms countless times a day, gather as many followers as you can on your business account.
You can work with an influencer to achieve that goal, make catchy, relevant posts, and use hashtags to reach new customers.
If you are a first-time marketer with limited followers, reach out to more customers through ads.
Segmenting your list according to location, age, and interests and targeting each group with personalized information will make your campaigns more successful.
You might also like: 10 Facebook Ad Targeting Tips to Boost Restaurant Conversions
6. Keep an Eye on Review Websites
Most consumers base their decision on where to eat on the information they gather from review sites. Therefore, they mainly visit these websites to find out where to get their next meal.
Review sites build your restaurant's credibility with the buyers. As a result, they are one of the most influential and essential online marketing strategies for restaurants.
You should ensure that you register with as many review sites as possible to increase your visibility. This positively impacts your online presence and markets your eatery to customers who otherwise would not have known about its existence.
Take time to politely respond to the build-up list of both positive and negative reviews. This helps build your restaurant's status.
These review websites include TripAdvisor, Zagat, Zomato, and Yelp, among others. Read more about the restaurant review sites you need to be on right now.
7. Maintain a Solid Customer Database
Some of the most successful restaurant marketing strategies include having a detailed client database and understanding customer behavior, such as customer arrival.
Even as technological trends overtake the industry, the customer database is the foundation for implementing these trends.
With comprehensive data, you can effectively engage with your customers through tailored email marketing. It's easier to send all kinds of marketing emails when you have your customers' interests at hand. However, if you are sending emails to a large group of contacts, use a DMARC record checker in order to ensure email deliverability.
Usually, restaurants automate this process through platforms that allow them to create promotional email campaigns, such as Sender.com. It's easier to use such a tool to manage all of your contacts in one place.
8. Promote Limited Time Menu Items
Inform your customers of new, limited-time menu items by posting mouth-watering photos of these dishes and beverages on your Facebook page.
The posts should have a detailed description of the new item and let your customers know its availability is temporary.
You can also create a contest out of the new menu items. In this case, introduce two new menu items, encourage customers to choose between them, and permanently add the winner to your menu.
Such exercises will make your customers happy with your menu and, at the same time, keep them engaged.
9. Use Interactive Videos
Digital marketers will always benefit from creating content write-ups. However, even with good written content, videos have become increasingly effective in customer engagement matters.
They can make your brand go viral and direct social media traffic to your restaurant. A large number of people watch videos on YouTube, Instagram, and Facebook daily.
It's interesting to note that approximately one-third of total internet users worldwide are YouTube users. Moreover, nearly 45% of internet visitors spend at least 1 hour per week watching video content on YouTube or Facebook.
With this in mind, interactive videos are worth incorporating into your restaurant's online marketing strategy.
10. Digitally Market Your Brand
Use captivating tales to let your customers know what your brand stands for and help them understand the journey of your restaurant.
Spotlight your employees, such as the chef highlighting their experience in the industry. With in-depth knowledge of your business, customers can easily connect with you and not the restaurant as a cold business entity.
11. Offer Regular Discounts
Offering email marketing incentives to your client base can boost your sales and help you win back customers.
If you encourage your former customers to sign up for your newsletter by offering discounts, they might become interested and consider returning to your restaurant.
Those who sign up for your newsletters are likely to be interested in your menu too. You could send luring emails offering buy-one-get-one-free or free appetizer deals during their first return visit. For their subsequent visits, you can provide more moderate discounts like 10 or 15% off.
When you run out of restaurant promotions to try, download our Food Holiday Promotion Calendar for unique ideas for each month.
Every customer will flock to where they can save some cash, and regular discounts are an excellent way to drive sales.
Here is an email newsletter example depicting a special offer: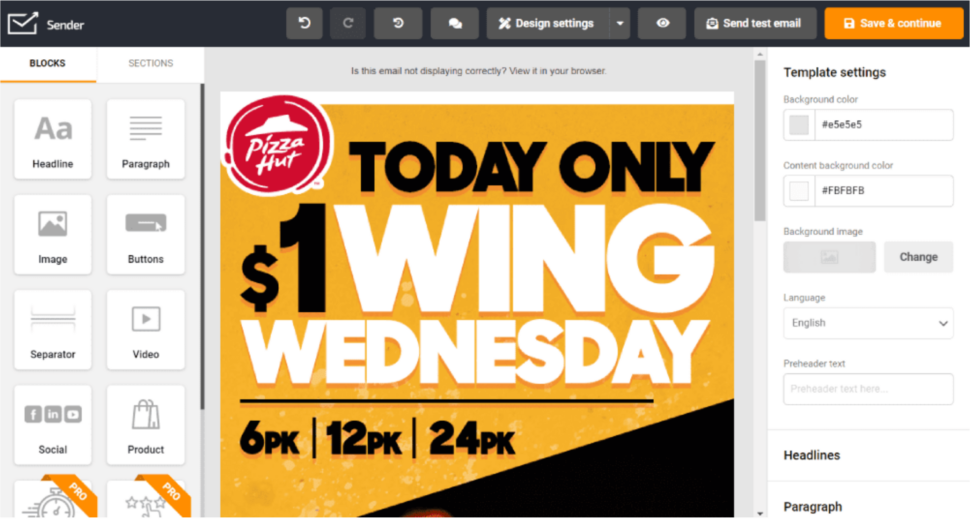 12. Host Special Events
Organizing special events in your restaurant is a fantastic way to bring new people to your establishment. It's also a great way of reminding people about your eatery.
For example, you can hold a new year's event and invite a local musician to entertain your customers.
For this purpose, send emails to your customers inviting them to the occasion and include all the necessary details to persuade them not to miss this opportunity.
This will encourage them to attend and bring colleagues, family, and friends. It will increase sales on that specific day, as well as bring new customers to your eatery.
Online Marketing Strategies for Restaurants Will Boost Your Eatery's Revenue
In a nutshell, digital marketing is the backbone of the restaurant business. So, to stand tall in this highly competitive industry, make online marketing your best friend.
This means that you have to go beyond tasty delicacies and high-quality services. To truly succeed, invest your time and resources in digital marketing strategies that can help bring more orders your way.
As a result, you'll remain relevant in the industry, and eventually, your sales and profits will scale up.