Daily Special Ideas for Restaurants & How to Create a Specials Menu
Daily specials have the distinct power to attract customers due to their limited availability. People who fall in love with a specific dish will return when their favorite dish is available, thus fostering loyalty.
Below, you will find food special ideas for restaurants to implement at breakfast, lunch, and dinner. You will also learn how to construct a specials menu in your restaurant and be able to download a template featuring daily special ideas for restaurants.
Creative Restaurant Food Specials
Breakfast special ideas for restaurants
If you're specializing in breakfast and/or brunch, or if you just want to introduce a breakfast menu to attract a morning crowd, here are some specials you can try:
Apple ricotta pancakes: Who can say no to fluffy pancakes?
Cinnamon rolls: A breakfast staple, customers won't be able to resist these flavorful treats.
Breakfast quiche: For those who prefer savory foods in the morning, this bacon, egg, and cheese option is to die for.
Soft scrambled eggs with truffle butter: Turn them into a light, savory custard and serve them with toast and a glass of orange juice.
West coast avocado toast: If you want to cater to vegans and vegetarians too, try this toast with hummus, sprouts, and avocado.
Lunch special ideas for restaurants
Is your restaurant located around office buildings? Would you like to fill up your seats during lunch hours? Create a lunch menu featuring some of these restaurant lunch specials:
American-style barbecue brisket sub: There's nothing heartier than a melty sub on a cold day.
BLT salad: Stand out in the crowd by putting a spin on the traditional BLT sandwich.
Halloumi nuggets with tomato chili jam: Who says halloumi can't be just as good as chicken?
Creamy leek, potato, and bacon soup: Top it with chives, sour cream, and crispy bacon bits, and it will become your customers' favorite thing on the menu.
Creamy shrimp pasta with sun-dried tomatoes: Easy to make and even easier to enjoy, this pasta is just what people need after spending a busy morning at work.
Read more: 10 Restaurant Lunch Ideas You Must Try to Attract More Clients
Restaurant dinner specials ideas
Dinner is usually the busiest time of day for a restaurant. Make sure your customers always leave your place satisfied by trying out these easy dinner specials for restaurants:
Barbecue chicken tacos with red cabbage slaw: The tangy pulled chicken combines excellently with the creamy slaw.
Shrimp and chorizo paella: Recreate the flavors of Spain with this iconic dish featuring shrimp, chorizo, brown rice, vegetables, and turmeric.
Skillet steak with mushroom sauce: Drown the steak in a mushroom, mustard, and broth gravy that will have customers coming back again and again.
Vegan eggplant parmesan: replace the traditional cheese with nondairy mozzarella cheese for a dairy-free experience.
Cheddar-and-onion smashed burgers: Don't forget to add at least one type of burger to your menu, like this melty, crispy one.
Daily Special Ideas for Restaurants (Template + Examples)
Here are some restaurant food special ideas that you can serve to attract customers to your restaurant any day:
Daily Specials (available only on the day)
Monday: Spicy fried chicken and fries
Tuesday: Stuffed pepperoni pizza braid
Wednesday: Frito taco pie
Thursday: Creamy chicken and mushroom soup
Friday: Asian tuna burgers with wasabi mayo
Saturday: Grilled calamari salad
Sunday: French toast stuffed with strawberries
Download our free template to create your own restaurant specials menu for every day of the week.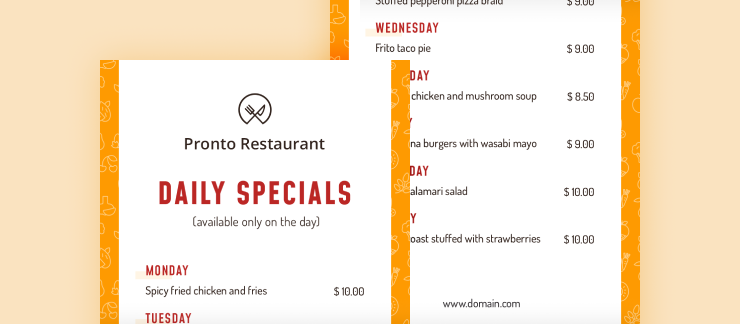 Here's how these daily specials could look on your online menu if you use our online ordering system.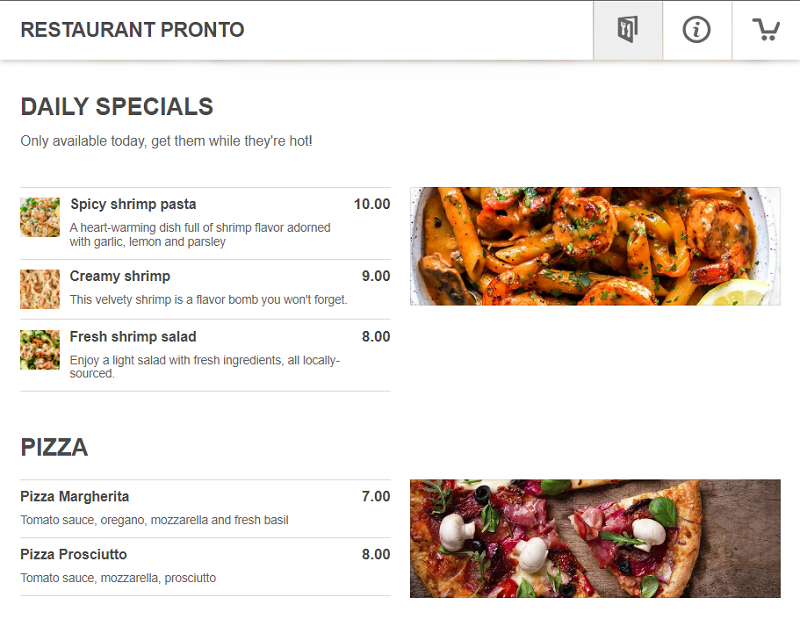 How to Easily Update & Customize Your Daily Menu (Video Tutorial)
If you update your daily specials every week, printing a new menu every time will cost you time and money. With GloriaFood's free online ordering system, you get access to an online menu builder that you can use to update your specials menu as you wish in minutes and publish it on your restaurant website.
Get a sales-optimized menu for your restaurant
It's free, easy to set up, and even easier to use
Get Started
Watch the video tutorial below to learn how easy it is to set up and customize your menu:
And if you want to use the same menu for on-premise dining, too, you can just generate a QR code for free, print it, and display it on your tables for customers to scan. Here's how:
Spice Your Restaurant Food Specials with Regular Promotions (Video)
The only thing that will make daily specials ideas for restaurants even more appealing is if you pair them with irresistible promotions.
For example, lunch specials work well in lunch bundles containing an appetizer, main course, and dessert for a fixed price.
You can also use specials to celebrate food holidays such as National Pizza Day. A couple of pizza specials at 15% off will immediately draw your customers' attention.
Read more: 15 Unique Restaurant Promotion Ideas that Will Increase Loyalty in 2022
Using the promotions module we offer, you can set up any kind of promotion you can think of and add it to your menu in minutes.
Free promotions module for restaurants
Use our promotion templates to set up any promotion you want
Start Now
Take a look at the video below to learn how to attract more customers to your restaurant with targeted promotions.
Final Words
Now that you have many daily special ideas for restaurants at your disposal and know how easy it is to put together a specials menu for your restaurant, it's time to get to work.
Singing up for our free online ordering system will transform all that hard work into a minute-long task you can get done on your lunch break.