Lunch restaurant ideas to increase your sales:
Did you know that 90% of people buy lunch at least once a week? And 63% of them choose to buy lunch at a nearby restaurant? For the working population, buying lunch is often the best solution, as it gives them more time for themselves.
Bringing lunch to work may be more cost-effective, but it takes time and skills many workers don't have. Therefore, their need for food around 12 o'clock is a great opportunity for your restaurant to attract more clients and increase sales.
As a restaurant owner, you may focus your marketing efforts on the dinner crowd, but you can't ignore the benefits of also catering lunch hour specials. In this article, you will find ten restaurant lunch ideas you must try if you want to grow your business:
Why you should try restaurant lunch special ideas
Let's face it, a typical restaurant is usually empty at lunch hour because all the regular clients are at work. Unless you are located near an office building, your team is pretty much on break until 5 pm. Check out the benefits of implementing some fun restaurant lunch ideas:
You get more clients: if you come up with a lunch special, workers will be tempted to either take their lunch break at your restaurant or order from your place;
You make more profit: more clients, more money. If you promote your restaurant lunch ideas efficiently, you will see your profit grow steadily;
You increase the restaurant's visibility: by marketing your restaurant lunch ideas, you reach a bigger audience that can be converted into clients.
10 Lunch special ideas for your restaurant
If you want to attract the lunch hour crowd, you can't just keep the same menu, make two posts on social media, and hope for the best. You must constantly try new restaurant lunch ideas, promote them, and monitor their efficiency to get the best results.
We are here to help you with ten lunch restaurant ideas that will surely bring you more clients in the middle of the day.
1. Offer a fixed menu lunch price
Workers aren't looking for a true restaurant experience during lunch. They don't plan on spending hours enjoying the food and conversing with their friends. It is more about satisfying a primal need, eating, in the allotted time.
Therefore, you must give the lunch hour crowd what they are looking for: fast service and a decent price. Both combined result in a fixed lunch menu. Here is how to create the perfect pre-fixed lunch menu:
Give clients 2 or 3 options: workers don't like to waste time going through the whole menu to decide on what to eat, so two or three options are enough. Try to make at least one of them vegetarian to cater to everyone's needs;
Change it often: keep clients coming back every day by allowing them to taste new dishes every so often;
Keep the price low: check out your direct competition and come up with a price that will tempt people to order, not make them wonder why it is so expensive;
Control your portions: because you are lowering the price, you need to balance something to make a profit. The solution is to make your portions smaller, especially because the lunch menu usually involves two courses. You want people to feel full but not leave half-eaten plates behind.
2. Implement a 45-minute guaranteed lunch spot
Some people like to order food and eat it at home or in the office's kitchen, and some people enjoy the habit of eating their food at a restaurant. For both options, you need an efficient online ordering system like the one from GloriaFood.
Time is of the essence for a worker visiting a restaurant at lunch hour. They can't waste three hours waiting for a menu, for the server to bring their food, and to pay the check.
What if you could guarantee them they could be in and out of your restaurant in less than 45 minutes? You can do just that with the table reservation and order ahead feature from GloriaFood.
Get more sales during lunch hours with table reservations!
Allow customers to pre-order their food when booking a table
Start Now
Check out this demo website to see how easy it is for clients to reserve a table, order their food and even pay for it before even stepping foot inside the restaurant. All they have to do is click on the "Table Reservation" button on your website to start the process: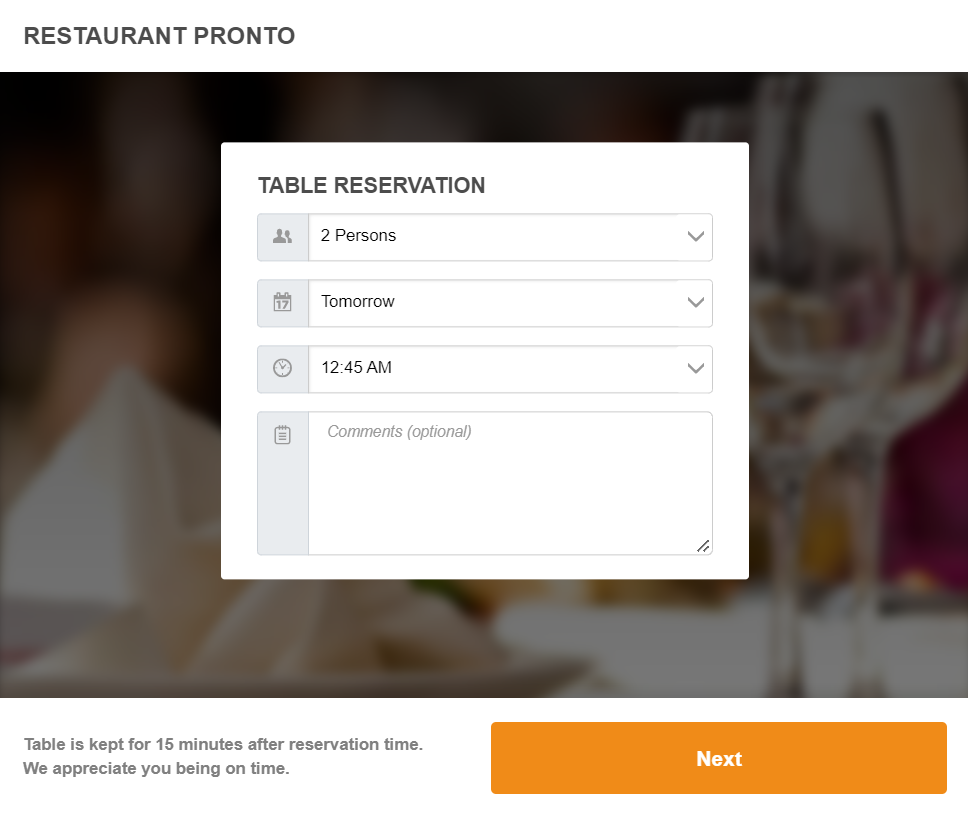 After selecting the number of people and the time for the reservation, they must click Next to access to next screen. There, they have the option that will save them precious time at lunch, Order Ahead.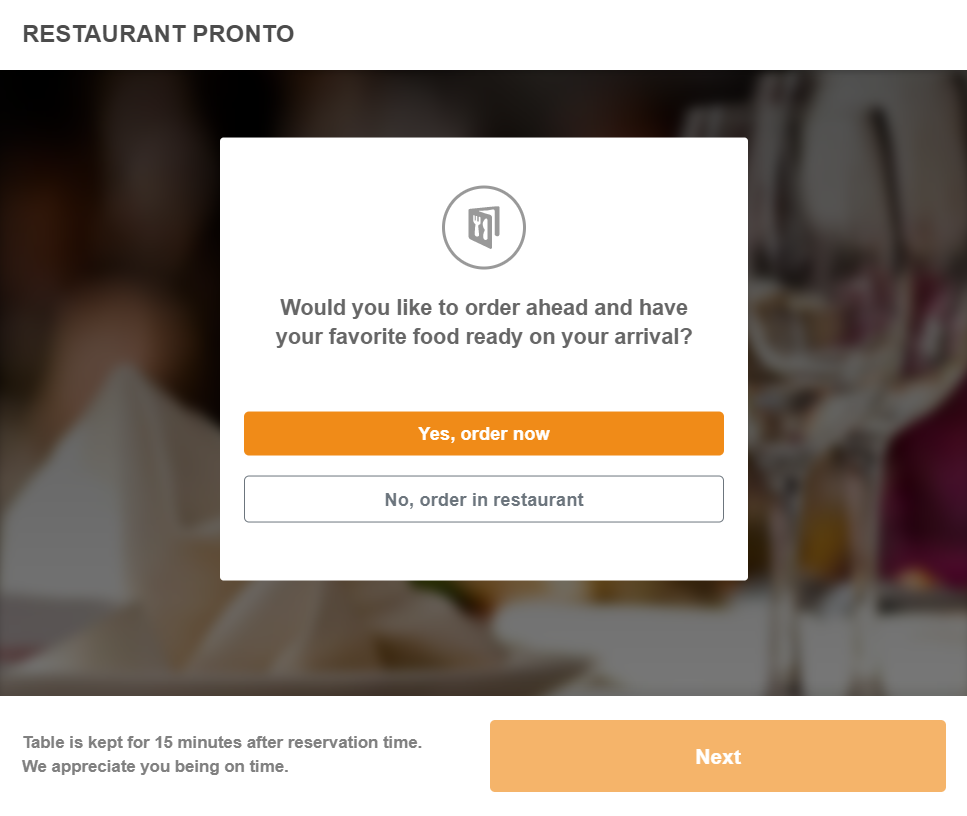 If they want to order ahead, they can select everything they want to eat on the next screen, which is actually your online menu, where your menu items and lunch specials will be easily accessible.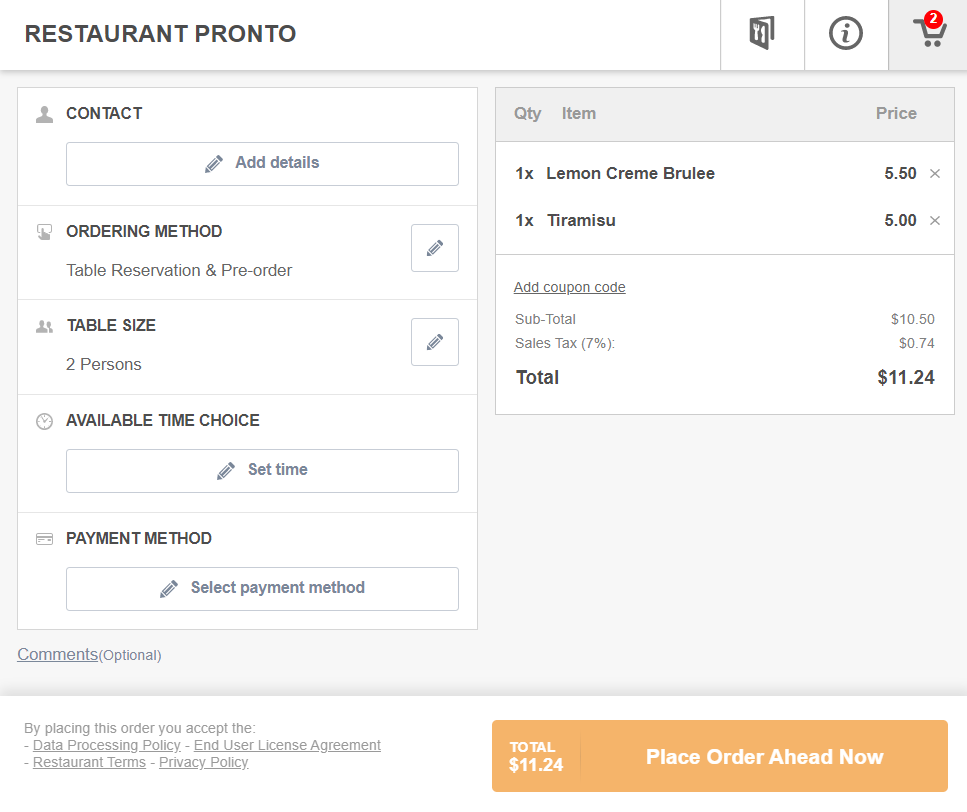 Afterward, they can select the preferred payment method. If they want to save even more time, they can pay online or wait and pay for the food at the restaurant.
The great part is that this ordering ahead option comes at no cost for you, and it is extremely easy to implement. All you have to do is sign up for GloriaFood, fill in the important information, create a menu and then go to admin -> Setup -> Services & opening hours -> Table reservations to allow people to book a table and pre-order.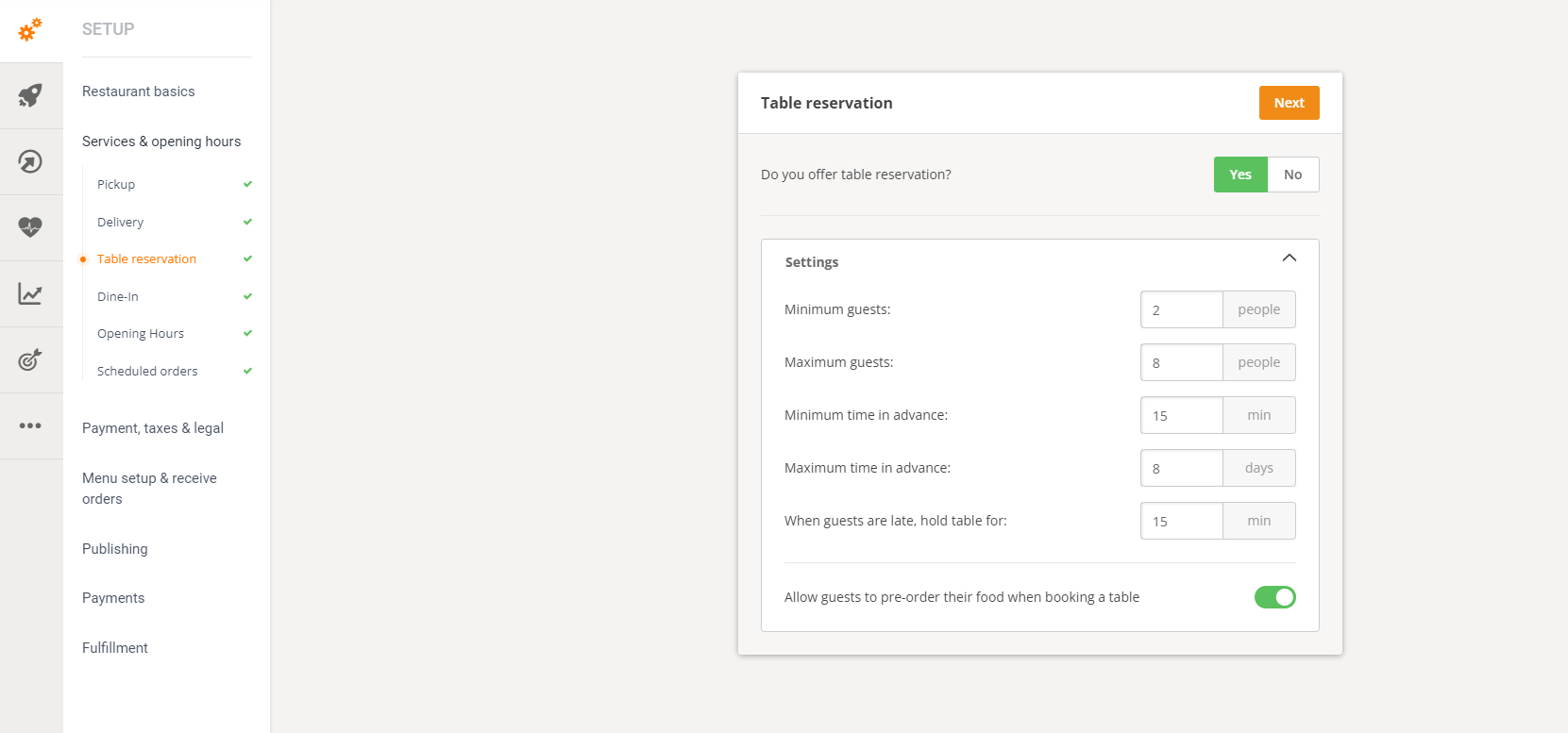 3. Implement the "Buy one, get one free" promotion
To get people to visit or order from your restaurant at lunch hour, you need to incentivize them. And what better way to do this than offering something everyone wants: a great promotion?
If you want to create hype around your restaurant lunch ideas, you can start by implementing a "buy one, get one free" promo. Specifically, offer a free lunch menu item for every lunch menu item purchased.
You can do this easily by utilizing the promotions module that comes with the free online ordering system from GloriaFood. All you have to do is go to admin -> Marketing -> Promotions, choose the "Buy one, get one free" promotion and set it up.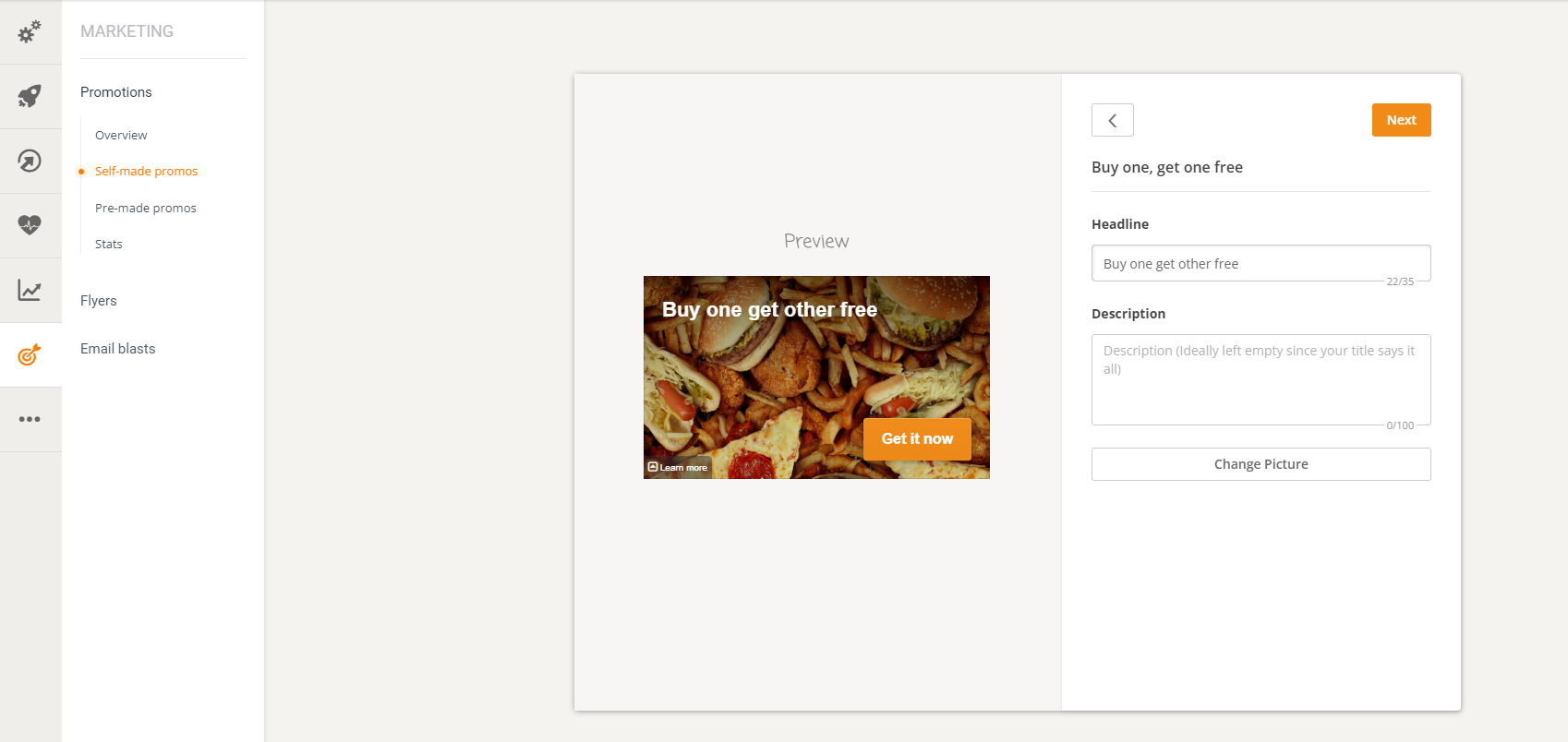 Once set up, the clients can see the promotion at the beginning of your online restaurant menu, so they will be tempted to order it every time they check your menu items.
4. Offer free delivery for the office crowd
When working in an office, people often like to order from the same place so they can skip paying for the delivery. Encourage them to pick your restaurant for their lunch by offering free delivery if they order over a certain amount of money.
You can advertise this promotion on your social media accounts, along with the items that can be served for lunch, so people won't be able to say no to the offer.
Setting up this promotion is easy with GloriaFood. Just access the Promotions module as shown above and choose the Free delivery promotion. You can choose the order amount, the time when it is applied, and other advanced settings.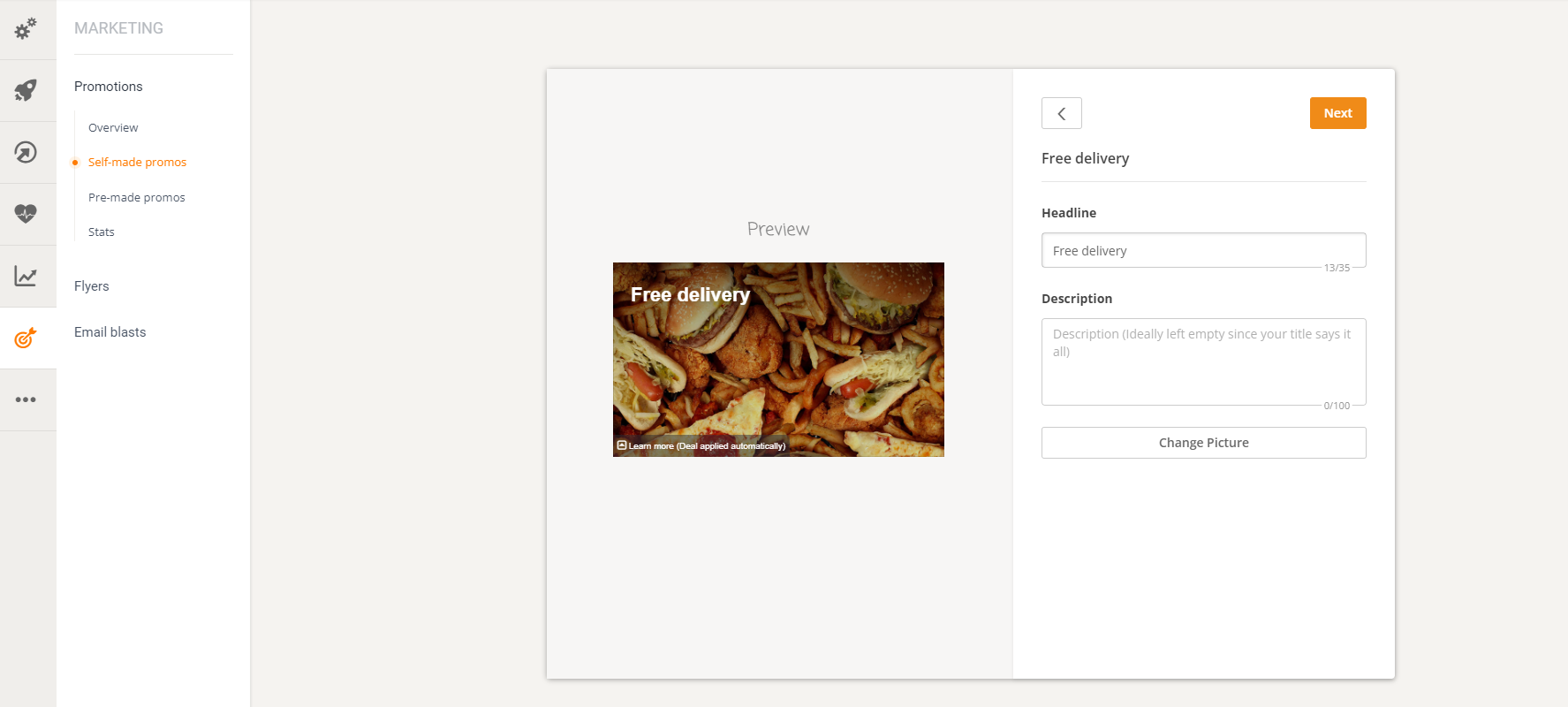 5. Implement promotions only available at lunchtime
Increase your sales during lunchtime by focusing your efforts on delivery sales. You can attract people by having some promotions available only during the lunch period, such as free dessert or a discount for certain items.
With the online ordering system from GloriaFood, setting up tried and tested promotions is intuitive. Furthermore, you can customize our restaurant promotion templates with advanced settings, such as choosing when a certain offer is available.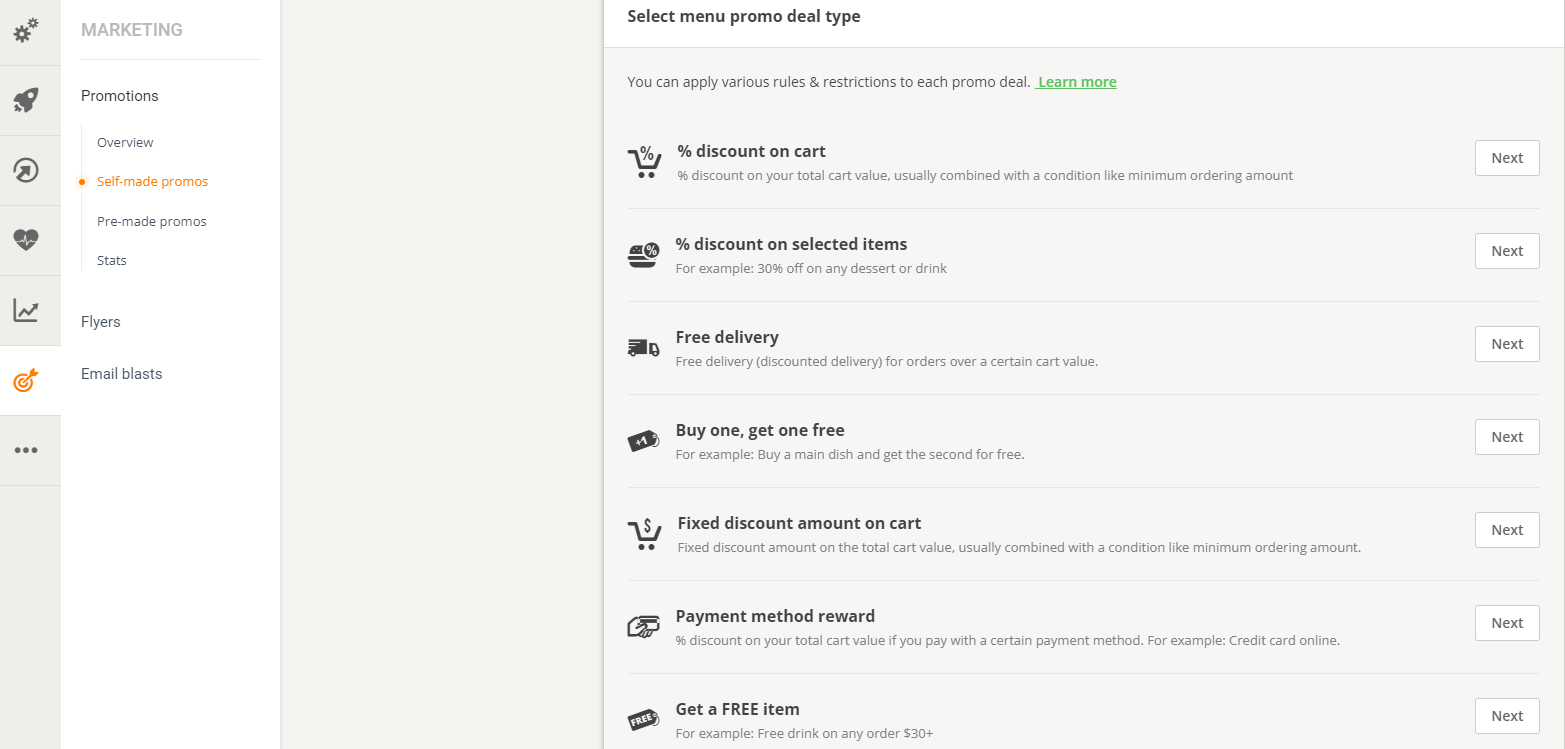 Read more: 10 Restaurant Website Promotion Ideas for Delivery & Takeout
Watch the video below to learn how to set up these promotions:
6. Offer student discounts
There is one more category that is interested in the lunch hour, besides the working class: students. They are notorious for always looking for the best food deals. Can your restaurant be their top pick?
You could either offer a 10-20% discount on lunch menus to anyone who can provide an eligible student card or create a cheaper menu with smaller portions that can only be ordered by students. Expand your audience and promote your student discounts on social media.
Read more: 15 Unique Restaurant Promotion Ideas that Will Increase Loyalty in 2022
7. Organize contests
Another way to get the word out about your lunch menu specials is to organize a contest on your social media channels. This will help you increase not only your visibility but also the number of repeat customers.
A great idea is to have people photograph themselves either at your restaurant or at home, enjoying your lunch menu. Afterward, they must post the picture in their story and tag your restaurant for a chance to win free lunch for a week.
You might also like: 20 Restaurant Contest Ideas That Will Delight Your Customers
8. Provide special discounts for pre-packaged to-go meals
Some people are so busy they end up eating their lunch at their desks. Some can only fit 15 minutes into their busy schedule for food. Get this category of people to be your clients by offering a pre-packaged to-go meal they can pick up on their way to work.
You will need a special display and transparent containers so customers can easily pick what looks best for them while they are in a hurry.
9. Create Happy Hour in the middle of the day
While workers may only have one or two free hours for lunch, they like to make the most of it. Create a fun atmosphere at your restaurant that will make them forget about work for a few minutes and will keep them coming back.
You can also get a blackboard or some other type of signage where you can announce your Mid' of Day Happy Hour offers. Not everybody can drink while on the job, so ensure you have some great mocktail options.
10. Implement a loyalty program to collect points for a free lunch
To help your restaurant succeed, you need to both attract more clients and create repeat customers. You need to give clients a reason to keep coming back to your place. Loyalty programs are a great motivator.
It doesn't have to be complicated. It can be as easy as a sticker card. For example, every new client gets a sticker card and a sticker for every lunch menu they order. When they reach ten stickers, they can get any lunch menu for free.
Conclusion
For a high profit margin, you need your restaurant to be full every moment of the day, including the usually empty middle of the day.
Try implementing as many of the restaurant lunch ideas mentioned above as possible to see what works for your business. In time, your staff will have their hands full during lunch hours, and you will be happy to see your sales grow.