Facebook Marketing for Restaurants: Tips and Secrets
If you own your own restaurant, then you should know that you should market it on social media to gain more online exposure; and what better way to do so than by using a few simple tips of Facebook marketing for restaurants?
Writing the best Facebook posts for restaurants and learning how to run the best restaurant marketing campaigns has become a necessity.
However, don't worry; you aren't alone in your plight. This is an all-too-common problem as restaurants want to engage with customers and use social tools to boost foot traffic. They know that social media is the way to do that, but they aren't sure how to actually do it.
Including more social media in your marketing strategy boosts awareness of your restaurant. It improves engagement with your food, and ultimately leads to more diners walking through your doors. Here are 10 easy ways to implementing your restaurant Facebook marketing.
What is Facebook Marketing?
Facebook marketing is the process of promoting your brand and maintaining a consistent presence on Facebook. It may be entirely free, which would involve posting, replying to comments, and interacting with your followers, or it can also be paid if you invest in Facebook ads or boosted posts.
Facebook Marketing for Restaurants: 10 Tips & Secrets
1. Keep your customers engaged
This is something that is going to seem obvious to anyone who has been promoting their restaurant for some time. The first thing you need to do to be successful with Facebook marketing is to understand your audience.
The best restaurant social media accounts are the ones that understand their audience and know who they are speaking with. You need to think like your customer and learn why they would want to follow you and visit your restaurant. Craft your social media strategy around those ideas.
Do you want people to consider your restaurant the local hotspot in the neighborhood? If so, you'll need to have a tone that you consistently use across all social media channels. It should be a friendly and neighborly tone.
You can post pictures of your loyal employees – people that you've been working with, side-by-side, for a long time – people that are now friendly faces for your customers or who are even on first-name basis with your customers.
Want to be known for your excellent food? Build a social media strategy around your chef and the food they create:
Talk about the ingredients they use: the trend of using organic, bio, or locally sourced ingredients has become quite the hype
Post videos of your chef and sous-chef cooking your most famous foods
Post pictures of them having fun at work
Let your customers know that they can also hire your restaurants for private events: birthdays, office parties, etc.
Re-post images of your most loyal customers & thank them for their visit
Advertise your new foods or drinks in the menu, etc.
2. Start taking orders on Facebook & rearrange your Facebook tabs
As you can see from the image below, Facebook also provides you with the opportunity to add an online ordering button on your page. For instance, check out the page of our restaurant demo below: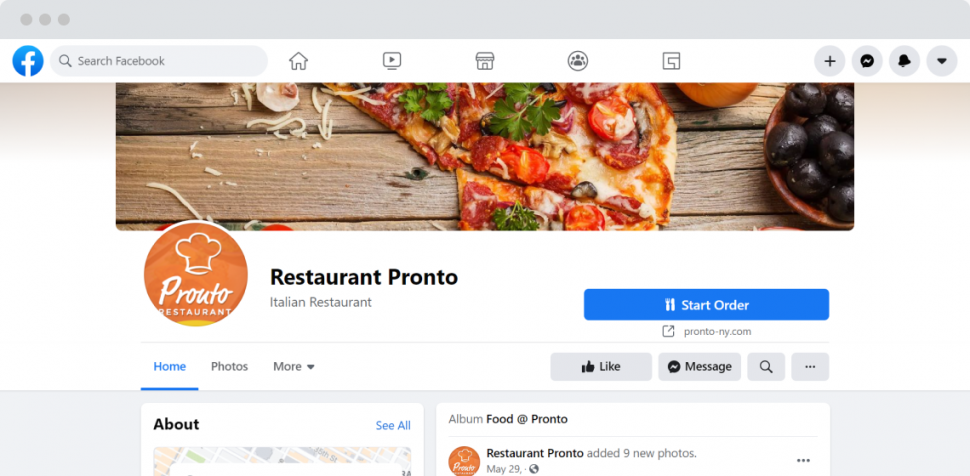 Related:
You'll see that using our online ordering system with an integrated Facebook food ordering system will enable your customers to start placing simple and fast orders, just by visiting your Facebook page.
You can also use Facebook tabs to further entice people. The most important ones are the first four. These show up without a visitor having to click on "More." Choose tabs like "Reviews," "Events,"and "Community." In addition, you can also like your other social media accounts like Instagram, Pinterest, and Twitter.
3. Share Mouth-watering Photos of your Food (Make Them Crave Your Dishes)
Restaurant social media statistics show us that images are the most-shared type of posts on Facebook. If you aren't sure about what to post, you can't go wrong with posting some delicious looking food. Make sure you share lots of images of the delicious items on your menu and consider creating a look book of your current menu.
4. Have Exclusive Facebook Restaurant Offers
You should provide your followers with some exclusive offers to increase your retention rate. In fact, restaurant offers should be at the heart of your social media strategy. You can start by offering them 15% discount when placing their first online order.
Or here's another example: Punjabi Palace has a well-established promotion in place. Every Wednesday, they offer curry + free rice for just $12.95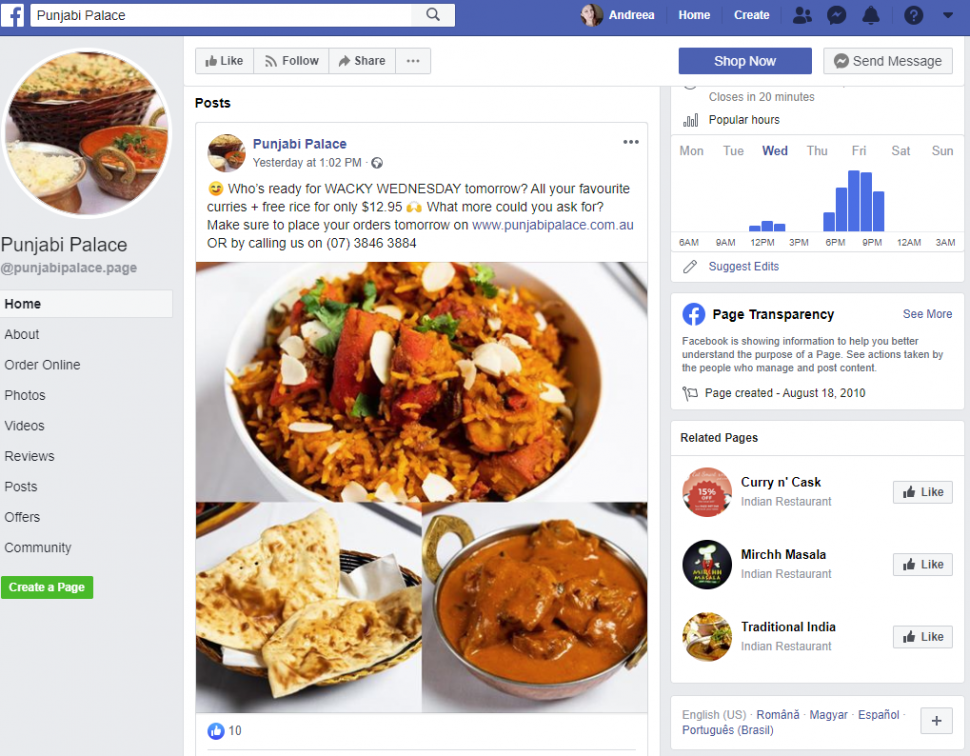 Related: Halloween Restaurant Promotions You Should Try This Year 
5. Hold Contests
Another great idea for Facebook is to have contests or sweepstakes. They generate a lot of excitement, are very social events, and they encourage people to keep coming back to your social media page – not to mention your actual restaurant.
Related: Restaurants using social media successfully
6. Geo-Target Your Ads
There's a lot of neat things you can do with Facebook ads. That includes being able to target specific areas. This is ideal for restaurants. Ideally, you want to get the ads seen by people who can actually visit your restaurant after all. You can also target ads for users who have liked certain pages and certain things. In addition, you can even geo-tag posts, which is ideal for restaurants that have several locations.
If you have a themed restaurant, such as one built around a sport, then you can target your ads to people in the area that have liked pages related to sports. The choice is almost limited and this geo-targeting ability is one of the key reasons why restaurants need social media.
7. Include Videos in Your Shares
Videos are great when they are embedded into updates or tabs directly. A great example of a Facebook post for restaurants would be a video of the chef preparing a meal. If you've done an interview with someone involved in the restaurant (including happy customers!), then feel free to share that as well.
8. Be Transparent & Admit when You're Wrong
No restaurant is perfect. You won't knock it out of the park each and every time. With that said, you should always be transparent and do your best to respond to customers as quickly as possible. Quickly resolving a situation is something that separates good restaurants from the bad. Below we've got a great example of how Jimmy John's responded to a customer quickly to resolve an issue and regain the customer's trust.
It also helps to avoid playing favorites with people who have large social followings. The average user on Facebook has around 130 friends. Just because someone has more or less than that doesn't make them any more or less valuable of a customer. Make sure that you respond to people in a timely manner no matter how many followers they have. Aim to respond to as many people as possible too, whether they have something positive or negative to say.
Related: How Diners Choose Restaurants: The Importance of Customer Reviews for Restaurants
9. Responding to Your Customers is Key
Engaging with the audience is something all the best restaurant Facebook pages want to do. At the same time, you also want to show your audience how engaged you are, too. Make sure that you address their concerns, answer their questions, and acknowledge when people post on your page. It takes time for them to do that, and you should respect that time, even if it's just a simple thanks or other small remark. Never underestimate the power of the magical words "Please" and "Thank you".
10. Tell Your Followers about Your Legacy & Culture
As a restaurant, you've been put in a pretty unique situation. You have the chance to showcase your food and recipes to people. You can teach them about where a dish comes from and showcase how it is made. This is content that never gets old.
Plus, it doesn't even need to be original. There's plenty of content out there on YouTube. All you have to do is find it and put in front of the audience. Funny restaurant posts get a lot of attention, but there are more ways to give value to people than making them laugh. You can even educate your fans about your own restaurant through a simple "About Us" content for restaurant – where you share your story.
Related: Restaurant Marketing Tips Proven to Attract More Customers
Practice Effective Facebook Marketing for Restaurants Today
One of the best things about restaurant Facebook marketing is that there are so many different tactics to employ. The best restaurant Facebook pages have a wide variety of content, from funny restaurant Facebook posts to "how-to" videos to interviews with staff and customers – and more. Take a look at some of the latest restaurant social media trends and employ these best practices for Facebook marketing for restaurants to take your marketing efforts to the next level! You can use a social media scheduler to schedule posts on Facebook in advance to optimize your content strategy.