Halloween is a scary yet frightfully fun holiday. This time of the year doesn't just make kids happy but also parents and adults. It is a nostalgic holiday, reminding everybody of their childhoods. This means restaurant owners can tap into this emotional, exciting holiday by running Halloween restaurant promotions and coming up with Halloween restaurant ideas like:
attractive Halloween menus
exclusive shows
themed parties and more
Each year, billions of dollars are channeled towards Halloween, and spooky-themed restaurants are all the rage. Americans spend $2.6 billion on candy alone, and this is unlikely to change this October, either. If that sum made you jump, let's show you how you can skyrocket your sales using a handful of Halloween restaurant menu ideas and restaurant promotions for October.
This article contains Coronavirus guidelines and precautions.
Halloween Restaurant Guide
Halloween Restaurant Promotions That Work
Halloween beverage promotion ideas
Menus inspired by fire, color, and zombies, work very well. For example, red-colored drinks are perfect for Halloween, as are drinks decorated with spiders and skeletons. Restaurants with Halloween drinks will be the talk of the town and creative Halloween drink names will draw customers even more.
There are plenty of Halloween restaurant promotions that will attract customers who want to enjoy a spooky drink. For example, sell 2-for-1 Vampire Punches for Haunted Hour or come up with other Halloween happy hour ideas.
Another fun Halloween promotion would be to greet your guests with a complimentary "vampire blood" shot in laboratory tubes or syringes:
For people who don't drink alcohol, think of some Halloween tea recipes served in creepy mugs. Rooibos is a sure bet since it looks like blood, it doesn't contain caffeine so that it won't keep people up at night, and it's delicious. As a Halloween treat, sell an entire teapot for the price of a cup.
Learn how to set up creative promotions from the video below:
Halloween promotions for bars and cafes
If you own a bar, you'd better step up your drinks game. Mixed drinks with high-proof alcohol and flammables that are ignited before consumption are high performers.
However, due to alcohol and fire combination, safety measures must be taken to avoid exposure of the bartender and patrons to hazards. No cocktails or mixed drinks should be consumed while the flames are still burning.
The best way to make a cocktail spooky is to mix it in a pot that looks like a cauldron and contains dry ice to create that "bubbling cauldron" look. For Halloween drink recipes, you can search for the hashtag #halloweencocktails on social media.
You can also brainstorm some bar Halloween party ideas if you feel like going all out. One of the easiest ideas you can use is to reward anyone wearing orange that enters your establishment with a free drink. Promote your Halloween party on social media.
If you want to make a Halloween-themed cafe this October, try these Halloween cafe ideas:
Decorate a Halloween cafe lounge where people can get their caffeine kick surrounded by spider webs and pumpkins.
Give Halloween names to your coffee specialties, like black goblin roast, Black Widow mocha, or Franken Frappuccino.
Create a Halloween drink menu using black and orange font, spider webs, or skeletons.
If you don't have any ideas for restaurant promotions, then be sure to check out our article 15 Unique Restaurant Promotion Ideas that Will Increase Loyalty in 2020. Simply replace your usual names with Halloween themed foods and drinks, and you're all set.
Halloween food promotion ideas for restaurants
You can turn any food into a Halloween-themed food, as long as you use your imagination. Even if you don't have dedicated Halloween dinner specials, you can rename your everyday menu items to sound Halloweeny. For example, spaghetti bolognese can become bloody snakes, and chicken wings can become bat wings.
There are many fun things you can do with pasta to make it perfect for Halloween. Here are some Halloween pasta recipes for inspiration.
Check out our list of Halloween menu food names below: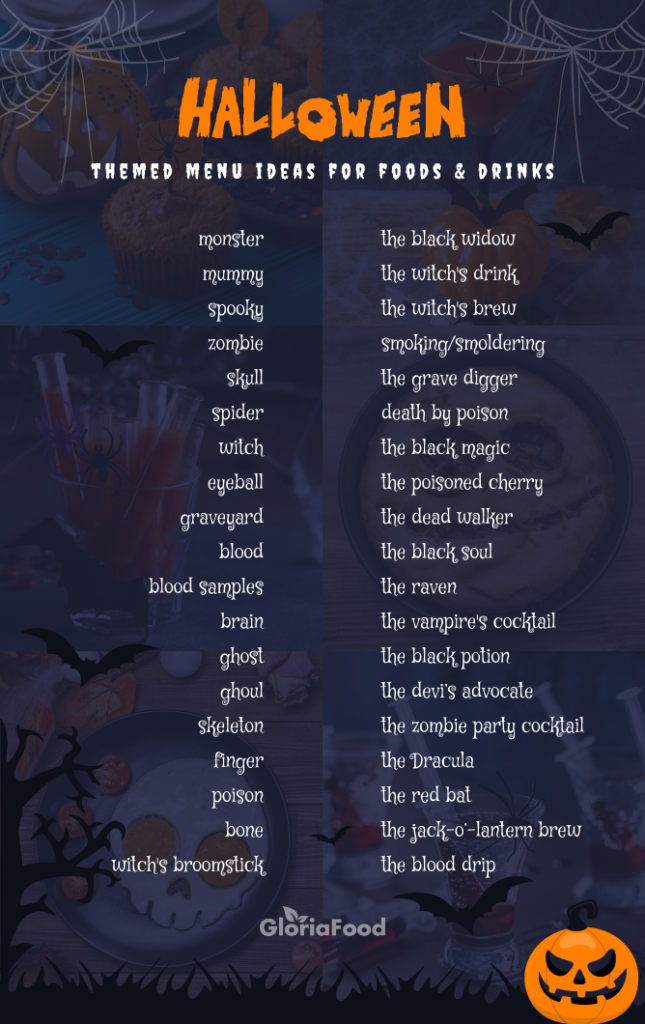 It's not difficult coming up with Halloween food and drinks. To appeal to customers of all ages, offer Halloween restaurant specials and food promotions like a 15% discount to people wearing a costume. Similarly, kids in costume could eat for free.
Consider some Halloween buffet ideas too and encourage people to bring their friends and family for a delicious lunch. Here are some dishes you could serve as part of your Halloween buffet menu:
spider cupcakes
monster wraps
pumpkin deviled eggs
coffin cake
monster pizza bites
Halloween delivery promotions
When brainstorming Halloween restaurant promotions, don't forget about people at home, especially now when some might not feel comfortable going out.
To make things fun and exciting for them too and make sure everyone is getting some Halloween food deals, include a restaurant gift card in every takeaway bag. Personalize your promotion for Halloween by writing something like: "Use this promo code by the 13th of November or you'll be cursed for eternity!"
A little goes a long way when it comes to Halloween restaurant decorations, so buy some spooky stickers and stick them all over the takeaway bag to give out that Halloween feel. Little details like this are bound to make customers happy.
Create Your First Halloween Restaurant Online Promotion
With GloriaFood's online ordering system, you can do that for free.
Start Now
Cash in current restaurant promotions later
After a busy Halloween evening, you might see a drop in your sales until Thanksgiving. But there's something you can do to avoid that. Take advantage of the Halloween food and beverage promotion ideas to boost your profits later.
Be proactive by handing out coupons on Halloween night that can be redeemed in November. They will be a fun Halloween treat for your customers and a belated treat for you – everybody wins.
Spooky Halloween Restaurant Ideas
When people get to your bar or restaurant, what they see and experience can motivate them to tell their loved ones about how super creepy and enjoyable the atmosphere is. Apart from Halloween restaurant promotions, here are some other restaurant Halloween ideas that will get people talking.
Decorate your windows to attract passersby
Start by dressing up your restaurant in Halloween outfits. A Halloween-themed window can ignite the curiosity of passersby, who will be more curious to check out your restaurant.
Let customers know about your Halloween themed restaurant from afar
One of the best Halloween decoration ideas for a restaurant is adding a few carved pumpkins on the rooftop so that people will spot your themed restaurant from afar.
If you have the budget for it and want to take it one step further, you can commission pumpkins branded with your logo.
Decorate your main entrance
Decorating a restaurant for Halloween can be easy! Just adorn your restaurant's main entrance with dry leaf branches and pumpkins. Add a warning message for your customers, along the lines of "Enter at your own risk" or "Turn back now."
Create your own Halloween pumpkin candle holders
If you're crafty, you can work on some creative and fun Halloween decorations for your restaurant to entice guests. For instance, you can easily create a Halloween pumpkin candle holder:
Besides, uniquely carved pumpkins are also a smart way to get customers to tell others about how great your designs are. Word-of-mouth will get you plenty of free publicity. Carving impressive pumpkin art such as an "I love beer" quote can serve as social media candy for your followers.
If you don't have time to carve the pumpkins, you can also draw faces on them, which takes considerably less time:
The ideas here are limitless, so be creative and offer something unique related to your business. If you can't come up with an idea, check what your competitors are doing.
Use spider web to decorate your restaurant
Spider web is one of the easiest and most effective Halloween decoration ideas for restaurants. Just stretch some white net on the bar and ceiling to create a cobweb-like experience when people come and ask about your Halloween restaurant promotions.
Place little accents everywhere
Since Halloween is shrouded in secrets and darkness, turn off the lights and make the menu creepy to spice things up. You shouldn't wrack your brain trying to come up with a unique Halloween promotion.
Just focus on the small stuff like orange and black tableware and glassware, creepy centerpieces, and everyday promotions with a twist.
Create a Halloween Instagram wall
Speaking of easy and profitable Halloween restaurant promotions, take advantage of people's love for selfies and Instagram by creating an Instagrammable wall where customers can take fun photos.
Find an empty wall and decorate it with creepy stickers, fairy lights, glow in the dark pumpkins, and whatever else you have handy. If you want to make it extra fun, provide guests with some photo accessories like scary masks, hats, novelty glasses, and so on.
Remember to write your Instagram handle somewhere close, so when people post their photos, they will also tag you.
Dress your staff in Halloween costumes
Your staff represents your business like no other, so consider having them dress up in costume if they're up for it. Off the top of my head, some Halloween costume ideas for restaurant workers would be Tim Burton characters, Frankenstein's monsters, vampires, zombies, or Hocus Pocus characters.
If you don't want to go that far, you can have them dress in black and wear a scary mask (besides the one they already have to wear) or a pair of wings.
If, on the contrary, you want to go big, you could hire a makeup artist to turn your staff into scary characters. Or, ask one of them to dress like a fortune teller and do tarot card readings. The money you gather can go to charity.
Implement several of these Halloween ideas for restaurant events
Welcome trick-or-treaters with candy and their parents with a gift voucher for your restaurant.
Throw a Halloween costume contest. The winners can get a free Halloween dinner at your restaurant.
Host a themed night. You can get your inspiration from famous spooky stories or haunted spots nearby.
Hire theater actors to perform a scary show for your customers.
Find Halloween events in your area, buy tickets in bulk, and then offer them with purchases.
Throw a pumpkin carving contest and reward the winners with unlimited booze for the entire evening.
Hire a murder mystery company if you feel like investing more money into an unforgettable Halloween evening at your restaurant.
Offer Halloween dinner party games
Besides Halloween restaurant promotions, a spooky menu, and creepy decorations, entertain your guests with some games such as a classic Halloween trivia night with questions from pop culture, TV, and movies, or a scavenger hunt around the neighborhood.
You can also play trick or treat using pieces of paper that customers have to draw from a witch hat. If they get a note that says treat, they get a free dessert, and if they draw a trick note, they have to sing a song (or whatever else "trick" you can think of).
Make it memorable for the little guests
Kids, in particular, enjoy Halloween. As a restaurant owner, you should make provisions for children's parties. Not only does this attract children but also parents to your business as they love seeing their kids have fun – who wouldn't? It's a triple win, for the kids, for the parents, and for you.
Let your social media followers know your restaurant is children-friendly this Halloween and that you accept trick-or-treaters. You can take this to the next level by having your staff dress up like zombies and witches and give out candy. Because kids tend to love scary characters, they'll find the experience more thrilling.
Don't forget to decorate the restaurant with balloons and pumpkins and organize contests like choosing the best masks. Play simple games with the children like a shooting pumpkin contest.
Keep the menu simple but rename and add some Halloween food decorations to the dishes to fit the occasion. For example, you can decorate pancakes with chocolate spiders. Browse some easy, kid-friendly Halloween recipes for inspiration.
Remember that family-friendly events are more profitable for you than promotions that last all night. Parents won't want to stay long, which leads to faster table turnover.
Go anti-Halloween
Whether you decide not to celebrate Halloween at all this year or declare just one area of your restaurant (if possible), a Halloween-free zone, you're going to find customers who love that idea too.
Some people are sick of Halloween, dressing up, going trick-or-treating, and seeing scary decorations everywhere. If you feel like your target demographic fits that description, you might want to tone it down with the Halloween vibes and do the exact opposite. Forget about Halloween restaurant promotions and make this night just like any other.
Halloween Menu Ideas for Restaurants
When browsing Halloween restaurant food ideas, it's important to know you don't have to do much to adapt your menu to this eerie holiday. First of all, serve anything pumpkin and pumpkin spice. There's nothing that screams Halloween more than pumpkin from Halloween pies to dip, beverages, soup, and candy.
Second, you can put a new twist on an old dish by adding some frightening decorations like orange and black food coloring, a spider web topping on tomato soup, and black spiders on a red velvet cake.
To attract all Halloween-loving people, you can split your restaurant Halloween menu into smaller events throughout the day:
• Halloween breakfast at the restaurant: an appetizer resembling a witch's finger and a bloody cupcake are a perfect snack for early risers who want to get in the festive mood;
• Halloween lunch at the restaurant: a free hour from work is enough time to get in the Halloween spirit with a red beet soup or some meatball spaghetti that look eerily similar to human eyes;
• Halloween dinner at the restaurant: here you can let you creativity run wild as people are done with their working day and are eager to see what themed dishes you have prepared.
If you still can't figure out what Halloween menu ideas for restaurants you should use, we've gathered some examples below.
You can start your Halloween themed dinner menu with these spooky appetizers:
A Halloween party food for adults that everyone can appreciate is pizza…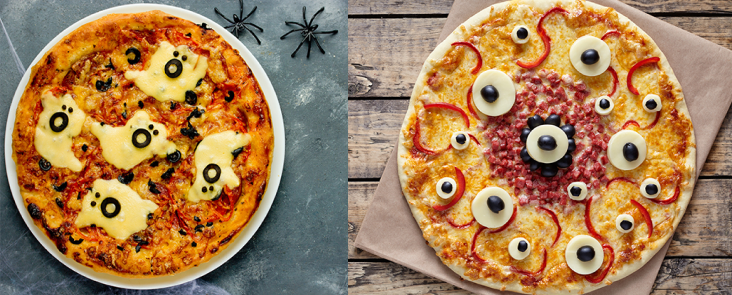 …but you should also offer Halloween recipes for adults who want to keep their figures such as salads and soups:
Savory Halloween food is not everything. Let's not forget some delicious restaurant dessert ideas for Halloween:
Don't forget to give your Halloween restaurant menu ideas scary names, like Ghostly Pizza or The Bloody Eye.
Download our free Halloween menu template
Leave your Halloween menu design to us! Whether you want to get inspired by these creative restaurant specials for Halloween or simply use the template and add your own dishes, we've put together a Halloween party menu template that you can download and edit as you wish.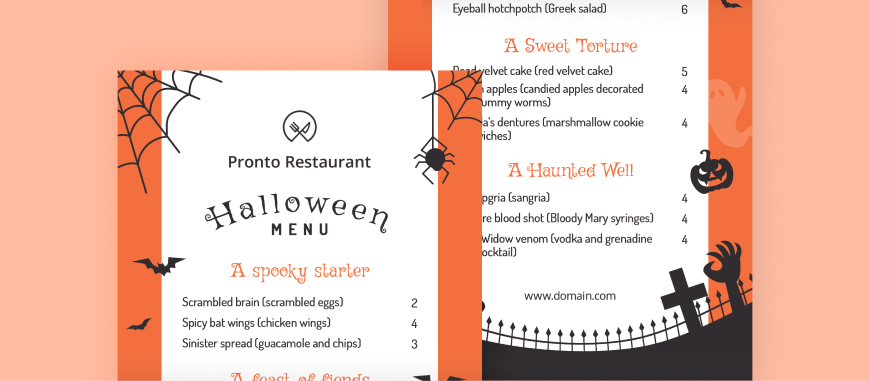 Share Your Halloween Promotion Ideas on Social Media
There are many marketing ideas to deploy before and during Halloween, including search engine and social media promotions. When patrons are searching for "Halloween themed restaurants near me" on Google or social media, they are usually looking for restaurants that offer something different, fun, and scary.
Capture your followers' attention by showing them some of the great surprises they will find at your restaurant on Halloween, like foods or drinks. Offer them sneak peeks into the Halloween restaurant promotions you have prepared for them.
Don't forget to also use Halloween marketing words that are catchy and will draw customers' attention, such as "fangtastic," "warm witches," or "boo-tiful." If you have the budget for it, try some Halloween-themed ads on Facebook.
Download our Halloween restaurant flyer templates
We have put together a few Halloween flyers featuring restaurant promotion messages that you can upload to your social media accounts. You can use them as they are or change the text.
Here are a few examples of Halloween advertising text: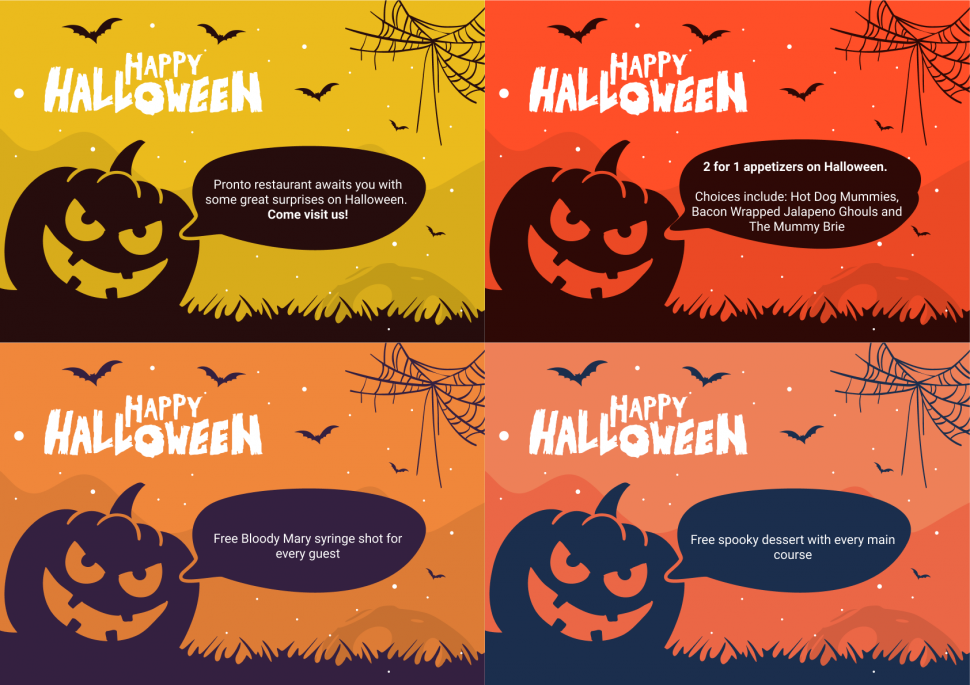 Halloween Restaurant Flyer Templates
Give out promo codes
Not only should you use social media for advertising your menu and drinks promotions, but you can also give out promo codes in advance. Halloween discount code ideas like "HalloweenFun" or "TrickOrTreat" will allow customers to redeem a free drink or appetizer on Halloween.
To get them into the Halloween spirit, live stream, or share videos of your Halloween-ish restaurant. Regular and consistent promotion of your decor, cocktails, and menu on social media can make your guests excited to come to our restaurant on Halloween.
Create a Facebook event and distribute invitations online
If you've decided to organize a Halloween-themed party, you should distribute invitations through online or local outlets. Ensure that invitation marketing campaigns are delivered a few weeks before the event.
To make it easier for people to see your event on social media, and help you get an idea of how many people want to attend, create an event on Facebook.
Offer perks for shares
If you want more people to find out about your Halloween extravaganza, invite them to share the event/post on their social media to get a freebie. For example, whoever shares your Trick-or-Treat Evening event will be able to skip the line on Halloween night.
Create a custom Snapchat Halloween filter
Did you know that you can create your own Snapchat filter for your restaurant location? That way, people who are snapping nearby and browsing through the filters might see it and decide to visit you.
Share the news on your website
People who visit your website should know what your plans for Halloween are, so don't forget to update your homepage to contain all the necessary information. That's where you can tell the world about all the fantastic Halloween restaurant promotions they can expect.
Make sure you also include keywords like "Halloween restaurant [Your city name]" on your website to be easier to find on search engines.
I.e., Halloween restaurant NYC
Coronavirus Guidelines and Precautions
This year's Halloween celebrations are very different from those of last year because of the COVID-19 pandemic threat. That said, depending on the laws and regulations in your area, you might not be able to implement all of the ideas above.
Our advice is to pick the most accessible offline marketing ideas for restaurants above and adapt them to the online world. For example, costume contests can also be held online and the gifts can either be redeemed when all of this is over or be sent via delivery. The same goes for most promotions we mentioned.
If you can't decorate your restaurant location with Halloween bits and pieces, decorate your website and social media profiles using banners, frames, and stickers. It's cheaper.
Put extra thought into your takeaway bags if you're mostly focusing on Halloween food delivery right now by decorating them, adding coupon codes, and even personalized spooky messages.
If you decide to implement most of these Halloween promos in person, make sure you prioritize your customers' and staff's safety. Everyone should wear masks inside, you should create hand sanitizer stations, maintain social distancing, and clean and disinfect surfaces regularly.
These measures will make things ten times harder to organize, but you can make them work with some extra effort and dedication. Plus, customers will appreciate the opportunity to have some fun, given the stressful times we all live in.
Conclusion
Organizing a few October promotions for your Halloween-themed restaurant shouldn't be a daunting process. It's about being creative, scary, and fun.
Most importantly, it's about creating an experience that your customers will love. Before decorating, make sure your ideas fit your restaurant concept. If your restaurant is family-friendly, don't overdo it with the scary stuff.
An effective Halloween promotion will consist of tailored Halloween food specials, cocktails, and events that target and attract the right people.
If you show your customers that they can have a great time at your restaurant, by using creative Halloween restaurant promotions and ideas, they are bound to be back and spend future Halloweens here as well.