What's the best way to make your clients feel very good about themselves the minute they set foot into your restaurant? And get them excited to return to you? Apart from good food, offering your clients a VIP-like experience is the master key to getting repeat clients. And booming your business. That is the main reason why we decided to first add the table reservation module.
Online VS Offline Table Reservations: How to Go About it
So how to take table reservations? What is the best way to do it? You see, taking table reservations via the phone is no longer the only way to do it. Because it doesn't allow you to grow your restaurant exposure and reach a very important customer segment: your younger online customers. Just those people who like to do things the traditional way.
But most importantly, more and more of your younger customers hate having to call to make a reservation. And they hate socializing.
It's a paradox: our society is evolving, yet we as human beings are regressing. One-on-one social connections are blocked out. In fact, one way or another, we have all made the transition towards being a bit more socially awkward. And became reluctant to talk to strangers. So we either end up not doing it at all, or we ask someone else to do it for us.
So what to do, what to do… And how to take table reservations then?
You may still not feel like you should give up the option of taking reservations via the phone. And you shouldn't. Still, the question remains: how to take table reservations in a way that your clients feel comfortable with?
Compromise. And choose the middle ground to please all of your customers. So, the best answer for how to take table reservations is fairly simple.
[bctt tweet="To satisfy each and every one of your customers, you should take online reservations both offline (your older and more conventional customers) & online (for your much younger, online audience)." username="gloriafood"]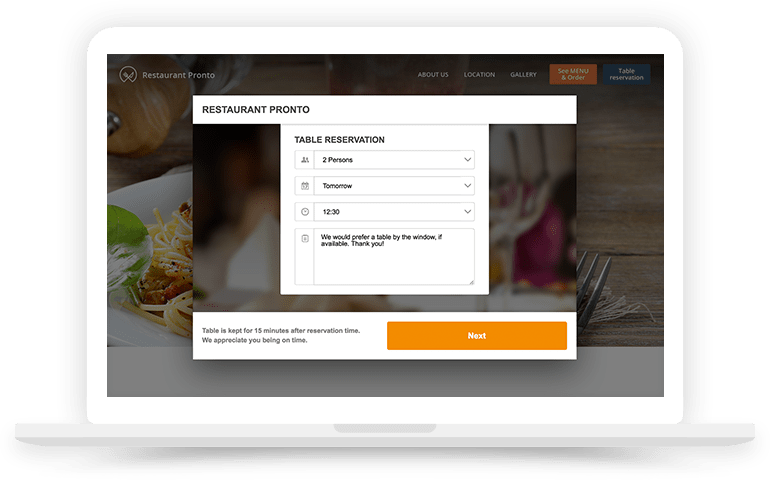 Taking reservations online is the new growing trend in the restaurant industry. A reservation is a token of exclusivity. Everybody loves to feel special. So, using this piece of info to your advantage will get you a foot in the door and will advance your business to new heights.
Because it will make your business "available" or "visible" to your online customers, who are all about convenience. According to landmark research conducted down at Cornell University:
"Restaurant customers appreciate the convenience of being able to make restaurant reservations online."

In fact, "a study of 696 restaurant customers found that nearly one-third had made an online reservation.

Those who made reservations online tended to be younger than those who did not, and online users also ate out more frequently.

Those who made online reservations considered those reservations to be significantly more convenient than telephone reservations, and the online users also thought that websites gave more information about a restaurant than what they learned by calling on the telephone."
And there's one other thing that the Cornell study revealed:
"At the same time, those online users felt that they had a better personal connection with the restaurant when they made telephone reservations.

This tradeoff between efficiency and service perceptions points to a strategy of offering reservations via both methods.

Emphasizing the convenience of online reservations may encourage customers to use the website, and that will give restaurant operators more information about their customers.

Whether a restaurant uses a third-party reservation service or builds its own website, one key to ensuring a successful reservations process is to make the electronic process as straightforward as possible."
And there's something else. You might find the online table reservation system open the door for easy online ordering, too. For both you and your customers.
You see, working with people is difficult. So using an online ordering system gives those who can't make up their mind about what to order the chance to take their sweet time. And it gives your employees the chance to preserve their mental sanity.
Related: Book more tables with this free reservation software
Why? Because those undecided customers won't keep your phone line busy and your operator about to commit suicide, waiting for him to make up his mind already. So by using an online ordering system, you're keeping the phone lines clear for your older clients who're not very fond of the technological acumen. And just prefer to hear your voice instead.
Related: Advantages Of Online Food Ordering System For Restaurants
Say goodbye to empty seats & open tables
Start taking table reservations by tonight with the free GloriaFood system
Get started
Additional Benefits Of an Online Table Reservation System for Restaurants
To grow your business and restaurant sales, you need more clients. That's a fact. And having a table reservation system for restaurants in place is definitely the way to go about it. Because it…
Signals you every time you receive a table reservation -> all you need to do is just go about your daily tasks and let the system do its job of notifying you whenever you get a new request for a table booking
Eliminates human errors -> there's no room for mistakes since the customer himself will write in all the details for the table reservation
Saves your staff time: requires little time for your staff to confirm the booking
Helps your kitchen staff function run optimally. They can prepare in advance and not be caught off guard when without-reservation clients walk into your restaurant
Helps you avoid food waste (and not throw your money down the drain)
Keeps your guests happy and satisfied since they won't have to wait long hours to be seated
Choosing the Right Table Reservation System for Restaurants
So how to take table reservations? What apps to use?
There are plenty of options out there, mostly paid (with very few actually being free). However, moving to a paid service is completely not advisable. You pay a fee for every single reservation, including every single one of those that doesn't come through. How wrong is that?
Plus, by allowing them to feature you on their website, you're basically handing them control over your restaurant. In a nutshell, you're helping them grow and possibly raise their table reservation fees, and ultimately… strip small restaurant owners of their hard-earned pennies.
And then there are other table reservation systems out there who also charge you even if customers made the table reservation directly on your own website. That's their way of making money out of thin air.
It doesn't seem fair, right, for them to be making money out of your own website, does it?
Now, let's see what we can bring to the table in contrast with other well-known table reservation systems out there.
How To Take Table Reservations with the GloriaFood Table Reservation System for Restaurants in 2 Easy Steps
Step 1: Simply place the "Table Reservation" button at the very top of your homepage, by copy and pasting a piece of HTML code onto your website [the code is within your Admin account on GloriaFood].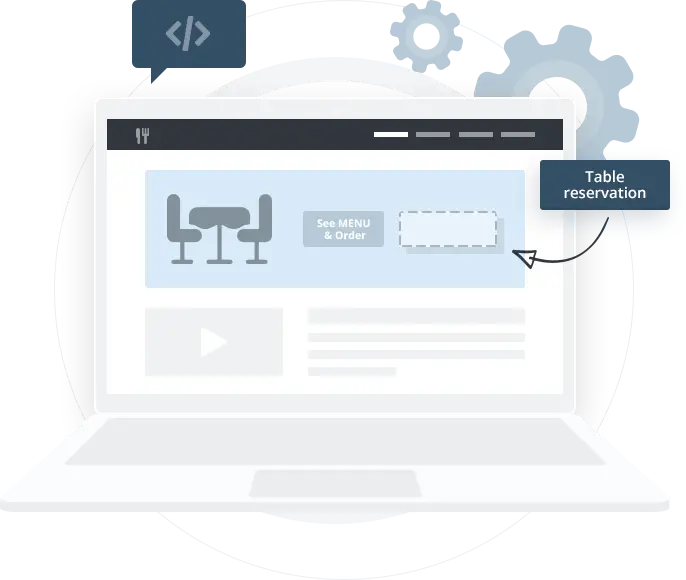 Step 2: Start taking online reservations by tonight, by turning your app into an online reservation taking machine. Simply install the GloriaFood app on your phone to make this happen within seconds.
How do restaurant reservations work?
Clients will click on the table reservation widget on your website and will open a simple and intuitive form which they'll fill out with all the booking related details.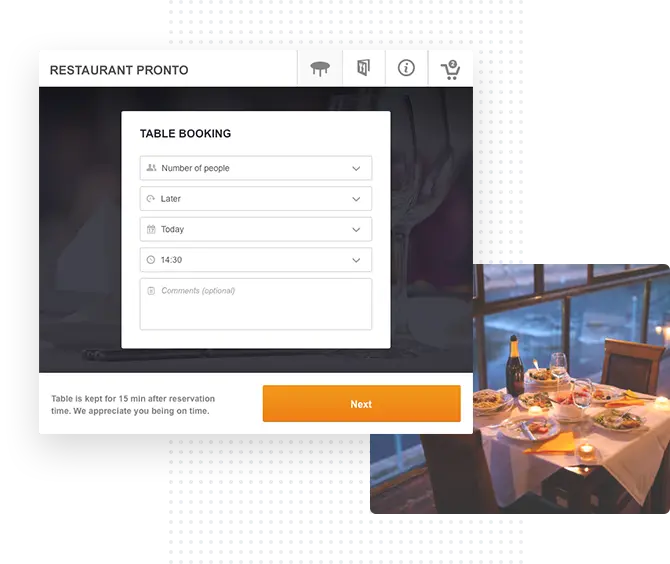 You'll then receive instant alerts on your Android or iOS device via our free GloriaFood app, which will allow you to confirm orders & table bookings at the tap of one click.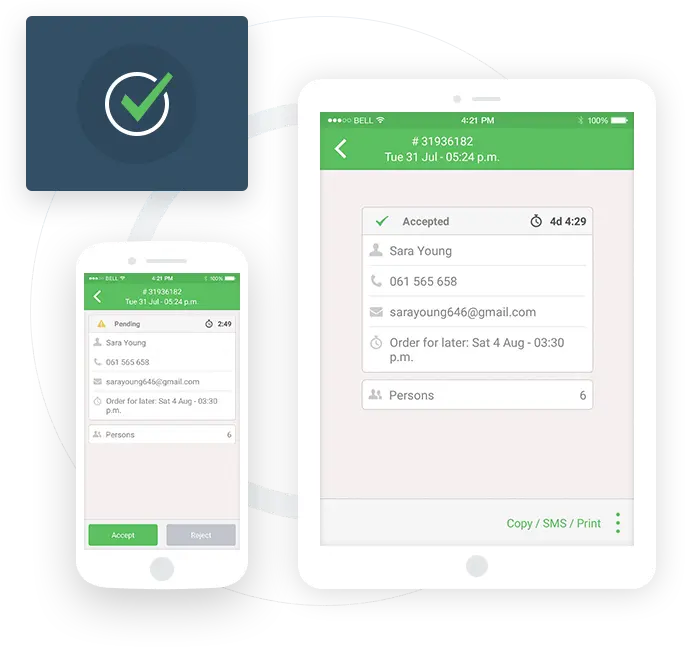 Take It One Step Further with The GloriaFood Table Reservation System for Restaurants
So why is our table reservation system free? Because restaurant fees – like a dollar a head – really add up. And the fact of the matter is that these fees simply don't work for low priced restaurants. But do you know what does? A 100% free table reservation system for restaurants, like ours is.
Plus, by combining our table reservation system with the "Order Ahead" feature, your customers can now pre-order food from you and have their meal waiting for them at the hour that they choose.
Related: How Restaurants Can Profit from Taking Food Pre-Orders
Considering that this great combo enables you to prepare yourself for their arrival, you get to treat and make them feel like actual VIPs. You see, once they set foot in your restaurant, you can walk them to their table (so no more waiting time), let the waiter know that they arrived and deliver the food that they pre-ordered to their table within seconds.
By combining these two features, you'll be able to greatly minimize the no-show percentage rate.
You'll make it easy for people to come to you. You'll make them feel like a million bucks. And this will greatly skyrocket your customer satisfaction rate. So that will make it rain with 5-star Yelp and TripAdvisor reviews.
As a restaurant owner, you need to be working smart, not hard. So, the answer to how to take table reservations without any money coming out of your pocket is simple. Start using our free table booking system and enjoy all the perks that come with it.