Increase your sales by taking restaurant reservations
Do you know what makes a client choose a specific restaurant besides the food? The convenience. If you want to increase the number of dine-in customers, you must not only give them an amazing eating-out experience but also an easy way to book a table.
While you may have some walk-ins daily, the bulk of your sales will rely on people who reserve a spot in advance. Furthermore, table reservations make it easier for you to schedule your employees and manage your food costs.
Let's find out how table bookings can help your restaurant thrive and how to take table reservations the easy way.
Main types of table reservation and which one is best
For a client to book a table, they need a means to reach you to let you know their desired time slot and the number of seats. Therefore, there are two main types of table reservations:
Offline table reservations: this is the way people used to book a table in the past when technology was not evolved enough. The downside to offline table reservations is that it opens up your business to human errors. What if your staff forgets to write down a reservation, they take the wrong hour, or nobody even answers the phone? You lose clients. It may be time to leave phone reservations in the past and choose a more convenient way to accept table bookings.
Online table reservations: this is the best answer to how to take table reservations if you want customers to keep coming back to your restaurant. 79% of diners check a restaurant's webpage before dining out, so this is the best place to allow them to make a reservation. Look for a table reservation system that allows people to book a table with just a few clicks on your website, with no unnecessary phone calls or messages that can lead to errors. Your staff will then be able to confirm reservations from an easy-to-use app, fast and with zero effort.
The benefits of a table reservation system for restaurants
To grow your business and restaurant sales, you need more clients. That's a fact. And having a table reservation system for restaurants in place is definitely the way to go because it…
Signals you every time you receive a table reservation: all you need to do is just go about your daily tasks and let the system do its job of notifying you whenever you get a new request for a table booking.
Eliminates human errors: there's no room for mistakes since the customer himself will write in all the details for the table reservation.
Increases your sales: restaurants that have implemented an online reservation system experienced an average increase in reservations by 20%.
Saves your staff time: requires little time for your staff to confirm the booking.
Helps your kitchen staff run optimally: They can prepare in advance and not be caught off guard when many clients walk into your restaurant without a reservation.
Helps you avoid food waste (and not throw your money down the drain).
Keeps your guests happy and satisfied since they won't have to wait long hours to be seated or to receive their food. Furthermore, 34% of respondents to a study indicated that they are most likely to choose restaurants that offer online reservations.
Helps promote your restaurant: 58% of Gen Zs state they are more inclined to visit a restaurant if they discover on social media that they can make a reservation instantly.
How to take table reservations in 5 easy steps
How to take table reservations the easy way? Install the free table reservation system from GloriaFood! You not only get a great tool to create convenience, but you also get access to extra features that prevent restaurant no-shows.
Follow these easy-to-implement steps to start accepting table reservations online in no time:
1. Sign up on GloriaFood
Start your online table reservation journey by creating an account on GloriaFood. You will have to provide some basic information about your restaurant, such as address, type of cuisine, contact info, etc.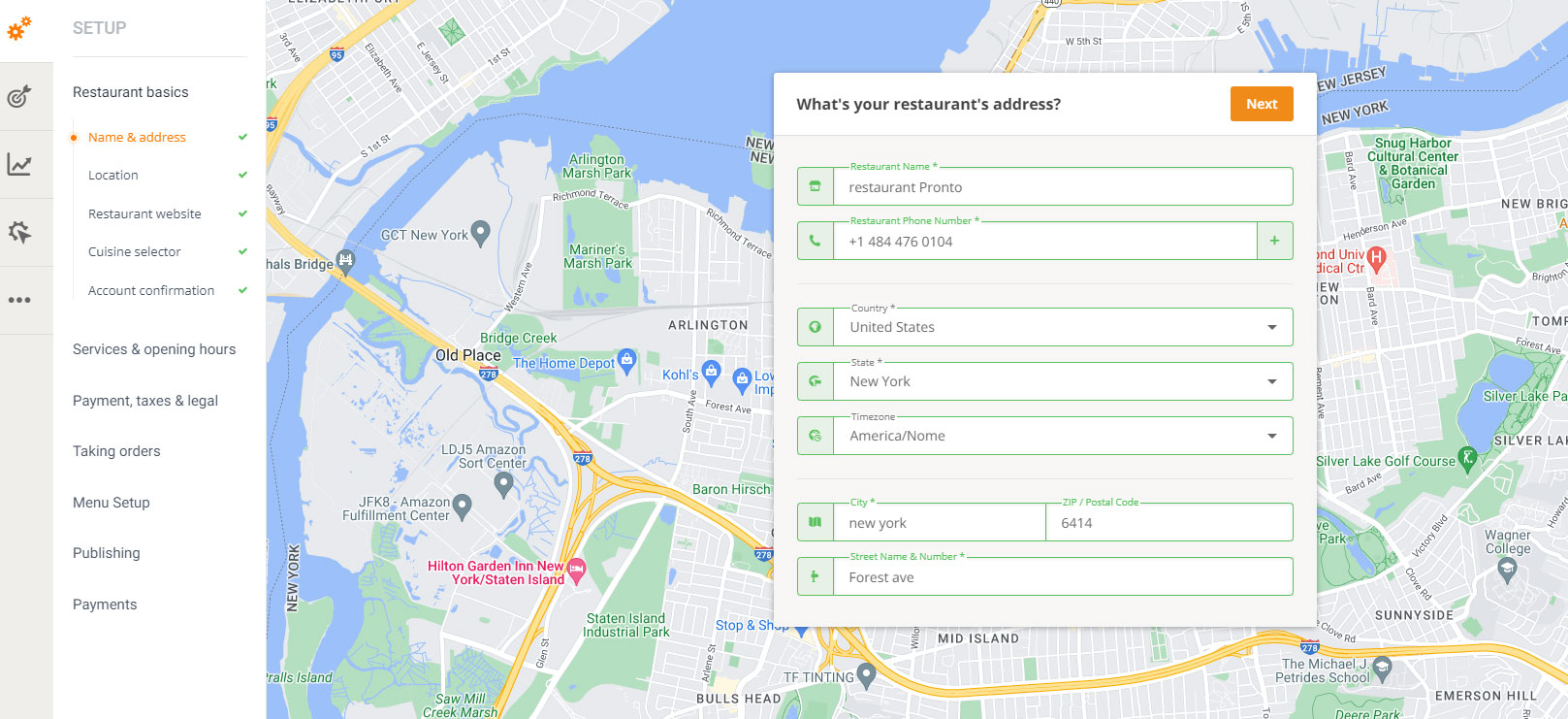 You are a few clicks away from taking table reservations
Give clients the convenience they desire with this free table reservation system
Start Now
2. Enable the Table reservation widget
If you want to offer clients an easy way to book a table, go to GloriaFood's admin -> Setup -> Services & opening hours -> Table reservation, and click on the "Yes" button.
Then, customize the settings, such as minimum and maximum number of guests, minimum and maximum time in advance and how long you will hold a table when guests are late.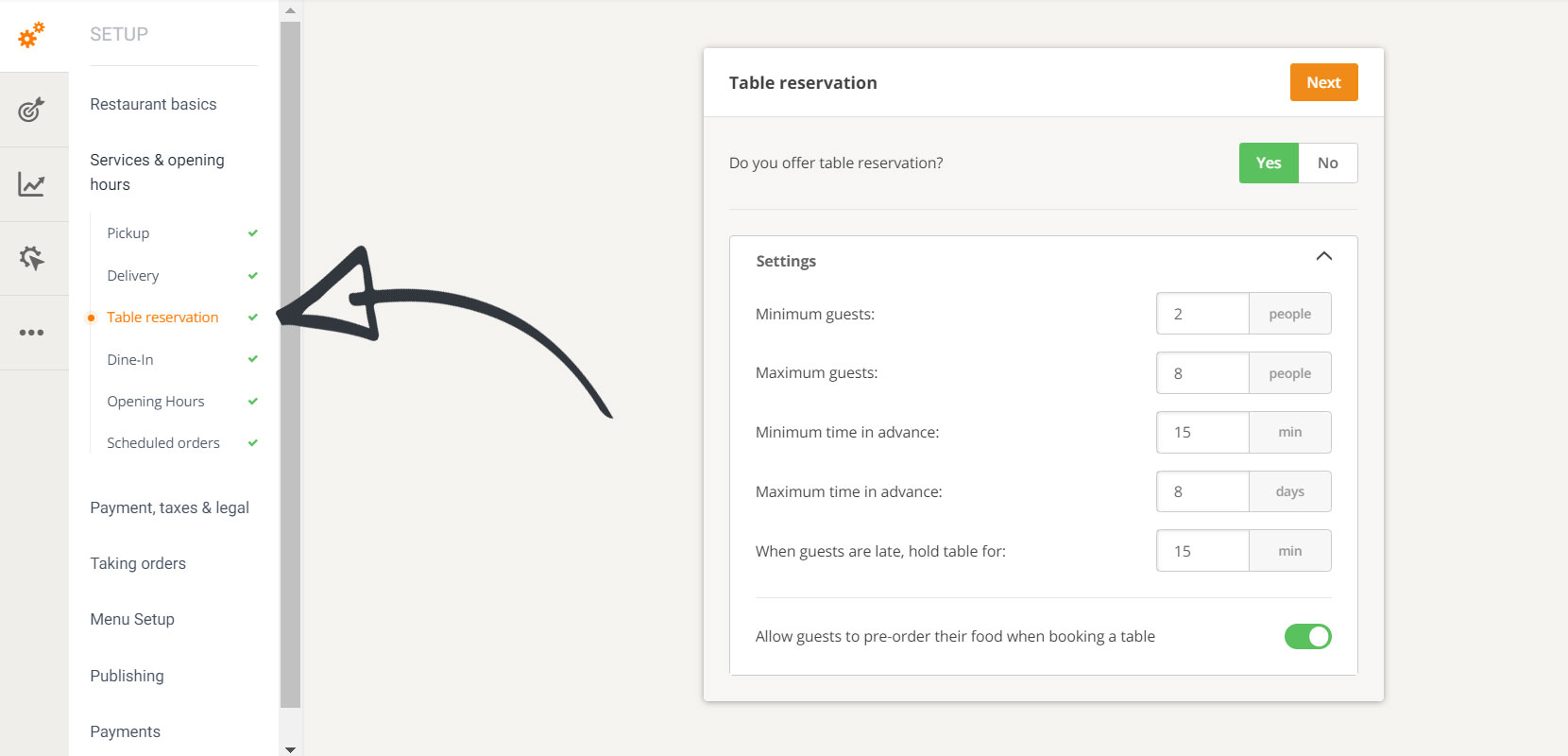 3. Enable the pre-order feature
When you are searching for how to take table reservations, why not go a step further and also allow people to pre-order their food when they book a table? By doing so, you will enjoy:
Faster table turnover: because clients have already ordered online, you can bring them their food as soon as they are seated and reduce the time they spend in the restaurant. This way, you can serve more people in a single day;
Fewer no-shows: because the table system allows people to order and pay for their food before they arrive at the restaurant, people will have no reason to miss their reservation. After all, they will be losing money;
More customers: this is a unique feature that not many of your competitors have and you can use it to market your restaurant. It will be specifically attractive for the lunch crowds that have a limited amount of time to eat and want to receive their food as soon as possible.
To enable the pre-order feature, you need to scroll down in the previous admin screen and drag the button next to "Allow guests to pre-order their food when booking a table".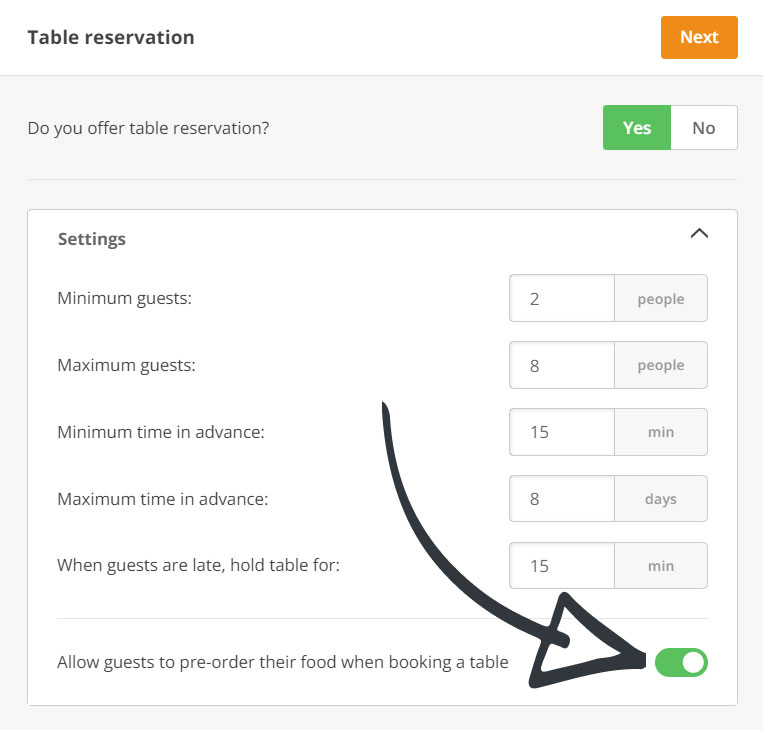 When this feature is activated, your guests will get the following message after filling in the table reservation form: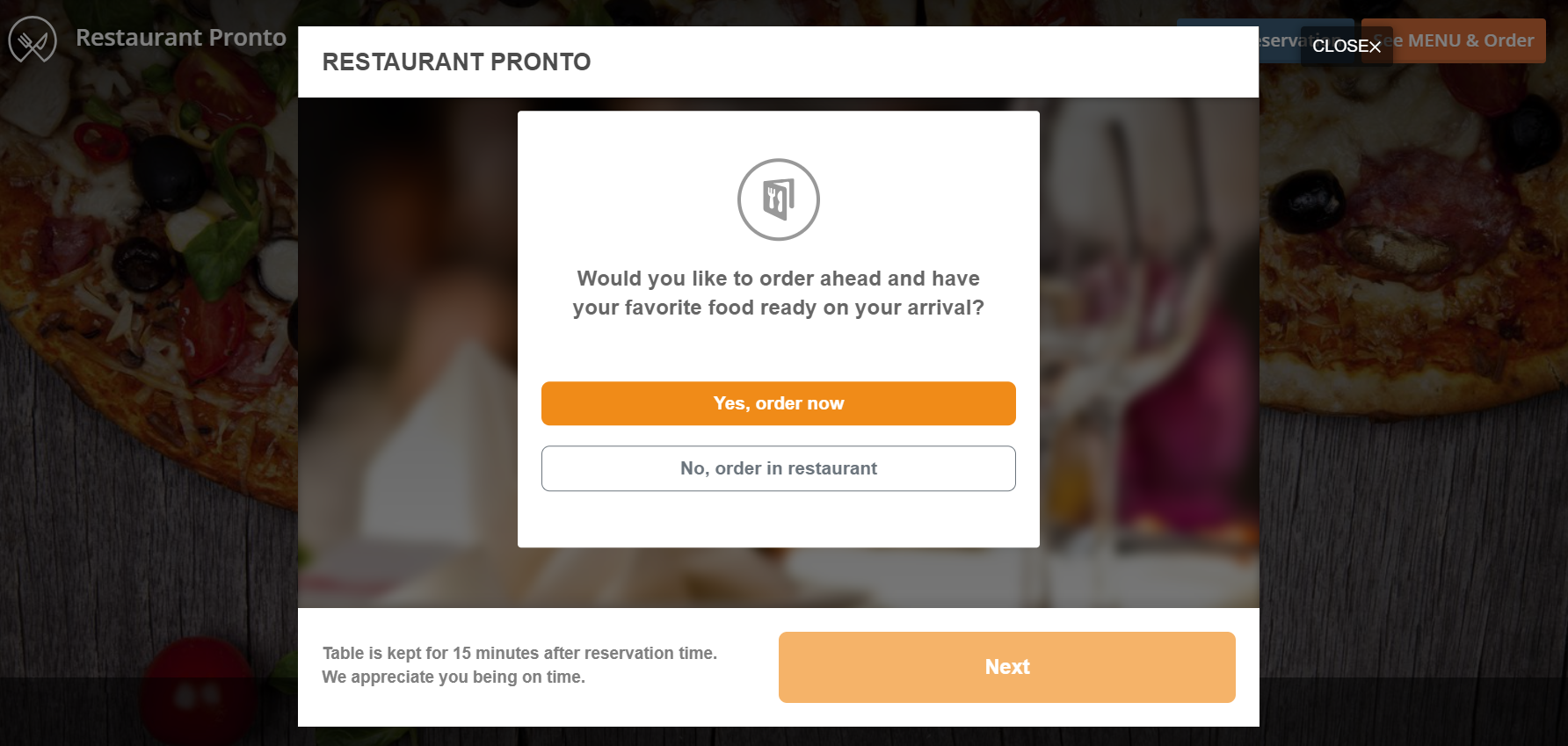 Don't forget to also create an impressive restaurant menu so customers who scroll through it can decide what they want to pre-order faster. Go to admin -> Setup -> Menu setup & receive orders -> Menu setup and generate your menu in no time with the help of our wizard.
4. Add the table reservation widget to your website
Simply place the "Table Reservation" button at the very top of your homepage, by copying and pasting a piece of HTML code we provide in your admin dashboard onto your website.
If you don't already have a website, you can generate a sales and SEO-optimized one by going to admin -> Setup -> Publishing -> Sales optimized website.
The website will guide visitors directly to the "Table Reservation" button because it will be placed in the top right corner, just above the fold.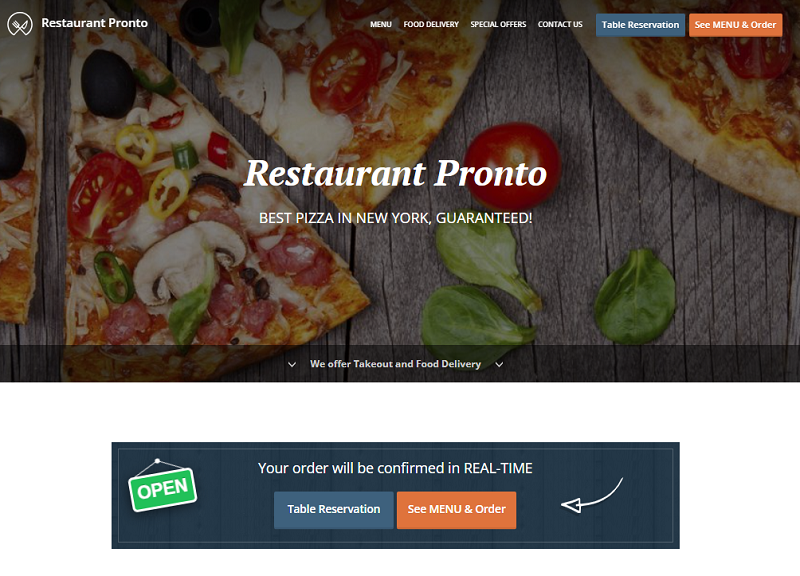 Click here to see a demo website and how easy it is for potential clients to make table reservations in just a few clicks.
5. Download the order-taking app and start taking table reservations
Download the free GloriaFood order-taking app on iOS or Android and start receiving instant notifications each time someone makes a reservation. You will be able to confirm both reservations and orders (if you use our online ordering system) with just one click.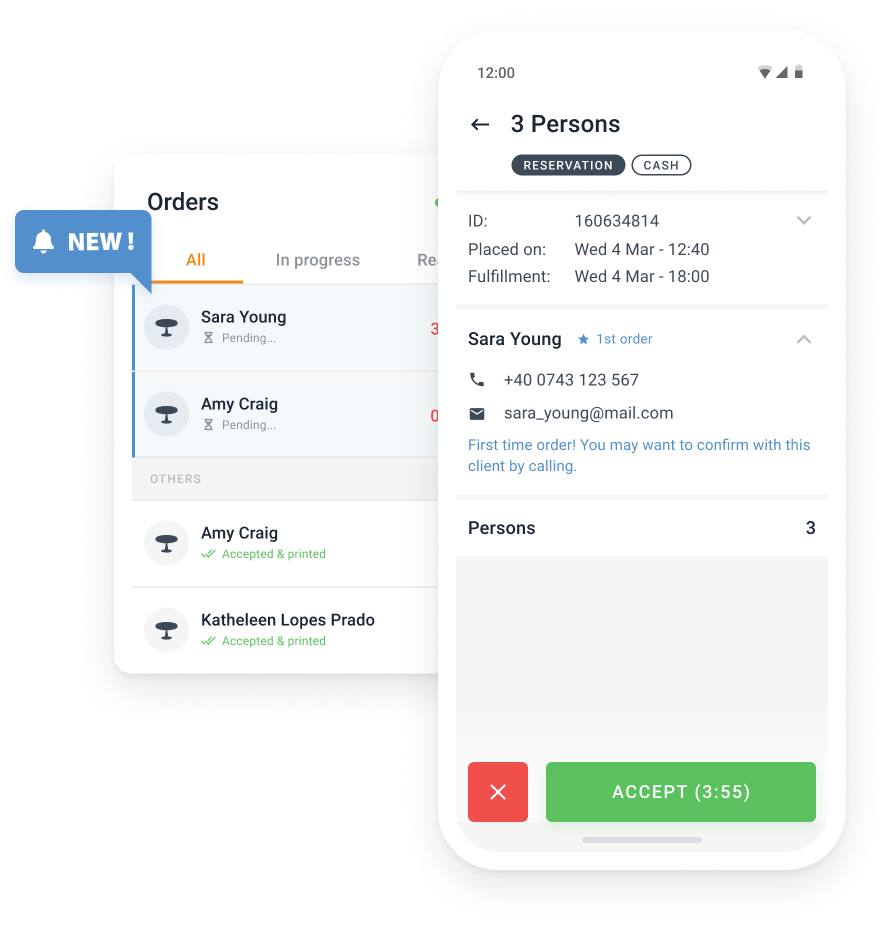 Say goodbye to empty seats & open tables
Start taking table reservations by tonight with the free GloriaFood system
Start Now
Final Words
Now that you know how to take table reservations the easy way with GloriaFood, it is time to let potential clients know about your new table reservation system. Post on all social media platforms and get people to book a table directly on your website, in just a few clicks.