Google My Business for Restaurants
What is Google My Business?
Google My Business (GMB) is a free tool that can be used by businesses to manage and expand their online presence across Google, including in areas like Search and Maps. A listing in GMB helps food clients find your restaurant, see the opening hours at a glance, or check the reviews you have received from other customers.
To get listed, your business needs to be registered in Google My Business - a dashboard where you manage everything that Google shows about your business.
Why is Google My Business important for you?
Improves your local search visibility.
Provides essential information to customers.
Helps your website rank higher in Google.
Read more about the benefits of Google My Business for your restaurant here.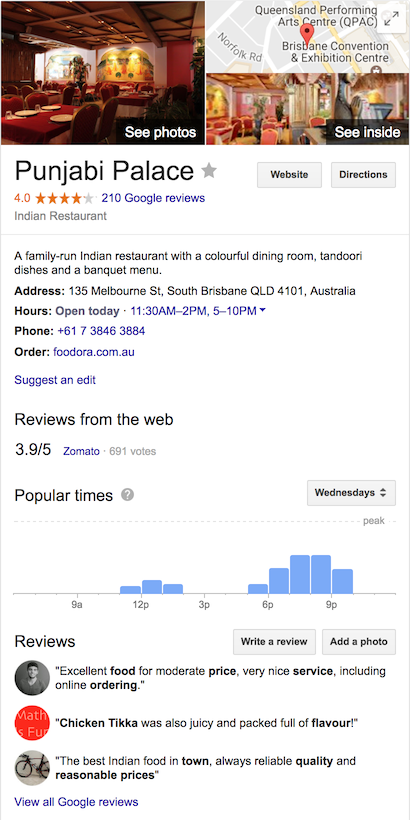 How to create your Google My Business account
Step 1: Create a Google account. If you already have that, then sign in with the email address associated with your business (ex: john.smith@restaurantname.com).
Step 2: Go to Google My Business and add your business listing including details such as name, address, business phone, and business category.
Step 3: IMPORTANT: Verify your business listing. Here, you can choose between receiving a PIN-code via phone or via a mailed postcard. If you choose the classic mail verification, Google will send an envelope containing a code via postal service. It may take a few weeks for such envelope to arrive but if you receive this at your business address and go back to the Google page to insert that code, then Google can be sure you are the representative of your business and you'll get the "verified" badge on your Google Business page that helps you rank even better on all relevant local search results.
Without the verification step completed you lose half of the exposure benefits arising from claiming your Google business page.
Step 4: Once you complete your verification, you can start editing your business profile.
As mentioned above, it might be that you already have a profile. Search for your restaurant on Google and see if it pops up as a local business. In case this happens, you'll see a link: "Own this business?". Click on that link to claim the profile. You'll be asked to follow similar steps to those we've described.
IMPORTANT: Make sure the website you have online ordering activated on is the URL domain that you will mention on your Google business page as your business website.
Tips on how to make your business stand out on GMB
To make sure your profile stands out to your customers, pay attention to the following:
Customer reviews
Ask your customers to leave your restaurant a review if they really enjoyed their time and meal there. The more positive reviews you have, the more likely you are to come up in Google's local listings.
Pictures
Upload beautiful pictures of your location and food. Make sure the pictures with your location are vivid, showing your team or your clients ordering and/or dining-in. Pictures of the empty restaurant after closure may be good when you want to rent the space, but not so good for promoting your restaurant dine-in experience. Remember that these pictures will show up in Search and Maps, so this is a great way to make a good first impression on your customers.
Description
Make the most of your restaurant description. When optimized with good keywords, this description can actually help you show up more in people's searches. This really isn't rocket science. You only need to figure out what would be the main search queries for which you want to show up in results (example: Indian restaurant downtown, pizza place with fast delivery, etc.)
Get these things done and enjoy improved visibility on Google! :)