How to Celebrate Happy Hour at Your Restaurant
Happy Hour is a tale as old as time. Or so it feels. The phrase dates back to 1914 and while it wasn't always about discounts on drinks and food, it has blossomed into an opportunity for restaurants and bars to offer customers a chance to unwind after work with a half-priced drink and a tasty appetizer.
Let's delve deeper into happy hour marketing by looking at some creative happy hour promotion ideas for restaurants and how to advertise them.
What Is Happy Hour Marketing?
Happy hour marketing is the tactic of selling drinks and accompanying foods at a discounted price during a certain period of the day.
This is a popular marketing strategy for bars and restaurants that can help you attract more customers and boost sales. The typical happy hour time slot is between 4 and 8 PM Monday to Friday, but this is not set in stone.
You can use happy hour at your restaurant to sell more beverages, increase foot traffic, and give customers irresistible food and drink deals that will turn them into loyal patrons.
10 Happy Hour Promotion Ideas for Restaurants
1. Create a special happy hour menu (food + drinks)
While happy hour focuses on drinks, that doesn't mean you can't sell your food items too. On the contrary, people will definitely be craving appetizers, snacks, or even full-blown meals after enjoying a couple of drinks.
If you want to attract a big happy hour crowd, we suggest creating a special menu comprising both food and drinks, to give customers a larger variety of items to choose from.
Here are some happy hour menu ideas you can implement:
Pickle chips: crunchy and savory, they go great with beer.
Sweet potato hummus: serve next to tortillas for a filling snack.
Charcuterie sticks: combine salami, cheddar, and pepperoncini for flavorful bites.
Spicy chicken wings: a classic food enjoyed next to a cold glass of beer.
Hotdogs: a 4th of July favorite that can turn into a favorite year-round.
To go with those menu items, check out these happy hour drink ideas:
Beer: you can't spell happy hour without beer. Well…, you can, but trust us on this, beer shouldn't miss from any happy hour menu.
Wine: this is another popular happy hour drink that you should provide. Find local producers for unique options.
Classic cocktails and long drinks: Gin and Tonic, Cuba Libre, Martini, Old Fashioned, Tom Collins, Bloody Mary, Mojito, or Margarita; any of these cocktails will work for happy hour.
Special house cocktails: create unique cocktails with creative names to add some variety to the menu and pique your customers' attention.
Soft drinks and mocktails: not everyone wants to drink alcohol during happy hour. Some just want to have a good time with their friends and enjoy a non-alcoholic drink. Cater to that crowd too.
Do you want to serve as many people as possible during happy hour? Implement a QR code menu at every table to allow customers to order and pay for their food and drinks online the moment they sit down.
That way, they won't wait long, and your servers can focus on delivering the food and assisting with other tasks.
Watch the video tutorial below to learn how to create a free QR code menu for dine-in:
2. Offer easy happy hour snacks around the clock
It's happy hour somewhere, right? Integrate your happy hour appetizers ideas into the permanent menu as they're a great way to increase the average check value.
Offer nuts, popcorn, pea chips, pretzels, olives, and other snacks that customers can munch on while waiting for their food or while enjoying drinks with friends.
3. Update your happy hour specials regularly
If you want customers to keep coming back to your restaurant, you have to give them a reason to. What better reason than a brand-new happy hour special that they've been dying to try?
Take a look at these happy hour special ideas you can rotate weekly or monthly:
Empanadas
Mac and cheese bites
Fajitas
Soft pretzels
Naan bread pizza
Chips and dip
Tacos
Spicy feta
Smoked salmon canapés
Pulled pork nachos
Additionally, here are some happy hour drink special ideas for when you want your restaurant to stand out:
Passion star martini
Grapefruit and jalapeño chili margarita
Crème brûlée cocktail
Mojito jello shots
Peachy Aperol spritz punch
4. Include mocktails and other non-alcoholic beverages on the menu
While the best happy hour drinks are usually alcoholic, that doesn't mean people who don't drink can't participate.
Cater to a larger audience by including non-alcoholic drinks in your happy hour menu. But don't just settle for soft drinks.
Not drinking alcohol doesn't mean you can't enjoy a fun and delicious mocktail that won't give you a headache the next day.
5. Offer happy hour promos for delivery and pickup too
Not all happy hour promotion ideas for restaurants cater to dine-in customers. People might want to have their own happy hour party at home, and you can provide the food and drinks.
We have great news for you. If you sign up for a free account with GloriaFood, you can create a happy hour menu in minutes and use it both for online orders on your restaurant website as well as dine-in orders via QR code.
Free online ordering menu for dine-in, pickup, and delivery
Make your customers happy and boost sales all at once
Start Now
This video shows you exactly how easy it is to create your menu:
Once your menu is up and running, you can add a multitude of happy hour promos to it using our built-in promotions module. Check out this tutorial to learn how to create any promo you can think of:
6. Change up your happy hour promotions every week
Now that you have plenty of happy hour food and drink ideas, as well as a way to sell them online and offline, it's time to get into some classic happy hour promotion ideas that customers won't be able to resist:
Buy two, get one free: this is a great promo for targeting groups of friends or co-workers who want to spend happy hour at your restaurant.
% discount on combo deal: it encourages customers to buy a main dish and a dessert to get a discount.
Free drink with any meal: get the fun going by offering the first drink on the house if customers also buy food.
Meal bundle: allow larger groups to spend a fixed amount for a variety of appetizers, main dishes, desserts, and drinks.
Free delivery on happy hours: a simple yet effective promo for delivery orders.
Create a happy hour promotion and add it to your menu in minutes
Use our promotion templates to tempt customers with irresistible offers
Create Promo Now
7. Organize happy hour events
Take your happy hour marketing to the next level by not just offering specials and promotions but by organizing full-blown events for happy hour.
Here are some happy hour event ideas to get you started:
Trivia night
Name the tune
Karaoke
Mix your own drink
Wine or whiskey tasting
Charades
Themed costume night
Beer pong
8. Organize a happy hour giveaway
Are you looking for fun happy hour ideas that will guarantee participants' engagement? Why not organize a contest or a giveaway that will get customers excited?
You can go with a simple idea like a fish-bowl giveaway where everyone who joins happy hour can drop their name into the bowl. At the end of the evening, you extract one lucky winner and will get a 10% discount coupon code when they order from you online.
Here's how easy it is to create discount coupon codes using our online ordering system:
9. Team up with local businesses and entertainers
One of the top clever happy hour ideas we can think of is to engage the entire community by contacting other businesses for cross-promotion or entertainers to perform during happy hour.
If you have local musicians, comedians, or improv groups trying to make a name for themselves, they will surely appreciate a chance to perform at your restaurant.
Similarly, wine or beer shops might want to provide their best products for a happy hour tasting event you organize.
10. Encourage upselling and cross-selling to boost the average check value
Finally, happy hour promotion ideas for restaurants don't have to be complicated to work. You can do something as simple as allowing customers to customize their meals with add-ons, sides, toppings, and other extras.
This is a win-win strategy that will allow them to get the meal they desire and provide you with a higher check value.
Here's how you can add choices and add-ons to your menu in just a few easy steps:
How to Promote Happy Hour at Your Restaurant
And now for some happy hour advertising ideas that will ensure your promos won't go unnoticed:
Announce it on your restaurant website
Your restaurant website should be the first to let people know whenever you release a new menu item, add an enticing promo to the menu, or organize something fun like happy hour.
If you get a sales-optimized website from us, not only will you get access to the free built-in online ordering and table reservation system, but you will be able to customize your site with an announcement banner perfect for letting people know about happy hour.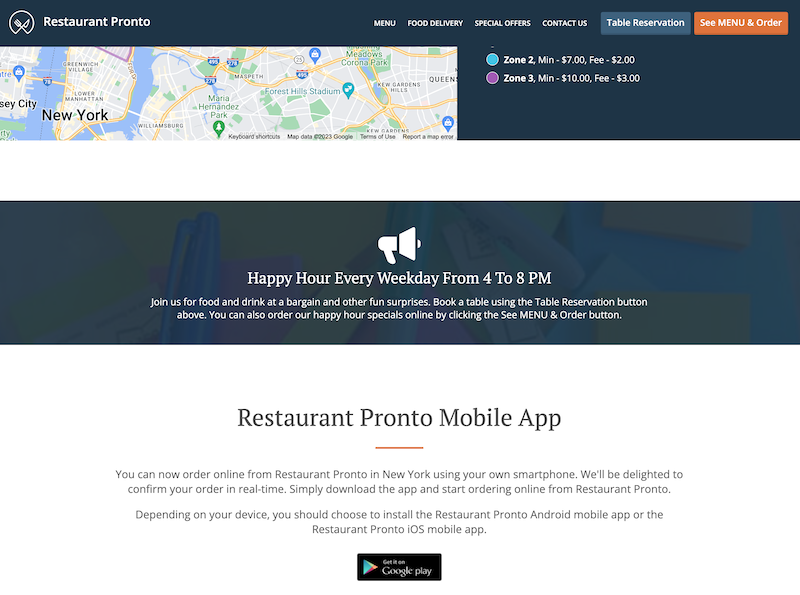 Visit pronto-ny.com to see a demo of how your potential website could look.
Get a sales and SEO-optimized website for your restaurant
Use the easy drag-and-drop feature to customize the website as you like
Get Started
Post about it on social media
Social media is an exceptional platform for engaging with your target audience. You can post your happy hour menu on Facebook and invite people to join you, or even let them order your happy hour specials through Facebook with our smart link.
Enable customers to order without leaving your Facebook page
Add our smart link to the Start Order button to open your online menu
Get Started
Post your specials on Instagram and TikTok, and share photos of customers having fun at happy hour (with their permission) to entice others to join.
Distribute flyers in the neighborhood
Not all happy hour marketing ideas are executed online. Go back to basics and distribute flyers inviting people to your happy hour.
You can also promote the delivery offers you have for happy hour by adding a discount coupon code for free delivery to the flyer using our built-in flyer generator.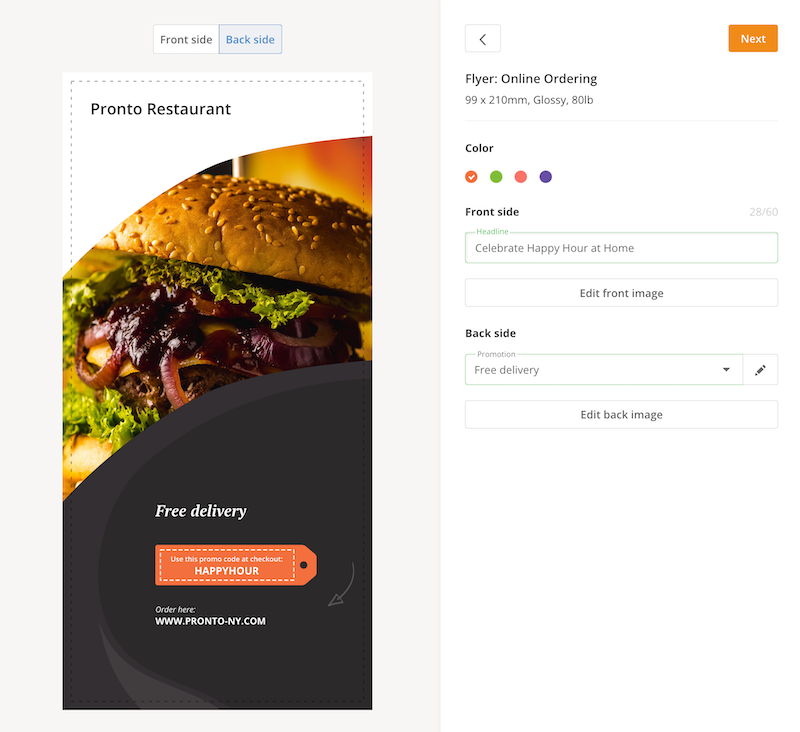 Summing it up
Implement one or more of these happy hour promotion ideas for restaurants to make your eatery the talk of the town. Keep customers happy year-round by switching up your offers and they won't ever get bored of visiting or ordering from your restaurant.