Attracting new customers must be a priority for every restaurant owner. As must persuading said customers to spend more at your place. What if you could do both at the same time?
Adding food combo offers in restaurants is the answer you are seeking for. With little effort, you can create a combo food menu clients won't be able to say no to.
In this article you will learn why adding combo meals in restaurants is important and how to create the best offers that will skyrocket your sales.
What are the benefits of using food combo offers in restaurants?
In a study titled "Consumption Effects of Bundling: Consumer Perceptions, Firm Actions, and Public Policy Implications", respondents consistently chose a meal bundle from a menu where they could have purchased the items separately.
Scientists concluded that a lot of people choose combo offers in restaurants because it is easier, even though there may not be a price decrease for the bundle. The most common combos include either a side or drink or both.
Therefore, if you choose to add meal bundles to your menu, you will benefit from:
More big value orders: by creating an appealing combo, you can persuade people to spend more at your restaurant;
More clients: when deciding what place to order from, people will be tempted to choose your restaurant because you offer a meal bundle that is just easier to order and includes everything they want;
More visibility: you can take the combo promotion and advertise it on social media and your website to reach a new audience.
Restaurant food combo offers that work
Now that you know that combo offers in restaurants work, it is time to get to work and start adding a few meal bundles to your menu. Don't worry, we are here to help you get started with a few food combo offer ideas your clients won't be able to say no to:
Big meal bundle
Sometimes, people visit or order from your restaurant in groups. Imagine how much time they need to decide on what each of them wants to eat, if they want to share, how many sides should they get, etc.
Why not make it easier for them by creating a big meal bundle that includes enough food to feed 3-4 people? For example, the food combo menu could have 4 appetizers, 4 main dishes, 4 desserts, and 4 drinks.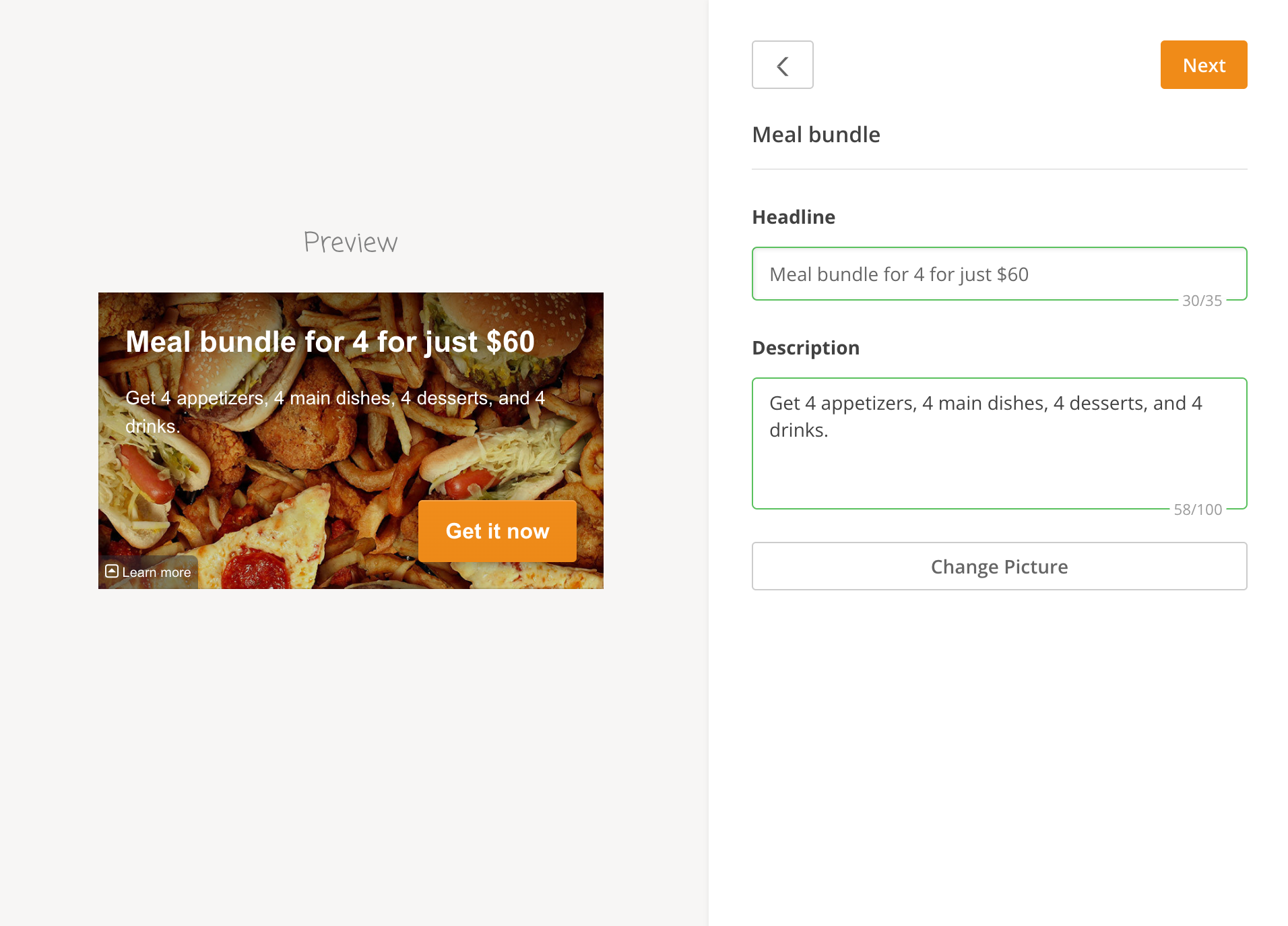 Fixed discount on a combo deal
This is one of the classic food combo ideas that you see in most restaurants. Why? Because it works! We have previously seen that people order meal bundles even if they are not discounted, but a small decrease in price can only help.
It doesn't have to be a big one, you can go as low as $5 because you still have to make a profit. Ensure you create a satisfactory menu, such as main + side + dessert, or main + side + drink.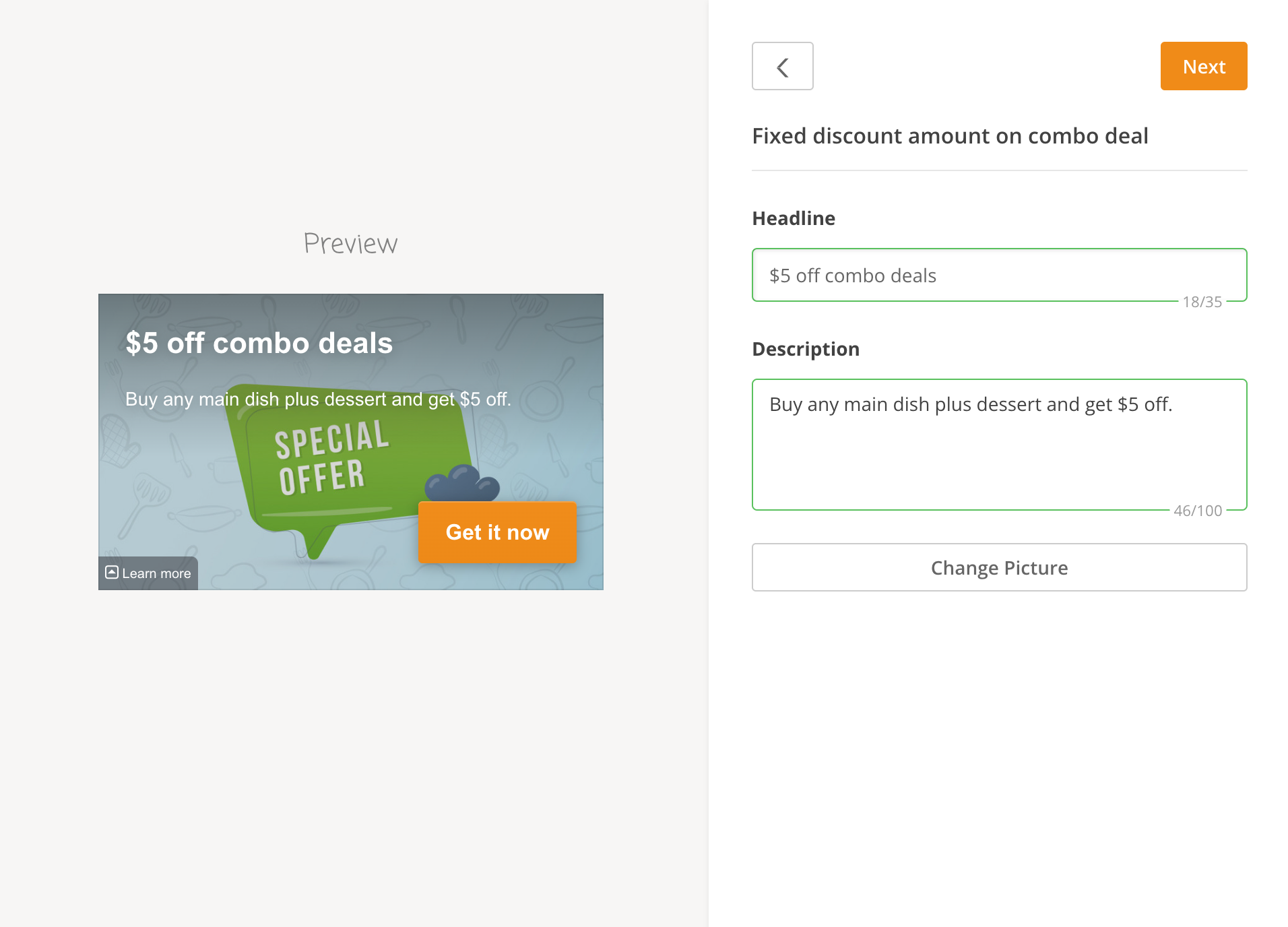 Buy one, get one free
You've surely heard of the 2 for 1 restaurant deals, and probably even ordered one for yourself. It presents as such a good offer for clients, paying for one dish, but receiving double the quantity. Who can say no to that?
You can implement it for main dishes, sides, desserts, or anything you serve. A good trick will be to make the portions a bit smaller, so you don't lose money when offering 2 for 1 food deals.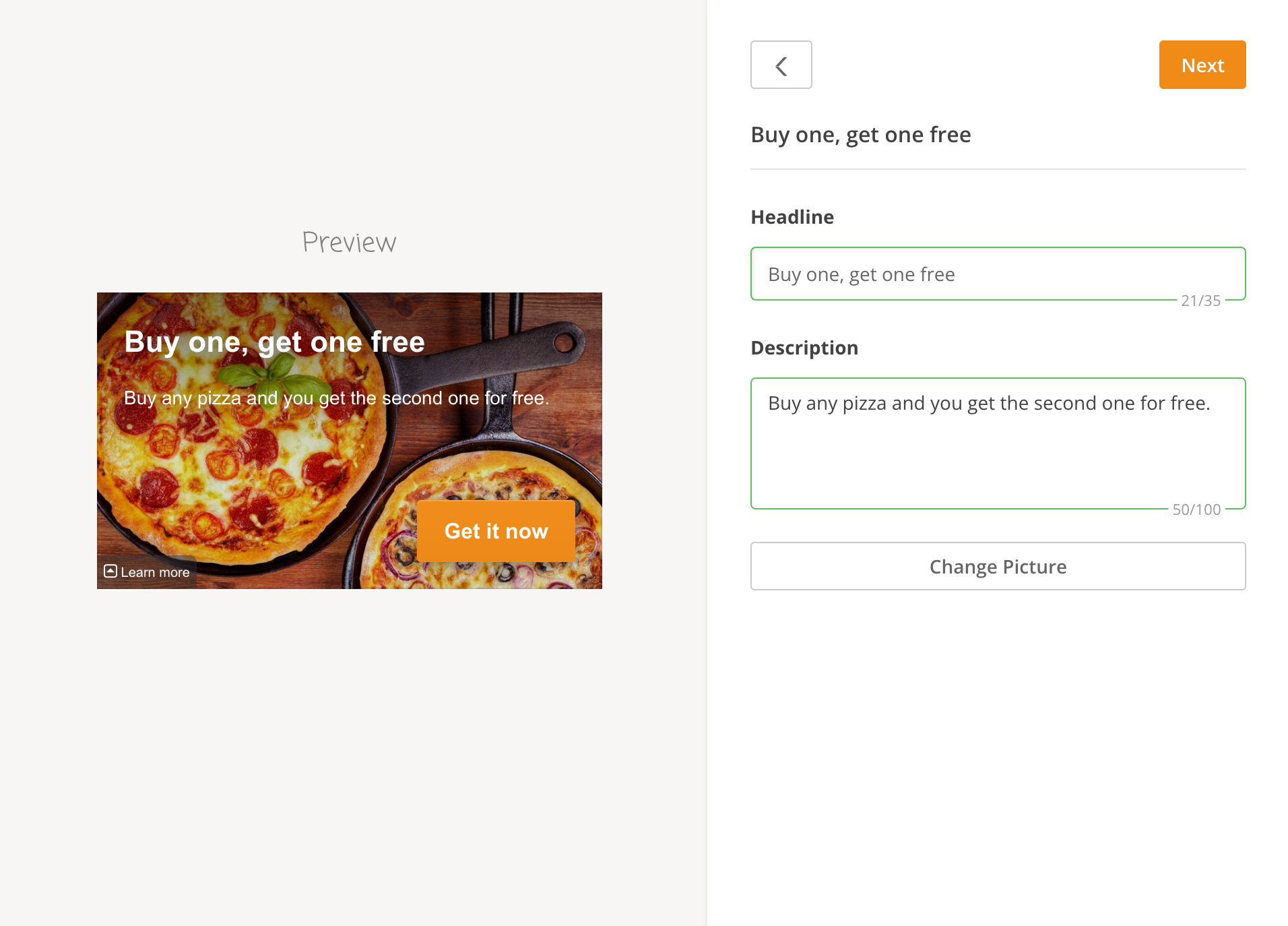 Free dessert for a combo meal
Let's say you added a bunch of meal bundles to your restaurant's menu. How do you make the best combo meals stand out to encourage even more people to order? Easy, market one of them as free when purchased in the combo.
The most common thing to offer for free is dessert as most people don't order it because it is seen as a treat and an afterthought to the meal.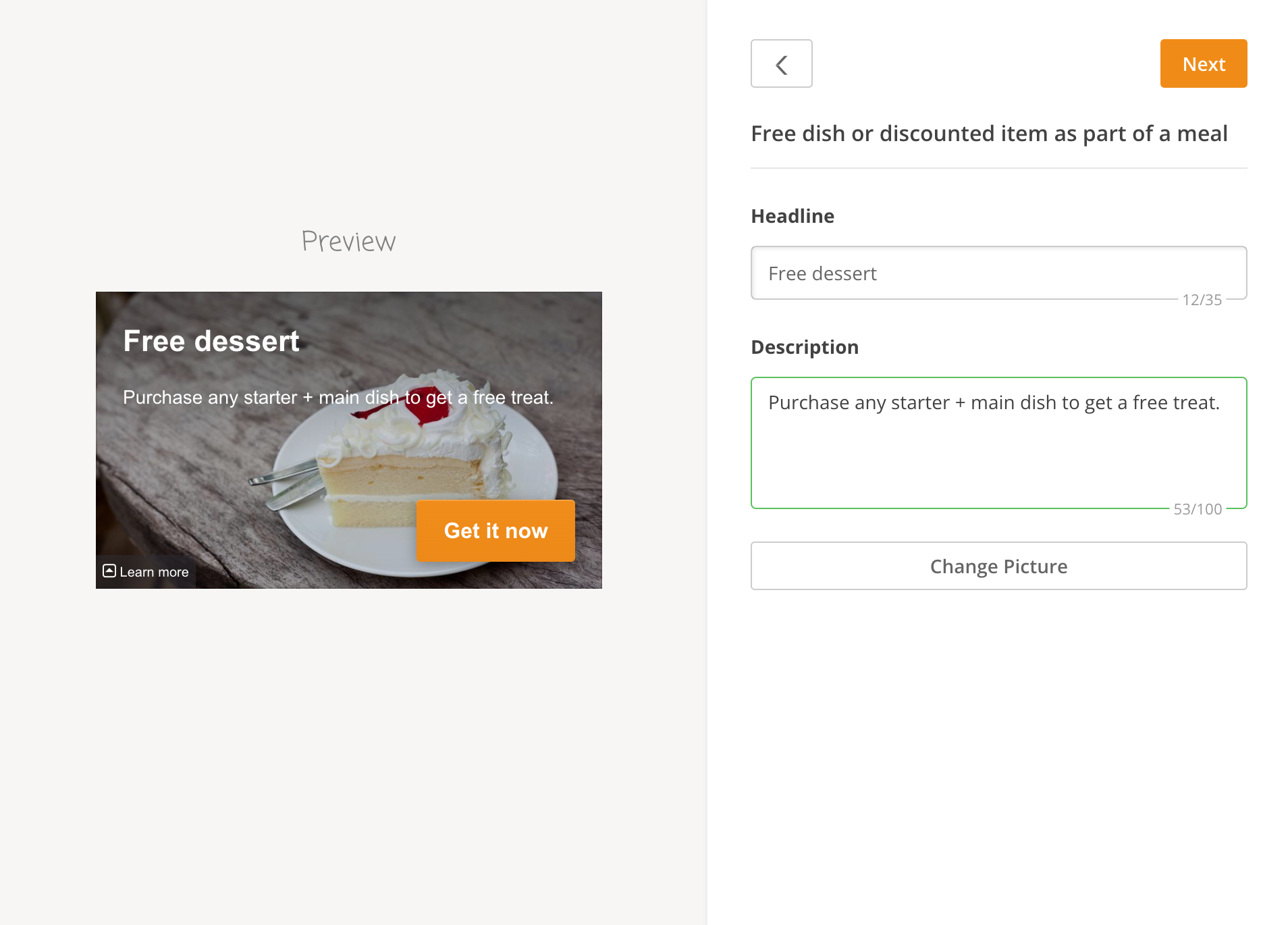 Meal bundle with specialty
Combo offers in restaurants are usually premade, with no changes available for the customers. But what about the picky eaters? Or the people who would like to customize their order a bit more?
Create a meal bundle that includes a subset of selected items that could be purchased for an additional fee. For example, if you have a combo including a burger and a side, you can allow people to change the type of side, add a sauce, or add a drink.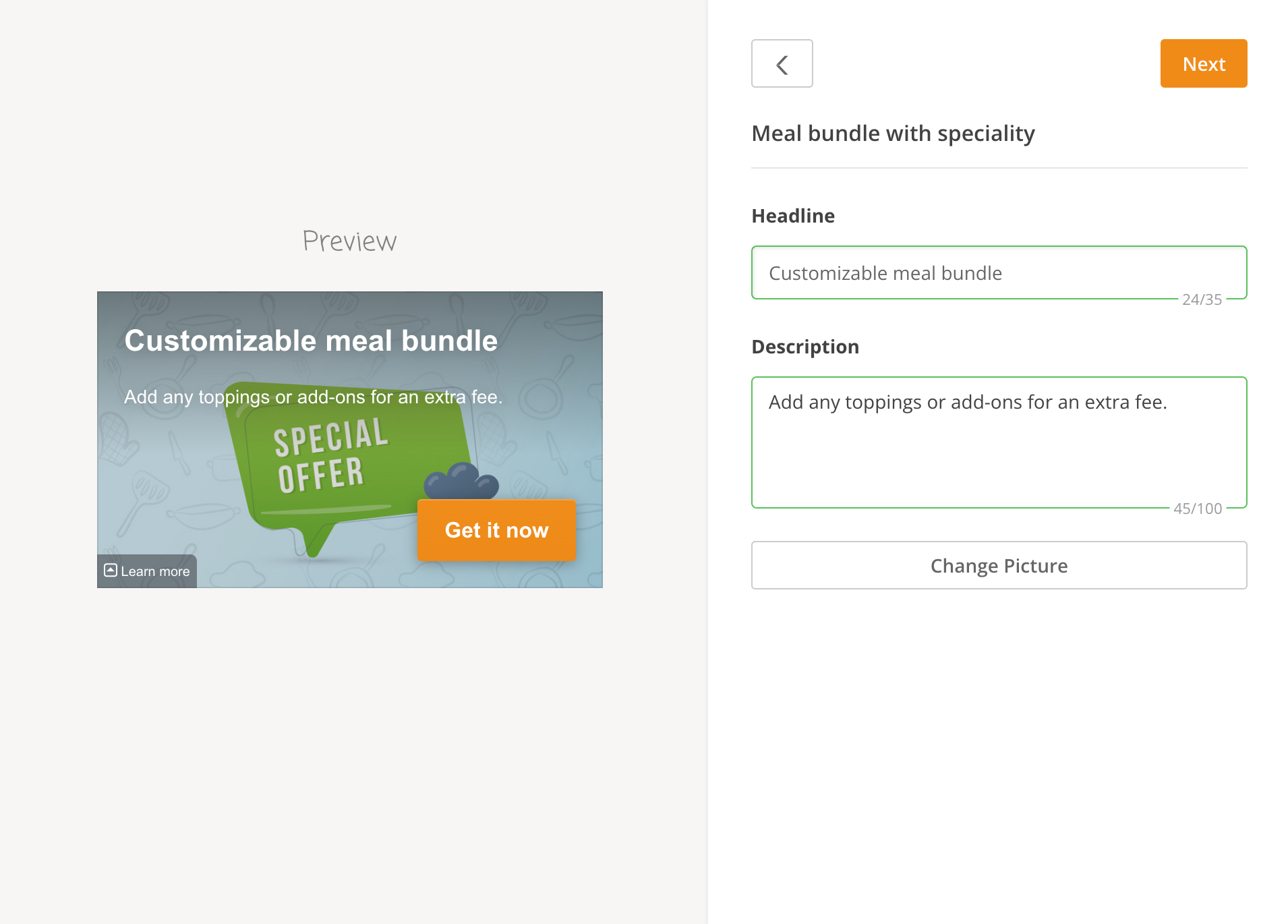 How to easily create a combo restaurant menu
You now know why the combo meal ideas above are the best ones for your restaurant. But how do you actually add them to your menu? Changing a paper menu constantly is pricey and contracting a developer to update an online menu will be time-consuming.
You need a simpler solution, that is easy to use for both you, and your clients. The good news is we have it and you can too in just a few minutes: the efficient GloriaFood online ordering system.
Not only will it help streamline your ordering process, but it will guide you through creating an appealing menu with combo promotions that will have clients reaching for the order button. Follow these steps to get started:
First step: Create a free account with GloriaFood
Just like on any other platform, you need to sign up on GloriaFood and fill in your restaurant's basic information such as name, address, contact info, etc. The platform is intuitive, so you can complete this step in a timely manner.
Second step: Add an attractive menu
You can't have combo offers in restaurants without first creating a menu to add them to. Start by creating categories and then add your menu items to them. Don't forget about mouth-watering pictures (if you don't have images yet, you can choose from our free gallery) and enticing descriptions.
Check out this video that teaches you how to make an online restaurant menu for your website:
After you are done with the basics, it is time to get to the advanced settings. We recommend you implement another upselling strategy, just like food combo offers, toppings, and choices. You can allow people to choose the size of their dish and customize it to their liking with a variety of toppings at an extra price.
Watch this video to learn more about menu customization:
If you want to make these combo offers available in the restaurant, not just for online ordering, you need a QR code restaurant menu. This way, as soon as people are seated, they can scan the QR code and see all the meal bundles they could take advantage of.
You can get your own free QR code restaurant menu by following the instructions in this video:
Third step: Choose a combo menu template and get started
With the menu created, there is one more step separating you from more clients and more big orders. Start by going to admin -> Marketing -> Promotions -> Self-made promos. Scroll down and you will find a variety of combo promotion templates you can add to your menu.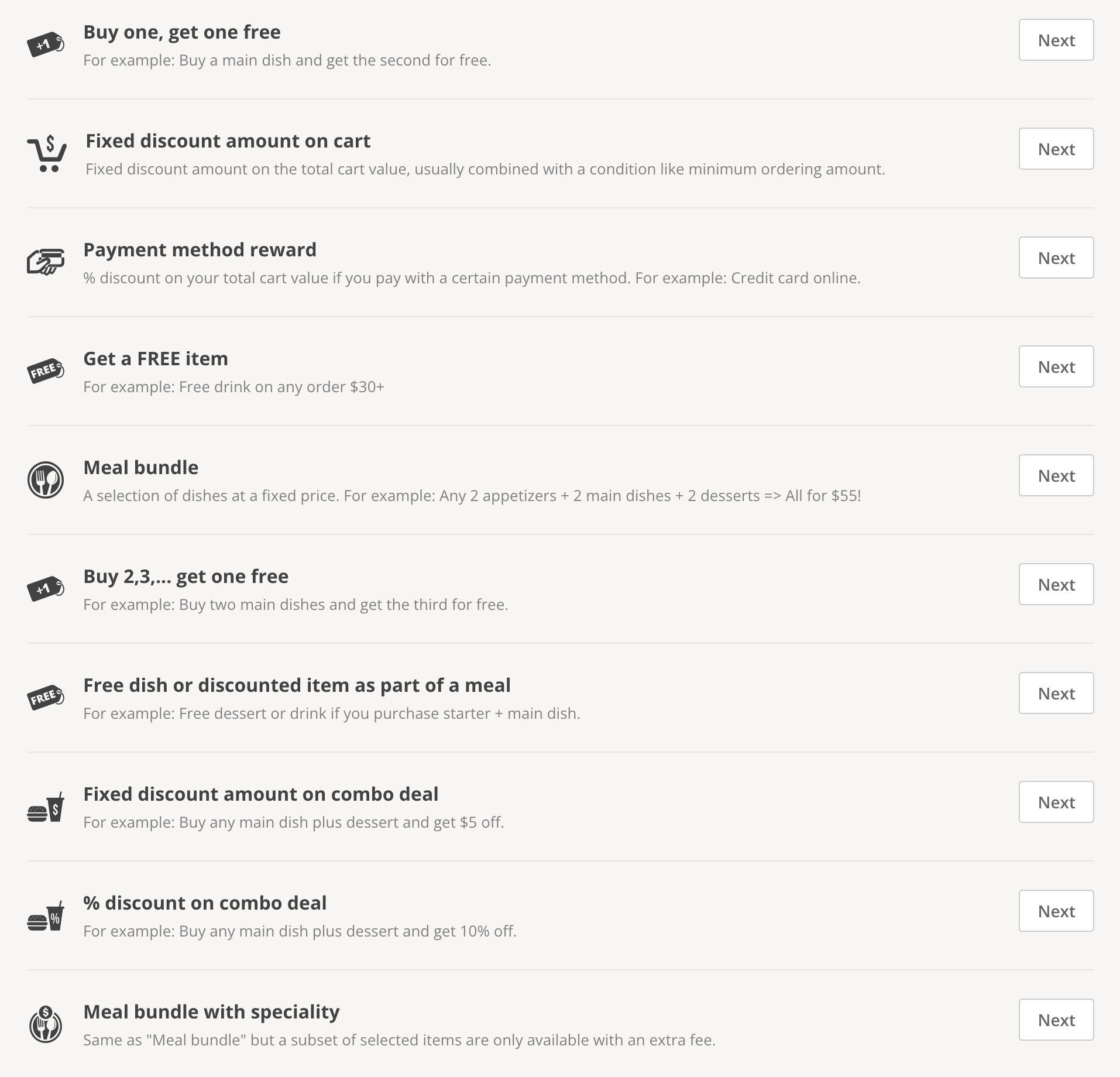 Select the one you want to implement and get to customizing. You can choose a new image, new name, or new description, and even have access to more advanced settings, such as the type of customers the offer will be available for (new or returning).
Start selling more with food combo offers
Use our online ordering system to create attractive promotions
Start Now
After you save the food combo offer, it will be immediately available at the top of your restaurant menu. As it will be the first thing a client sees when they open the menu, they will be tempted to take advantage of the promotion.
Here is a video with more detailed instructions on how to easily set up a restaurant promotion:
Tips for successfully implementing a combo meal menu
To ensure the food combo offers you implement bring you the results you hope for, we have prepared a few tips and tricks you must know.
Pick an attractive price for your meal bundles
Now, how to price combo meals? We are still dealing with inflation, so prices are a big factor people take into consideration when ordering. Therefore, you need to pick an attractive price that lets people know they save money by ordering the meal bundle compared to individual menu items.
That is particularly true for fast food combo deals that people expect to be lower in price. If you can't afford to make a substantial discount, make the portions smaller, but still enough to satisfy a hungry customer.
Create FOMO around your food combo offers
FOMO (Fear of missing out) can be a great motivator, especially when related to food combo offers in restaurants. To do so, place a time limit on the availability of the offer.
For example, make it redeemable only for a day or for a week. You can also make it available only for new or returning customers.
Change it up once in a while
It is important to monitor how many sales the combo menus generate. If you notice one or more of the food offers don't get bought as often, it is best to change them to be more similar to the ones that are performing well.
Monitor how your food combo offers are performing to get the best results
Install an online ordering system with a built-in Reporting module
Start Now
Our online ordering system is equipped with a Reports module where you can monitor your sales statistics and much more. Use it to constantly improve your menu.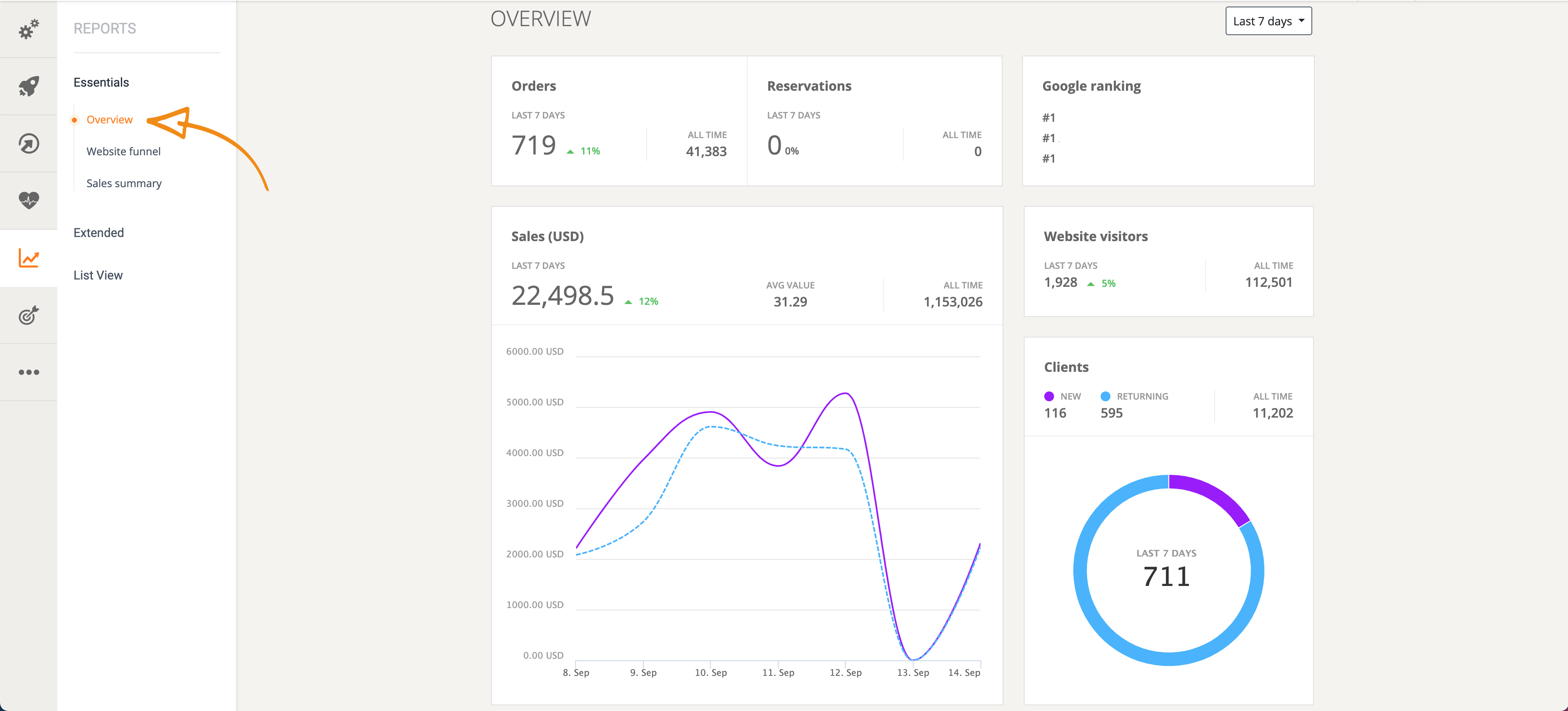 Furthermore, you can add special food combo offers for holidays. For example, a themed brunch menu for Mother's Day or a dessert-centered combo for Christmas.
Make smart combinations in your food combos
Every menu has items that are ordered all the time and some that are usually largely ignored by clients. To encourage the sale of less-valued dishes, add them in a combo with your most-purchased items.
You can do the same thing for dishes that are pretty expensive and may deter clients. Make a meal bundle with an expensive item and a cheaper one to create a great deal.
Promote your combo meals on your website and social media
If you want people to know you have great food combo offers, you have to let them know. The best way to do so is on your website and social media profiles.
If you already have a website, add your promotions in a visible spot to tempt people to order. If you don't, we can help you with a sales optimized restaurant website that has a promotions section at the top where anyone can see them.
Check out this demo website to see how the offers are immediately noticeable. What's more, the website is already SEO-optimized so you can reach the first page of Google, where more potential clients can find you.
On social media, include a mouth-watering picture of the dish with the promotion written on top and include a strong call to action in the caption, such as "Take advantage of this offer now! The discount is only available for this week."
Conclusion
Adding food combo offers in restaurants is a popular marketing and upselling technique because it works with just a bit of effort. Offer customers creative meal bundles and promotions that will help your business sell more.