Restaurant Menu Planning 101
Restaurant menu planning is one of the first things you should consider when opening a restaurant. Your menu will draw customers to you and differentiate your restaurant from the competition.
So, settle in for an introduction to menu planning and a deep dive into the steps you need to take to ace this process.
What is Menu Planning for Restaurants?
Typically, menu planning is the process of choosing what you'll have for each meal, as well as how many meals you'll have and when. For restaurants, it works in a similar way. Menu planning in the restaurant industry entails deciding what dishes you'll serve and their availability (breakfast, lunch, dinner, all day).
The Importance of Menu Planning in a Restaurant
Planning a menu for a restaurant includes deciding on your regular and special dishes, the ingredients you need, your supply sources, and so on to ensure your menu is profitable.
Here's how menu planning benefits your restaurant:
1. Serve customers faster
Everyone needs to be familiar with your menu and processes if you want your kitchen to run like a well-oiled machine. This will help you serve dine-in customers faster and deliver orders in record time.
2. Reduce food waste
Food waste is among the main things to consider when making a menu. Predicting how much of each ingredient you'll need as accurately as possible will ensure you won't overbuy and be forced to throw food away.
Reducing food waste is one of the first steps to making your restaurant more environmentally friendly.
3. Minimize the number of ingredients you need
An excellent way to reduce costs in a restaurant is to buy a minimal number of ingredients and find creative ways of using them for a variety of dishes, throwing away as little as possible.
4. Better organize your storage space
A clear view of the ingredients you need and their quantity will help you organize your inventory better. Using the first-in-first-out method in which the ingredients you buy first are used first will also help.
5. Create an efficient team
If everyone in your restaurant is familiar with the menu, ingredients, inventory system, and managing the inventory of materials, things will run smoothly for you and your customers.
Knowing the resources at your disposal and the approximate number of customers you serve daily allows you to plan your employees' shifts accordingly. That way, no one is overworked or unmotivated.
5 Main Types of Menu Planning
To help you better understand restaurant menu planning, we should look at the main types of menus you can offer at your restaurant and what each entails.
So, what are the different types of menu planning you can do?
1. A la carte menu
This type of menu lists the prices for the individual items separately, allowing customers more flexibility to combine the items however they want to make up their dream meal.
2. Du jour menu
In other words, a unique daily menu, where no day is the same as the one before.
3. Cycle menu
In this case, the menu, or part of it, repeats over a period of time. For example, you might serve Club sandwiches every Monday and Cuban sandwiches every Tuesday.
You can easily combine this type of menu with a static menu to give customers a base of options they can choose from daily and special options they can only have once a week.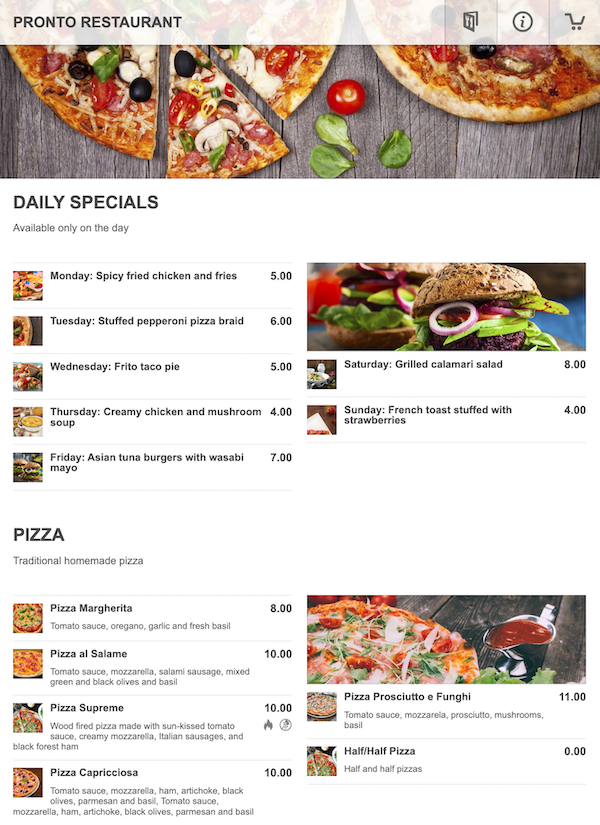 4. Static menu
Perhaps the most popular type of menu, the static menu, consists of a longer list of dishes divided into categories that don't change often.
5. Fixed menu
While you might confuse a fixed menu with a static menu, the main difference is that the former has few options and a fixed total price. An example would be a menu that offers an appetizer, main course, and dessert at a fixed price.
A quick scan of all these menu types shows that most require you to make regular changes, whether to update your daily specials or menu prices.
The online menu builder from GloriaFood comes with a visual drag-and-drop editor that allows you to instantly make changes to the menu. Once you save the changes, the system will propagate them in real time to your website and anywhere else your menu is published.
Free online menu builder with built-in online ordering
Create your own menu in minutes and start taking orders today
Get Started
Don't believe us? Check out the video below to learn how easy it is to make a menu for your restaurant.
The 5 Main Steps in Menu Planning for a Restaurant
Now that you know your options in terms of types of menus, it's time to move on to menu planning and development. What are the steps in menu planning that you should follow to sell more?
1. Determine the type of menu you want to offer
This doesn't have to be definitive or even just one type of menu. You can easily test out multiple options until you get the desired result.
You can have a static menu made up of your staple dishes and a cycle menu featuring weekly specials. Additionally, you can play around with du jour menus and see if your customers respond to them.
2. List your core ingredients
Analyze your menu items and determine the main ingredients you need for each. Think about how you can use all parts of the ingredient and repurpose it for multiple dishes.
Consider making your menu seasonal so you can buy local, increasing the quality of your ingredients and decreasing delivery costs.
3. Put together your supply chain
Start looking for local farms and suppliers who can provide the necessary ingredients. Connecting with them directly is better because it eliminates the need for third parties within the supply chain.
Learn more about restaurant supply chain management here.
4. Price your menu items
Menu pricing is a crucial element of restaurant menu planning. Consider each menu item, its portions, the ingredients, and their cost from the supplier to figure out how much you'd have to price the item to still make a profit.
Continue reading: Restaurant Menu Pricing Strategies to Help Your Business Thrive
5. Make your menu look good with photos and descriptions
Finally, you also need to learn how to design a menu for a restaurant that will make customers' mouths water.
Paper menus are starting to become a thing of the past. You can easily replace them with an online menu available via QR code at your location. This will allow customers to browse the menu, place an order, and pay directly on their phones.
Here's how you can get a QR code menu for free:
Among the many advantages of a digital menu is that you don't need much to make it stand out visually and jumpstart your customers' hunger. In fact, you only need two things:
Irresistible food images featuring your dishes.
Creative menu descriptions that talk about the dishes' ingredients, flavor, and origin.
Free QR code menu for dine-in customers
Say goodbye to menu printing; say hello to the future
Start Now
3 Restaurant Menu Planning Ideas & Tips
1. Enable customers to customize their dishes
Even if you opt for a static menu, that doesn't mean there's no room for customization. You can easily allow customers to add ingredients, toppings, sides, and other add-ons to their meals until they get exactly what they want.
This video tutorial will show you how to add choices and add-ons to your online restaurant menu:
2. Keep your menu small
Your menu doesn't need to be three pages long to be successful. In fact, the more options customers have, the more difficult it will be for them to decide.
Not to mention a restaurant that serves everything from pizza to sushi doesn't inspire too much trust. Focus on a few dishes you know how to do well and perfect those recipes instead of trying to do everything at once.
Read more about why a small menu is better here.
3. Offer regular promotions and special offers
Finally, an excellent way to make your menu shine is to pepper it with discounts, special offers, and promotions.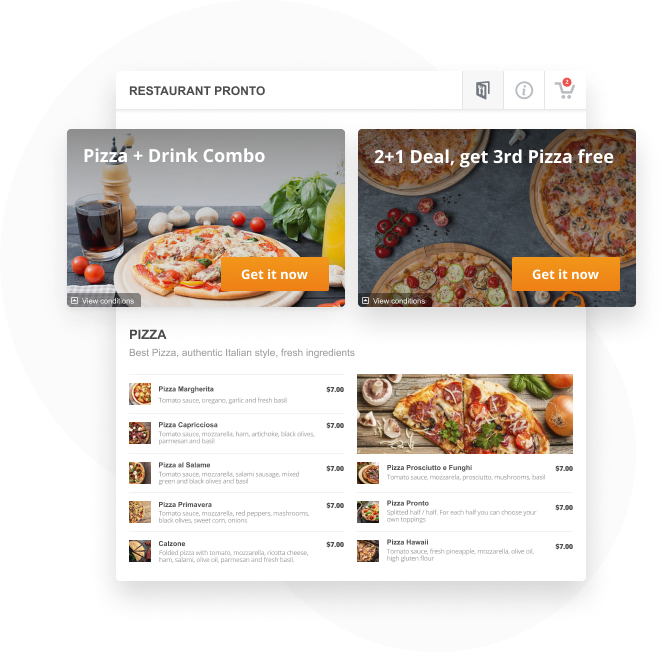 Use our restaurant promotion templates to create any promotion you can think of and add it to your online menu in minutes.
If you're more of a visual learner, check out this video to see how easy it is to create a promo from scratch:
You might also like: 15 Unique Restaurant Promotion Ideas that Will Increase Loyalty in 2023
In Closing
Diligent restaurant menu planning is essential since your menu is your lifeblood. Following the steps and tips above, you can create a restaurant menu that customers won't be able to resist without breaking a sweat.