Independence Day is fast approaching, and Americans all over expect their favorite restaurants to surprise them with delicious food, enticing offers, and fun events.
In fact, 84% of Americans plan to celebrate Independence Day this year, and the average planned per-person spending on food items is $84.12.
Check out these 4th of July restaurant promotions and marketing ideas that will help you turn your restaurant into the place to be this Independence Day.
Try These 4th of July Restaurant Promotions & Ideas in 2022
1. Reward people who come in wearing red, white, and blue
People love to dress up on the 4th of July, proudly sporting traditional American colors: red, white, and blue. Why not give something extra to customers who wear these colors to your restaurant?
You could offer a 10% discount on the check, a free dessert, or a drink on the house. This small gesture will help you attract more customers to your establishment this Independence Day without breaking the bank.
2. Serve traditional Independence Day food
Your menu should be the star of the show on the 4th of July. Serve typical American Independence Day foods, and you'll have customers lining up to try your dishes. Here are some 4th of July menu ideas you can implement:
4th of July breakfast ideas
Pancakes decorated with blueberries and strawberries
Donuts glazed with the American flag
Cupcakes with red, white, and blue icing
4th of July brunch ideas
Blueberry waffles topped with whipped cream
Red, white, and blue fruit tart
Puff pastry stars
4th of July lunch ideas
Root beer baked beans
Spicy beef burgers
BLT potato salad
4th of July dinner ideas
Grilled hot dogs
Spicy chicken wings
Barbecue ribs
4th of July buffet ideas
Grilled corn on the cob
Potato salad
Grilled kebabs
4th of July dessert ideas
S'mores
Firecracker milkshake with blueberry and strawberry ice cream
Red velvet 4th of July cake
3. Offer unique promotions and special offers
Offering appealing 4th of July restaurant promotions is the easiest way to get people through the door on Independence Day. Check out these Independence Day promo ideas you can implement at your restaurant:
Free delivery with code "JULY4"
10% off all dishes on your 4th of July category
Free beer with every order of burgers
Meal bundle that costs $7.04 (the 4th of July)
Family menu for $17.76 (when America was born)
Read more: 15 Unique Restaurant Promotion Ideas that Will Increase Loyalty in 2022
Ensure you don't miss any food-related holidays by downloading our 2023 calendar featuring promotion ideas for each.
4. Serve themed drinks
On top of your delicious food, you also need some 4th of July bar specials to get people in a celebratory mood. Besides beer, which is a mandatory refreshment when you're serving barbecue and burgers, consider these 4th of July drink ideas to spice up your menu:
Frozen strawberry margarita with blue curacao
Red, white, and blue Jell-O shots
Blue Hawaiian coolers
Bailey's shots served in toasted marshmallows
Spicy watermelon cocktail
Related: How to Practice Responsible Alcohol Service in Restaurants
5. Organize 4th of July events
Restaurant events help you stand out in the crowd of restaurants in your neighborhood. What better time to organize a show-stopping event than on America's birthday?
If you want to be known for more than the best 4th of July restaurant deals, you must find ways to bring your community together and offer them an unforgettable experience.
Organize a firework watching show in the backyard with grilling and cold drinks, host a local musician, or organize a patriotic trivia night.
If you don't want to go the firework route, advertise that and encourage customers to bring their pets because your restaurant is a firework-free zone.
6. Offer a delivery special picnic bundle
For people who want to celebrate at home, in their backyards, or somewhere out in nature but don't want to cook, provide the option to order a picnic bundle.
Allow customers to order your 4th of July dishes online
Install an online ordering system to your website for free
Start Now
Besides the food and dessert options, add two beers (or lemonades) on the house. Additionally, make the bundle festive by adding some American flag paper napkins, paper plates, party hats, balloons, or even some sparklers for a complete celebration.
7. Organize an Independence Day hot dog eating contest
Hot dog eating contests are to the 4th of July what fireworks are to… well, the 4th of July. Embrace the fun and whimsy by organizing a hot dog eating contest at your restaurant.
Reward the winner with unlimited refillable drinks for the rest of the night. After all, they'll need it after chugging all those hot dogs.
You might also like: 20 Restaurant Contest Ideas That Will Delight Your Customers
8. Decorate your restaurant to reflect the American spirit
If you're going all out for Independence Day, make your restaurant look the part. First, put red, white, and blue balloons around the entrance to attract attention.
Then, once people come in, greet them with a flurry of flags and themed table decorations like napkins, candles, and straws.
You can even have your staff wear a flag scarf around their necks to get into the mood.
You might also like: 15 Restaurant Design Tips That Will Attract More Customers
9. Place a grill in front of your restaurant
If the local regulations allow it, there's no better way to draw customers in than with the smell of barbecue. Install one in front of the restaurant for people who want to grab a hot dog on the go and invite people inside for more fun Independence Day festivities.
If your town is organizing a 4th of July parade and your restaurant is on the parade route, this will be fantastic publicity for you as hungry people will stop for a bite to eat.
10. Have a kids' menu and activities for young ones
Independence Day is an exciting day for kids and adults alike. Cater to families with children by serving a special 4th of July kids' menu. Include a special free treat with every menu, like a lollipop in the colors of the American flag.
To give parents a break and keep children occupied, you can organize a coloring contest where kids draw the flag.
Read more: How to Attract Families to Your Restaurant: Kid-Friendly Restaurant Ideas
11. Organize a fireworks show
Fireworks might not be for everybody. However, if you want to offer your customers a show and local laws allow it, purchase some fireworks and launch them in the backyard as an exciting end to a fun evening.
Remember to check all laws and regulations regarding fireworks in your area. Only launch them if there's a proper space where you can do that without putting yourself or your customers in danger. Safety comes first!
12. Distribute flyers at local celebrations
Are there Independence Day events and parades in your area? Print some flyers and distribute them to the attendants to invite them to enjoy a delicious traditional American barbecue once the festivities are over.
To attract even more people, include a discount code on every flyer. For people who want to order online, add your website too. Top it all off with a mouthwatering image of one of your 4th of July dishes.
Create a free account with GloriaFood to access our flyer generator and create your own online ordering flyer.
13. Encourage people to book a table in advance for a special discount
If you're expecting a huge crowd on Independence Day, it would be a good idea to let customers know they can book a table in advance.
This will benefit both of you. Customers won't have to wait for a table or arrive at your restaurant and realize you're fully booked. On the other hand, you will be able to anticipate the turnout and serve more people faster.
To motivate customers to book a table, include a 10% discount for people who think ahead.
Fill all your tables this 4th of July
Install our free table reservation system on your restaurant website
Get Started
14. Use a QR code menu to allow customers to order online at the table
Add a digital menu to every table to serve people faster, give your servers a break, and allow customers to place a dine-in order at the table by scanning a QR code.
By scanning the code, customers will be able to browse the menu and place the order straight from their phone, without interacting with a server.
Enable online payments to allow them to also pay for their meal when they order. All they have to do then is wait for their meal to be ready.
Here's how you can get a dine-in QR code menu for free:
15. Post about your 4th of July festivities on your website and social media
Finally, whatever 4th of July restaurant promotions and ideas you decide to implement, they're not going to be worth much if people don't know about them.
The best way to spread the word is to display a message on your website. Then, use Instagram to share sneak peeks of your 4th of July menu specials.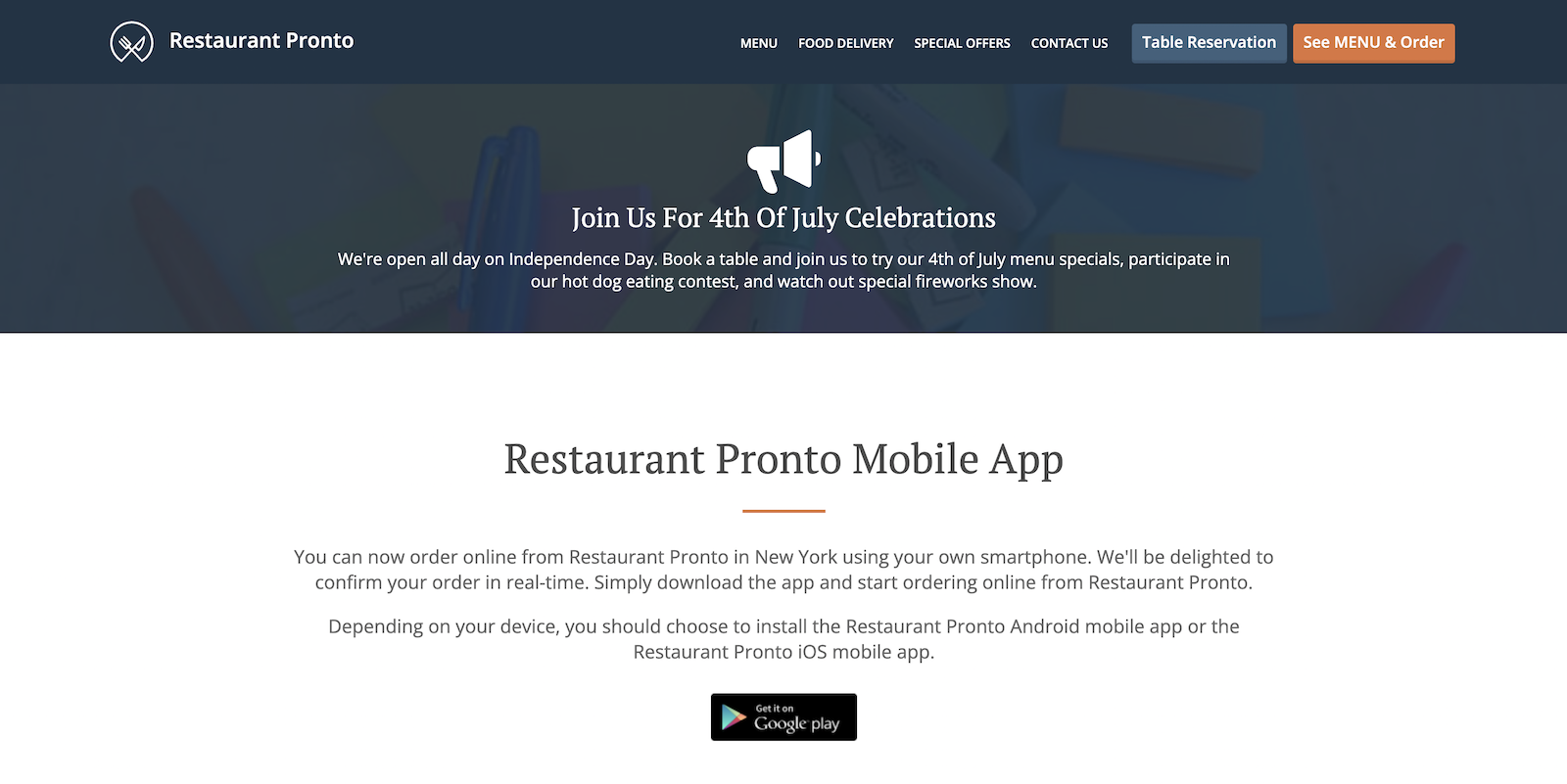 Pin a post on your Facebook page with a link where customers can book a table and a brief description of what they can expect.
You can also take it one step further and update your Facebook cover photo with a festive food image.
Furthermore, ensure you take a lot of photos of the event to capture how people enjoy your 4th of July restaurant deals. Afterward, you can share the candid shots on your social media to show potential clients the fun atmosphere at your restaurant and encourage them to visit you.
16. Add a selfie spot at your restaurant
What do people like to do on Independence Day other than drink and enjoy the most popular 4th of July food? Take photos and share them with their social media following! People like to have memories of fun moments and you can profit from this!
All you have to do is decorate a part of your restaurant for the occasion and let people know it is the designated spot for photographs. Add your name on the background and encourage people to tag your restaurant in their images for free marketing.
17. Persuade people to come back with a restaurant discount coupon
On top of your 4th of July restaurant specials that you make available on Independence Day, you should also be thinking of ways you could use this celebration to help you get more customers in the long run.
An easy way to do so is to include an Independence Day restaurant promo flyer with every order placed on the 4th of July that offers clients 5% off for their next order. This way, you can ensure they will become repeat customers and even recommend your business to their friends if they are satisfied with the experience.
18. Schedule more people to work on the 4th of July
Because you will have amazing Independence Day restaurant deals, you can expect your place to be more full than usual, which can put a strain on your employees. Moreover, if clients must wait a long time to be served and for their food to arrive, they may be unhappy and leave you negative reviews.
Prevent these problems by scheduling more of your employees to work on the 4th of July, enough so that they could cover all tables when they are full. You could give them a nice bonus to serve as motivation.
Conclusion
Independence Day is a fantastic opportunity for your restaurant to shine. Join in the celebrations and provide customers with unique 4th of July restaurant promotions, offers, and foods that will have them craving more.