10 Marketing Tools for Restaurant to Use ASAP
If a tree falls in the forest and no one is around to hear it, does it make a sound? What if you open a restaurant and do no marketing, will you have enough clients?
The first question is a philosophical experiment and can have many answers. But for the second there is a clear answer: NO. You can invest in the best food, a great location, and an amazing team, but if you don't promote the restaurant, you won't get the clients you need to succeed.
Marketing will make your restaurant known and will attract more new and return customers, so you can constantly increase your revenue.
In this article, you will find 10 indispensable marketing tools for restaurants that will make your work easier:
10 Marketing Tools for Restaurants to Use ASAP
1. Online ordering system
Marketing isn't always about creating big advertisements with catchy slogans. Sometimes, it's just about offering clients convenience. That's why one of the most useful marketing tools for restaurants is an efficient online ordering system.
Placing orders by phone should become a thing of the past. What if there isn't someone to answer the phone? What if you write down the wrong order? Avoid any errors that will upset customers by implementing our free online ordering system.
Sign up, fill in your restaurant's information, create a menu, and allow clients to order:
Directly on your website: add the ordering button to your restaurant's website in a visible place. By clicking it, clients will instantly access your digital menu and be able to order their favorite dishes;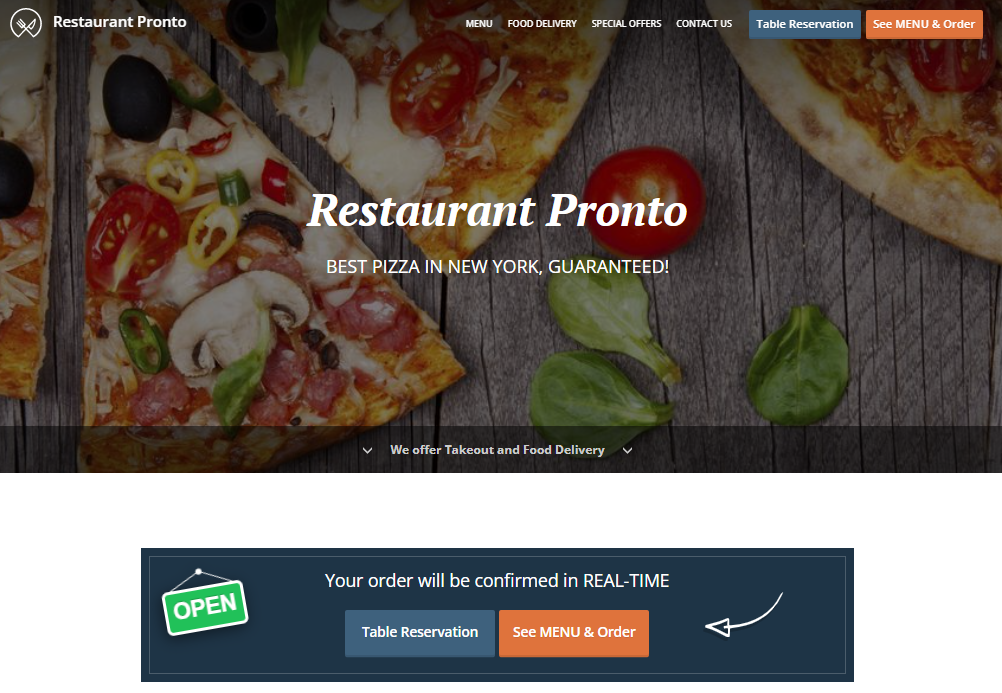 On social media: Customize the "Start Order" button on Facebook with the direct link to your online menu we provide in admin. You can also go to admin -> Setup -> Publishing -> Facebook (Sharing) and copy the link in your social media captions.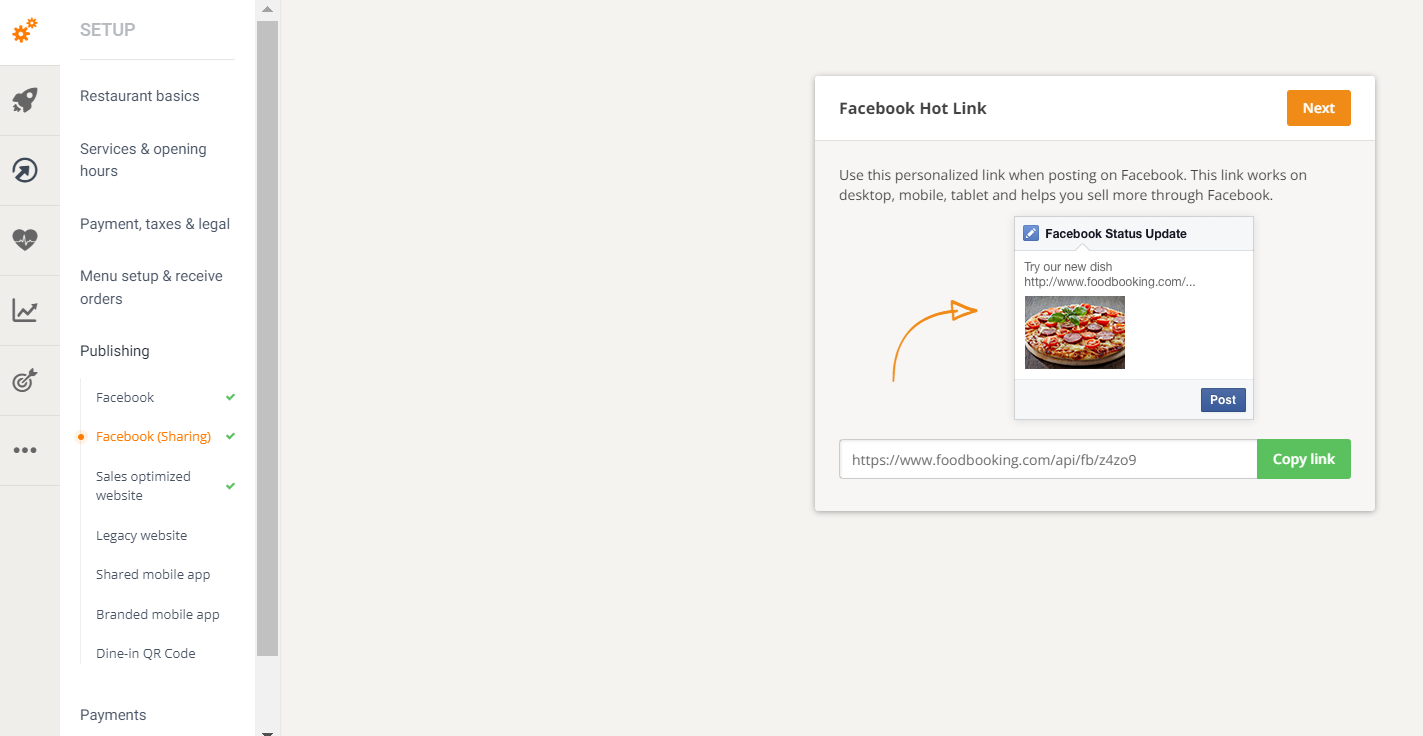 On your own branded mobile app: this is a native app with your logo and pictures that will remind clients how easy it is to order every time they open their phone's screen and see the icon. To get your own, go to admin -> Setup -> Publishing -> Branded mobile app.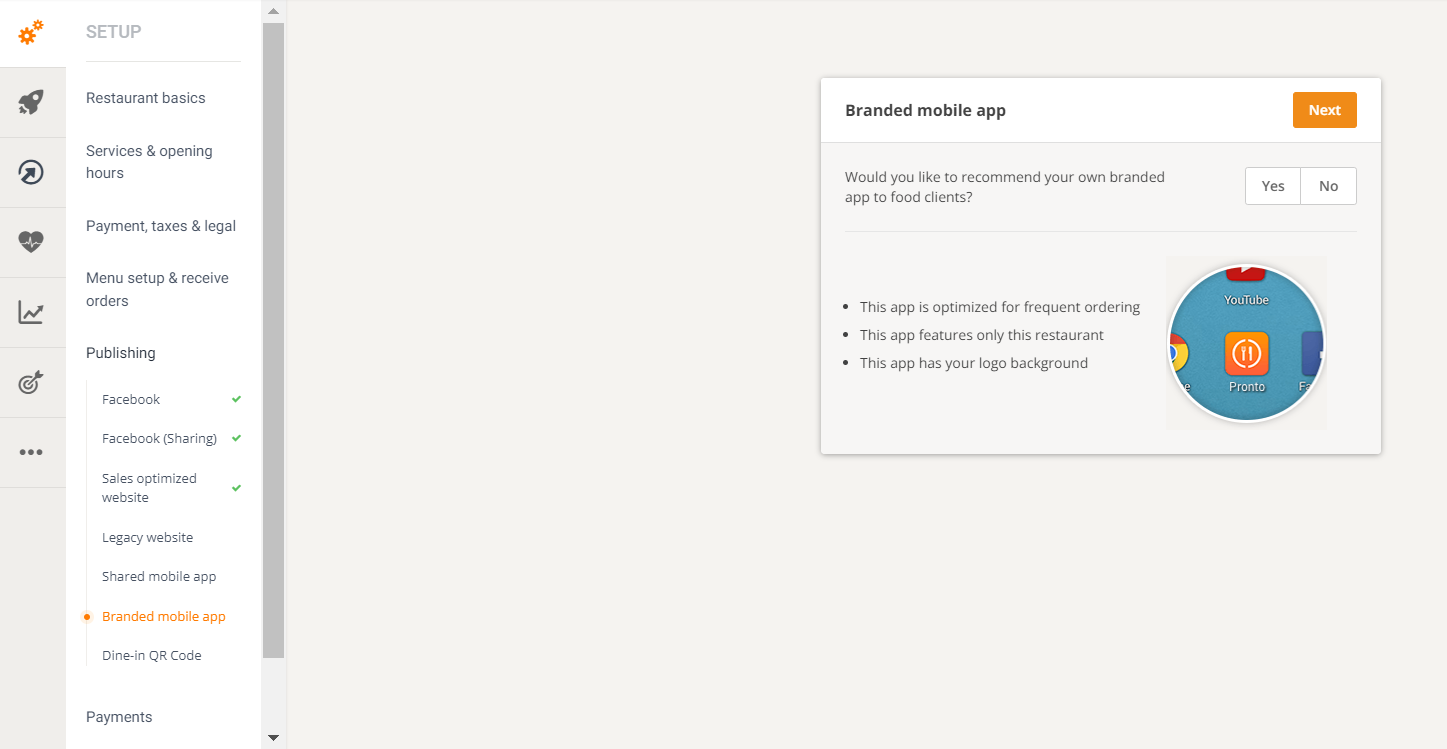 Don't worry, using this online ordering system is just as easy for you, as it is for your clients. All you have to do is download the order-taking app on iOs or Android and start increasing your revenue!
Offer clients the convenience they crave for online food orders
Install a free online ordering system in no time
Start Now
2. Online table reservation system
While we're talking about the importance of convenience in marketing, we must also mention the table booking software. It can be very disappointing to make plans with friends to visit a certain restaurant only to find out that all the tables are full when you arrive.
Furthermore, people aren't always able or prefer not to call to make a reservation. Offer them a great solution in the form of a table reservation software they can access directly on your website.
Our online ordering system comes with a free table booking software integrated. Go to admin -> Setup -> Services & Opening hours -> Table reservation to enable it and enjoy the positive feedback.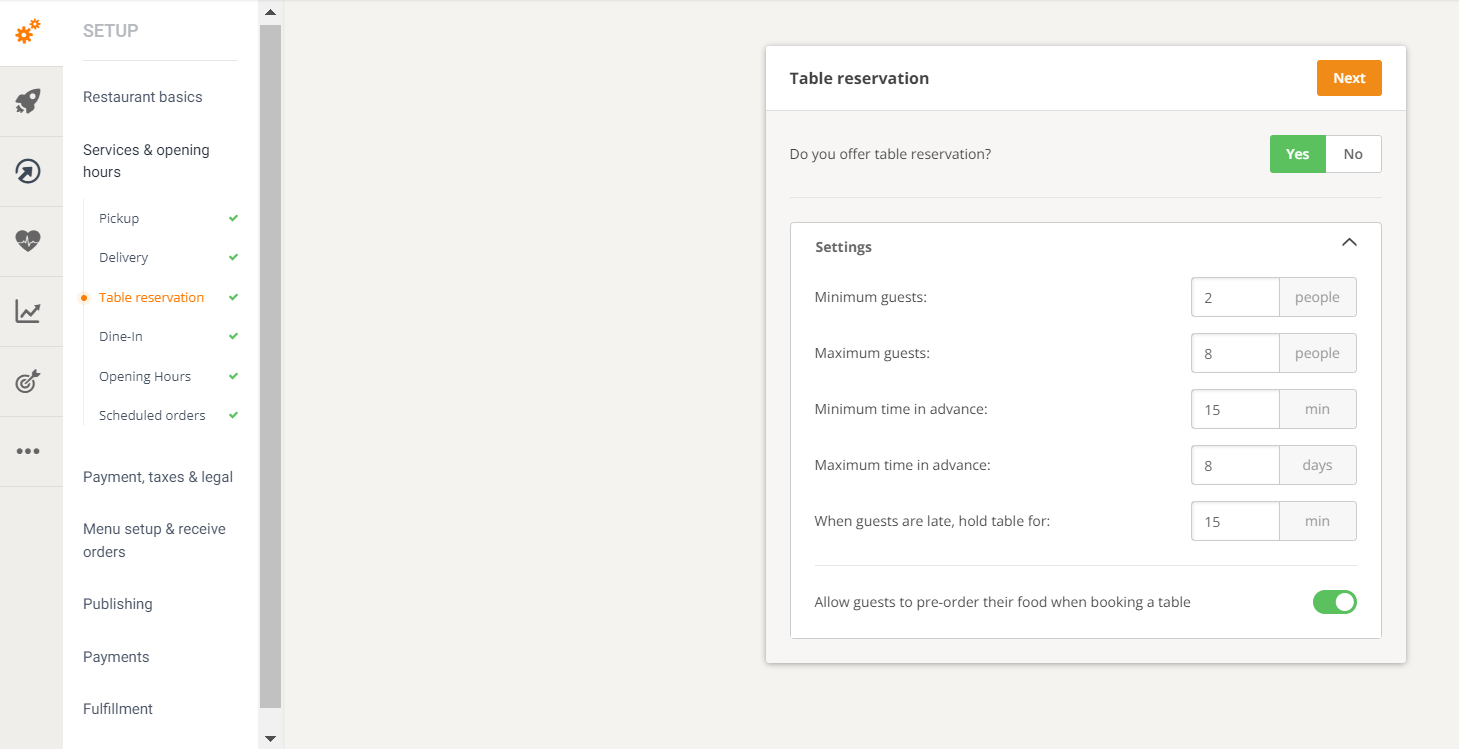 Click here to see a demo website and explore how intuitive it is for a customer to make a reservation. They even have the option to order ahead, so they can enjoy their food in a timely manner after they arrive.
3. SMS and email marketing tool
SMS and email campaigns are one of the great marketing tools for restaurants that can help drive up engagement and increase the number of repeat customers.
But they also require quite a bit of effort: from coming up with ideas for efficient campaigns and building a database to actually sending all those emails.
You would benefit from a tool that can automatically do the SMS and email marketing for you, so you can focus on other important aspects of the business. No need to look further, our online ordering system is equipped with the Autopilot feature.
All you have to do is set up the campaigns once, and the feature will send out the rest, just like the name suggests, on Autopilot. The system segments clients according to their purchasing history so they can send them the most relevant campaigns.
Go to admin -> Autopilot Selling -> Autopilot and enjoy the increase in new and returning clients.

4. Promotion marketing software
One of the classic marketing tools for restaurants is implementing promotions. Everybody loves a good deal, especially when it involves food!
Incentivize clients to order from your restaurant by allowing them to get a good deal. With our online ordering system, you can easily set up a promotion in minutes, that will show up in a visible spot for your clients: at the top of your online restaurant menu.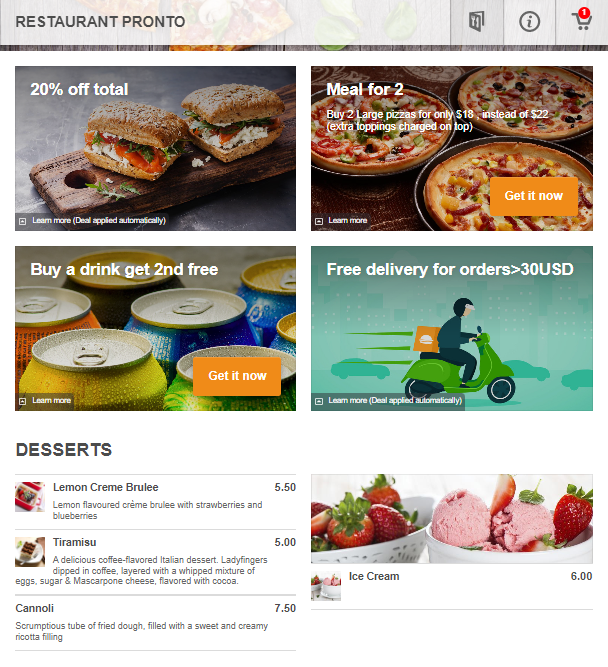 Eligible customers can just click on the deal and the offer will be automatically applied to their cart. To set up a promotion, go to admin -> Marketing -> Promotions -> Self-made promos and choose one of the tried and tested promo templates we have created for you.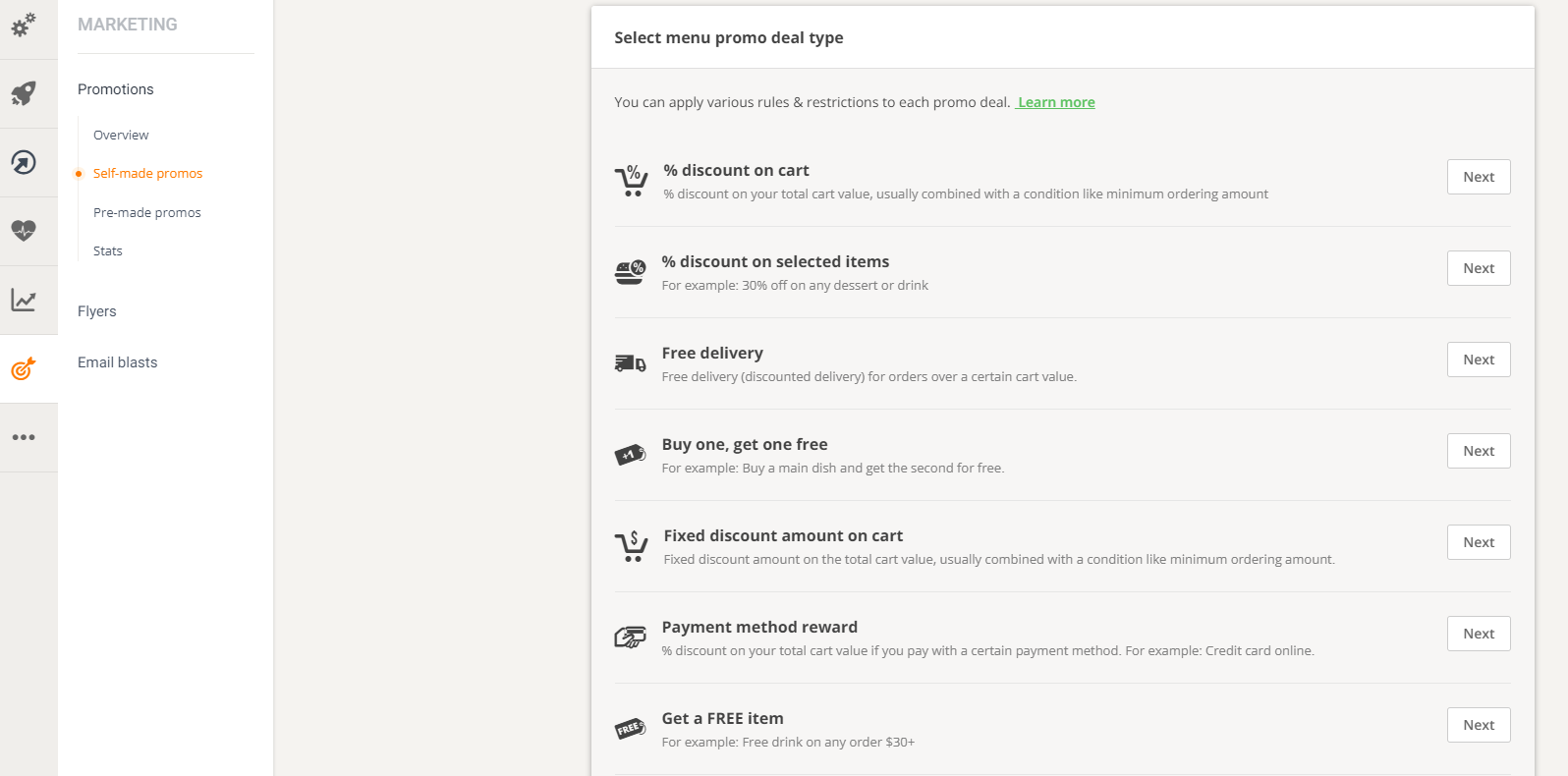 You can customize the name, picture, and even more advanced settings, such as: type of client (new or returning), order type (pickup, delivery, dine-in, display time, and much more. Check out this video to learn more about setting up promotions:
5. Online review aggregator
Reviews are one of the most important currencies in the marketing game. Not only are they factored in for local SEO, but they are seen by most of your potential clients. It is common for people to search for reviews and read about others' experiences before visiting or ordering from a restaurant.
Therefore, you must concentrate on three important tasks:
Creating a complete profile on every review platform available in your area. Be it Google, Yelp, or TripAdvisor, you should include your location, contact information, link to the website, menu, and many many pictures;
Replying to every review, be it bad or good.
Checking every platform you are on and responding to all the reviews may seem like a daunting activity. That's why an online review aggregator should be on your must-have list of marketing tools for restaurants.
It saves you time and effort because you can view and reply to reviews from one single dashboard. It will also motivate you to keep on top of them. Some examples of online review aggregators are ReviewPro and ReviewTrackers.
6. Social media scheduling tool
Having social media accounts empowers you to both build a community of loyal customers and reach a new audience. The key to your posts being shown in as many people's feeds as possible is something busy restaurant owners often struggle with: consistency.
A social media scheduling tool like Hootsuite or Buffer can help with that. It will enable you to schedule all your posts at the desired time with as much time in advance as you want.
This way, you only have to come up with ideas, photos and captions once every two weeks (you can do it for a shorter or a longer period, but this is our recommendation) and spend the rest of the time interacting with your followers (directly in the scheduling tool) by replying to messages and comments.
You also get access to restaurant social media analytics to see which posts performed better than other and change your strategy if needed.
7. Wi-Fi marketing tool
Providing Wi-Fi access in the restaurant has become the norm nowadays. Patrons expect their food to be accompanied by free internet, especially tourists that may not have a data plan in your country.
So, if you're going to be offering internet, why not take advantage of it with Wi-Fi marketing? There are certain services like ZenReach or SocialWifi that can gather the client's data so you can have a database for your future marketing endeavors. They do so by requiring clients to fill in their email addresses or social media to get access to Wi-Fi.
8. Restaurant guest survey
To offer great restaurant service, you must know your audience. Who are they? What is their predominant gender and age group? What are their preferences? Do they have suggestions for your restaurant?
When you have answers to all these questions and more, you can use them to better your customer experience. This way, you make your clients happy and increase your chances of seeing them again. Furthermore, they will be determined to write a positive review and recommend your restaurant to friends.
But how should you go about doing a restaurant guest survey? A common way is to send a small questionnaire (it should take no more than five minutes to complete), immediately after a food order or, at the maximum, in the following week.
9. Restaurant loyalty software
Getting new customers is a great way to increase your revenue, but you must be aware that there are a finite number of people near your location. That's why you should also focus your attention on marketing tools for restaurants that encourage clients to become loyal to your business.
And what's the best way to determine customers to keep visiting or ordering from your restaurant? Offering an incentive, of course! This is where restaurant loyalty software like Punchh or OpenLoyalty can help. With your input, they will implement different ways of rewarding people who visit or order from your restaurant often.
Another way to reward loyalty is by offering promotions. Here are a couple of ideas:
Create deals that can only be redeemed by returning clients (this can easily be done with the Promotions module integrated into our online ordering system);
Add a coupon code with the food delivery for clients that have ordered from you before. Here is a quick video tutorial on how to create coupon codes in no time:
10. Restaurant Data Analytics tool
Constantly monitoring your marketing operations will help you notice:
strategies that work well and you should do more of;
activities that don't bring the results you hoped for and aren't worth the investment.
Therefore, you need a restaurant data analytics tool that is easy to use and will help you improve your business. Good news, we have just what you're looking for, all integrated into our online ordering system.
Ensure your success by using a performant restaurant data analytics tool
Discover the benefits of our online ordering system's marketing powerhouse
Start Now
Go to admin -> Reports -> Essentials -> Overview and you'll get access to invaluable information about your restaurant, such as:
Total number of accepted orders and reservations;
Total value of orders and reservations;
Your restaurant's website rank in Google;
The number of total website visitors;
and much more.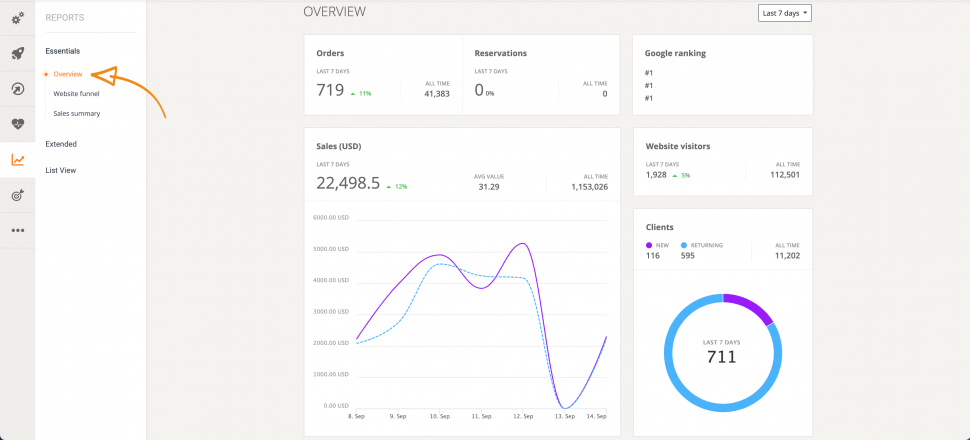 Furthermore, the software also gives you advice on how to grow your business with three main goals:
Increase website visits;
Convince more people to order;
Increase the number of returning customers.
Sign up now and discover a valuable monitoring tool.
Conclusion
Make your restaurant a well-known name in the industry and attract more clients by implementing these must-have marketing tools for restaurants. Think smart, and go for technology that is both easy to use and delivers amazing results.
With our online ordering system, you get more than a streamlined ordering process. You get a table reservation software, a Promotions module, an SMS and email marketing tool, and a restaurant data analytics feature.​