Is the Restaurant Mobile App the Future of the Restaurant Industry?
If customers weren't that intent on using a restaurant mobile app before the pandemic, they are now. As restaurants start reopening, the industry is experiencing permanent changes that will shape how customers view dining from now on.
Chief among these changes is the need for indirect, mobile interactions. Let's have a look at some recent dining trends and see why having a restaurant mobile app is becoming the norm in the F&B industry.
Why You Should Offer Your Clients a Mobile App for Restaurant Ordering
Before hitting the "how" of having your own restaurant mobile app, let's first tackle the "why" and crunch some numbers.
According to a Dining Trends Report conducted by AdTheorent, 70% of customers use their mobile devices when purchasing food from quick-service restaurants and fast-casual restaurants.
This number highlights the increasing necessity customers have to perform simple tasks on the go. It also points to how vital it is for restaurants to help customers by providing a seamless mobile ordering experience.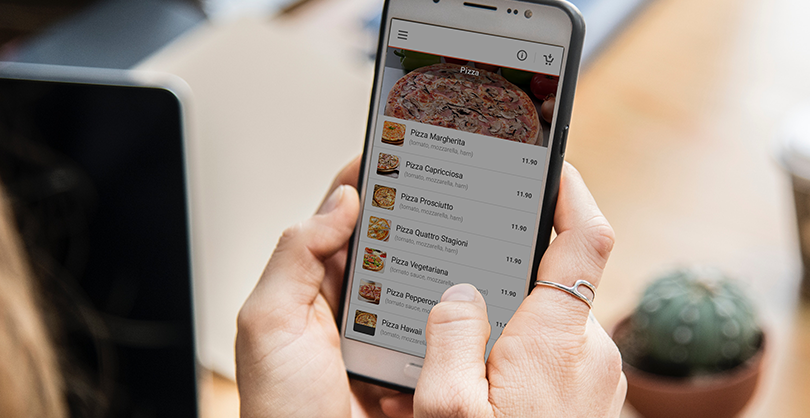 Another U.S. study conducted in February 2021 found that 67% of customers prefer using a restaurant's own app – a restaurant branded app – for food delivery.
Related: Mobile Apps For Restaurant Owners And Their Food Clients
Moreover, the use of mobile apps in the restaurant industry is on an upward trajectory. The same AdTheorent study above found that 33% of consumers are placing food orders online via a restaurant's mobile app more now than 2 years ago.
Additionally, 56% of consumers said that being able to place orders online via a mobile app would make them order more often from a restaurant.
So, using a mobile app for restaurant ordering helps streamline your business by making your customers' lives a whole lot easier. It's no secret humans base a lot of their decisions on one very important factor: convenience.
Set up your own branded restaurant app fast
Start taking orders by tonight
Get app now
The Future of Restaurant Mobile Marketing: Restaurant App Statistics Infographic

Related: How Mobile Marketing for Restaurants Will Help You Gain More Food Clients
Restaurant Mobile Apps: Where Convenience Meets Utility
Thanks to data from the Oracle Food and Beverage survey quoted in the infographic above, we know that consumers use mobile apps for restaurant ordering so they can enjoy benefits like:
order, pay, and reserve a table,
receive special deals and coupons,
& look up menu items.
Read more: 5 Essential Restaurant App Features You Need To Sell More
Some of the main reasons why consumers use restaurant mobile apps are because they want:
to support local restaurants (48%)
access to the full menu (42%)
better customer service (32%)
These are all valid points that prove you need a restaurant mobile app. Because by helping your customers, you're helping yourself.
Related: Restaurant Order Taking App
Taking Action: The GloriaFood Branded Mobile App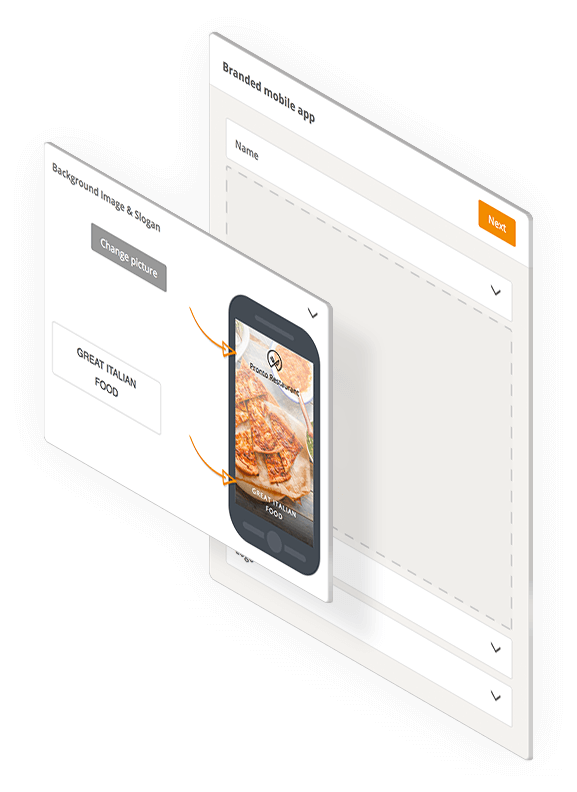 Does restaurant mobile app design scare you? You're in luck. The GloriaFood Branded Mobile App is a premium app that we design, but which you can make look like your own by featuring your…
logo,
background,
& slogan to best reflect your restaurant's cuisine and identity.
It's like a restaurant mobile app template you can customize at will. Think about it: how effective would it be to have your own branded app, featuring your restaurant's name? I'll tell you something: it will definitely get more orders in.
And the best part is that setting up this native app is super easy to do. Just create a free account with us and then access your restaurant dashboard -> Setup -> Publishing -> Branded mobile app.
Next, add your restaurant's name, background image, slogan, description, and logo, and submit the app to the Android and Apple app stores.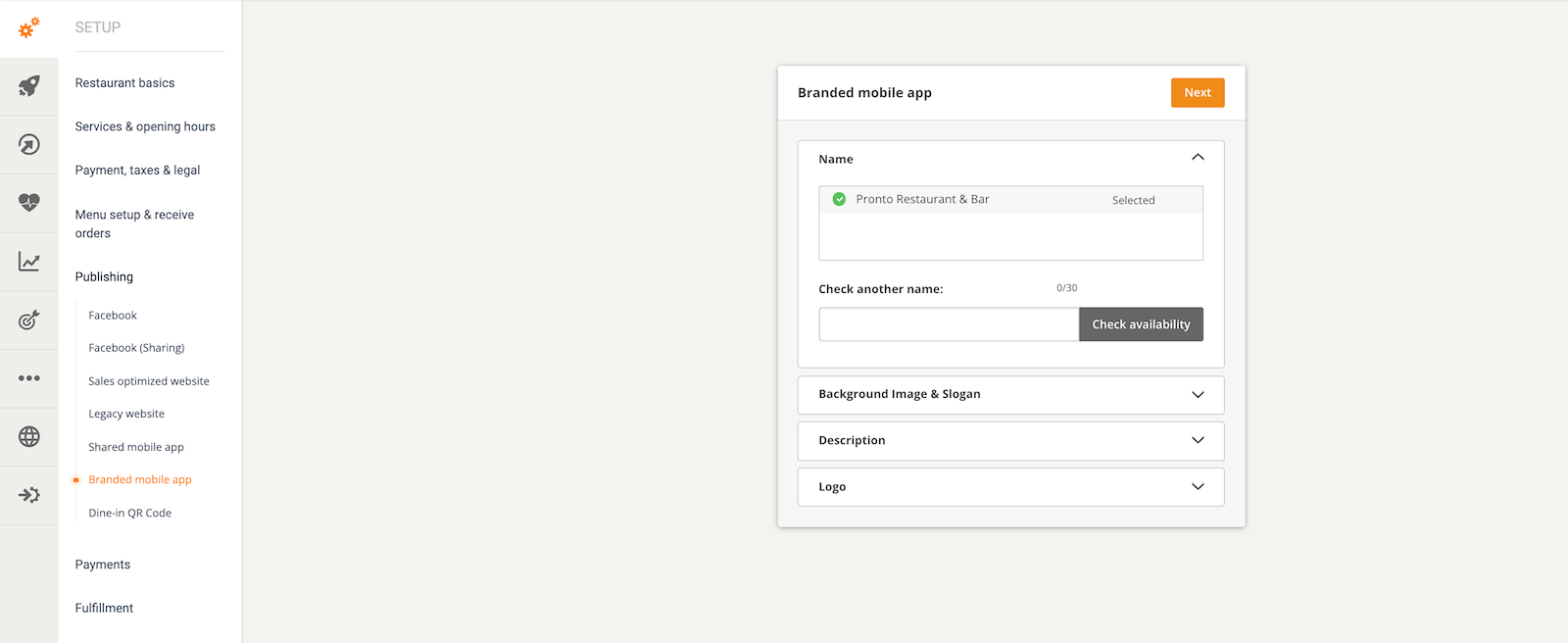 Read more: White Label Food Ordering App
How to Attract More Customers to Your App with Autopilot Promotions
As you've seen in the infographic above, customers LOVE a good deal. In fact, 38% said they might be motivated to act if they receive a special offer.
Keeping track of countless promotions and segmenting users so that you know which ones to target based on their purchasing behavior can be overwhelming.
Let us handle that for you by putting your restaurant promotions on Autopilot. Our newest service can help you increase sales and keep customers engaged by promoting food offers.
It comes with three pre-built campaigns that you can use to send automated messages via email and SMS: Encourage Second Order, Re-engage Clients, and Cart Abandonment.
Related: 11 ways to promote your restaurant mobile app for free
To activate this service, go to your restaurant dashboard -> Autopilot Selling.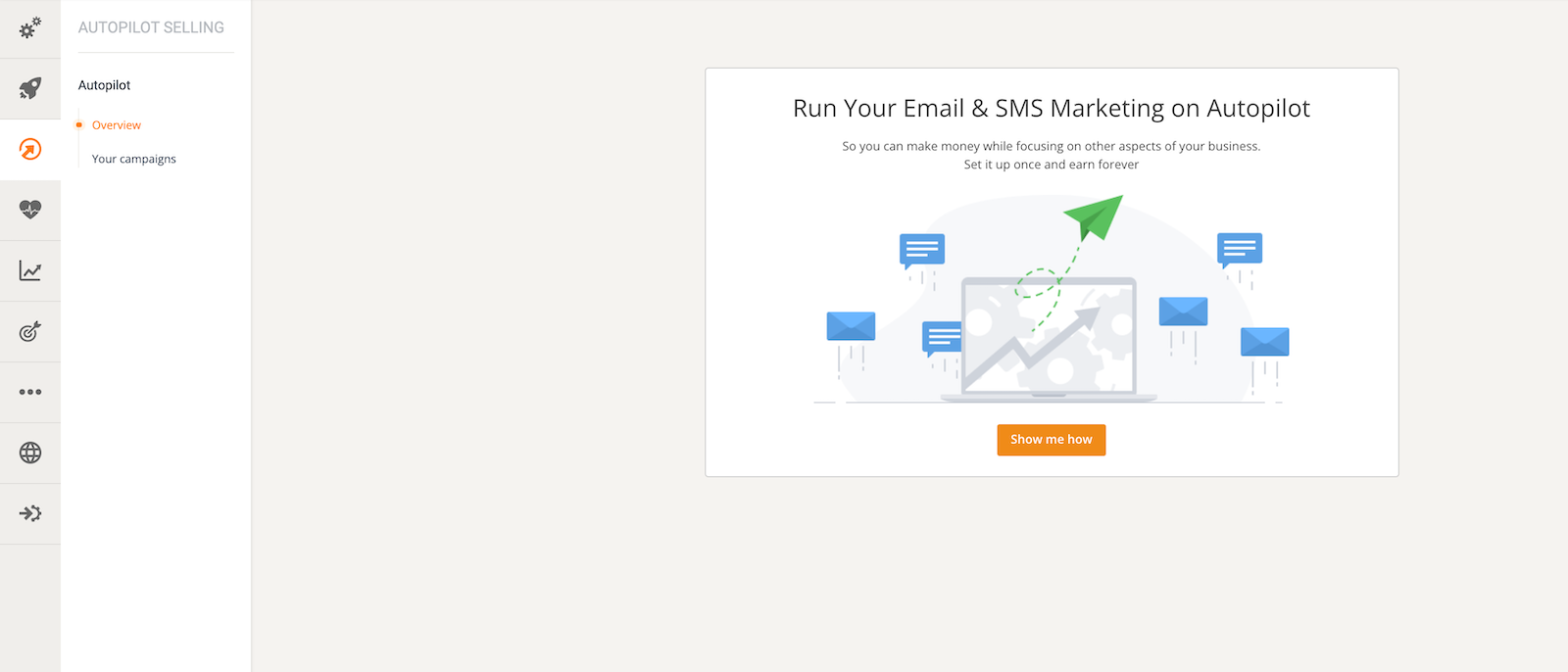 For more information on the advantages of enabling Autopilot, detailed setup, and how to customize and activate your campaigns, take a look at the video below.
Our Gift to You: The GloriaFood FoodBooking App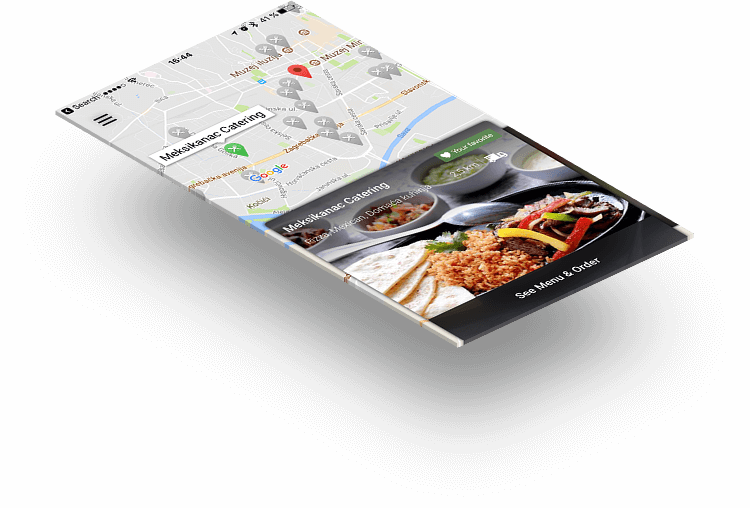 As a thank you to those of you who chose the GloriaFood online ordering system and are ready to gain an additional sales channel, we have created a free shared app called FoodBooking.
FoodBooking is our own exclusive and personalized restaurant marketplace, listing all of our clients that wish to be part of this shared app without worrying about restaurant mobile app development.
Every food client who downloads the FoodBooking app can see all the restaurants located in their proximity that deliver. And one of those restaurants could be you.
We're showing your restaurant to a whole new target audience, to people out there who may have never heard of your business before. At the same time, this app also enables you to get repeat business from your current customers.
Related: FoodBooking – The Restaurant Ordering App For Your Food Clients
To add your restaurant to the FoodBooking app, go to your restaurant dashboard -> Setup -> Publishing -> Shared mobile app.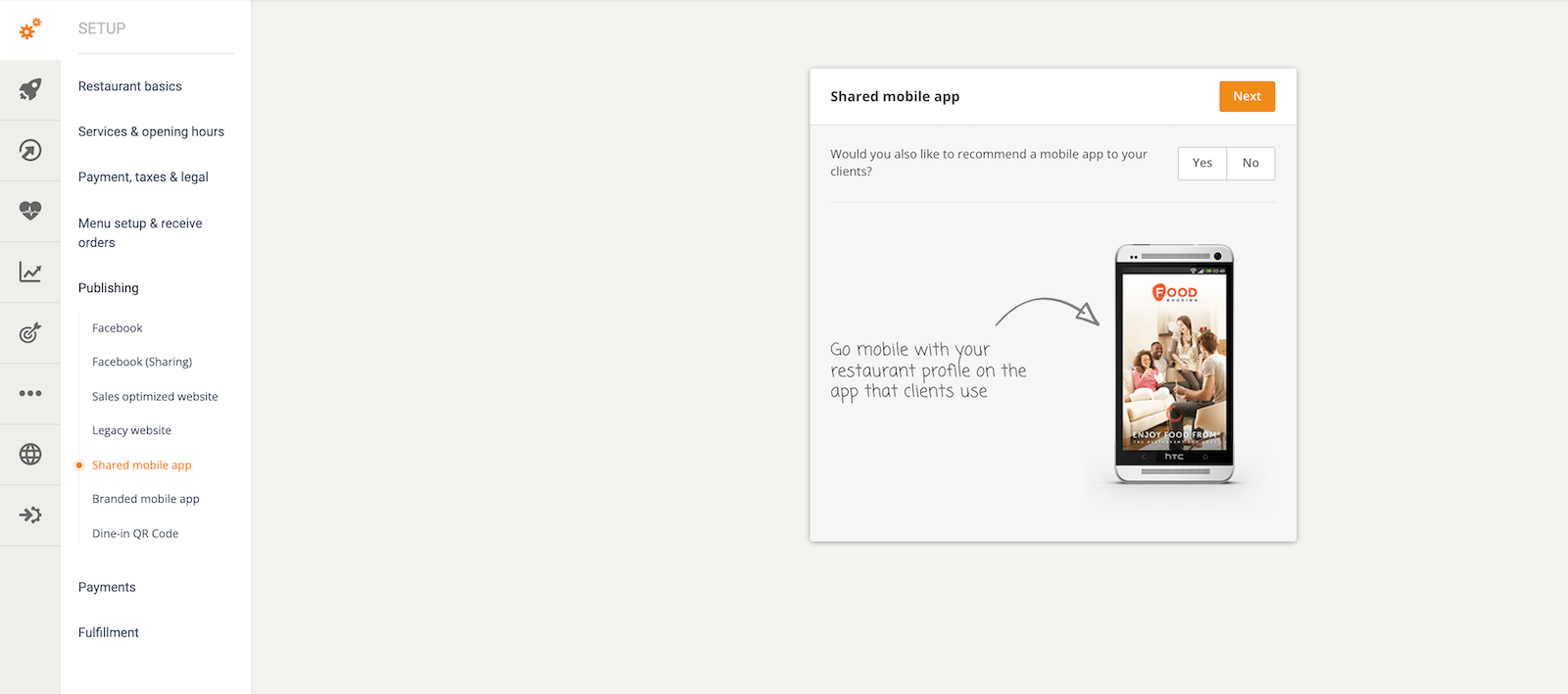 Before you go…
…I'll leave you with one thing you should never forget: a restaurant mobile app is a powerful weapon to have in your marketing arsenal.
By using a restaurant menu mobile app, customers can easily order their favorite food. As a result, your profits will soar, which will help you keep up with the Joneses of the restaurant industry.
Getting repeat customers is a choice. So make the right choice. Set up your account on the GloriaFood website if you haven't done so already and use our app builder to shape and mold your own mobile ordering app.