The Anatomy of a Successful Restaurant App
How can you boost revenue, streamline your service, interact with and cultivate new customers? Get a mobile restaurant app.
Now more than ever, restaurants across the world are innovating and coming up with creative ideas to stay afloat during difficult times.
However, these innovations have become increasingly popular and more of a standard for restaurants. The mobile restaurant app, in particular, makes it easier for restaurants to enhance their reputation, revenue, and customer loyalty. That is if they have these four essential restaurant app features.
What is a Restaurant Mobile App: 4 Key Restaurant App Features
A restaurant mobile app is a tool where you can constantly keep your guests updated about new launches, events or promotions, and updated contact information.
The optimal restaurant mobile app should include:
Built-in delivery and takeout orders
Plenty of discounts
A simple interface that comes with an accessible and inclusive design
A promotion module to encourage first-time customers
Together, these restaurant app features will make your app more attractive and valuable to your consumer.
You might also like: Restaurant App Statistics Infographic
Built-in Delivery and Takeout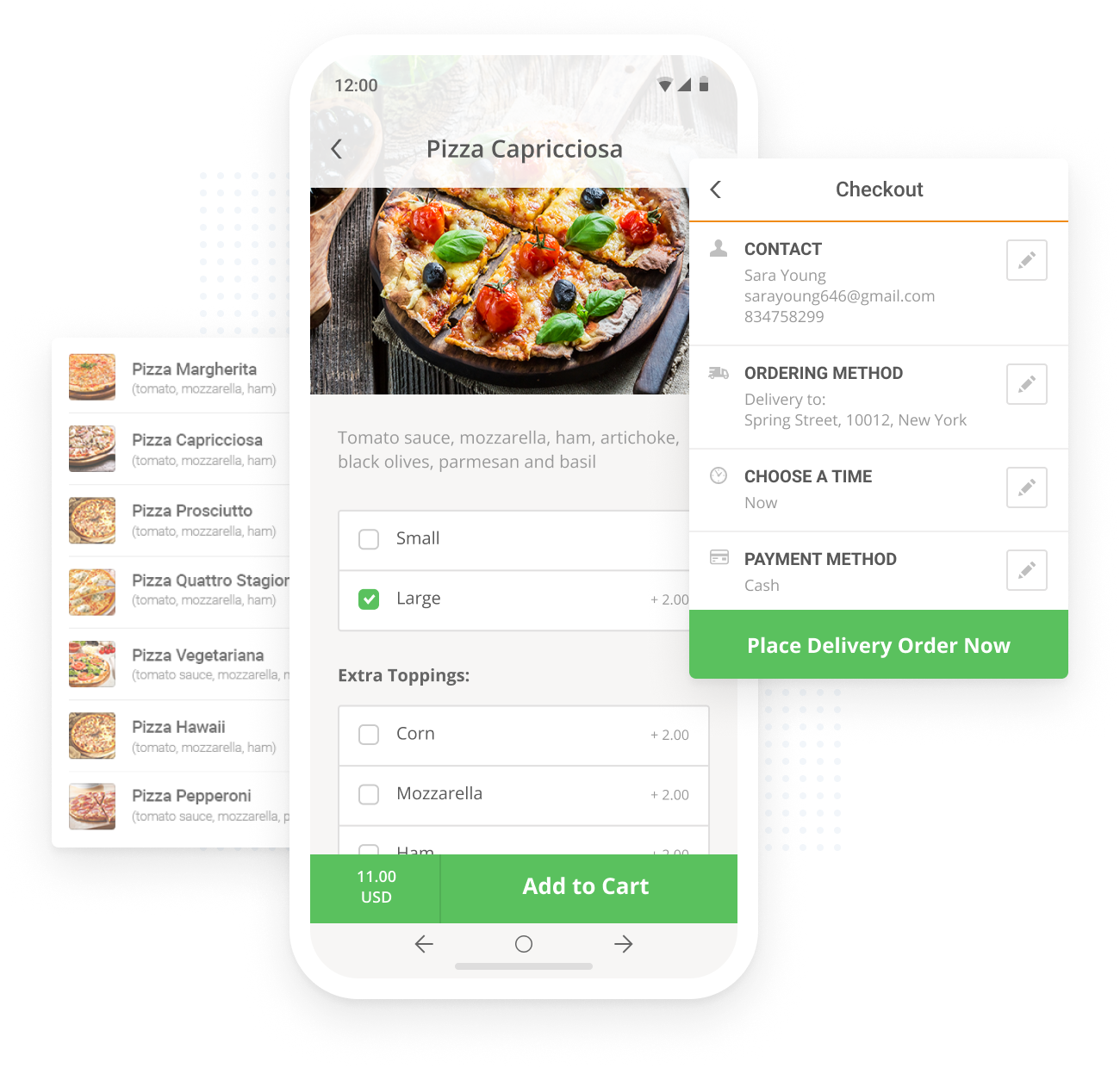 Given the recent climate, the restaurant industry has to quickly pivot to include free delivery and takeout options that they might have otherwise not had.
Restaurant delivery and takeout services have become increasingly popular and are vital to maintaining profits.
If you haven't implemented these restaurant app features already, you should consider doing so. Expanding your services to include takeout, delivery, and pickup will only boost your revenue.
Steps to Implementing a Delivery Service
First things first, you need to create a specific takeout and delivery menu.
Rather than using the same full menu used for in-house dining, you might want to consider shortening the options to some popular items to keep production costs down.
Once you have your menu established, add it to your app to allow for prompt delivery directly from your application. Skip restaurant mobile app development by letting us do it for you.
White-Label, Branded Restaurant App
Get your own mobile app complete with pickup and delivery.
Get Started
In-House Delivery vs. Third-Party Delivery
Third-party delivery services can make this process easier by helping you attract new customers. However, with in-house delivery, you get to keep all the profits.
Even if you have to hire your own drivers, you will have complete control over the delivery process. Plus, you won't end up paying up to 30% of each order to third-party apps.
Worried that third-party services run 24/7 and you can't? Well, you can if you activate scheduled orders. This feature allows customers to place orders at any time with a later fulfillment date.
Not to mention that with your own online ordering system, you control the restaurant app features you have.
Read more: 7 Reasons Why an In-House Online Ordering System is the Best Choice
Plenty of Discounts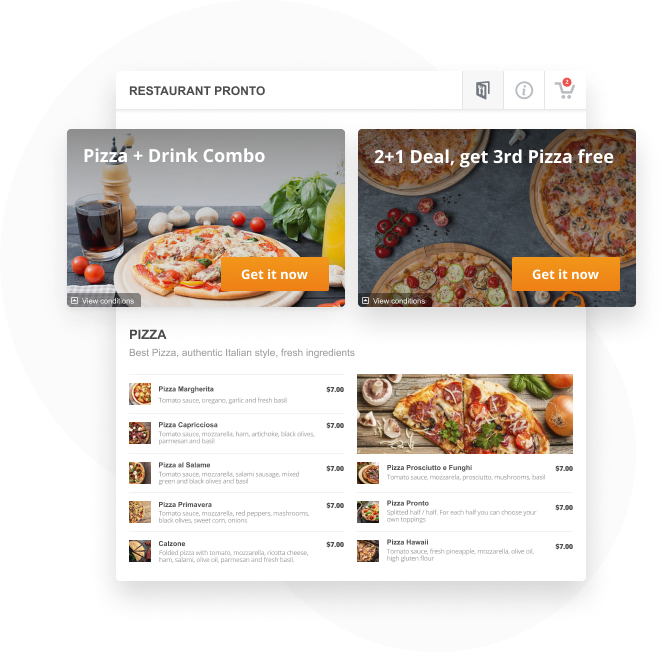 Offering plenty of discounts will hook prospective customers and keep current customers satisfied because they give them a reason to try your food.
You'll reach a wider clientele if you offer discounts and deals because people don't want to spend a fortune on a meal. Instead, someone looking for a bite to eat will gravitate toward the restaurant with plenty of special offers and promotions.
The video below will walk you through a variety of restaurant promotions you can create and publish in your restaurant app in minutes using our online ordering system.
A great example of discounting's positive restaurant impact is a restaurant week. Fundamentally, a restaurant week is an event where many restaurants join together to offer fixed menu prices.
Even though you reduce your menu prices, it makes the items that some people couldn't afford before readily available, thereby helping you reach new customers.
Hosting or participating in a restaurant week can boost your brand's popularity within the community.
The public will view your establishment as trendy. Plus, you'll get a better reputation within the community because you participate in something that helps boost the local economy.
Another example of restaurant promotion is discount coupon codes that you can print on flyers and include in takeaway bags or send to your customers via email.
What about Upselling?
Upselling is the idea that you can tempt customers to purchase more than they initially intended by hinting toward better deals or combinations.
For example, your customer might want a sandwich and a drink, but you can upsell them with a combo deal in which they get a sandwich, a drink, and a bag of chips.
However, upselling doesn't only have to occur with in-person dining. One of the many benefits of mobile apps for restaurants is that they allow automation. You can implement upselling restaurant app features directly into your app.
For example, if a user clicks on a specific product, you can suggest combinations that go with the item.
Another frequently used upselling technique restaurants use on their applications is offering beverage or dessert options before a customer checks out.
Doing so reminds the customer to purchase the extra items they may have forgotten or would not have bought otherwise.
These techniques are subtle but effective.
You can take an even more subtle approach to upselling within the app's menu descriptions. How? By describing complementary items on the menu to nudge customers to try one of those options and add other dishes on the side.
A Simple User Interface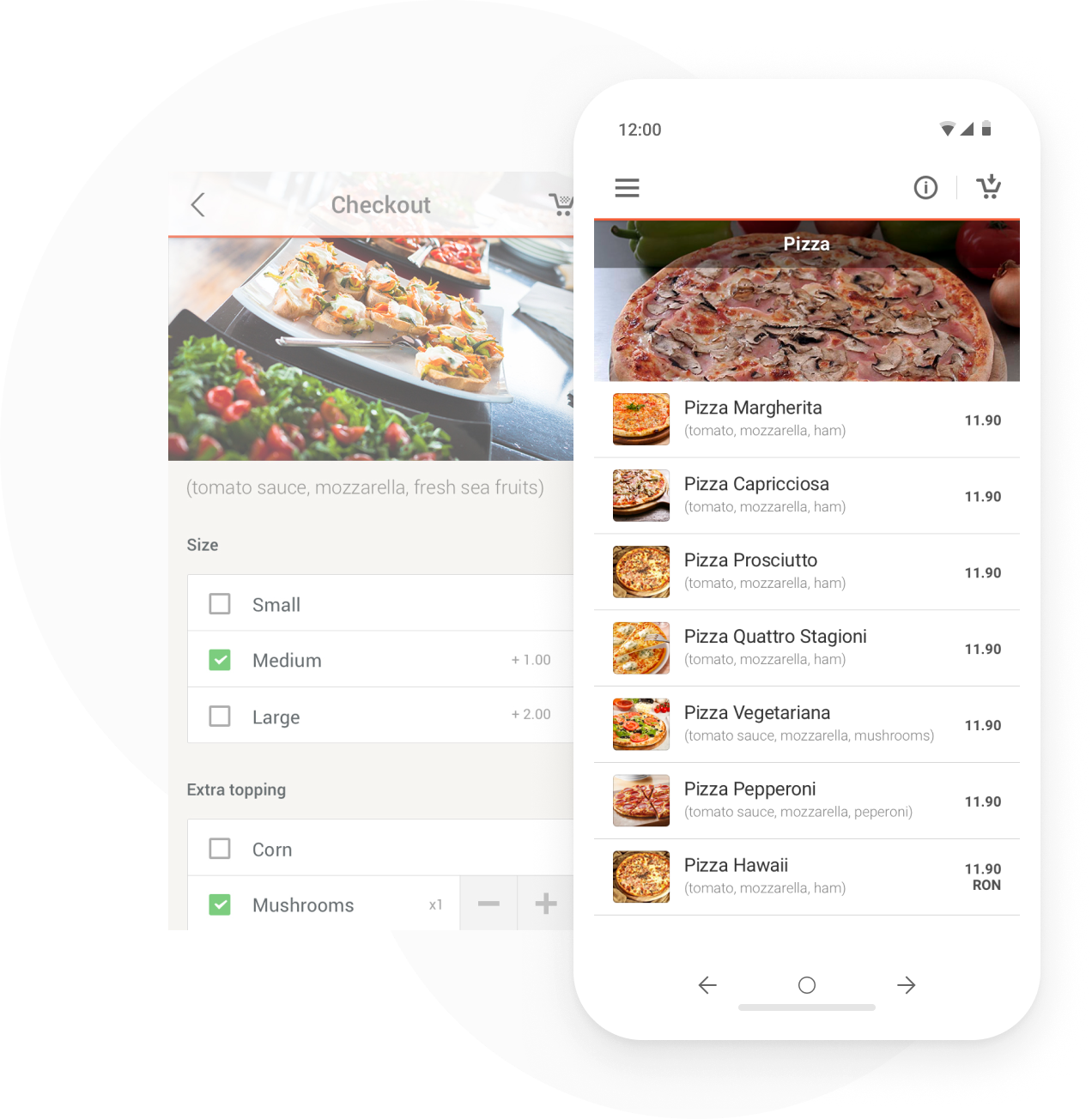 For a customer, there's nothing worse than having to navigate through confusing restaurant app features to find basic information, and this is where simplicity in design comes in.
Instead, aim to create something minimalistic and easy to navigate so that your customers can use the app effortlessly.
Create a basic home screen that lists the available options, such as the menu and order now buttons.
A cleaned-up home screen will give the user options to choose from without having to scroll or search for them.
How the Online Ordering Process Should Look Like
Your customer should be able to order from a computer using your website or a mobile device using your mobile app for restaurant ordering.
Thanks to the app's simple interface, your customer can easily navigate to your order online option. There, they'll click on the menu items they want to purchase, much like they would in any online shopping platform.
When they've concluded adding their items, the platform will direct them to a page where they can input their payment and contact information (which they can save for future orders).
Benefits of Speaking with a First-Time Customer
When your server interacts with first-time customers, they have more opportunities to upsell. New customers are typically interested in learning more about your menu items.
They might also take your server up on their suggestion to try a specific menu item. Someone who has dined with you before might already know what they want to order.
Including first-time customer identification as one of your restaurant app features allows you to connect with first-time patrons even if they're not physically inside the restaurant.
You can hook up the option to a chatbot or give them the option to call the restaurant directly to discuss the menu.
What is Customer-Driven Marketing?
This doesn't mean simply rewarding customers but doing so consistently so that customers will want to engage with you, thus increasing your profits.
The more you interact with your customers through deals targeted directly to them and their needs, the more likely they will return to your restaurant.
What are Statistics Modules?
Statistics modules will help you understand your customer base's activities and enhance your app for better results.
Statistics give you in-depth insight into the inner workings of your platform. The modules can show you what's working well and what isn't so you can work on addressing complications and better boost your revenue.
Some statistics modules you might want to consider are Hotjar, Hotjar alternatives, or Google Firebase.
These modules provide detailed data behind the scenes about different app elements and how customers interact with the platform.
For example, if your app has a 'contact us' page, you can use the statistics module to see how many times customers visit and use the page.
Have you noticed that the contact page rarely gets clicks throughout your application's lifetime? Then it might not be worth being a part of your restaurant app features. You can take it down or revamp it to make it more attractive and accessible for your users.
A Promotion Module to Encourage First-Time Customers
Offering customers a discount or freebie on their first order will help you cultivate a long-term relationship with them and motivate them to keep coming back.
Our branded mobile app for restaurants comes with a Kickstarter module that allows you to send promotional emails and SMS messages to new food clients to encourage them to place an order.
Watch the video below to learn all about attracting new customers to your restaurant:
That's All on Restaurant App Features
2020 caused the restaurant industry to innovate and turn to creative solutions faster than any other industry.
While many thought this would be temporary, these ideas launched a new wave of innovation for restaurants. They created new ways to reach customers and boost revenue, especially by creating digital, interactive platforms.
We hope you enjoyed looking at some of these restaurant app features and other ideas you can implement to keep up with industry changes and boost your revenue.
This article is a guest post.