Dining-in is now fully available again in many countries, but foodies haven't rushed to abandon their "next normal." Ordering food online stays a strong habit among consumers, which generates a significant 41.4% of the average restaurant's revenue, according to PYMNTS.
Is your business already part of these blooming statistics? Are you looking for more ways to boost sales through delivery? Or are you only getting started with a mobile app for your restaurant? Either way, here's how to boost restaurant sales with the help of a mobile app.
Why Higher Sales Come Directly from a Restaurant's Mobile App
When a restaurateur first thinks about adding online delivery to their services, they consider two main options:
Connecting their restaurant to a third-party delivery service.
Recent stats militate in favor of the second option. First, 79% of customers prefer to order directly from a restaurant's app rather than from an aggregator platform. Second, downloads of restaurant-branded apps show a much higher 91% growth than only 3% for delivery apps.
Could you dispense with either option and go with, let's say, a website? While you should also take orders on your restaurant website, an app will help you boost online orders even more. In fact, 67% of consumers prefer mobile apps.
And from the restaurant marketers' standpoint, taking orders through your own mobile app is more advantageous as it allows you and your marketing team to be in charge of all the marketing communications.
Instead of waiting for an incentive an aggregator comes up with, you get to experiment with messaging flows, including more relevant channels, and targeting your offers at specific audience segments.
If you are serious about catering to your restaurant visitors through a mobile app, here are some of the bestselling strategies and tactics your marketing team can try.
How to Boost Restaurant Sales Using a Mobile App
1. Activate users to increase the number of first-time orders
There is a moment called activation when a newly-acquired user takes a meaningful action that brings them closer to seeing an app's value.
In some cases, taking one such action is enough to win a user's heart. In other cases, including restaurant delivery, it takes several successful orders to prove a consistently great service and hook a customer.
For this reason, a restaurant delivery app may go beyond providing a promo code for the first order and extend the offer on several first orders instead.
2. Combat cart abandonment
Like in e-commerce, abandoned carts are a horrible thing in restaurant delivery apps. Luckily, while learning how to boost restaurant sales you can avoid uncompleted orders by reminding customers of what they've left in the cart.
🤏 Add a pinch of personalization if you have this data available: call a customer by their first name or remind them of what they've added to the cart. This will increase your chances of converting a hungry user into a paying customer.
Learn more about preventing cart abandonment and other ways of boosting restaurant sales in the video below.
3. Upsell
Restaurants tend to see an increase in their average order value when they start to accept orders through a mobile app.
One of the reasons: apps offer immense opportunities for upselling. As a marketer, you can analyze your restaurant menu and develop ideas for relevant supplements. A good burger tastes even better with fries, and a comfort food order feels more satisfying when finished with a milkshake, right?
What a great chance to increase your sales and make your customers feel even happier!
4. Increase foot traffic with geo-based push notifications
Through a mobile app, you can invite over those customers who are already somewhere in the proximity of your restaurant (provided they have granted you access to their location, of course).
Send a geo-targeted push to those passers-by featuring an irresistibly delicious offer. By using this kind of geo-based segmentation in its communications, Telepizza has raised its revenue to $2400–2600 from one push!
5. Offer personalized deals to accelerate secondary spending revenue
A great thing about promoting offers through a mobile app is that you can execute personalized campaigns for your customers.
Prerequisite: you have tracked your restaurant clients' order history for a while, so now you can analyze it to come up with more relevant, behavior-based ideas for restaurant promotions.
For example, if your customer hasn't enjoyed your meals in a while, you can remind them of their favorite dishes and keep customers coming back to your restaurant.
🌾 Here again, a grain of personalization may grow into a larger order! Besides referring to the customer's past behavior, enter their name and a mouthwatering photo of your dishes to make them crave your food. Even better: add a personal discount on their next order so they can't resist!
6. Entertainment engagement: Schedule promo for important dates
This technique requires a deep understanding of what's dear to your customers.
They certainly won't miss the next qualifying game if they are keen on football. And when there's a match, there should be some snacks on the table — which you'll be more than happy to deliver right by the time the national anthems are played.
Suppose your audience is made by, rather, music aficionados. In that case, you may want to time your offer to the next song contest or a popular festival. You'll be rewarded with a higher number of orders and warm associations with your brand.
To keep track of all important food-related events of the year and make sure you don't miss a promotion opportunity, download our Food Holiday Calendar 2023.
7. Launch a loyalty program and promote referrals
Loyalty rewards work both ways: your customers get nice discounts every once in a while, while you retain your paying audience and even get a chance to cut your expenses on acquiring new visitors.
Learn how to boost restaurant sales by suggesting your customers spread the word about your restaurant app to their friends. The more foodies get to know about you, the higher sales you may expect!
This is a simple way to integrate and monetize your offline and online audiences.
8. Introduce a subscription
You may think a restaurant app could not be any further from subscriptions. Still, the generation that developed its consumption habits while using Netflix and Spotify may like the idea.
Briefly name the main advantages of your restaurant meal subscription — and get, probably, the most clickable push notification ever!
9. Improve customer experience with the Click & Collect option
How do you think Starbucks gets 26% of its sales? You guessed it right: through its mobile app.
The giant figured out that online transactions have a vast potential very early. You can stand on their shoulders and use the same move to grow your restaurant revenue. Add the ability to pre-order or order for takeaway to your mobile app. Promote it generously on all the accessible communication channels you own.
Pair this with online payments to simplify the ordering process even more and keep customers' satisfaction sky high.
10. Suggest ordering online as an alternative to eating in during peak hours
Gain even more during peak hours without compromising customer experience.
Advise your customers to place an order through your mobile app instead of heading to your place. Provided you communicate it correctly, they will see this as an act of care, which will benefit your restaurant brand in the long term.
Free Online Ordering System for Restaurants
No fees, no commissions, no gimmicks.
Get Started
11. Make it possible for your customers to book a table through your mobile app
Add a table-booking feature to your app that will help you fill empty tables without customers having to call the restaurant. Enable them to book a table within seconds via a user-friendly mobile widget.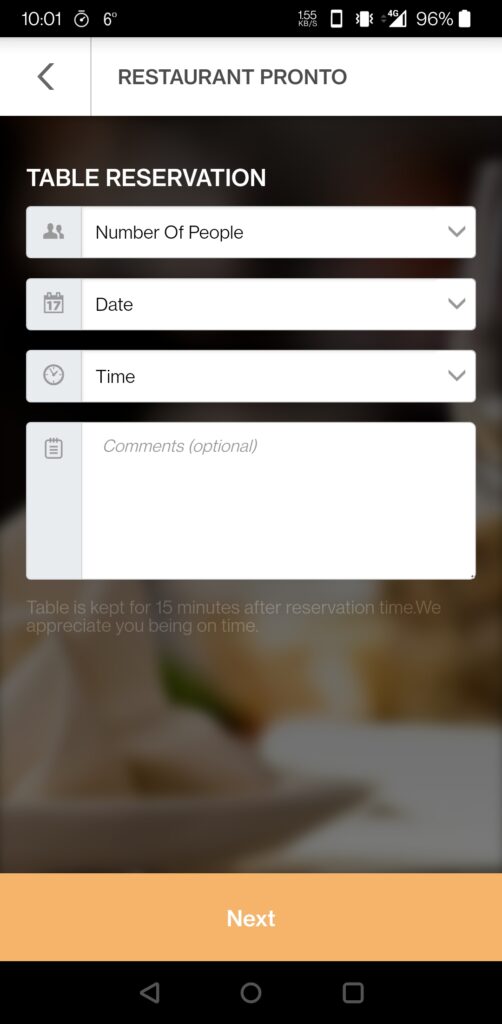 12. Sell products and meal kits besides ready-to-eat food
Even the recent "back to stores" trend hasn't shuttered the customers' strengthened love for online shopping. And groceries are no exception.
If shoppers are ready to order ordinary supermarket brands online, imagine how happy your cuisine lovers would be if you offered them the option to order their favorite sauces, dressings, and meal-prep kits!
This is another option for driving sales through your restaurant's mobile app.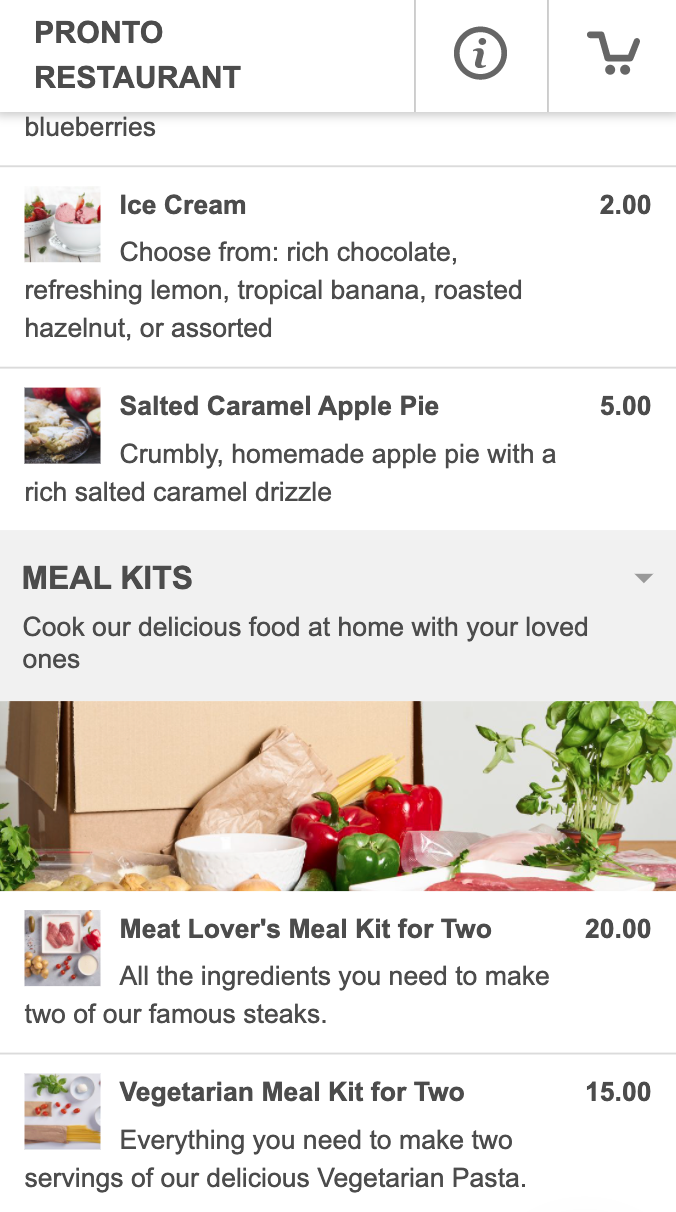 Deliver the best restaurant experience through your mobile app
With that many tactics to try, your marketing team may feel overwhelmed by the process of learning how to boost restaurant sales. Guide them by selecting the optimal communication channels — or even better, start by developing an omnichannel strategy built on a reliable customer engagement platform.
Establish higher-quality connections with your customers, engage them with your offers, and attract more app users until they convert into a loyal audience.