Today's consumer likes to be informed about the products they buy and the food they consume. That's why restaurant menus with nutritional information appeal to them; because they allow them to make informed purchases.
Here's how easy it is to add nutritional information to your restaurant menu and attract a more health-conscious crowd to your establishment.
What Is Menu Labeling?
Menu labeling is the practice of listing nutritional information on your restaurant menu. This is done both to educate the consumer and to enable them to eat healthier and be aware of the number of calories, carbohydrates, or fat they consume.
What Are the Benefits of Menu Labeling?
Why should restaurants post calories on menus or disclose the amount of sugar contained in their menu items? Because they're doing their customers a service.
Nutrition labeling in restaurants increases transparency regarding what customers consume, allowing your visitors to make informed decisions about their menu choices.
Restaurant menus with nutritional information can lead to healthier food choices and encourage customers to develop and maintain better eating habits.
Ultimately, this translates into catering to a larger audience, including people who pay close attention to what they eat, which will bring you new customers.
Are Restaurants Required by Law to Provide Nutritional Information?
According to FDA menu labeling requirements for restaurants, chain restaurants or other food establishments with 20 or more locations need to disclose calorie and nutrition information.
If you're unsure whether you need a clear menu labeling policy at your restaurant, you can contact the FDA with questions at calorielabeling@fda.hhs.gov.
However, restaurant menus with nutritional information are not yet the norm all over the world. Ensure you consult your local laws and regulations to check whether you're required to provide nutritional information on your menu or not.
How to Create a Restaurant Menu with Nutritional Information in Minutes
1. Create a free account with GloriaFood
The first step to creating your dream menu is to sign up for free on GloriaFood by clicking the 'Sign up' button below.
Start your journey with GloriaFood
Create and customize your menu and start taking orders online and in-restaurant
Sign up
Enter your restaurant name and click "Continue" to get access to your restaurant dashboard.
2. Fill in your restaurant profile
Before we get to the good part (creating your restaurant menu), take a few minutes to enter your restaurant's basic information (address, cuisine, opening hours, etc.). Don't worry, it won't take long, and our setup wizard will guide you every step of the way.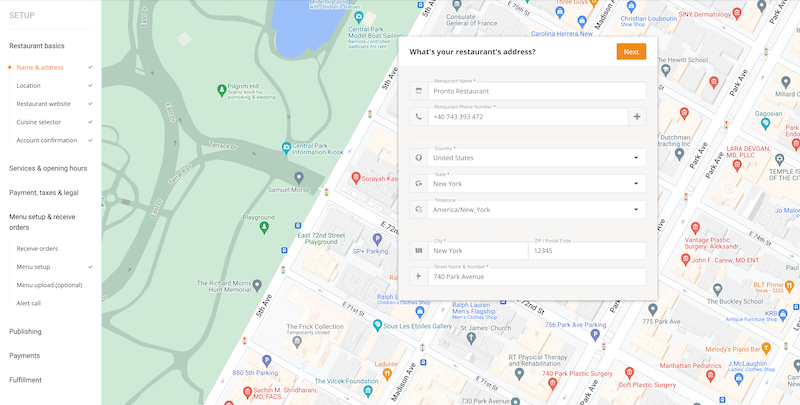 3. Use our drag-and-drop builder to create your restaurant menu
Next, go to Setup -> Menu setup and start adding categories and items to your menu. The menu builder is extremely easy and intuitive to use, and you don't need any technical knowledge.

Watch the video tutorial below to learn the basics of creating an online restaurant menu with GloriaFood.
4. Add nutritional information to your menu items
To create a restaurant menu with nutritional information, all you need to do is click on the three dots next to each menu item, then on 'Item Settings' and 'Manage.'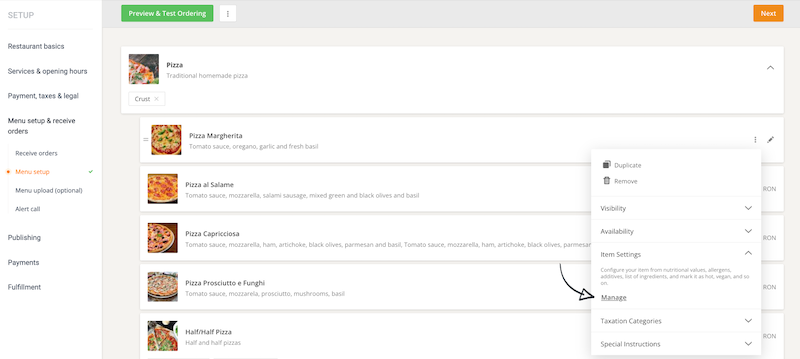 Next, go to 'Nutritional values' and add information like total calories, carbohydrates, total fat, protein, sugar, and salt.
Add nutritional information to your restaurant menu to keep customers healthy and happy
It takes minutes with GloriaFood
Get Started
If you want to add something that's not on the list, you can click on 'Add more' and fill it in yourself. You can also choose to display these nutritional values per serving or per 100g.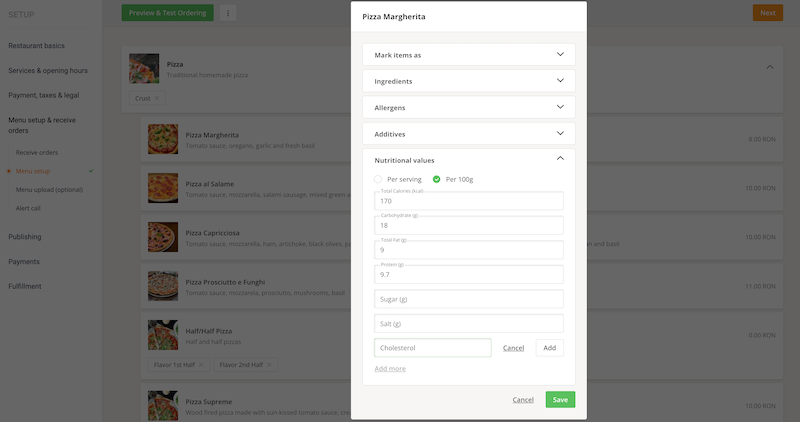 Once you've saved the changes, here's how your customers will see the nutritional information displayed on your menu: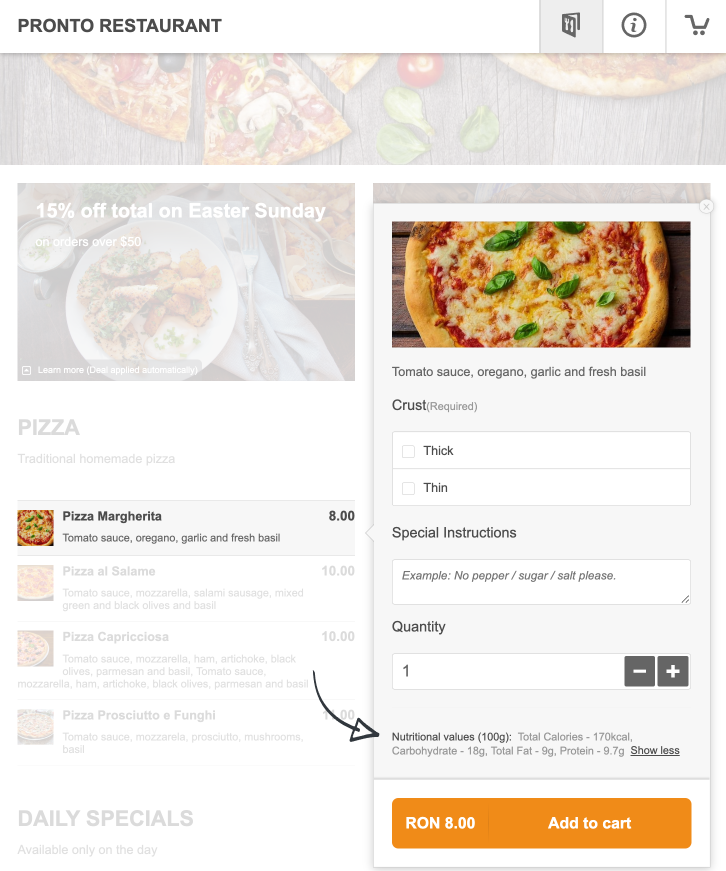 5. Give customers the option to cut calories by introducing multiple portion sizes
Now that you've informed customers about their meal choices, give them the option to cut back on calories and fat if they think a certain item is too much for them.
How? By allowing them to order it in a smaller size. Using our menu builder, you can customize your dishes with sizes, add-ons, choices, and extras, to enable customers to order exactly what they want.
To add multiple dish sizes, click on the pencil icon next to each item, then 'Add Size' for each size you'd like to add.

To learn all the ways in which you can customize your dishes using GloriaFood's menu builder, watch the video below:
6. Publish the menu on your website to accept online orders
To use this new restaurant menu with nutritional information to accept pickup and delivery orders on your website, all you need to do is copy and paste the personalized code we provide to display the 'See MENU & Order' button.
Here's how you can do it depending on your website builder:
If you don't have a website yet, you can use our restaurant website builder to generate one that comes with the menu and order button included.
Plus, the builder contains an announcement section that you can use to let customers know they can find nutritional information in your restaurant menu.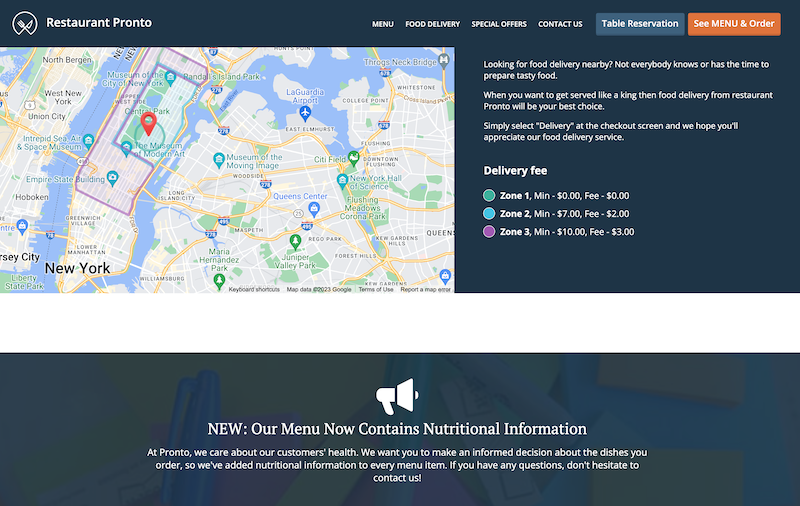 Get your own restaurant website by following these steps:
7. Convert the menu into a QR code to accept dine-in orders
To use the same restaurant menu with nutritional information in your brick-and-mortar location too, all you need to do is use our free QR code menu generator.
It will generate a QR code that you can display on every table to allow customers to order and pay for their food without having to wait for a server.
Here's how easy the entire process is:
8. Download the free order taking app to start receiving orders on your mobile device
You're now almost ready to start accepting pickup, delivery, and dine-in orders. All there's left to do is download our order taking app on your iOS or Android smartphone or tablet.
Ready, set, go; start taking orders like a pro!
To Sum up
Restaurant menus with nutritional information show customers you care about their health and well-being, and that you're not afraid to display complete transparency when it comes to your menu and operations.
Following the steps below, you too can provide customers with a detailed menu they can use to place orders online and in-restaurant.