Use these successful marketing strategies for online food delivery now:
Are you thinking of launching an online food business, but you are afraid you are not going to make it in such a competitive industry? The key to success is a combination of great products, amazing customer experience, and marketing.
But not any type of marketing, you need an innovative marketing strategy for your online food business that will make you stand out and persuade potential clients to choose your place over any other option.
In this article, you will find a variety of useful marketing ideas for your food business that will make your restaurant a well-known name in your area.
1. Take advantage of the features of an online ordering system
When you run an online food business, having an online ordering system is no longer an option, but a must. You need a platform that both allows clients to order your food easily and empowers you to manage your orders without effort or issues.
Choose the best free online ordering system from GloriaFood that not only creates a seamless ordering experience for your clients but is also packed with marketing features that will help you promote your business.
Skyrocket your marketing efforts with the best online ordering system
Use the integrated features to increase your sales
Start Now
When clients see how easy it is to order directly on your website or through social media, they will be tempted to do it again and again and they may even recommend your business to their friends and family.
Complete the marketing strategy for your online food business by taking advantage of all the amazing integrated features, such as:
2. Create a food business website that doesn't go unnoticed
One of the first steps to a successful marketing strategy for any online food business is having a website that serves as an online location. It is maybe the most important advertisement for your restaurant as it is the first thing potential clients see when they search for your place.
If the website is responsive, easy to use, contains all the relevant information, and highlights the menu, there is a big chance you turn many of your visitors into regular clients.
But, for people to find your website, it must be SEO-optimized so you can rank high in searches for the type of food in your area. No need to look for agencies or developers, you can get a sales and SEO-optimized restaurant website with our online ordering system.
Just go to admin -> Setup -> Publishing -> Sales Optimized Website, click on Yes, and complete the simple setup where you can personalize it with a logo and colors to fit your branding.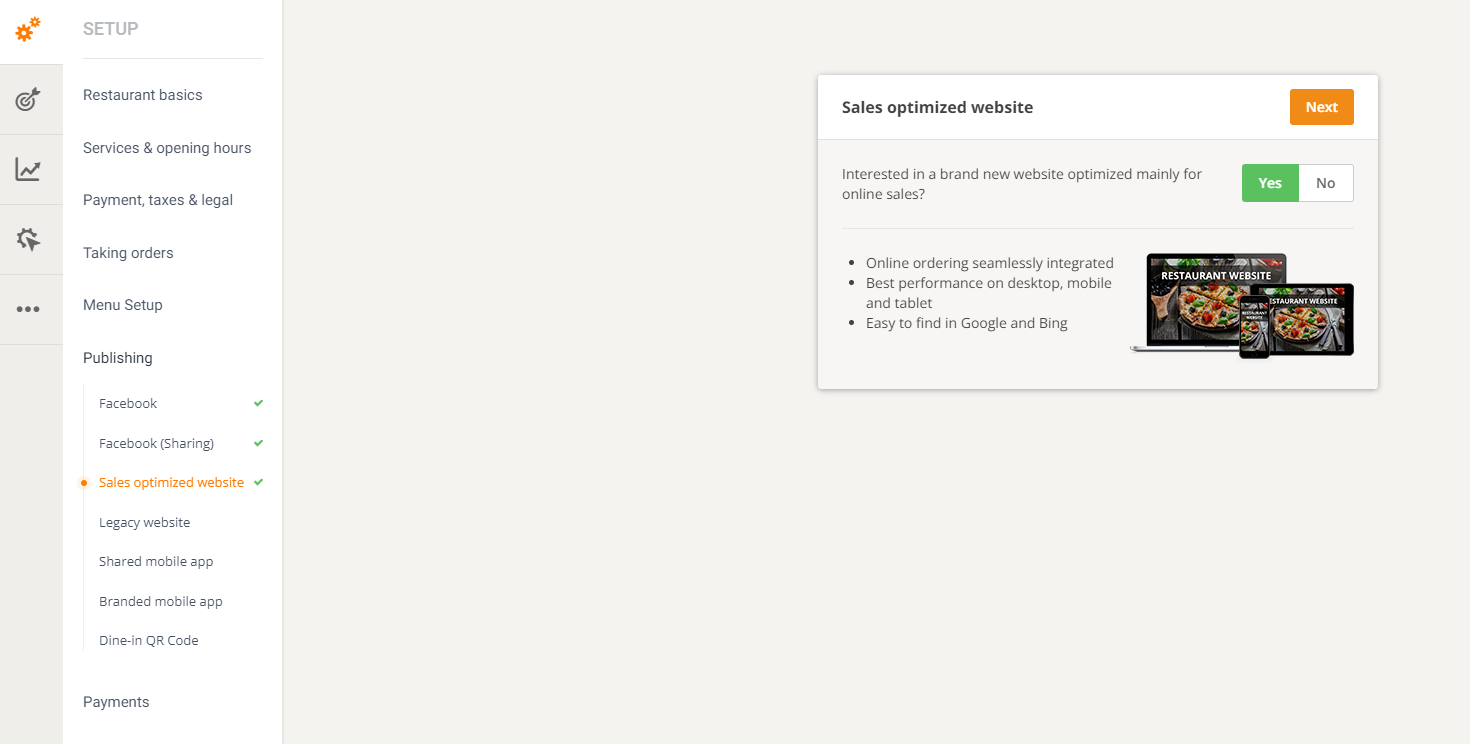 You will receive a personalized website for your cuisine, complete with mouth-watering pictures and texts focused on conversion. Check out this demo website and watch the video below for more detailed instructions:
3. Transform your menu into the best advertisement
What's the first thing you do when you are considering ordering from a restaurant? Check the menu, of course. Take advantage of this knowledge and create a menu that will persuade clients to not only order but also order more.
The first step is to have a menu that is easy to navigate, responsive, and organized in categories so clients can easily find what they are looking for. The good news is you get exactly this with our online ordering system.
Furthermore, the menu creator is intuitive, and you have a wizard to guide you at every step. We also provide you with informative videos to make it as easy as possible for you:
All you have to do is personalize your menu with hunger-inducing photos (or choose ones from the free gallery if you don't have professional images yet) and enticing descriptions that will have people hurry to press the order button.
You can go a step further to attract new audiences and add allergen information and nutritional values for every menu item.
The goal of a marketing strategy for your online food business is to help you sell more. You can do so by allowing people to personalize their dishes with ingredients that have a high-profit margin. For example, you can offer a variety of toppings (mozzarella, olives, salami, etc.) for a pizza.
Find out how you can improve your menu with choices and add-ons:
4. Offer clients the convenience of ordering from a native app
If you want to stand out, you must go for more out-of-the-box ideas when you create the marketing strategy for your online food business. A great example is allowing clients to order your products in a very convenient way: by using your own branded app.
This will work like any native app. Clients can install it on their phone and they will be able to access your restaurant with just a tap on their screen. Because clients see your logo every time they use their phone, they will subconsciously remember it every time they get hungry.
Request your own branded app by going to admin -> Setup -> Publishing -> Branded mobile app.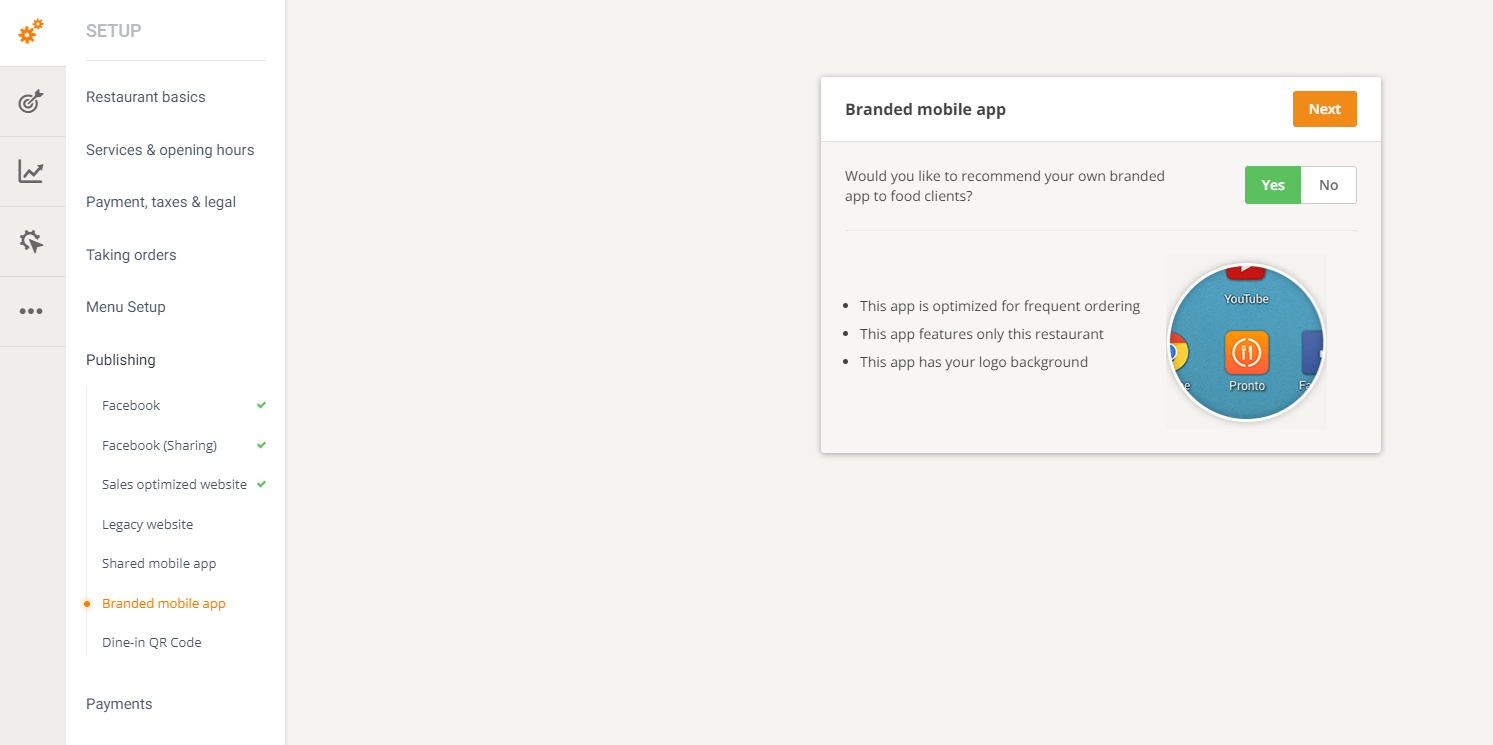 5. Add hard-to-say-no-to food business promotions
There is no marketing strategy for an online food business that doesn't involve promotions. They are such an efficient way to attract clients and encourage them to order more that everyone uses them, and you can't miss out on the benefits.
A free delivery offer can be used to persuade clients to order more so they can reach the minimum order value. A 2+1 offer will help you sell more of the least bought items. A meal bundle attracts big-spender groups.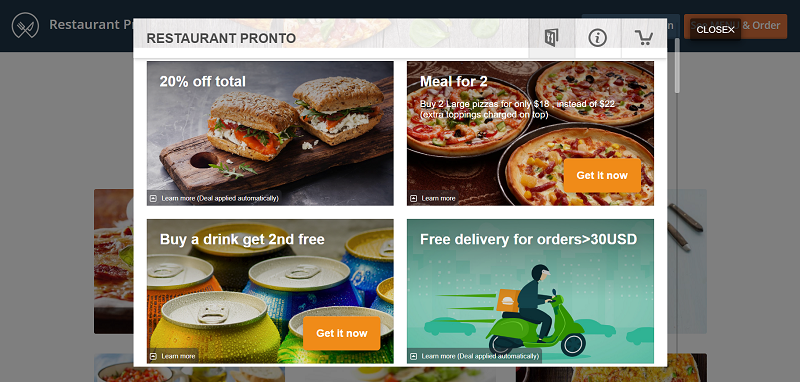 You can implement all of the above and more in just a few seconds with our online ordering system. After you set up the promotions, they will instantly appear at the top of the menu so they are the first thing a client sees when they access it.
No one will be able to resist a tempting promo deal. Check out this video to learn how easy and fast you can set up promotions for your online food business:
6. Include email and SMS campaigns in the marketing strategy for your online food business
Sometimes previous clients need a little reminder or an incentive to place a new order. SMS  and email marketing campaigns will help you keep your customers up to date with your info, food items, and promotions.
If you want to enjoy the benefits of the campaign without the effort, you can use the Autopilot module integrated into our online ordering system. You set the campaigns once, and the system sends them, as the name suggests, on autopilot.
Include email and SMS campaigns in the marketing strategy for your online food business
Enjoy the results without the effort with the Autopilot module
Start Now
Autopilot segments clients according to their purchasing history so it can deliver them relevant campaigns. Check out this video to learn more about this useful feature:
7. Get the word out using the trusted traditional flyer
Your business may be online, but the marketing strategy for your online food business can expand beyond that and encompass traditional advertisement methods like flyers. They may seem old-school, but they are still around because they work.
Use the Kickstarter module within our online ordering system to create a 5% off the first order flyer and spread them around your delivery areas. You can also partner with local businesses like hotels and have them hand out your flyer to hungry travelers.
8. Turn your social media channels into must-follow entertainment
You've surely included social media in the marketing strategy for your online food business because it is the most used form of entertainment. Because most of your potential clients spend a lot of their time browsing online, advertising there is the best way to reach them.
On top of the traditional food posts, posting food offers, and announcing new menu items, here are some creative ways that may even help you go viral:
Teach me: create a short video where you show people different tricks for cooking and recipes. This will promote interaction and make your channel more interesting than simple food pictures. The best platform to post your videos is TikTok because you can get a big reach in a short time;
Chef recommendations: have your chef recommend menu items to your followers, mentioning what makes the dish special and why they should order it. You can also include a short clip of the food preparation to make people hungry;
Contests: organize competitions that are different than the classic like & comment to win a meal. Get people involved with your business by having them post pictures with their orders or even organize a treasure-hunt event where they must find the hidden ingredients for the recipe of the day.
9. Collaborate with food influencers to reach new audiences
If you are at the beginning, you need a marketing strategy for your online food business that is focused on gaining clients' trust. Because you don't have enough online reviews that people can read to ensure you are a trustworthy business, you need influencers to vouch for you.
Therefore, do some research, find the food influencers that are popular in your area, and send them a free sample of your food to convince them to collaborate with you. Don't go for influencers with a huge number of followers at the start because they will cost more.
Instead, focus on smaller influencers that will still help you promote your business to new audiences, but will require a smaller investment.
10. Reward loyal customers to ensure lasting success
How can a marketing strategy for your online food business help increase your sales? By attracting both new and returning clients.
Loyal customers are important because they can become promoters. If they are satisfied with your food and service, they will write positive reviews and they will recommend your place to their friends.
Therefore, if you want more loyal customers, you should make it a goal to reward them. You can do so by implementing great promotions that are only available to returning customers.
Find out how you can keep customers coming back to your restaurant using the Advanced Promotion settings:
Final Words
Start creating the marketing strategy for your online food business before you open your restaurant, so you will receive a lot of orders starting from the first day.
Take advantage of our online ordering system and its marketing features and don't be afraid to try out-of-the-box ideas like a native app or creative contests to stand out from your competition.