St Patrick's Day started as a celebration of the Irish culture and heritage that was only organized in Ireland. But, as we have seen happening with many other holidays, it has been adopted in most countries across the globe and is now an opportunity for people to have fun dressed in green on March 17TH.
A lot of drinking is also usually involved. Do you know what goes great with an Irish whisky or beer? Food. If you play your cards right, you can turn your restaurant into the place to be for people who celebrate St Patrick's Day.
In this article, you will find a variety of St Patrick's Day restaurant promotions and ideas that will attract new clients and help you sell more.
Why you should celebrate St Patrick's Day at your restaurant
To ensure your restaurant's success, you must be constantly on the lookout for ways to get new clients and encourage them to order more. St Patrick's Day is a great opportunity to do just that.
With a bit of effort in changing up some dishes, adding a few drinks, and attractive promotions, you can attract a new crowd that will happily spend money at your restaurant. If you offer them an unforgettable experience, you get new loyal clients. Win-win.
Even if you have no Irish descent, there is no reason to miss out on a holiday that can help you increase your revenue.
7 St Patrick's Day restaurant promotions that encourage clients to order
A restaurant decorated with green, shamrocks, and other traditional Irish elements may persuade clients to give your restaurant a chance, but amazing St Patrick's day restaurant deals will make them stay and spend a lot of money at your place.
Check out these great St Patrick's Day restaurant promotions ideas:
1. A small discount on Irish drinks to celebrate
You can't celebrate St Patrick's Day without a pint of Guinness! Make sure to stock up on a variety of Irish drinks before March 17th, all in line with the type of establishment you own. For example, if you have a more upscale place, a whisky tasting may be more appropriate.
Don't forget about responsible alcohol service, designated drivers, or the people who don't like to drink, but still want to celebrate. Add some fun non-alcoholic Irish drinks like Lemon Mint Infusion and Irish fairy.
Get in the celebratory spirit by offering a very small discount on every Irish drink. It doesn't have to be a big amount, as you still have to make a profit, just enough to entice people to order.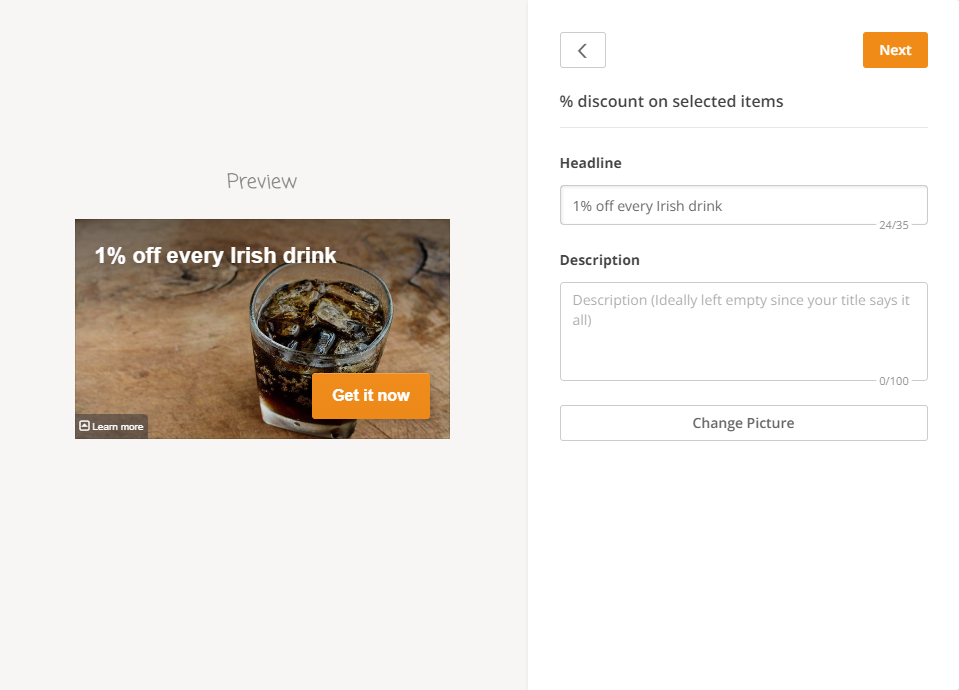 2. A 5% discount for big orders to entice big groups
Usually, people don't go out alone to celebrate. They gather a group of friends or family to join them in eating and drinking themed food. As they already plan to order quite a lot, a St Patrick's Day restaurant promotion for their big check may convince them to choose your place for the night.
3. Get a free small beer for every food order over $30
Beer is the classic drink associated with St Patrick's Day, so why not offer people what they want in the form of a special promotion? Ensure you have a bunch of small 250ml glasses to add to every order that goes over $30.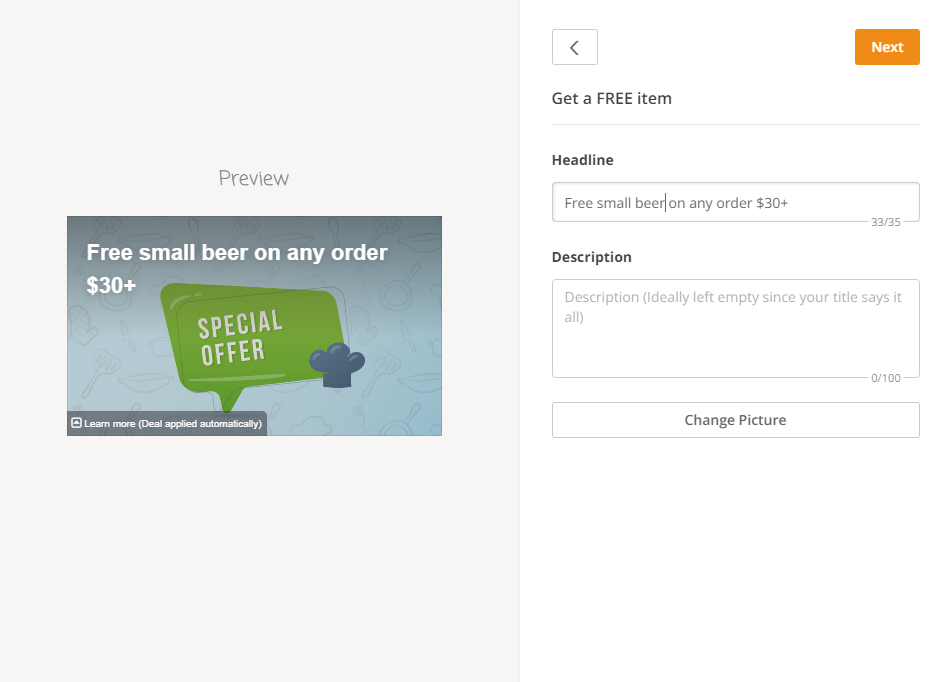 4. Meal bundle of main dish, side dish, and a celebratory Irish drink
People make a reservation for St Patrick's Day at your restaurant because they want to have fun, not because they want to spend time browsing the menu and deciding what they should have.
Make their choice easier by creating St Patrick's Day food specials with the perfect combo: a main dish (maybe a burger) + a side dish (maybe fries) + Irish drink (maybe beer).
5. Buy three main dishes and get the third one for free
It is a known fact that drinking makes you hungry. One dish may not be enough, especially if people spend upward of three hours in the restaurant. They may start to feel bad that they are spending a big amount of money for a night out.
Erase the blame by implementing an offer that gives them more for their buck. Add a St Patrick's Day promotion where a client can buy three dishes for themselves and get one free or they can share it with their friends to save money.
6. A discount for a meal combo such as a main dish and dessert
No matter how many drinks you had, there is always room for dessert. Tempt clients with mouth-watering pictures of your sweet dishes placed on the online restaurant menu to persuade them to order the meal combo with a main dish and dessert.
7. Free delivery over $70 for people who celebrate at home
Some people may choose to celebrate at home or at work. But most of them don't want or don't have time to cook the necessary food for a party. Implement a St Patrick's Day restaurant promotion like free delivery over a certain amount to convince people to choose your place for the party food.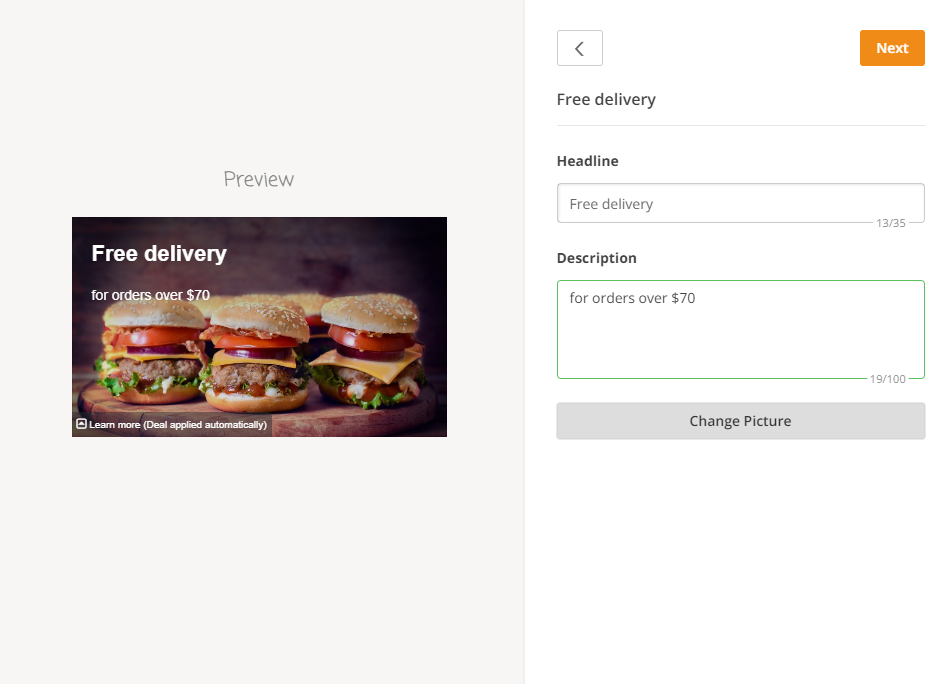 Do you want to know the easiest way to set up these St Patrick's Day restaurant promotions? Using our online ordering system! In just a few clicks, you can add a restaurant deal that will automatically appear at the top of your online menu.
Use St Patrick's Day restaurant promotions to get more clients
Add irresistible deals to your restaurant menu in just a few minutes
Start Now
Sign up on GloriaFood, create a restaurant account with the basic information, add an appealing menu, and then go to admin -> Marketing -> Promotions -> Self-made promos to set up a deal clients won't be able to say no to. That's it, nice and simple!
Because it is a holiday that usually involves quite a bit of drinking, people want to be able to order fast and easily. Allow online clients to order directly from your website and add a QR-code menu to enable customers in the restaurant to order and even pay with just a few clicks on their smartphone.
Check out this video to learn how to create a free QR code menu for a restaurant in no time:
7 St Patrick's Day ideas that will have people lining up at your restaurant's door
Now that you have implemented one or more St Patrick's Day restaurant promotions, let's see what more you can do to ensure your restaurant is full all day and your order-taking app is always alerting of new orders.
1. Include traditional Irish food in your St Patrick's Day food deals
Get in the St Patrick's Day spirit by adding some Irish or Irish-inspired dishes to your menu. If you like to try new things and want to create a great experience for your clients, here are a few ideas for popular St Patrick's day food you can serve:
Irish soda bread platter with a variety of cheeses and spreads;
Potato cakes;
Irish stew with beef and potatoes;
Seafood Chowder;
Apple cake;
If you use our online ordering system, you can both change your restaurant menu as many times as you want for free, and also create a different menu for a day. This way, you don't have to pay to print new menus, just spend a few minutes adding new dishes.
Check out how easy it is to create a separate menu for a day and many other useful settings:
If you don't want to completely change your menu but are up for a little experimentation, try to adapt some of your dishes to make them more Irish. For example, traditional Irish dishes are known to be on the heavier side, and they usually contain ingredients like lamb, beef, potatoes, milk, butter, and shellfish.
2. Embrace green as the main element (even in food)
If you have ever been to a St Patrick's Day parade, you know it is all about green. Help people recognize you celebrate this holiday by decorating your place with every shade of green, both outside (paint on the windows, small trinkets) and on the inside (shamrock-shaped napkins, green ornaments).
Green may not be the most appetizing color in food, and this may be the only opportunity to experiment with this color in food and have people crowd to buy it. Here are a few ideas for green food for St Patrick's Day:
Pistachio cupcakes have the added benefit of being green naturally;
Shamrock cookies with green icing;
Green Goddess potato salad;
Zucchini pasta with chicken ;
Spinach goat cheese pie.
3. Organize a raffle or contest with exciting prizes
Take advantage of this holiday to get more visibility for your restaurant and more returning customers. An easy way to do this is to organize a raffle or a contest. Let people test out the "luck of the Irish" with these great ideas:
Have people buy a raffle ticket for 1 or 2 dollars for a chance to win an all-expenses paid meal for a 4-people group at a later date. Ensure you print the time you will choose the random winning ticket so people don't miss it;
Offer a free meal for two or three lucky winners who post a picture of themselves at your restaurant and tag your place;
Have a contest for the best St Patrick's Day costume with three drinks on the spot.
4. Start the celebration early with St Patrick's Day lunch ideas
Don't wait for the evening to fill your tables, start early by serving traditional St Patrick's Day food at lunch. Ensure your specials are also available online so you can sell more. Check out these St Patrick's Day food ideas you could have available for your customers:
Slow cooker lamb stew + Soda farls + Guinness chocolate pudding
Stout-braised steak + potato chips + Irish coffee
Mussels with cider and bacon + Irish cream tiramisu
5. Add music to your St Patrick's Day event
Music can make the difference between a satisfactory restaurant visit and an amazing experience that you tell all your friends about. You have a few options; choose according to your budget and the type of place you own:
Background music: update your music mix with some Irish bangers to get people in the St Patrick's Day spirit;
Small party: after the normal opening hours, reserve a part of your restaurant for dancing. People can choose if they want to take a breather and enjoy more food at the table, or use up their energy on the dancing floor;
Full-on party: hire a DJ or even a live band to entertain the guest after the food was served. You can still serve some St Patrick's Day party food at the bar to up the profit.
6. Use a table reservation system to prevent overcrowding
Any potential client will be disappointed to come by your restaurant, only to find out all seats are full. Ensure you offer clients a satisfying experience by allowing them to easily book a table for themselves and their friends.
But don't make them call. What if you're not available to pick up or if they hate talking on the phone? Instead, implement a table reservation system so clients can book a table with just a few clicks on your website.
Offer clients the convenience of a table reservation system
Add a table booking software to your website for free
Start Now
Check out this demo website to see how easy it is for customers to reserve a table with our free table booking system.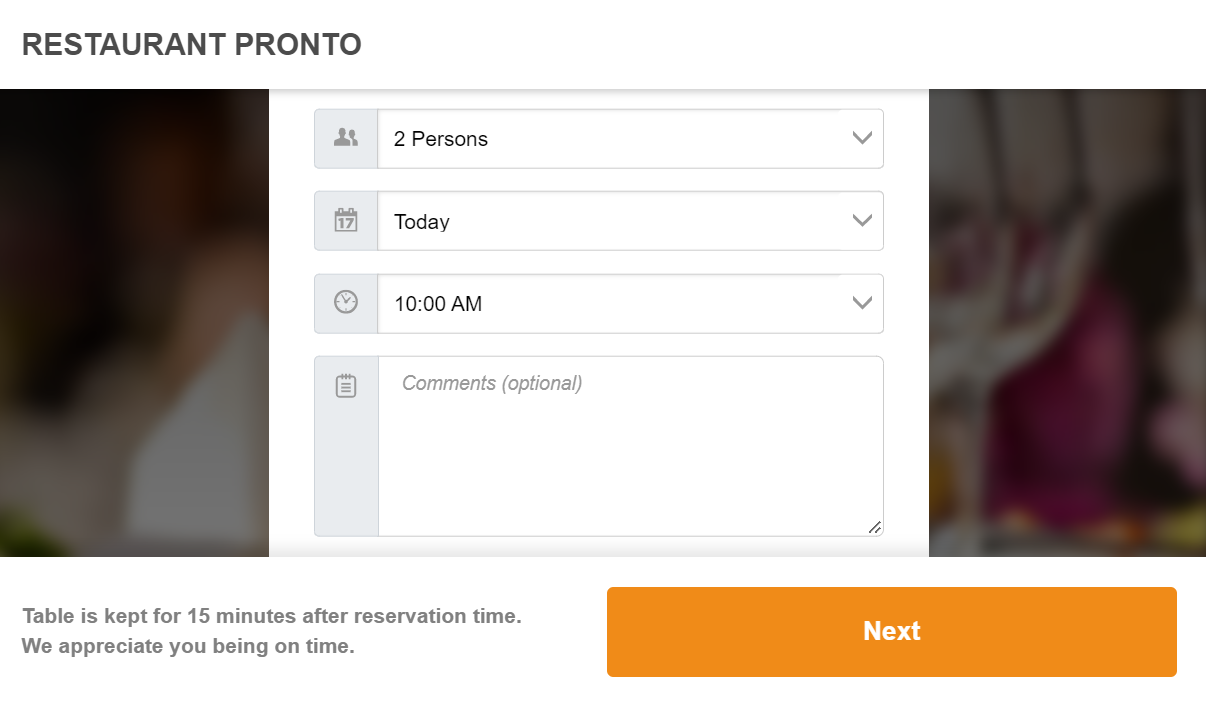 To get your own, go to the GloriaFood online ordering system's admin -> Setup -> Services & opening hours -> Table reservation and click Yes. You can also allow clients to order your delicious menu items when they book a table, so you can save time on taking orders.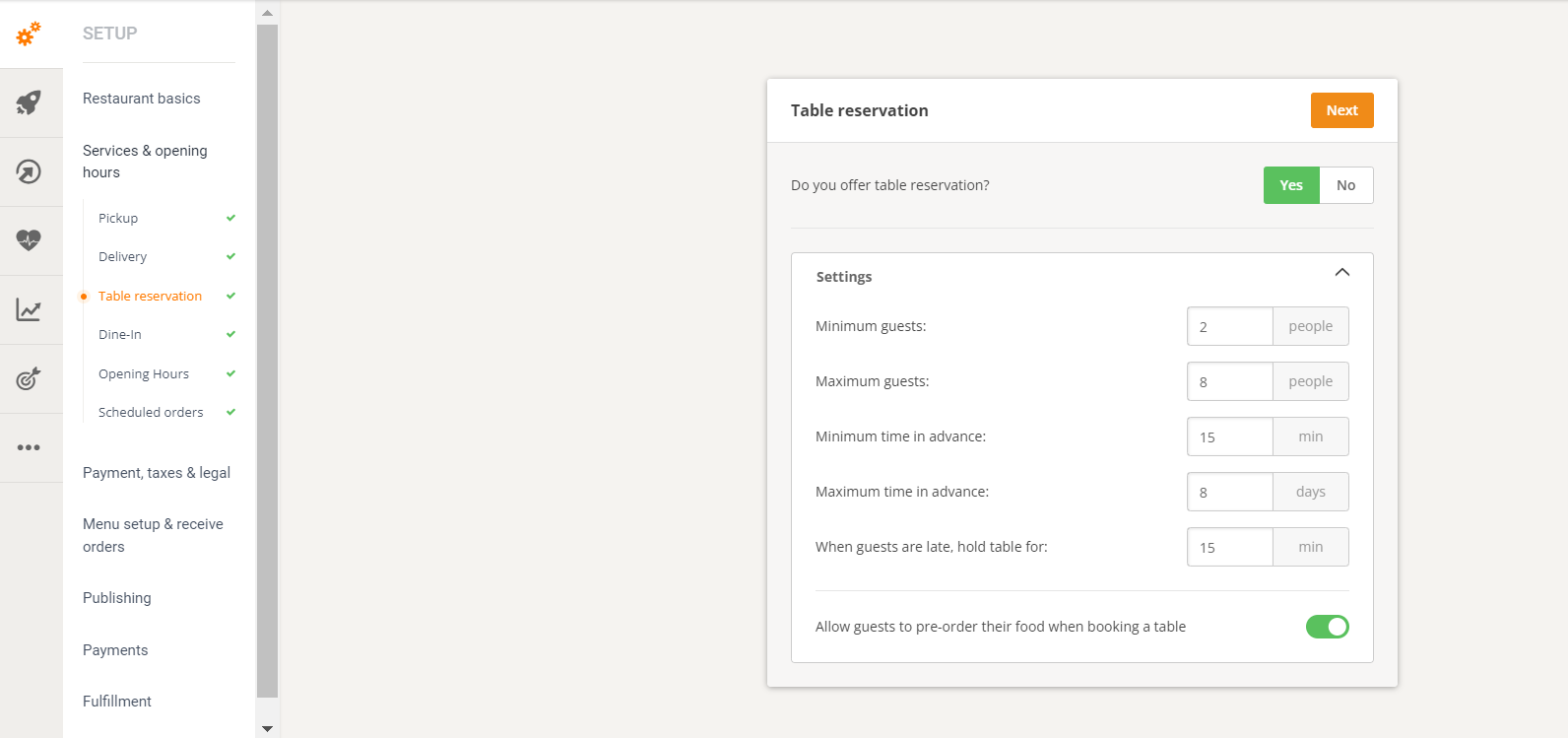 7. Let people know about your celebration through social media
How will people know you are having a St Patrick's Day celebration at your restaurant if you don't tell them? Use your social media profile to get the word out about the food, events, contests, party, and everything else you have planned for them.
Don't forget to highlight the St Patrick's Day restaurant promotions they will be able to take advantage of. Ensure you mention in the caption they will only be available on March 17th to create some FOMO (fear of missing out).
Conclusion
Take advantage of every holiday to attract new clients and sell more food. On March 17th, don't miss out on the celebration and implement some St Patrick's Day restaurant promotions clients won't be able to say no to.
Get inspired by our variety of ideas and use our online ordering system's useful features to offer clients a great experience that will encourage them to return again and again.