How to ace restaurant holiday marketing & planning
Be one step ahead of the holiday craziness by planning your restaurant menu, opening hours, and employee schedule in advance. Create a restaurant holiday marketing strategy to attract new customers, reward those who have been with you through the year, and boost end-of-year sales.
What is Holiday Marketing?
Holiday marketing (also known as seasonal marketing) centers on marketing campaigns targeting certain holidays, particularly the winter holidays. These campaigns can be distributed through different marketing channels, from website to social media, email, or texts. They usually contain valuable offers meant to entice customers and boost the brand's profits around the holidays.
Restaurant Holiday Planning 101
Preparing your restaurant for the holiday season is vital to good restaurant management and customer service. Keep your staff and customers happy by telling them what to expect from your schedule, menu, and promotions this holiday season.
1. Update your opening hours on every platform
You need to update your schedule if you want to stay open longer or less around the holidays. This way, you'll avoid disappointing customers who may wish to pay an impromptu visit to your restaurant.
Update your opening hours on your website, social media, and Google Business Profile, as well as on platforms like Yelp or TripAdvisor.
If you want to have shorter hours for dine-in in December, but extended hours for delivery and pickup, you can easily set those up using our free online ordering system.
Once you sign up and enter your basic information, you can go to Setup -> Services & opening hours -> Opening Hours and set separate opening hours for dine-in, pickup, delivery, and even table reservations.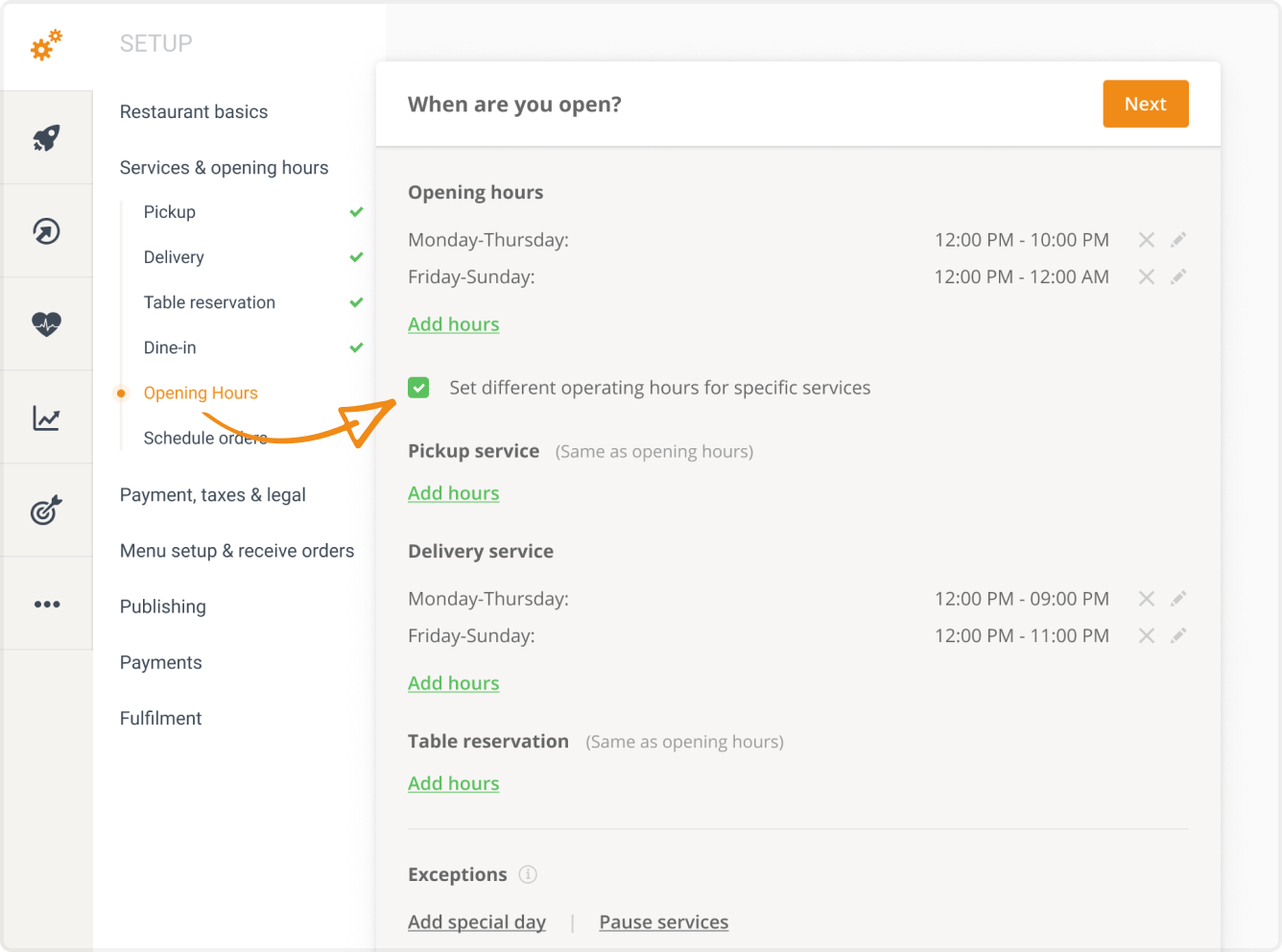 Once you save these opening hours, the changes will be immediately propagated to your website and menu.
To ensure no one misses your opening hours, you can get a sales-optimized website from us. The website we generate contains a highly visible opening hours section on the homepage that's impossible to miss.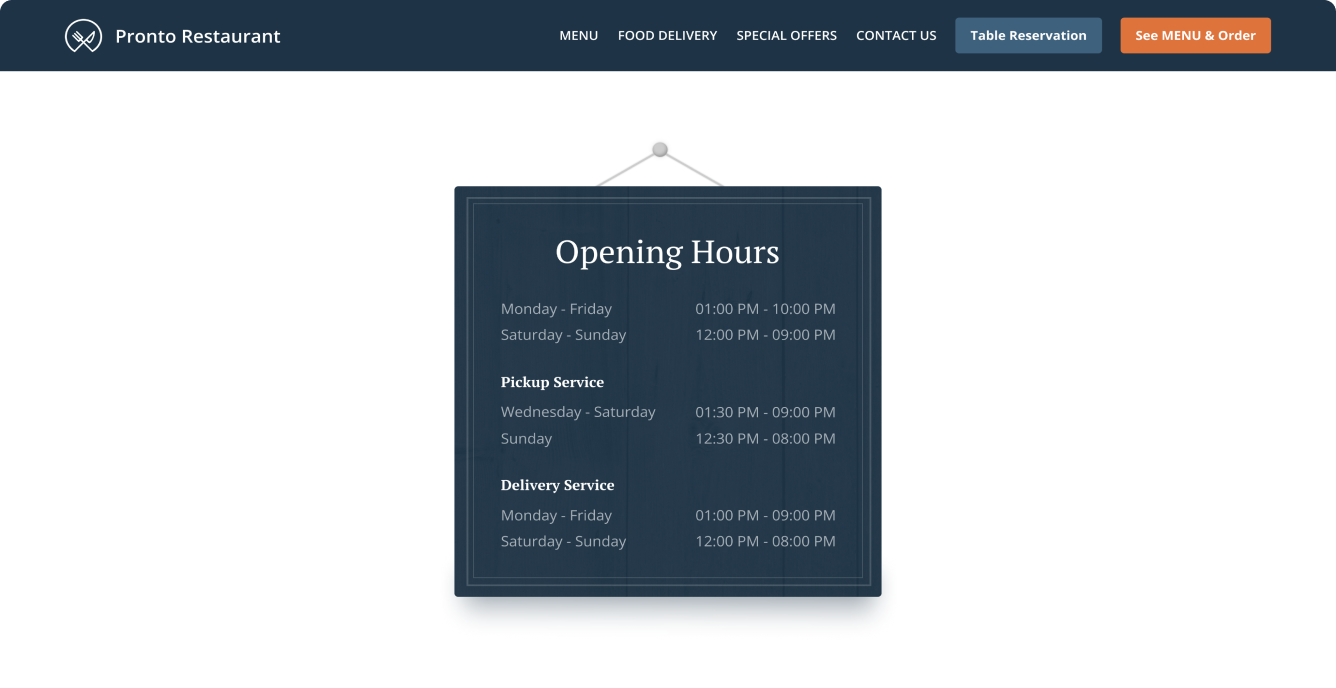 Sales and SEO-optimized website for your restaurant
Make money selling your food online
Get Started
You can also use the "Add special day/holiday" option to update your opening hours or set your restaurant as closed for Christmas, New Year's, or any other holiday.
The good thing about this feature is that it allows you to also add a custom message that will be displayed in your menu if someone wants to place an order.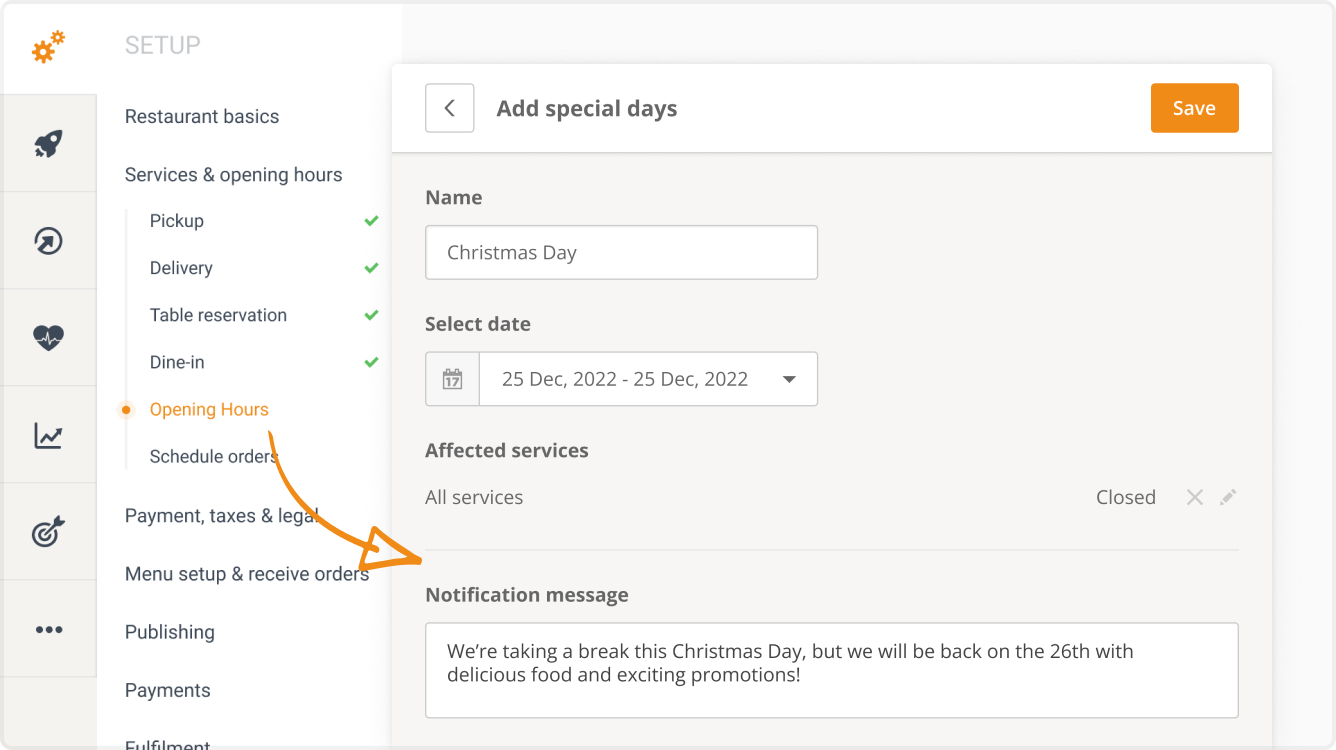 The image above contains a restaurant closed notice sample that you can use to generate excitement for your holiday promotions even when your restaurant is closed:
"We're taking a break this Christmas Day, but we will be back on the 26th with delicious food and exciting promotions!"
2. Share your new schedule on social media (free template)
Once you're done creating your restaurant holiday schedule, you need to share it with your social media followers. Sure, you could write a wall of text, but images are much more impactful.
We've created a holiday schedule template you can customize with your restaurant's branding and logo and use on all your social media profiles.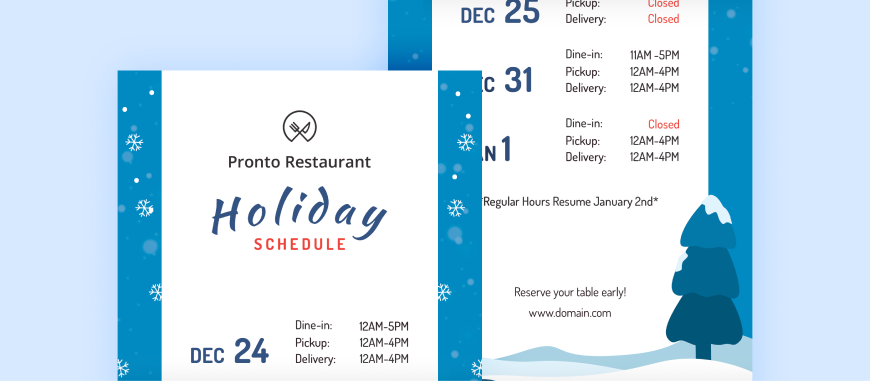 Download it for free and post it on social media to inform customers of your schedule.
3. Pause services when you get overwhelmed
The holiday season can be a chaotic time for restaurant owners. When your tables are full, and you have too many pending orders to deliver, you might not want to accept any new ones.
Luckily, you can quickly pause any services you want from admin -> Setup -> Services & opening hours -> Opening Hours – > Pause services and add a custom message for your customers.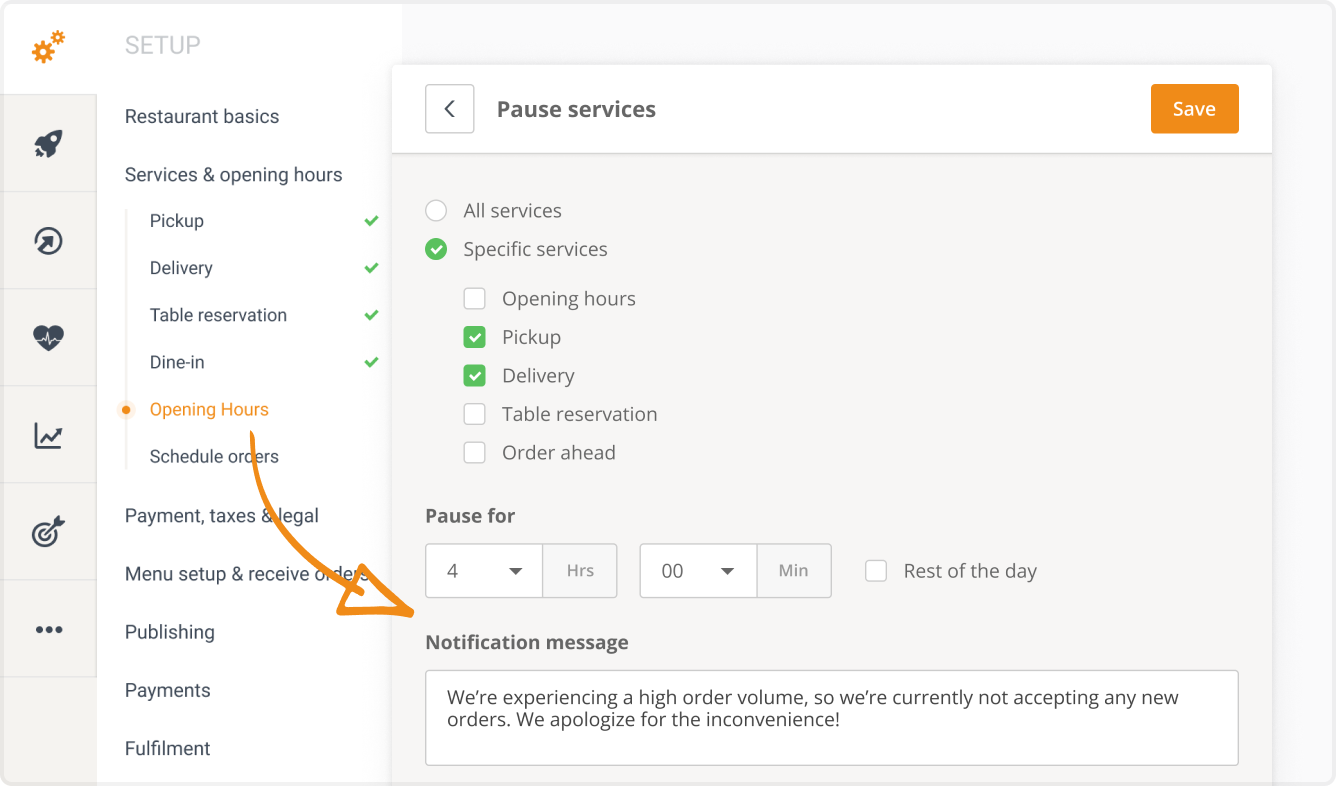 4. Add a restaurant holiday notice on your website
To ensure everyone who visits your website is immediately aware of any schedule changes, use the "Important Announcement" section of our sales-optimized website. Your note will be displayed as a sticky header on your website.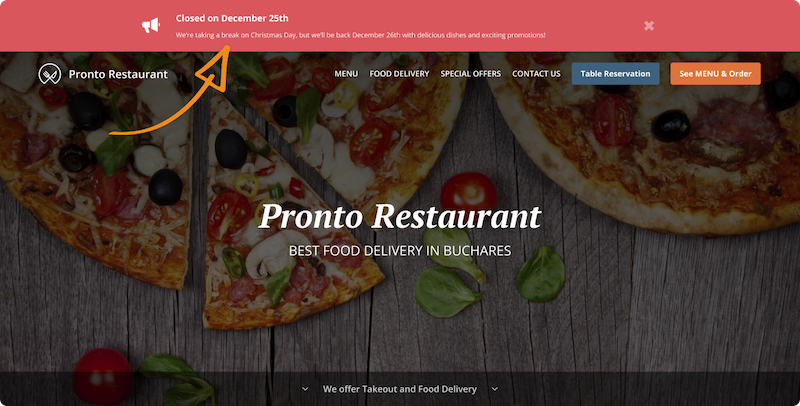 If you'd like to wish your customers Happy Holidays and thank them for their patronage, use the "Announcement" section. Write a longer, heartfelt message that will show up on your homepage.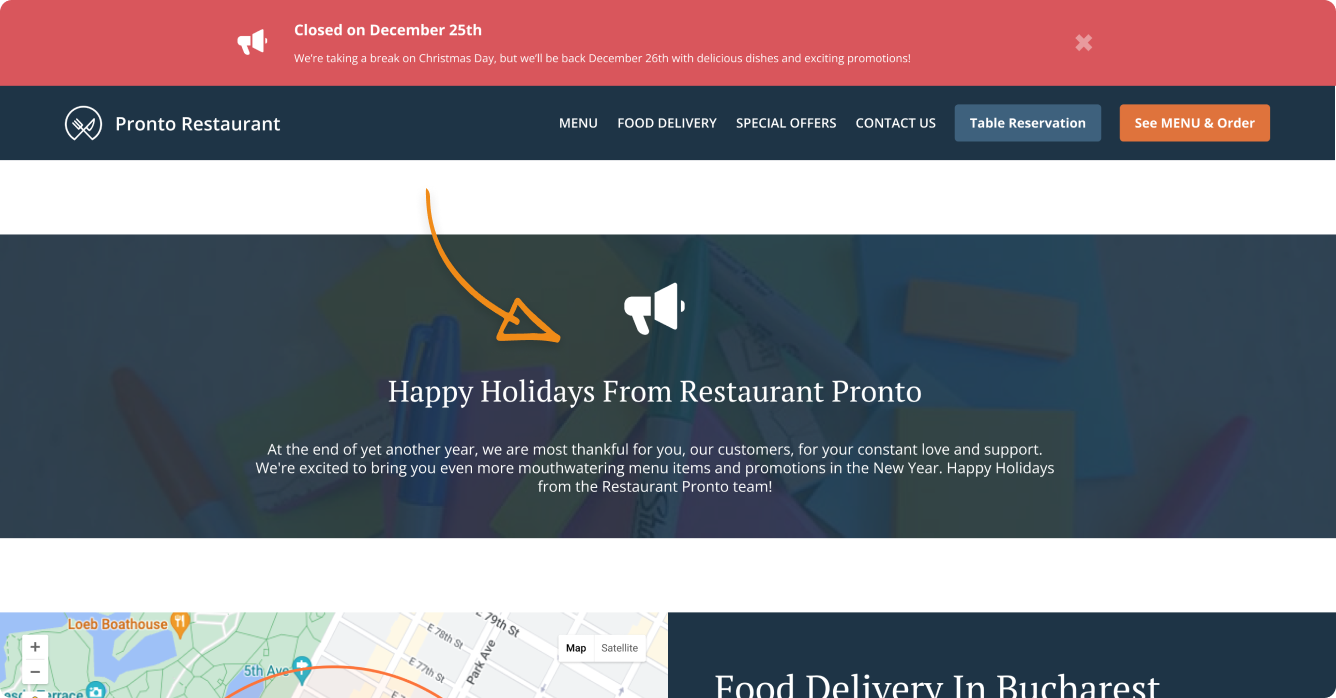 5. Optimize holiday staffing to maximize efficiency
Depending on your schedule during the holidays, you might only need part of your team to run the restaurant. Allow employees to take time off ahead of time, so you know whom you can count on around the holidays.
On the contrary, if you want to prolong business hours, you will need additional help to avoid overwhelming your existing staff with extra tasks.
You might also like: 5 Ways to Make Your Restaurant Employee Scheduling Easier
If employees are willing to work overtime, ensure they're compensated fairly and consider offering Christmas bonuses and/or performance rewards to keep your staff happy and motivated.
Restaurant Holiday Marketing Strategy 101
Once you're done with the logistics of organizing your restaurant for the holiday season, it's time to focus on promoting it to increase end-of-year sales.
1. Create some restaurant holiday specials
When it comes to restaurant holiday marketing, there's nothing easier than adding some winter menu items to your regular menu. Advertising them as limited-time specials will motivate customers to try them before they run out.
Brainstorm some December restaurant specials like:
Ginger and turmeric noodle soup
Coconut chickpeas with winter squash
Lemon and herb roast turkey
Marinated pork with roasted olives and beans
Roasted lamb chops with brown sugar glaze
Sticky date pudding
Christmas cranberry cake
Hot buttered rum
Chocolate eggnog
Jasmine and ginger tea
Adding these new menu items to your online menu is easy. Follow the tutorial below to learn how to set up your online menu.
2. Offer unique restaurant holiday promotions
Mouth-watering winter dishes will already draw a crowd to your restaurant. Suppose those dishes are also discounted or come with freebies or special bundles. In that case, customers won't be able to resist them.
Make December the month of promotions at your restaurant, and you'll notice a spike in sales.
Create any restaurant promotion you want in minutes
Treat customers this holiday season, and they'll come back again and again
Start Now
Here are some restaurant holiday promotion ideas to get inspired by:
Christmas dinner for two for $19.99
Free slice of apple pie when ordering any item on the Christmas menu
Free delivery for orders over $15
Buy any Christmas cocktail, and you get another one for free
Visit us wearing an Ugly Christmas Sweater for a cinnamon roll on the house
Watch the video below to learn how to set up any promotion you can think of and surprise your customers this December.
If you're running out of holiday promotion ideas your customers might like, download our Food Holiday & Promotion Ideas Calendar for year-round goodness.
3. Stand out with Christmas & New Year restaurant promotions
Not many restaurants are open on Christmas or New Year, so if you are open, you can cater to people who don't want to cook or spend the holidays at home.
Create a special Christmas menu at a fixed price for customers who want to spend the holidays with you. Include something small on the house, like a warm drink or a cozy dessert, to make them feel at home.
Read more: 20 Festive Christmas Restaurant Promotion Ideas for 2022
You can also encourage loyal customers to order from you around the holidays by offering them a coupon code they can redeem between Christmas and New Year's.
Learn how to set up restaurant holiday gift card promotions featuring coupon codes by watching the video below.
4. Advertise your specials and promotions on your website and social media
Lastly, don't forget to hype up your promotions and special offers on your website and social media so more people will see them and place an order.
If you have the sales-optimized website from GloriaFood, the offers active in your menu will automatically appear in the "Special Offers" section of your website like this: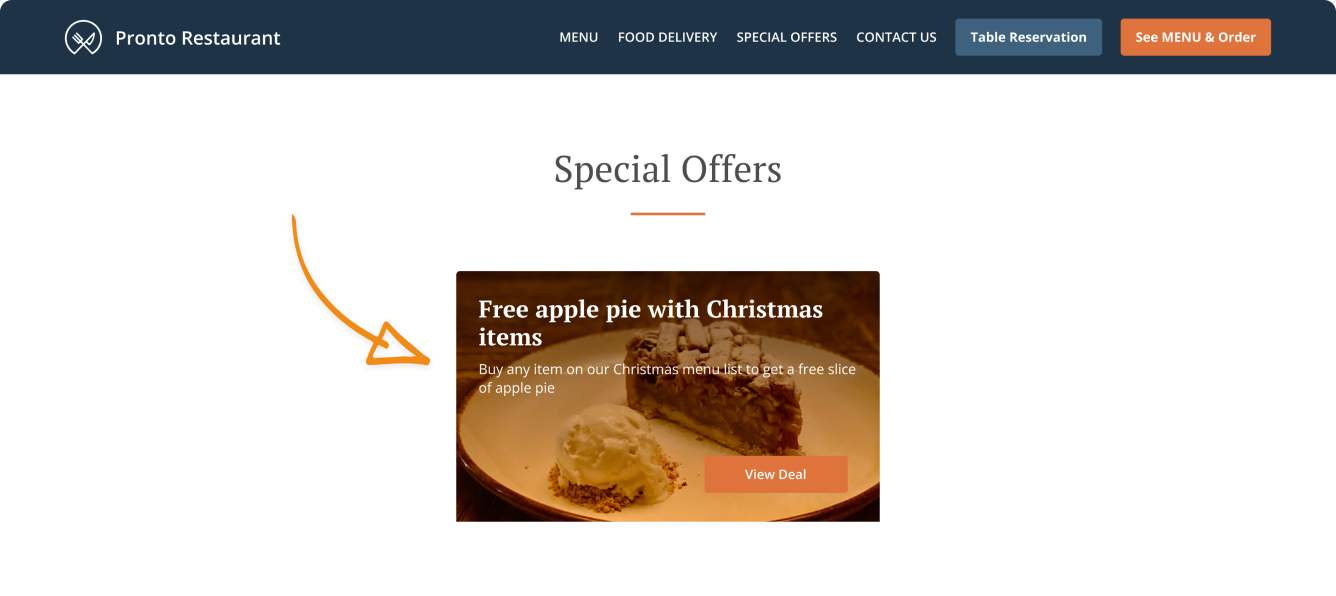 You can take a screenshot of the offer and post it on social media, too, with a link that people can click to access your menu. For Facebook, you can use our special sharing hotlink by going to admin -> Setup -> Publishing -> Facebook (Sharing).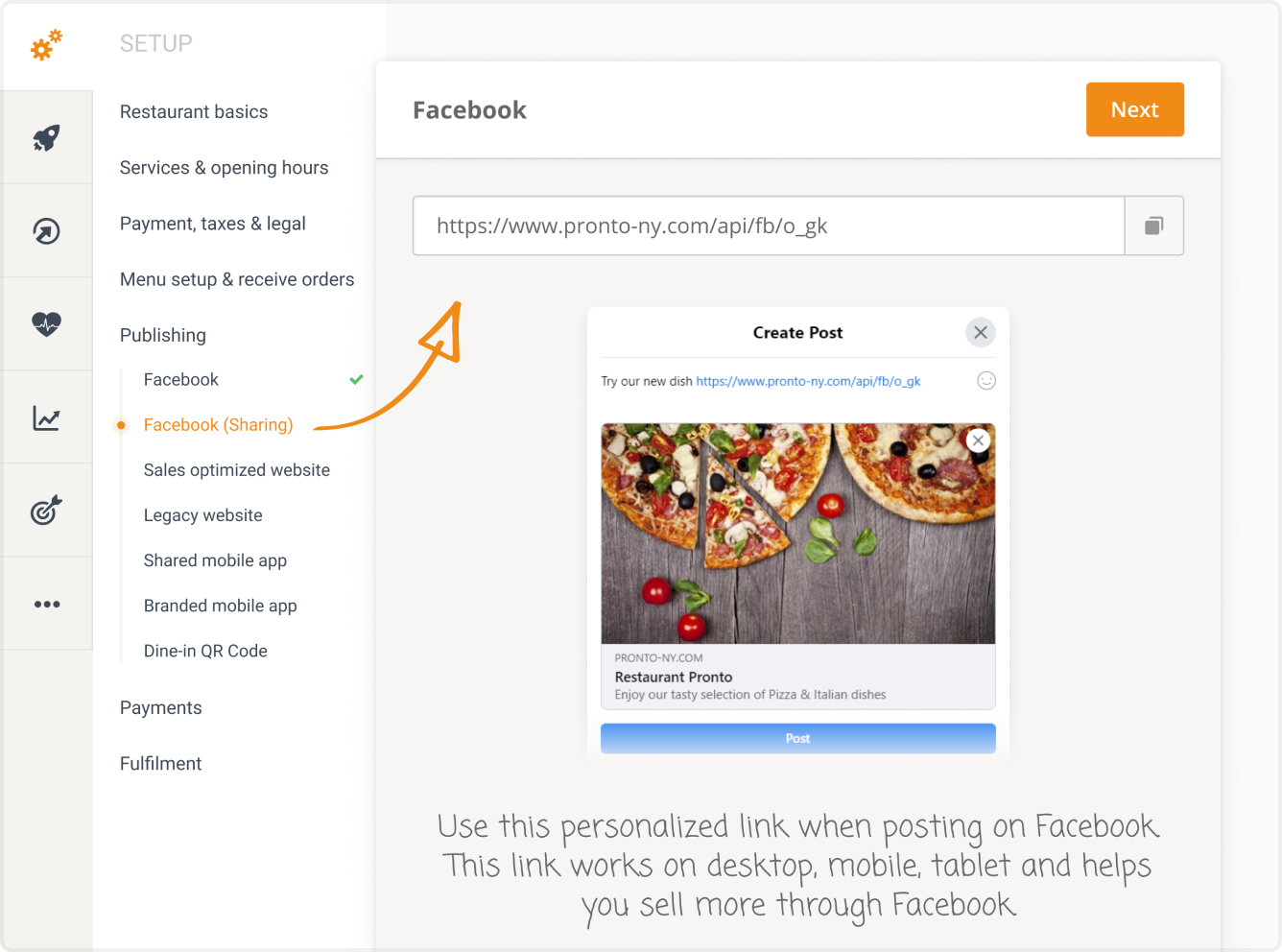 To Sum It up
Don't let the winter holidays catch you off guard. Prepare a restaurant holiday marketing strategy in advance and plan your menu, schedule, and staff. That way, your restaurant will run like a well-oiled machine and boost sales even at the very end of the year.