15 Restaurant Winter Menu Ideas for 2020
Winter is coming, and for you, that means fewer customers visiting your brick-and-mortar location and more people looking for restaurants that sell food online. Your goal should be to attract both of these segments with unique winter dishes and promotions available online and offline.
In winter, people usually crave comfort food that will warm them from the inside out and bring a smile to their faces. That's why, if you want to draw people in, we recommend crafting a seasonal menu for the cold season. Below, we look at a couple of winter menu ideas for restaurants that want to stand out in the crowd.
P.S.: Look out for our festive winter menu template at the end of the article.
15 Winter Menu Ideas for Restaurants to Try This Cold Season
1. Soup up!
Hot soups are a staple of any winter menu. They are easy to cook, even easier to serve, and one of the surefire ways of getting warmed up when the weather outside is frightful. Ask someone what is the best food for cold weather, and they are likely to say soup. Anyone appreciates a nice, steaming bowl of soup, believe us. If you don't have any on your menu, now is the time to add some.
And while any hot soup can be served in the winter, some soups are more suitable than others for the cold season. Here are some winter soup ideas that are bound to be a hit with your restaurant customers:
Spiced lentil and butternut squash soup
Mushroom soup with cream and garlic
Cauliflower cheese soup
Pumpkin and bacon soup
Beef goulash soup
Peppered potato soup
French onion soup
Creamy spinach soup
Cajun chicken noodle soup
Cheesy tomato soup with basil and garlic
2. Embrace comfort food
Everyone craves winter comfort foods when the days are shorter, the nights are longer, and the temperatures are colder. Think dishes that most people know and love, maybe something their grandma used to make or something that reminds them of home. Warm and rich foods baked to perfection is what it's all about.
Don't be afraid to include carbs in your menu this winter, and focus on curries, stews, and casseroles. Use versatile and homey ingredients that can be cooked in different ways and enjoyed in many dishes like potatoes. Bake them, mash them, turn them into soup, and sprinkle them throughout your winter menu.
3. Don't shy away from winter vegetables
Looking for healthy winter recipes? Look no further than winter vegetables. They make excellent side dishes and are usually colorful additions to any plate. Roasted in the oven, they can bring flavor to any wintery meal or even be a standalone meal themselves. Check out these winter menu ideas for restaurants that want to incorporate winter vegetables:
Potato and celery root gratin
Garlic grilled broccoli
Honey balsamic glazed brussels sprouts
Grilled sweet potatoes with lemon-herb sauce
Maple-roasted carrots
Roasted beets with goat cheese and walnuts
4. Keep it hearty
'Tis the season to eat food that makes us happy, and what can be better at that job than hearty food? Few people prefer dishes that are refreshing in the winter, leaning toward ones that feel wholesome and abundant. Salads will have to take a back seat and let dishes like stews shine.
Here are some hearty winter recipes to inspire your winter restaurant menu:
Beef stroganoff
Baked coconut curry meatballs
Garlic herb butter roast turkey
Classic French bouillabaisse
Roast leg of lamb
Chicken and mushroom risotto
Creamy mac and cheese
Chicken and chorizo paella
Honey-mustard salmon in foil
Beef ragù-stuffed cannelloni
5. Turn up the heat
As the temperature outside decreases, the temperature of the dishes you serve on your menu should increase. Ideally, that means rethinking every menu category so that it contains at least one warm dish.
As appetizers, you can serve bacon-wrapped sweet potato bites. For the main course, you can't go wrong with curried beef with winter vegetables. Finally, for dessert, a carrot and walnut pudding will leave everyone mouthwatering. Don't forget to also turn up the heat on the beverages with hot tea, hot chocolate, and boozy hot drinks.
6. Bring in winter tastes and smells
Usually, using seasonal ingredients to make your winter food ideas come true means the tastes and smells are a given. So, what flavors should you be focusing on when crafting your restaurant's winter menu? Here are some of them:
Chocolate
Cinnamon
Peppermint
Pumpkin spice
Gingerbread
Cranberries
Chestnuts
Eggnog
Mulling spices
Fudge
7. Create unique winter restaurant promotions & offers
To raise interest in your winter menu, come up with promotions and offers exclusive to it, which will entice customers to visit your restaurant or place an order online. One thing you could do is create winter family meal bundles that the entire family can enjoy.
Meal kits are also popular, especially now that we're in the middle of a pandemic, so you might want to consider selling DIY dishes to families as well.
Are you able to organize a winter party this year? Then you definitely need a to-die-for winter dinner party menu. Offer 20% off to people who buy the full course menu and/or throw in a freebie like a free drink.
Here are some more winter restaurant promotions you can use:
Free warm appetizer if you purchase two wintery drinks
$5 off the entire winter drinks menu the whole month of December
Add winter flavors (gingerbread, peppermint) to regular coffee for $0.50 extra
Cook your favorite holiday meal, post it on Instagram tagging us, and the photo with the most likes will win a free holiday dinner
Get a free drink whenever the temperature drops below [temp of your choice depending on where your restaurant is located]
Related: 15 Unique Restaurant Promotion Ideas that Will Increase Loyalty in 2020
Don't let your customers go out in the cold to get food, offer them the option to have it delivered?
Deliver some cheer along with your menu items.
Start here
8. BYOB (Bake your own bread)
Few things are better and tastier than a steaming loaf of bread that's just been taken out of the oven. That is especially true in winter when customers would do anything to warm up. If you can, start baking your own bread to serve with a bowl of soup or a hearty stew.
If you typically serve breakfast, you can add various spreads to the menu that will pair lovely with the fresh bread. Mix and match from this list of bread types and spreads:
Bread: sourdough, pumpkin, whole wheat, zucchini, baguette, ciabatta, cornbread, multigrain, pumpernickel, banana bread, focaccia
Sweet spreads: jam, jelly, cookie butter, chocolate, marmalade, lemon curd
Savory spreads: peanut butter, almond butter, pâté, garlic butter, cream cheese, avocado, hummus
9. Up your game
If you can source it locally, game will complete a fine dining winter menu like none other. Not only is it delicious, but it's also filling and nourishing. From venison to quail and pheasant, your winter menu will attract people looking for a unique experience.
To complete the fine dining experience, decorate your tables with candles, silver Christmas centerpieces, and winter-themed napkins.
10. Serve vegetarian winter menu options
A hearty winter meal doesn't necessarily have to contain meat. Cater to your vegetarian customers by adding vegetable-only alternatives to your most popular dishes or creating entirely new vegetarian dishes suitable for the cold season. These vegetarian menu options might just spark up your sales:
Mushroom moussaka with halloumi bechamel
Eggplant, tomato, and pine nut roast
Broccolini and parmesan risotto
Whole roasted cauliflower
Pumpkin rosemary truffle ricotta lasagne bake
11. Warm that belly with a hot drink
After your guests have feasted on all of the delicious winter dishes you've prepared for them, they'll also want to enjoy a festive drink. While you should keep the classics when it comes to your drinks menu, more people will prefer a hot drink or one with a particularly wintery flavor.
A peppermint or gingerbread hot chocolate might do the trick for customers who don't want to consume alcohol. For cider lovers, offer varieties like spiked maple cider or the classic apple cider. Finally, for guests who don't mind cold drinks in winter but who still want to feel the Christmas spirit, a cranberry margarita or mulled gin could be the perfect option.
12. Offer cozy sweet treats
In winter, even your desserts should be cozier. Not many people will want to order ice cream when the temperature outside is below 0. Encourage customers to end a winter meal in style with a decadent, warm dessert. Here are just a couple of winter menu dessert ideas for restaurants:
Cinnamon baked apples
Sticky date, banana, and walnut loaf
Carrot and walnut pudding
Winter-spiced molten chocolate cake
Butterscotch pudding
Condensed milk teacake
Lemon custard pie maker doughnuts
Warm chocolate brownies with salted caramel sauce and custard
Chocolate souffle
Banana brown sugar dumplings
13. Borrow from international cuisines
Winter-looking, winter-tasting menu ideas don't have to come from the same zip code. You know your target audience better than anyone. Would they enjoy a dish that reminds them of home? Do you usually cater to tourists? Then you're probably no stranger to an international menu.
This winter, spice up your menu with dishes from all around the world. If your restaurant is near office buildings, you can brainstorm some unique, international winter lunch ideas that change every week. That way, you can have a Spanish Week, Italian Week, or Greek Week, all featuring traditional winter dishes from those countries.
14. Cater to the little ones
Especially if your restaurant typically caters to families, you're going to want to include some kid-friendly meals for cold weather into your menu as well. Make the portions smaller and draw their attention with pancakes shaped like their favorite cartoon characters, heart-shaped quiches, or ladybug cupcakes.
15. Target winter holidays
Luckily for you, the cold season brings with it everyone's favorite holidays. From Christmas to Valentine's Day, get ready to introduce holiday-themed menu items in your winter menu.
For Christmas, organize a traditional dinner with turkey and stuffing, mashed potatoes, gravy, and cranberry sauce. For Valentine's Day, serve dark chocolate pudding decorated with red hearts and red velvet cookies.
Check out our holiday dedicated articles for more ideas on how to spruce up your restaurant and boost your sales on Christmas and Valentine's Day:
Use Our Winter Menu Template for Extra Holiday Magic
Because all of these winter menu ideas for restaurants deserve their own dedicated menu, we've designed a template that you can download, customize, and print to add some extra cheer to your holiday table.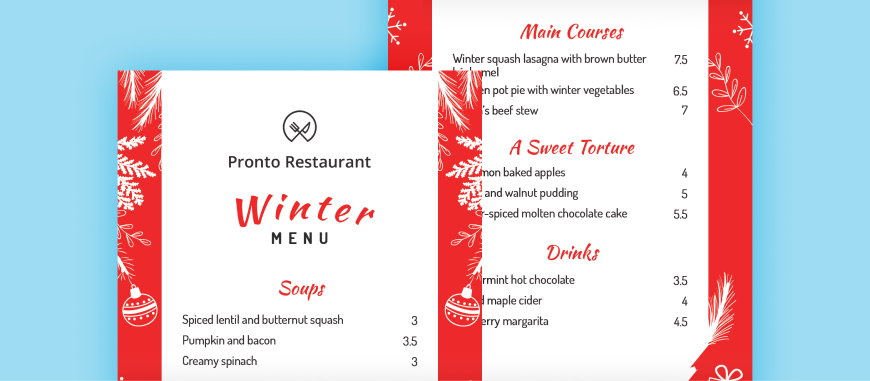 ~ Download ~
Before You Go…
…we know this is a difficult time for restaurant owners because of all the COVID19-related restrictions. If you have been forced to close your doors this upcoming winter, now is the perfect time to start your online ordering business. Most people will want to stay home anyway, which means they'll be looking for restaurants that deliver winter food staples and holiday menus.
Sign up for our free online ordering system, and you can start taking online food orders right away. To help restaurants during the Coronavirus pandemic, we've added features like:
No-contact delivery
Minimum exposure pickup
Online payments
Health announcement section
COVID-19 email blast
and more
Deliver Your Winter Menu Items to Boost Profits This Cold Season
Sign up for the GloriaFood online ordering system for free.
Start Now