How to Take Advantage of Valentine's Day for Restaurants
Valentine's Day 2023 is fast approaching and for many restaurants, this is one of the most important days of the year. Offering a few Valentine's Day restaurant promotions is a great way of taking advantage of this celebration of love… while putting your restaurant on the map. This is the day when couples really splash out and want to celebrate their relationship by dining out in style or ordering food for a cozy night in.
However, happy couples aren't the only segment you need to target as a restaurateur this February 14th. Many restaurants are also coming up with innovative ways of drawing in single people using anti-Valentine's Day promotions and themes. Below, we share some ideas for both.
Why offering Valentine's Day restaurant promotions will help boost your sales
You probably don't need us to tell you how important Valentine's Day is for the restaurant business. However, these stats will show you just how much you can profit this February, by using a few thought-out Valentine's Day restaurant ideas.
According to a National Retail Federation survey, this year, American consumers will spend an average of $175.41 on Valentine's Day gifts. And out of all consumers who celebrate Valentine's Day, 31% plan to offer an evening out.
Implementing a few Valentine's Day restaurant promotions gives you the chance to shine and put your business firmly on the map for potential diners… who are willing to dig deep into their pockets. Couples are looking for something truly special, a restaurant that creates a romantic ambiance and a meal that stands apart from a regular evening out. And don't worry, getting this right takes little planning.
Valentine's Day Restaurant Promotions
1. Create a Valentine's Day Themed Menu
On Valentine's Day, restaurant specials are a must. As a restaurateur, you need to create a restaurant Valentine menu that symbolizes love. For instance, try adding some well-known aphrodisiacs to your menu, like oysters, or lava cake.
In addition, your chefs can also get creative and prepare some heart-shaped foods for your guests, which you can then easily advertise in your GloriaFood menu if you're currently using our online ordering system. Take a look below:

Brainstorm some creative Valentine's Day dessert recipes that can be split by the two lovebirds such as a heart-shaped lava cake or a delicious brandy chocolate mousse.
Putting thought into your Valentine's Day menu ideas will get customers through the door in the first place. Then, it will also ensure that they are satisfied with the overall experience. This way, they are likely to return to your establishment in the not-so-distant future.
Make sure you also think about offering discounts – i.e., reduced prices for those customers who order two or three courses. Since not all restaurants may be open right now because of the pandemic, you should definitely come up with Valentine's Day takeaway offers to cater to the needs of people who will spend this day in lockdown.
Related: 15 Unique Restaurant Promotion Ideas That Work Like a Charm
Advertise Your Valentine's Day Restaurant Promotions
Use the GloriaFood menu to start taking orders by tonight!
Get It Now
2. Happy Hour Valentine's Day Restaurant Drink Promotions
Another one of the greatest Valentine's Day promotion ideas you can try is to lure customers in for pre-drinks before having dinner. Take a page out of the most popular Valentine's Day bar ideas and serve 2 for 1 love-themed cocktails with romantic names for Happy Hour, such as 'Love Potion', 'Be Mine', and 'Sealed with a Kiss.'
Your customers are sure to fall in love with them! Champagne is also an incredibly romantic drink, so offering a free glass of bubbles on arrival is a sure-fire way of securing restaurant bookings.
3. Offer a Surprise Gift
As part of your Valentine's Day restaurant promotions, you could make your customers an irresistible offer: a free gift with their meal, like chocolates, flowers, or wine.
4. Capitalize on Table Reservations
If your restaurant isn't functioning at full capacity, have your customers book a table in advance for the big day. Additionally, offer a 10% discount to the first 10 people who make a reservation for Valentine's Day. You can easily take table reservations with our table reservation system for restaurants.
Free Table Reservation System for Restaurants
Take unlimited table reservations to fill your empty tables
Start Now
A lot of people search for "Valentine's Day restaurants near me," so make sure they see you're celebrating this holiday when they visit your website.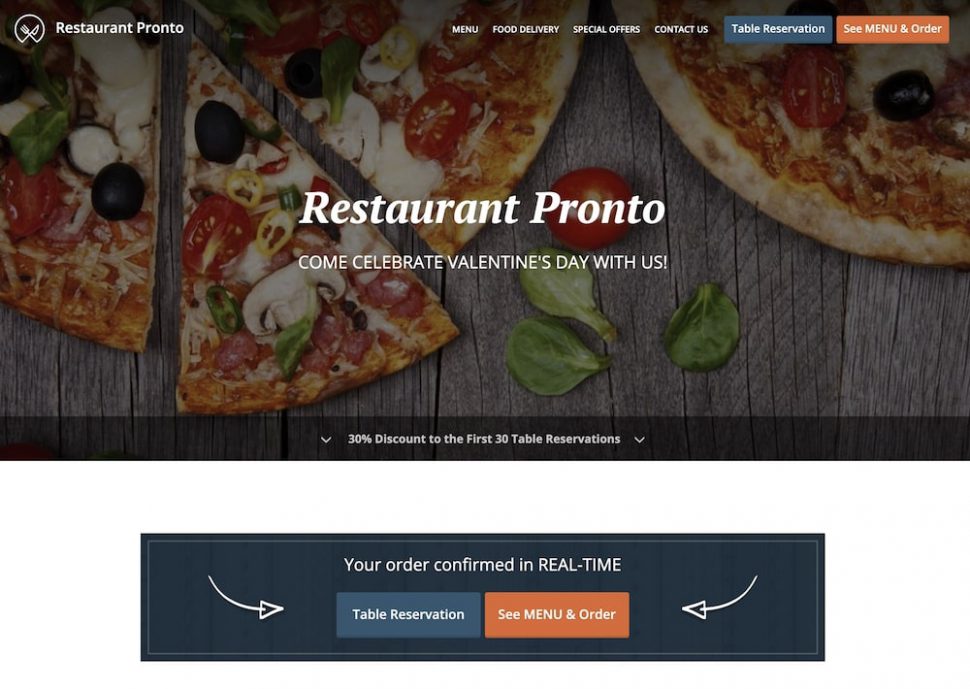 5. Use Music to Create a Romantic Ambiance
Music speaks the language of love and is pivotal in creating the perfect romantic setting. Playing some jazz music, or even hiring a live jazz band or concert pianist will go a long way in creating the perfect romantic mood for your guests. However, ensure that the music is subtle and creates the perfect backdrop to a romantic evening for two.
Coffee Shop Valentine's Day Ideas
Many people who aren't into Valentine's Day dinners may want to visit their favorite coffee shop instead. Consider creating some limited-time drinks like red velvet frappe, raspberry white chocolate mocha, cupid cappuccino, or honey rose espresso.
You can also bring in a photo booth with Valentine's Day decorations that people can put on for fun Instagram-worthy photoshoots. Organize a contest and advertise it on social media to get more followers. The prize can be any coffee lover's dream: a French press or a gift basket filled with different types of coffee.
For customers who want a fun activity on Valentine's Day, consider organizing a coffee brewing class hosted by your barista. People can bring their loved ones and learn how to make delicious coffee at home. Don't worry – that doesn't mean they'll stop visiting your coffee shop!
Valentine's Day Ideas for Bars
For customers who want to skip the romantic dinner and go straight to the bar, prepare special cocktails and drinks that still celebrate this day. Here are some ideas for Valentine's Day drinks:
Cranberry Sangria
Grapefruit Mimosa
Strawberry shortcake daiquiri
Chocolate truffle martini
Chocolate covered strawberry shots
Another crucial thing in a bar on Valentine's Day is the music. Create a playlist of hit love songs like "Love Is in the Air" or "Can't Take My Eyes off You" or go the opposite way with songs like "You Give Love a Bad Name" or "Love Stinks."
You can also serve Valentine's Day-themed appetizers to go with all that alcohol. Just adapt their name to fit the love theme or shape them like a heart. And don't forget that a good Valentine's promo can go a long way.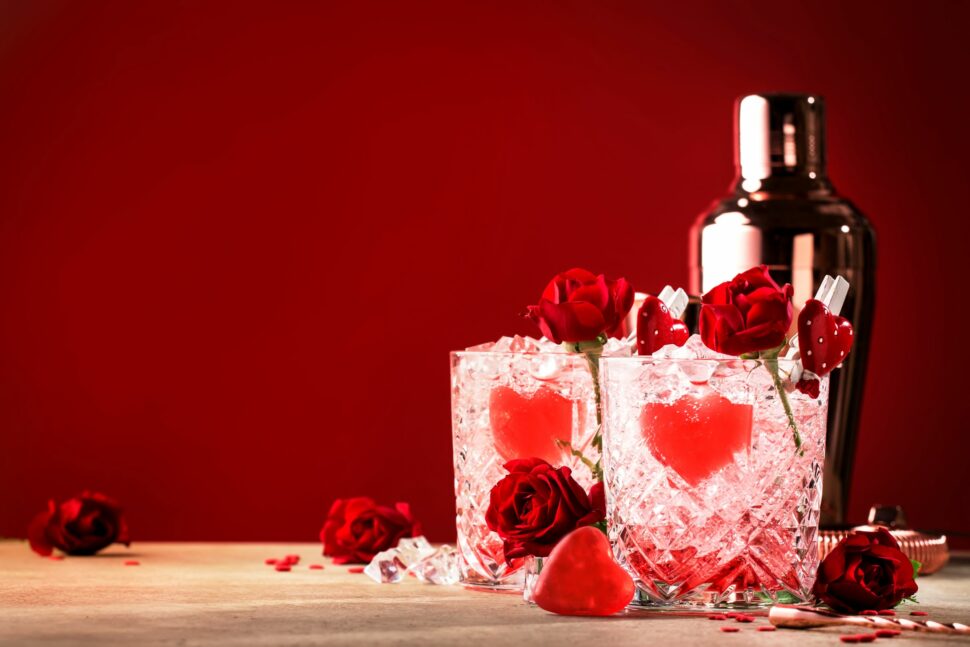 Anti-Valentine's Day Restaurant Ideas
Valentine's Day can feel a little exclusive if you are not in a relationship, which is why the anti-Valentine's Day rhetoric has gained a lot of momentum in recent years. A 2019 survey commissioned by finder.com revealed that 39% of single people and 52% of separated people plan to treat themselves. The average American will spend about $235.56 on self-gifting.
If you are thinking of appealing to those who are single on Valentine's Day, here are some anti-Valentine's Day promotion ideas that might help you:
1. Celebrate with Friends and Colleagues
According to the same study conducted by finder.com, people are willing to spend $208.10 on average for a friend on V-day. Make Valentine's Day about celebrating friendship by turning your basic Valentine dinner themes into Galentine's Day (just like Leslie Knope did on Parks and Rec). Offer a free meal for a friend (i.e. buy one Valentine's Day main course and get another free), serve Cosmos, and help friends have a spectacular day together.
If the evening is reserved for more extravagant Valentine's Day dinner events, throughout the day, you can brainstorm some Valentine's brunch ideas or Valentine's Day office lunch ideas, especially if your restaurant is located around office buildings. Encourage customers to take a lunch break and come celebrate friend love in your establishment by giving them a 20% discount on all lunch courses. Valentine's Day offers don't have to be romantic to work.
2. Create an Unromantic Menu
Put a spin on the traditional Valentine's Day menu at your restaurant by serving the most unromantic food you can think of. Oodles of garlic, ribs, burgers, blue cheese – essentially food that you can eat guilt-free for the night and not have to worry about bad breath or making a mess. You can also offer mouth-watering cocktails with unromantic names such as 'Love on the Rocks' or 'Break-up.'
3. Organize a Karaoke Night
Give customers the chance to sing their hearts out by offering them a themed karaoke night – include songs that celebrate independence and friendship, and don't forget about famous broken heart ballads. A late-night Valentine's dinner will go much better with a musical side.
4. Set up a Facebook Contest
What drives people to celebrate Valentine's Day alone or with a friend is often a bad breakup. One of the best Valentine's Day advertising ideas is to spread the word on social media. Organize a contest on Facebook and ask people to share their worst breakup story. The winner of the most terrible one will get a free meal at your restaurant on V-day.
5. Bring in an Anti-Valentine's Day Piñata
Valentine's Day restaurant decorations are a must-have to set the mood. When it comes to decorating for an Anti-Valentine's Day party, you can go for ironic pink hearts and doilies or you can bring in black heart decorations, sassy wreaths, and best of all, a broken heart piñata. Give your customers a bat and let them channel their rage into breaking the piñata into tiny little pieces – just like their hearts were.
Final Words
Offering original and affordable Valentine's Day promotion ideas for restaurants is key to getting couples through your doors or enticing them to place an order online this February. Putting an effort into creating something innovative on this special day will help boost your profits and attract a new customer base.
If creating Valentine's day restaurant specials in 2023 seems a bit more difficult, that's because it is. However, now more than ever, people need to celebrate love (or rage). If setting the mood for a romantic dinner for two isn't your restaurant's style, do something different and use a few anti-Valentine's Day restaurant ideas. This is a growing market as the day is being reclaimed by those it has so frequently excluded.
Whatever you decide to do, make sure you plan ahead and make the most of your restaurant marketing ideas for Valentine's Day. If you feel stuck, implement some of the Valentine's Day restaurant promotions above for guaranteed success.
P.S.: Download our Food Holiday Calendar 2023 to keep track of all important food-related holidays of the year and get unique promotion ideas for each.