Increase your revenue with new autumn menu ideas
Colored leaves are falling, the temperatures are dropping, and people are searching for autumn-themed foods and drinks to satisfy their cravings. There is something about a chilly fall day that makes you instantly hungry for an apple pie, pumpkin cinnamon roll, and other seasonal dishes.
Why not attract fall food lovers by adding some delicious new dishes to your menu? Not to mention, ingredients tend to be cheaper when they are in season, so you will actually increase your profit with a small change!
We are here to help you with some amazing fall menu ideas for restaurants that you must try.
10 Fall Menu Ideas for Restaurants to Try This Season
1. Embrace the pumpkin season
Pumpkin is the most well-known ingredient associated with autumn, and the great thing is it goes with pretty much everything. It can be a savory dish, an entrée, pastry, bread, dessert, or drink. Whatever your restaurant's cuisine is, it will be easy to incorporate pumpkin into a few menu items.
Here are a few autumn menu ideas that people will rush to order:
Pumpkin sage gnocchi
Brown butter and pumpkin cream soup topped with pumpkin seeds
Pumpkin hummus
Chicken pumpkin curry
Pumpkin chocolate chip muffins
Pumpkin risotto with mushrooms
Classic pumpkin pie with a cinnamon rolls crust
Pumpkin maple syrup bread
If you want to encourage the pumpkin-loving crowds to order from your restaurant, you can implement a promotion that guarantees a free pumpkin dessert for every order. If you choose our online ordering system to manage your online orders, you can do so in a matter of minutes!
All you have to do is go to admin -> Marketing -> Promotions -> Self-made promos. Afterward, choose "Add promo deal" and scroll down to "Get a FREE item" on the next screen. You can change the text, image, and delve into more advanced settings if you want. All done!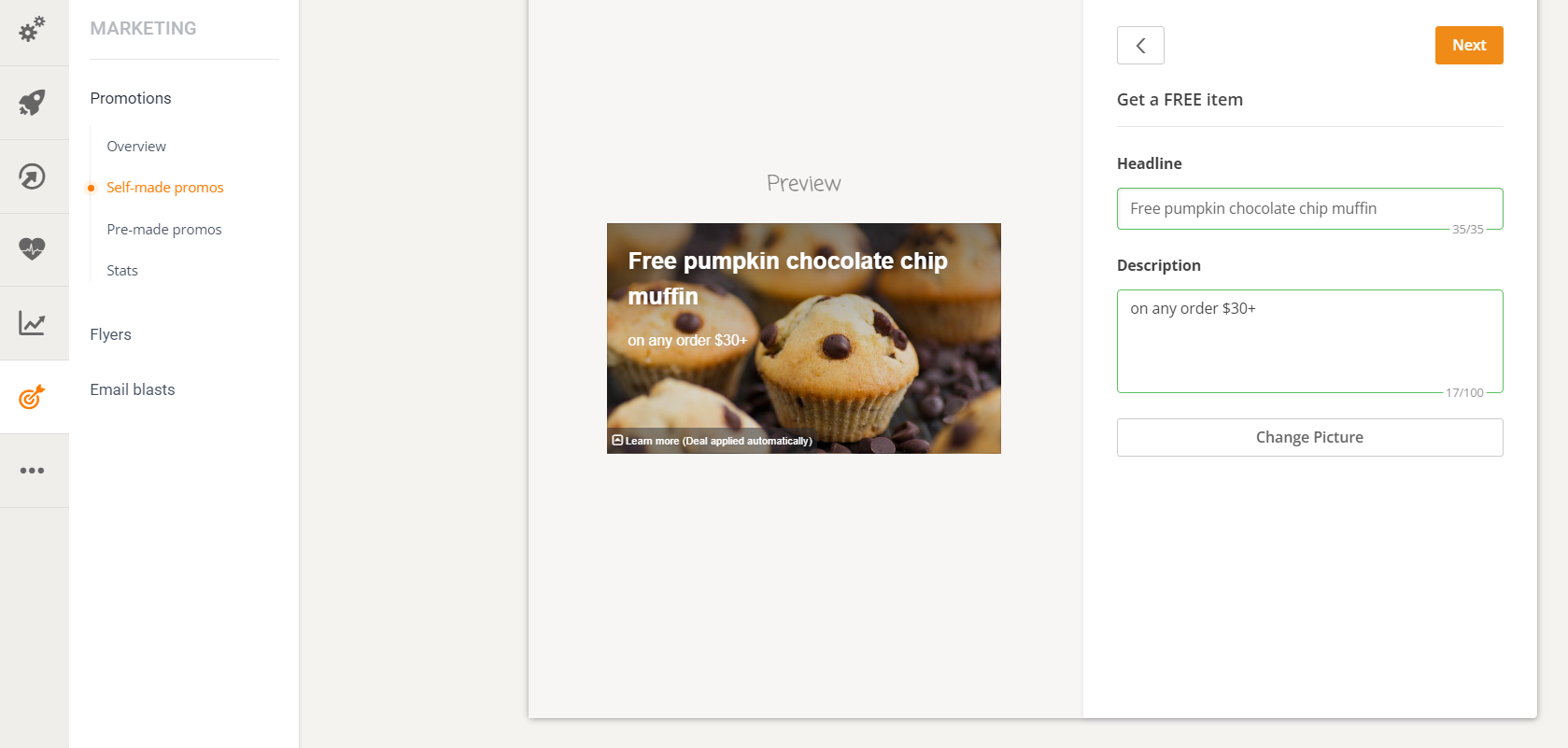 Attract the pumpkin-loving crowds to your restaurant
Implement promotions easily with a free online ordering system
Start Now
Watch the video tutorial below to learn how to set up any restaurant promotion your heart desires:
2. Make the humble apple the star of your dishes
Apple is a simple yet comforting ingredient. If you were to ask your clients, most of them would have fond memories of childhood fall desserts or dishes that focused on apples. Therefore, if you manage to develop a menu item that reminds people of home, you will gain new loyal customers.
Here are some fall menu ideas for restaurants that feature apples:
Apple pie with flaky pastry crust and walnuts
Apple crumble
Pork chops with caramelized apple
Apple strudel with cranberries
Spiced apple muffins with maple glaze
Apple waffles with lots of honey and caramelized apple slices
Apple caramel Danish
3. Try these Halloween restaurant menu ideas
Halloween isn't just for kids! Adults may not go trick or treating, but they can visit or order a spooky dish from their favorite restaurant. Join the fun by adding some themed menu items or go all out and organize a Halloween dinner focused only on delicious but creepy-looking dishes.
Check out these Halloween menu ideas:
Ghostly pizza (with ghost shapes cut out of mushrooms)
Eyeball pasta (meatballs with olives on to look like an eye)
Ghost cinnamon rolls (use a ghost shape to add the frosting)
Hand pumpkin pastries
Witch fingers (apple pies with almonds as the nail)
Read more: The Best Halloween Restaurant Promotions & Ideas for 2022
4. Use all varieties of potato
Who doesn't love potatoes? They can be cooked in so many ways – fried, boiled, baked, and never disappoint. While potato is a cheap ingredient, with some added fat (butter, cheese, oil) and condiments, it transforms into a portion of decadent comfort food.
This potato harvesting season, go a little further and add some color to your menu items by using all the varieties: russet, red, yellow, white, and purple. Don't forget about its cousin, sweet potato, which also has a violet version.
Try these fall food menu ideas that are all about the majestic potato:
Fondant purple potatoes with rosemary and thyme
Triple cheese and bacon dauphinoise
Jacked potato with ricotta and garlic
Piri-Piri chicken with smashed potatoes
Hasselback potatoes with cheddar
5. Add some soups to warm the heart
People's food preferences naturally change according to the weather. If you would be inclined to order a cold dish on hot summer days, maybe a salad or something light, as the degrees drop, you will feel hungry for warm dishes.
Nothing warms you up faster on a chilly day than a nice, steamy bowl of soup. There are so many options that feature fall ingredients that it would be a shame not to add some to your seasonal menu.
Here are some autumn food menu ideas that focus on delicious soups:
Cheddar soup served in a bowl of bread
Leek and potato soup
Butternut squash soup with chili
Miso and butternut soup
Autumn vegetable soup with garlic bread
6. Get inspired by Oktoberfest
Not everyone gets to travel to Munich to enjoy the traditional food and drinks. But that's no reason to miss out on some tasty dishes. You can reinterpret and incorporate some of the well-known Oktoberfest foods into your autumn restaurant menu.
If you enjoy organizing events at your restaurant, people will surely line up for a curated Oktoberfest menu with drinks and appropriate music.
Get inspired by these fall menu ideas for restaurants that want to celebrate Oktoberfest:
Pork schnitzel with a traditional pretzel
Hot dog with arugula and caramelized onions
Potato pancakes
Flammkuchen – German pizza with onion, bacon, and caraway seeds
Sauerkraut and Bratwurst balls
7. Reinterpret Thanksgiving staples
Some people wait anxiously for the entire year to enjoy the amazing Thanksgiving food. It is usually a three-day process to cook all the necessary dishes for the party. But, sometimes, you just crave the traditional taste and don't want to put all the effort in.
You can gain new clients by including some Thanksgiving-themed dishes on your menu. Here are some tasty ideas:
Roasted turkey with buttermilk biscuits
Turkey pot pie
Pecan cranberry pie
Pumpkin Cheesecake
Roasted beet and squash salad
Read more: Successful Thanksgiving Restaurant Promotions & Ideas for 2022
8. Add some cozy autumn drinks to your menu
Fall food is great but can be amazing when accompanied by a cozy hot beverage. Adding traditional fall drinks to your menu will benefit both you and your clients.
Because the ingredients are rather cheap, a liquid menu item will have a high profit margin, and selling more will help you increase your revenue. Customers will appreciate warming up with a custom seasonal drink they can only get from you.
Check out these beverages that should make it on the seasonal menu at your restaurant:
Pear, pumpkin, and ginger juice
Hot cider with pumpkin spice
Hot buttered rum
Negroni with pumpkin spiced syrup
Toffee apple sour cocktail
You might also like: How to Increase Beverage Sales in Your Restaurant
9. Try risotto with fall flavors
The risotto was created in Italy, but it soon conquered the world with its buttery, soft, melt-in-your-mouth texture and easy-to-customize taste. The base is imperative – broth, wine, cheese, butter, rice, and onion, but you can customize it to your preference with new ingredients.
Transform your restaurant into the location to be for the best risotto by adding some common fall flavors. Try these options:
Butternut squash and sage risotto
Risotto with roasted pears and gorgonzola
Chestnut and mushroom risotto
Risotto with charred eggplants and peppers
Beet risotto with asparagus
10. Experiment with fall fruits in desserts
Some of the cheapest ingredients your restaurant could get are seasonal. Local producers sell fruit for a small price because they have a short shelf life. What grows in your area? Plums, apples, quince, pears? Any of them can be transformed into a dream dessert!
Here are some fall menu ideas for restaurants that want to focus on profit without sacrificing taste:
Apple Pomegranate Galette
Chocolate pear tart
Quince vanilla bars
Caramel pumpkin muffins
Plum cake
Almond and apple pie
How to easily update and customize your menu for fall
You may be excited to implement some of the fall menu ideas for restaurants mentioned above, but you are worried about the cost and effort that goes into changing the menu every time.
We have good news, with an online restaurant menu, all these problems go away! And, best of all, you can get it for free! All you have to do is sign up on GloriaFood.com and get the best free online ordering system with an easily customizable menu.
Check out the basics for making an online restaurant menu for your website:
Once you have completed the first steps, it is time to delve into more useful Advanced Settings. What do you do when you run out of your famous pumpkin cinnamon rolls? Easy! Add an "Out of stock" message so people know they're no longer available.
What's more, if you cater to certain preferences or allergies, you can mark your menu items accordingly. For example, gluten-free, nut-free, or dairy-free. Learn how to do it from this instructional video:
As previously mentioned, the key to your restaurant's success is having menu items with a high-profit margin. For example, add-ons or toppings allow people to customize their dishes and cost you very little.
Learn how to add choices and add-ons to your online restaurant menu:
If you are worried that your online menu will only be useful for online ordering, we've got you covered! All you have to do is get a free QR code from us and print it on flyers that you place on every table. This way, your clients can easily access your restaurant menu and order without unnecessary interaction, and you save a ton of money on printing.
Check out this video to see how easy it is to get a QR code for your menu:
Get an online menu you can easily customize as often as you want
Add it to your website for free to enable customers to order online
Start Now
Conclusion
Take advantage of seasonal ingredients to attract the fall-loving crowd and increase your revenue. Try incorporating some of the fall menu ideas for restaurants mentioned above into your cuisine and promote them on your website and social media to let your audience know about your new menu items.