Thanksgiving Restaurant Promotions for 2023
On Thanksgiving Day 2023, it's time to make your restaurant noticed by tapping into some creative Thanksgiving restaurant promotions. Below, we provide you with concrete examples of Thanksgiving promotion ideas that will help you drive sales and get more people talking about your restaurant.
Picture this: the whole family gathered around a delicious turkey, feasting on creamy mashed potatoes and decadent pumpkin pie. Does that need to happen at home? Not necessarily!
Some Americans may prefer to have Thanksgiving at home. However, others will undoubtedly search for what restaurants serve at Thanksgiving dinner. They might want to see where they're going to enjoy a bite of their favorite Thanksgiving food this holiday season or where they're going to order from. That is your chance to make sure your restaurant becomes their new favorite spot in town!
Not everyone wants to spend long hours in the kitchen to feel the holiday spirit. Whether customers want to dine out or order in, restaurant owners should prepare with Thanksgiving restaurant promotions ahead of time.
Note: This article has been updated to take into account the Coronavirus pandemic.
Unique Restaurant Ideas for Thanksgiving 2023
Create Thanksgiving restaurant specials
Have a classic Thanksgiving menu and include dishes like a roasted turkey, mashed potatoes with white wine gravy, and some vegetables if you are looking for a nostalgic vibe.
You can get creative with restaurant specials ideas that are on the healthy side, such as green beans or fitness-friendly versions like broccoli or Brussels sprouts.
Sweet potato-cauliflower casseroles will remind many people of mom's cooking. Finally, finish off with a timeless dessert like pumpkin pecan pie.
Thanksgiving brunch menu ideas
Dinner or lunch is not the only option for a festive Thanksgiving. Since some restaurants open late for this holiday, they could make a compromise and focus on a thematic brunch. The Thanksgiving brunch menu could include a frittata served with cranberry sauce, sweet potato quiche, or pumpkin muffins and coffee. Don't forget to feature Thanksgiving brunch items like waffles, pies, and mini bagels.
It's not just the food that matters for customers to have a happy Thanksgiving Day. It would be best if you designed your Thanksgiving brunch recipes to cater to the needs of all your clients.
If you want to stand out, come up with unique Thanksgiving Day specials to satisfy even the pickiest of customers. Customize your Thanksgiving restaurant menu to make everyone feel at home. From a traditional meal that reminds customers of home, to a modern feast that friends can share, to a Chinese-inspired Thanksgiving menu.
People will also most likely search for a "Thanksgiving buffet near me," so make sure you offer a Thanksgiving buffet menu as well.
First, you could offer a special Thanksgiving, fixed-price menu, including 3-4 courses and dessert, with different portion sizes and prices for adults and children. You could even organize a thematic dinner event, complete with music and entertainment options. The second option is to create a unique holiday menu annex next to your regular dishes.
Here are some Thanksgiving buffet ideas for your restaurant:
Turkey casserole
Sweet potato casserole with marshmallows
Southern-style green beans
Pumpkin spice mug cake
Take Thanksgiving restaurant reservations
Since there aren't many restaurants open on Thanksgiving, it's not a bad idea to take Thanksgiving restaurant reservations, even if this is not how you regularly operate. This way, you avoid putting extra pressure on your staff in the kitchen.
The most crucial concept to remember is to use multiple channels (website, social media, print, TV ads) to reach your target audience and let them know. Patrons switch effortlessly between these, and your offer should be everywhere if you hope to get noticed.
If you spread the word about your Thanksgiving restaurant promotions in advance, expect the place to be fully booked. Since you don't want to disappoint your customers by not having a table for them when they arrive on Thanksgiving Day, recommend them to reserve a table.
Thanksgiving table reservations are particularly crucial during the COVID19 pandemic because you should have limited seating to abide by the social distancing regulations in place in your area.
That way, you'll know how many people to expect, and they'll know their table will be ready for them when they arrive. To make it even easier for both of you, you can have them select their choice of menu when they make the reservation. GloriaFood offers an easy-to-install widget for restaurant reservations that will save you time and energy.
Sign up for Our Online Ordering System with Table Reservations Included
Give it a shot, it's free!
Start Now
Be open all day long
If you don't expect heavy traffic, you could take the opposite approach. Invest in a little paid Thanksgiving advertising online for those people who wait until the last moment to google for what restaurants serve Thanksgiving dinner or "Thanksgiving restaurant open near me."
Also, posting something along the lines of "We're Open on Thanksgiving!" as a subtitle on your restaurant's homepage can go a long way.
If your establishment is near office buildings, brainstorm some Thanksgiving restaurant lunch special ideas. You could also offer thematic lunch boxes for takeout and delivery; some people are still working and might want to order a Thanksgiving lunch at the office.
Friendsgiving is a new concept, invented mostly for Millennials who are less attached to traditional values. For these clients, you could create group menus for 4-6-8 people.
Serve Thanksgiving-themed food like apple French toast casserole or cranberry kale salad with candied pecans and feta, topped off with fall-themed beverages like a to-die-for maple pecan latte. Be sure to offer something on the house as well, to make customers feel welcomed and special.
Besides, leftover lunch is a Thanksgiving tradition. Why not create a menu section with such dishes for nostalgic clients?
This may sound like a no-brainer, but since most establishments are closed on Thanksgiving, it's essential not only to be open during the day but to cater to early or delayed customers as well. People will be looking for restaurants open late on Thanksgiving, and that's your time to shine. Let everyone know you'll be open on your website and social media accounts.
Non-traditional Thanksgiving dinner ideas
If your restaurant is fresh and fusion, you need to get creative. Use the "something old, something new" approach. Serve popular Thanksgiving food but with a twist.
Serve pulled turkey sandwiches with roasted carrots. Replace more substantial salads with a healthy quinoa alternative, and don't forget to make it more festive with a lava cake garnished with baked pumpkin. Make baked sweet potatoes with rosemary and cover them in gravy or serve them next to roasted turkey with herbs.
Another way to capitalize on the occasion is catering. Create a few menu versions, including classic, fancy, modern, vegetarian, and gluten-free, to ensure that every potential client's needs are satisfied.
Serve Thanksgiving-themed drinks
From starting the day off just right with a Thanksgiving-infused cup of coffee…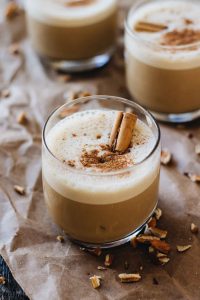 … to ending the day in style sipping on a delicious cocktail…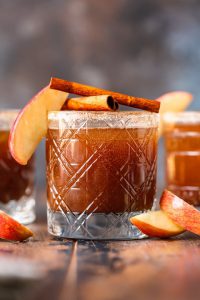 … your guests will appreciate your commitment to making drinks as important as food this Thanksgiving.
If you own a bar, check out there Thanksgiving bar promotions you could implement:
Halloween-colored shots (orange, black, purple)
Bloody Mary happy hour
To-go spooky cocktails for delivery
Offer Thanksgiving Restaurant Deals & Promotions
There is a wide range of food and beverage promotions ideas you can come up with this Thanksgiving – all you have to do is get a little creative. You can't go wrong with classic Thanksgiving food deals like a complimentary dessert to everyone who orders the full menu or 50% off their second drink. However, try to stand out in the crowd with unique offers and Thanksgiving restaurant promotions.
Related: 15 Unique Restaurant Promotion Ideas that Will Increase Loyalty in 2020
For instance, you can ramp up the excitement with a week-long promotion before Thanksgiving. Thanksgiving spirit week ideas include encouraging people to #sharethegratitude and bring a friend to your restaurant. What do they get? A free drink of their choice each. Great advertising for you and quality bonding time for them. Try to tease a sample Thanksgiving menu on social media before you release it too.
Watch the video below to learn how to set up a plethora of restaurant promotions:
Give back to those in need
If there's one holiday a year that inspires us to be the best version of ourselves, that is Thanksgiving. Take this opportunity to give back to the less fortunate.
Donate a percentage of your Thanksgiving proceeds to a charity of your choice, or go for a more hands-on approach and get your staff to volunteer at a soup kitchen. Another option is to involve your customers as well by offering them a complimentary item on the menu if they donate.
Organize a giveaway
Giveaways are some of the best Thanksgiving restaurant promotions to take advantage of since there are so many possibilities. You can offer prizes like a full Thanksgiving meal, a goodies basket, or a discount voucher. Select your winners at random or create polls with user-generated content and let your followers decide who the winner will be.
User-generated content gets people talking and helps you promote your brand as well. Some Thanksgiving giveaway ideas can be having people submit a Thanksgiving picture, a recipe, a story of what they're thankful for, or anything else that people can vote on and share on their social media.
Your Thanksgiving restaurant promotion messages should be distributed in a persuasive and convergent manner, both online and offline. The easiest way to grab your customers' attention and generate organic traffic is to use your social media channels. Here are some Thanksgiving content ideas to share with the world:
what kind of delicious food you have prepared
mouth-watering photos
special prices
Specific Thanksgiving descriptive words will breathe life into your posts. Browse these Thanksgiving adjectives for ideas.
Thanksgiving Restaurant Marketing Ideas
Share the inspiration
If you're looking for Thanksgiving blog post ideas, look no further! Be helpful and post some recipes you intend to use for your dishes. This is a bit of reverse psychology. Best-case scenario: Customers will feel lazy and decide to order the food or come to the restaurant. Worst-case scenario: They share the recipe on social media or talk about it with their friends. Either way, you get good publicity.
Throw a Thanksgiving party
If you organize a party, create the poster and flyers at least two weeks ahead and boost them on social media. It also helps to partner with other local businesses like medical clinics, barbershops, or gyms to help you distribute flyers for the event.
Remember in F.R.I.E.N.D.S. when Underdog got away from Macy's Thanksgiving Day Parade? On the off-chance something like that happens in real life, wouldn't you want your customers to see it broadcasted during your Parade-Watch Thanksgiving Party?
Of course, you can also put a twist on Thanksgiving by turning it into Friendsgiving or even, why not, Singlesgiving. We don't suggest taking a page from How I Met Your Mother, though, and making it Slapsgiving. Other fun Thanksgiving party ideas you can put together for your customers include a fall-themed trivia quiz or a football viewing party.
If you are allowed to organize small-scale events for Thanksgiving in 2022, when we're in the middle of a pandemic, your priority should be your customers' and staff's safety. Scroll down to the bottom of the article for some safety tips.
Write a mouth-watering menu
When you think about what restaurants serve at Thanksgiving dinner, you need to be as descriptive as possible since this is a festive occasion. Clients are more likely to buy a menu or a seat at your event if the food list sounds impressive. Don't spare any adjectives regarding the food and think about adding a wine pairing to some dishes.
Spread the word
Social media should be at the top of your list of Thanksgiving restaurant marketing ideas. Since you need time to promote your brand and Thanksgiving offers before Thanksgiving Day, we recommend planning your strategy a month in advance.
To get your Thanksgiving restaurant promotions to as many people as possible, use the omnichannel approach. Hang signs outside the restaurant, hand flyers, reach out to people via email and be active on all your social media platforms. The latter is the best place for your Thanksgiving marketing campaign ideas. Here are some creative Thanksgiving social media ideas:
use hashtags
launch challenges with prizes
promote your Thanksgiving events and promotions
encourage people to share photos from your events
If you're looking for some ideas on how to promote your restaurant on Instagram, check out our article on Restaurant Instagram Marketing Ideas That Will Help You Increase Sales.
Create your own Thanksgiving message or hashtag
Creating a hashtag that's Thanksgiving-inspired and unique for your brand is a great way to get people to remember you. You can also take it one step further and come up with a Thanksgiving message for promotion across all your social media platforms.
With all this Thanksgiving promotional talk, you might assume your only goal is to make a huge sale. However, the best Thanksgiving promotion ideas are not trying to sell anything. Instead, they focus on emotion. Come up with inspirational Thanksgiving post ideas for your social media channels consisting of quotes on Thanksgiving and gratitude and featuring a delicious picture of food.
Here are a few great Thanksgiving lines you can borrow from:
Drink and be thankful to the host! What seems insignificant when you have it is important when you need it." – Franz Grillparzer
"Thanksgiving is a time of togetherness and gratitude."– Nigel Hamilton
"Not what we say about our blessings, but how we use them, is the true measure of our thanksgiving." – W.T. Purkiser
"Give thanks not just on Thanksgiving Day, but every day of your life. Appreciate and never take for granted all that you have."– Catherine Pulsifer
"Reflect upon your present blessings, of which every man has plenty; not on your past misfortunes, of which all men have some."– Charles Dickens
"Gratitude unlocks the fullness of life. It turns what we have into enough, and more. It turns denial into acceptance, chaos to order, confusion to clarity. It can turn a meal into a feast, a house into a home, a stranger into a friend. Gratitude makes sense of our past, brings peace for today and creates a vision for tomorrow." – Melody Beattie
"Thanksgiving is an emotional holiday. People travel thousands of miles to be with people they only see once a year. And then discover once a year is way too often." – Johnny Carson
"I suppose I will die never knowing what pumpkin pie tastes like when you have room for it." – Robert Brault
"Thanksgiving is America's favorite holiday because it's a time when we put aside our cares, much as the struggling Pilgrims did nearly four centuries ago, and eat a gut-busting meal without worrying about the 'out years.'" – David Ignatius
Combine Thanksgiving Restaurant Promotions with Decorations
It's a good idea for every holiday to dress up the place accordingly to help people get in the mood.
Use pumpkins
You can upcycle your Halloween decorations along the Thanksgiving lines and turn the scene into something warm and inspiring. Replace the carved pumpkin with a new one to give that autumn feeling, even if you turn it into a bottle cooler.
Fall colors
Use bright, golden colors to mimic fall's garment. Use these for table cloths, napkins, or other items like candles.
Intricate centerpieces
Create a maize centerpiece to reconnect with the original meaning of Thanksgiving. You can choose yellow, orange, and red flowers to preserve the autumnal vibe if you prefer flowers.
Display the Horn of Plenty
This is a modern-day interpretation of an old idea about abundance. The cornucopia, as it is also called, makes the place look fuller and more luxurious.
Use themed napkins
A simple and easy way to dress up any table is to add more intricate napkins. You can buy them from the supermarket, or have them made to order, displaying the menu.
Bring nature inside
Create an enchanted space in your restaurant by bringing in leaves, fruits, and other natural items. Depending on the available area, it can be anything between a full wooden log or just a few pine cones.
Get in on the post-Thanksgiving hype
Thanksgiving kicks off the holiday promotions season, which means you can take advantage of the hype around Black Friday, Small Business Saturday, and Cyber Monday.
Don't just focus on Thanksgiving restaurant promotions. Throw a party to celebrate your small business, offer gift cards to online shoppers who dine at your restaurant, or partner up with brands.
Thanksgiving COVID Ideas & Safety Tips
Depending on where your restaurant is located, you might not be allowed to open on Thanksgiving because of the Coronavirus pandemic. Other restaurants will be open but with limited seating and special safety measures.
The good news is that anyone can quickly adapt the Thanksgiving restaurant promotions on this list to an online menu. You can even take your current restaurant promotions and add a Thanksgiving twist.
To boost sales this Thanksgiving, you should focus your efforts on food delivery and takeout and reward those customers who order food from you online with unique Thanksgiving deals.
Start Taking Thanksgiving Food Orders in Advance
Implement our online ordering system for free.
Start Now
If you are allowed to keep your restaurant open on Thanksgiving (be it indoors or outdoors), make sure to follow this safety checklist:
Position tables so they respect the social distancing rules in place in your area.
Check the maximum number of people allowed to gather in your area and stop welcoming people when you've reached it.
Post signs on how to stop the spread of COVID in your restaurant.
Make sure the entire restaurant is cleaned, sanitized, and disinfected regularly.
Allow the circulation of air as much as possible if you're indoors.
Offer hand sanitizers to all customers when they enter and install sanitizing stations throughout the restaurant.
Ensure that all staff is wearing masks and gloves throughout their shift.
Take temperature readings of all staff regularly.
Read more: Food Safety and the Coronavirus Disease 2019 (COVID-19)
Conclusion
While tradition is to be expected, many customers are open to trying new things as long as they can still feel the Thanksgiving spirit. Don't be afraid to experiment when it comes to creating unique Thanksgiving restaurant promotions. Remember to come up with creative Thanksgiving ideas for clients who want to stay in but still have a good time too.